Thank you to Delta Faucet for working with us on this post!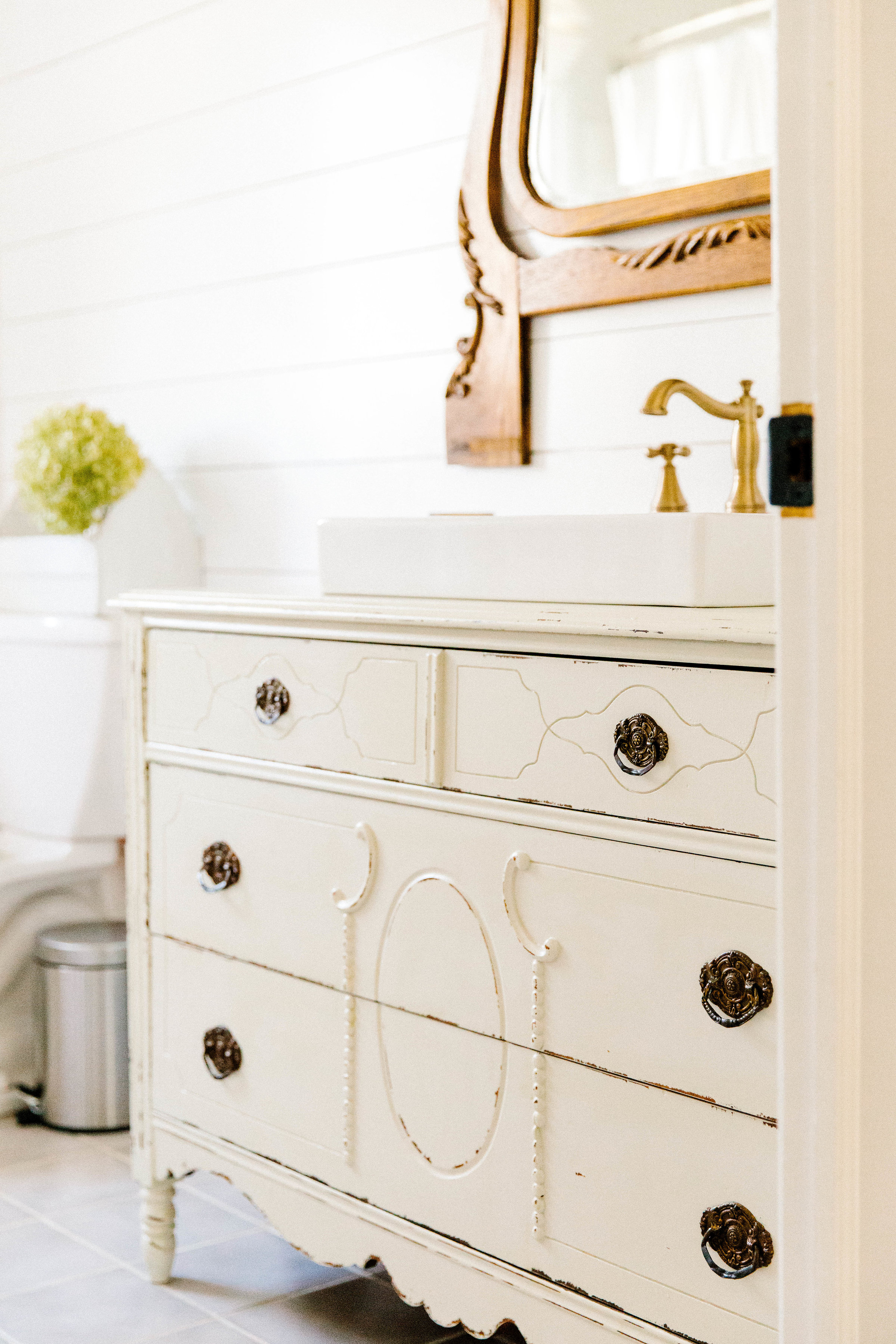 Back when we lived in our condo, I started pinning gorgeous cottage and farmhouse bathrooms featuring vintage dressers as vanities. Then my husband and I went to an estate sale in our town at a house on the water that was like my dream home. The owner had a vintage dresser as a vanity, and it just confirmed my desire for this in our next home. I even purchased a vintage dresser for $25 and stored it in our basement waiting for the day I could use it! So when we moved into our current home, I knew we would eventually get cranking on the vanities when the time was right. Fast forward to last month, and my wonderful husband made my dream a reality. Today I'm sharing with you how to make a vintage dresser vanity for your own cottage bathroom!
The vanity in our main upstairs bathroom was pretty old and falling apart, so we chose to work on this one first. If you remember, I last featured our farmhouse bathroom inspiration board here. I've been set on gold accents (shocking, I know) mixed with light woods, white, and vintage flare. Delta was kind enough to gift us this beautiful vintage style faucet, and I knew it would be the perfect touch to add to the vanity sink. After some strategic planning and convincing, my husband went to work on turning a vintage dresser into our now bathroom vanity.
I wanted a farmhouse style sink for the vanity, and after some research and some measuring we selected THIS one. I also knew this would cut down on some work for my husband since the sink holes were already pre-drilled. The sink was pretty deep, which required some strategic cutting of the drawers underneath. You can see here how he cut a hole in the top of the vanity to fit the bowl of the sink. He measured it so it would just fit the bowl so the widest part of the sink could sit right on top.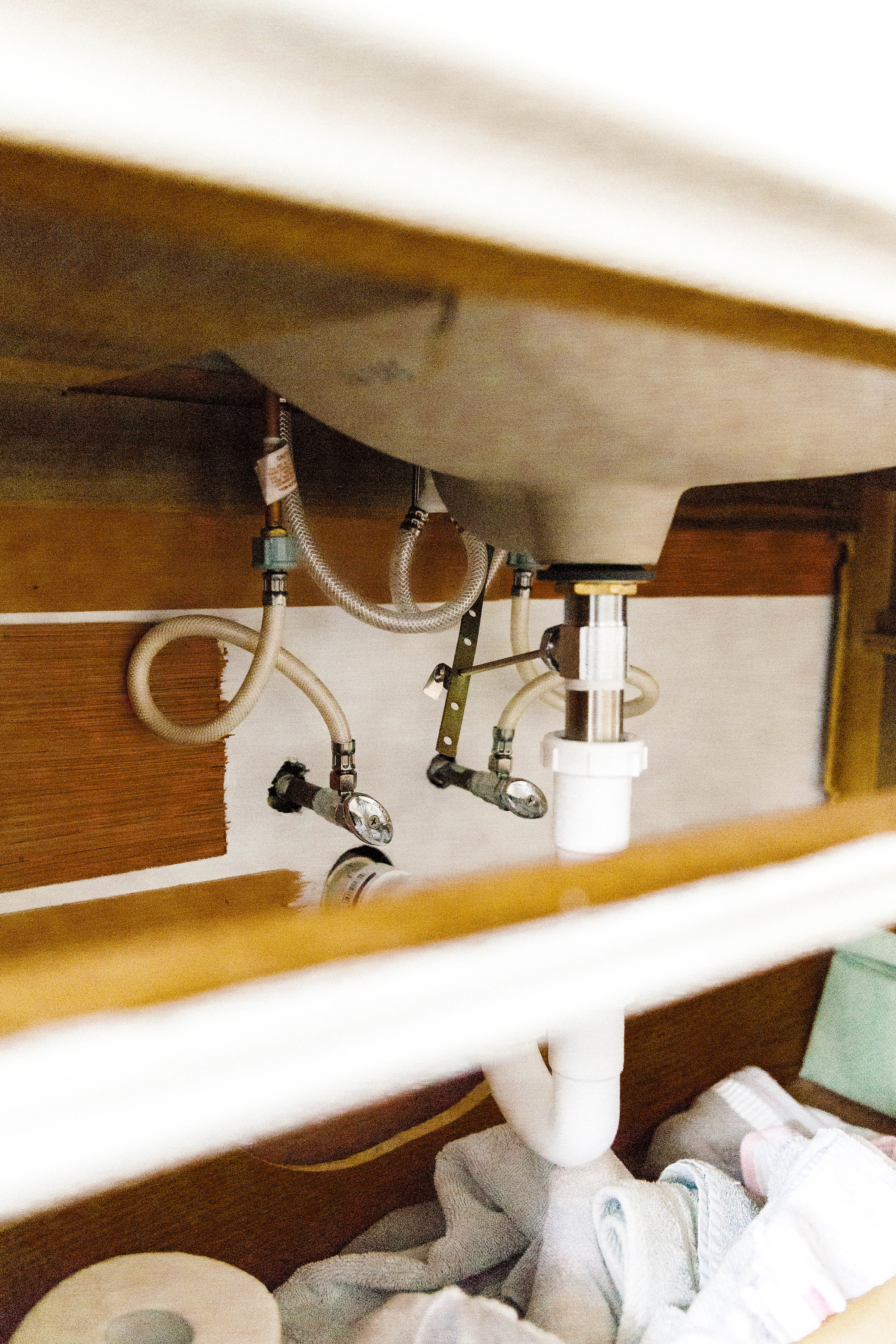 He also needed to make room for the plumbing, which required dismantling a good portion of the inside of the dresser. First, he cut out part of the back of the dresser so we could slide it over the plumbing. He only cut out the area we needed removed.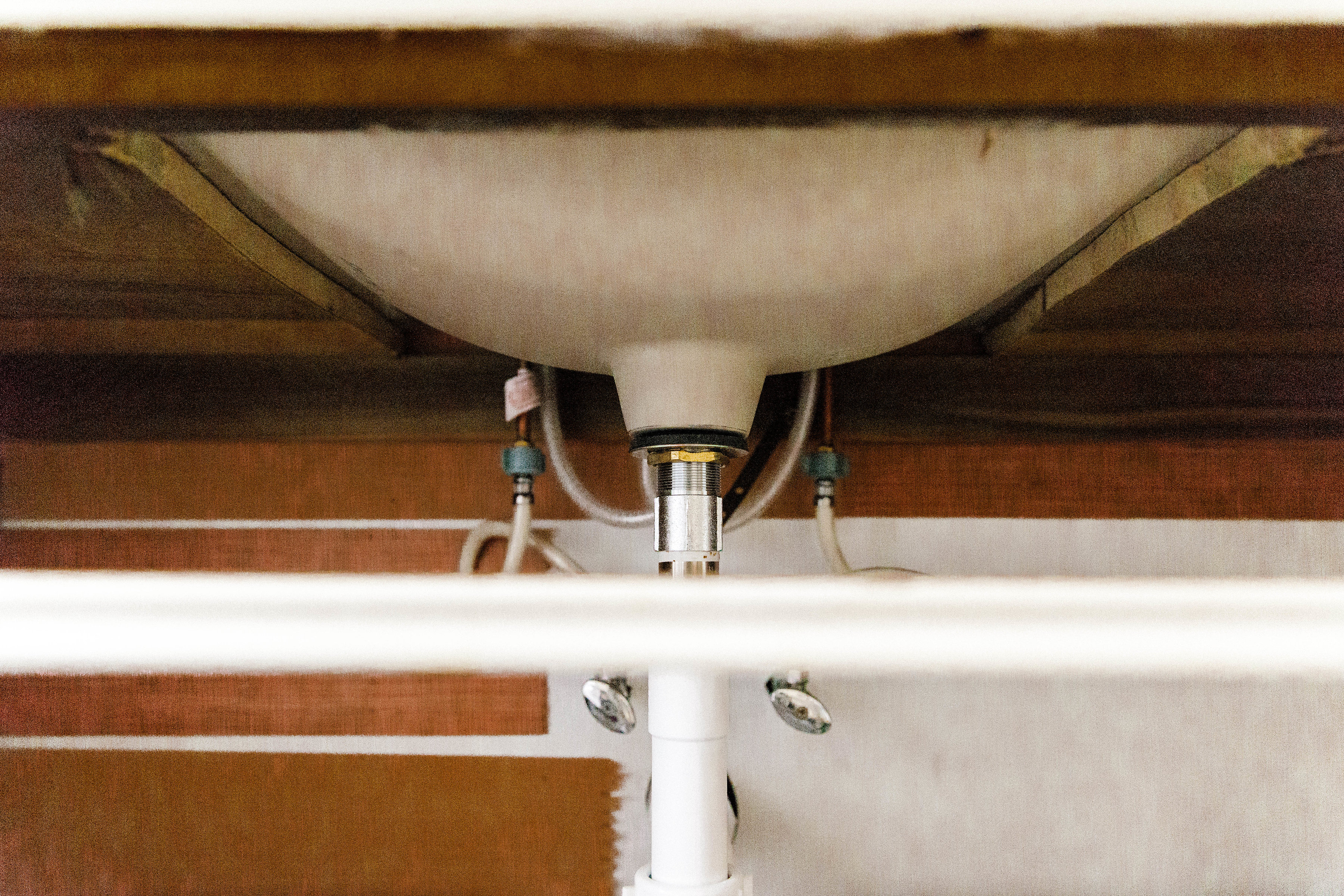 Next he had to cut out the drawers to have them also accommodate the plumbing. I wasn't too worried about use of the drawers, but he was able to leave one full drawer intact. He cut most of the top and middle drawer out, leaving only the face and part of the sides in place so that it can remain closed.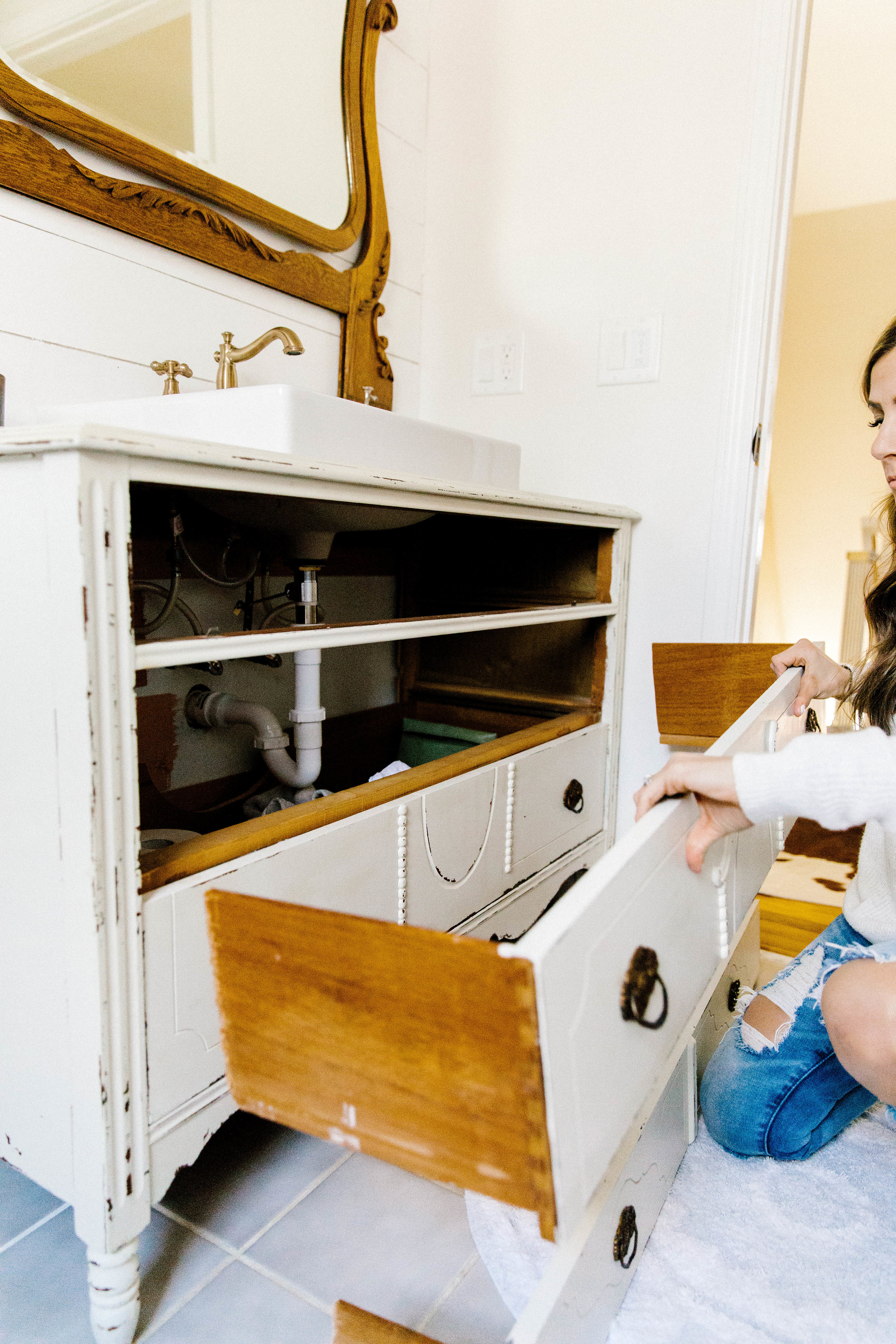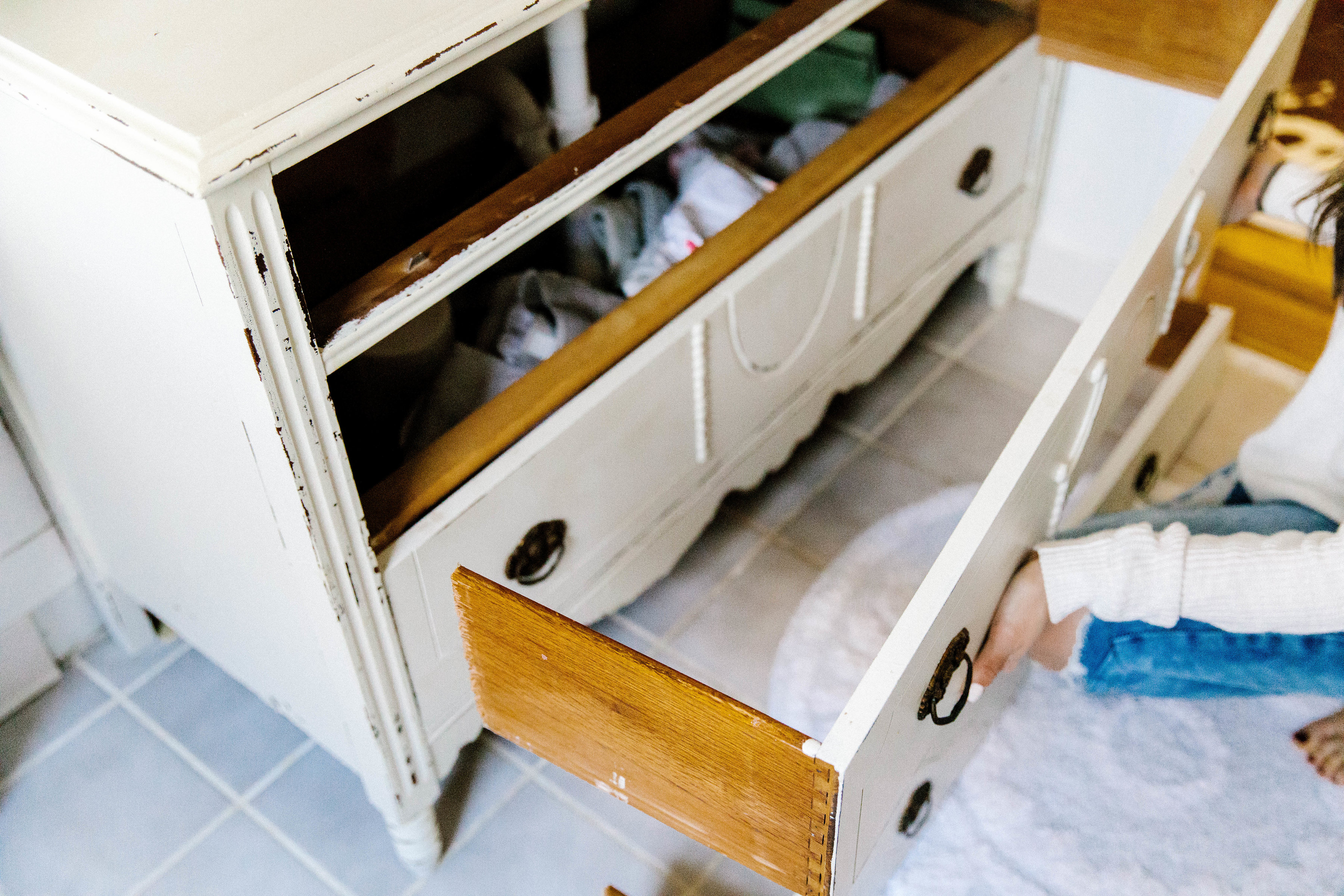 The bottom drawer has a slight portion cut out of the back, but is otherwise fully functioning. I use it for storage of hand towels, washcloths, toilet paper, and bath toys!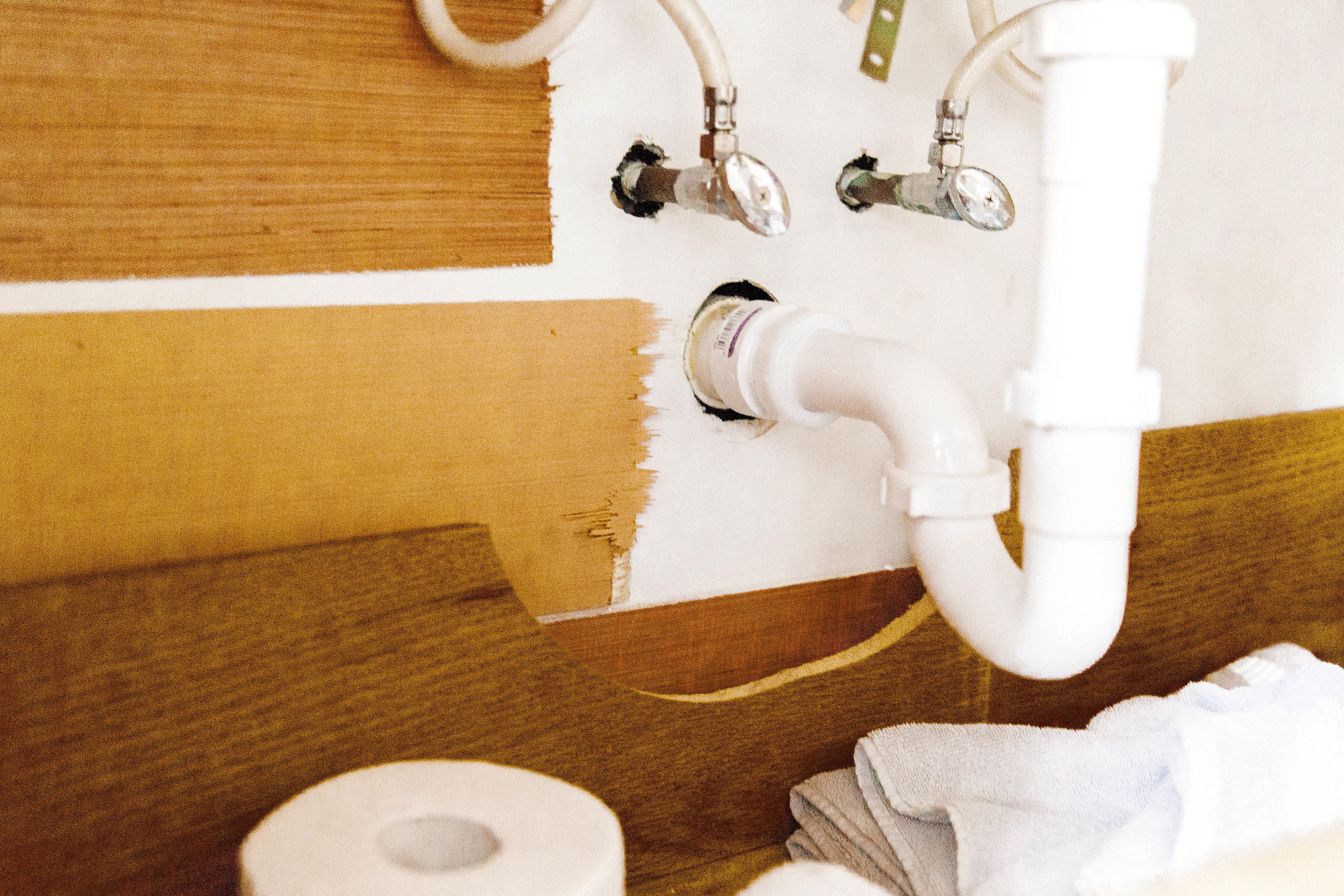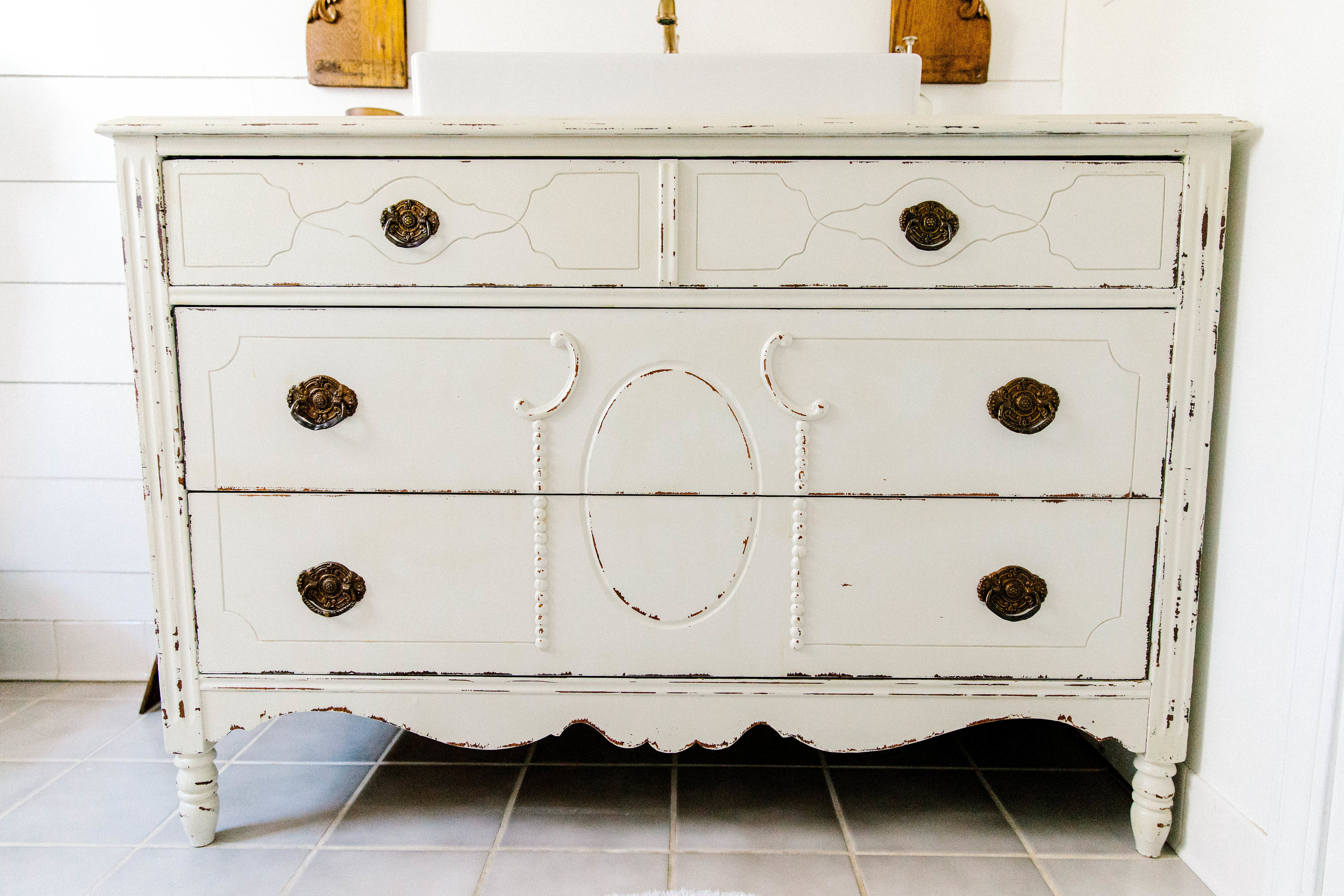 I'm sure we could've rebuilt the drawers to allow for more storage but I'm impatient and lazy and just wanted the job done! Overall, I love the look of the farm sink on the vintage dresser!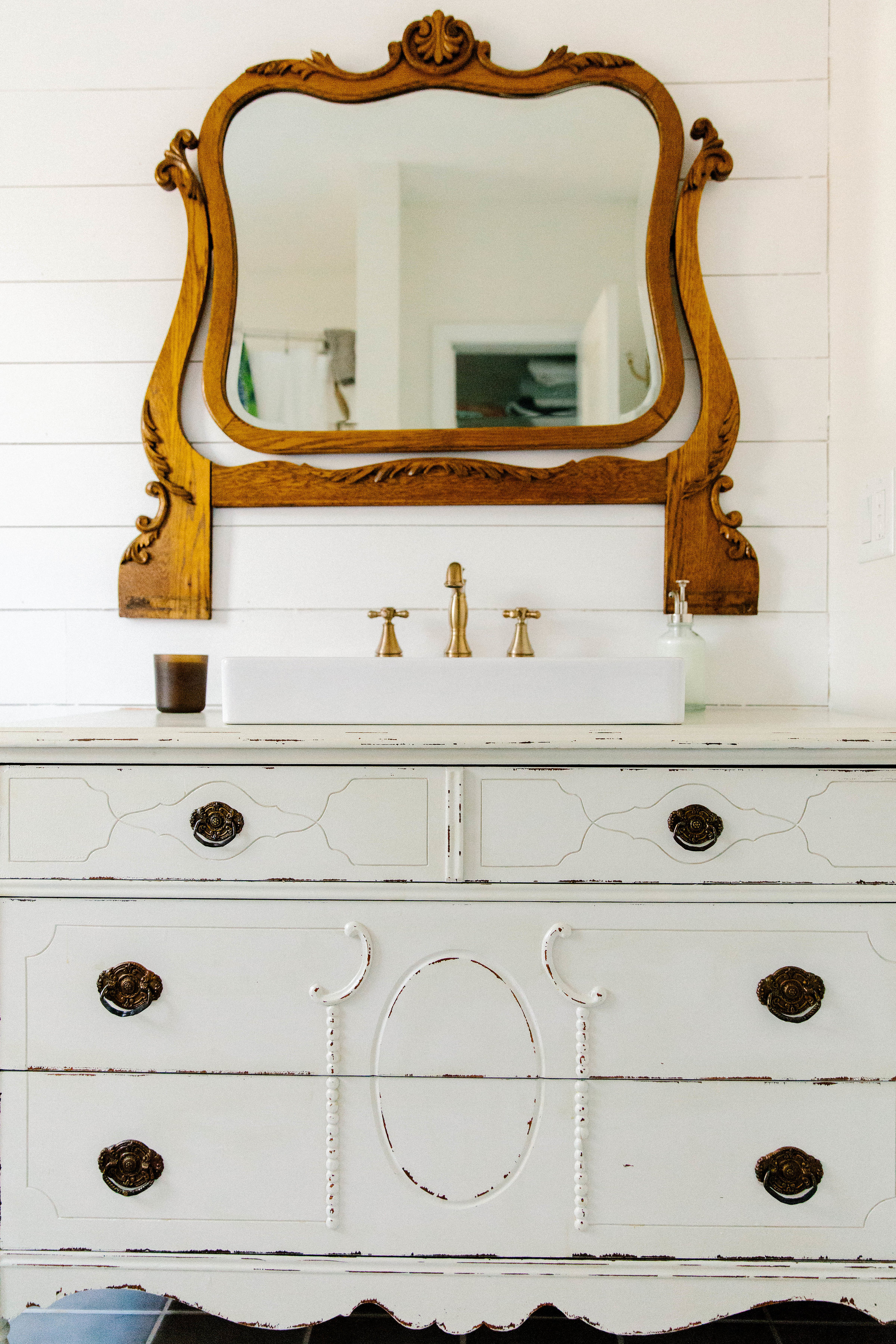 Delta Faucet was kind enough to send us this beautiful Cassidy Two Handle Widespread Lavatory Faucet with Cross Handles in Champagne Bronze. I am OBSESSED with this faucet, guys! It's so incredibly gorgeous and makes me smile every time I walk into the bathroom. It sounds so silly, but it's just stunning in person. I can't wait to add the light fixture we purchased for this bathroom as the finishing touch of this area. I never thought I would be one for gold accents, but they're just so beautiful! This faucet is also practical because it uses 20% less water than the industry standard without compromising performance. We have a well, so that's something important to consider! I love the antique touch the high arc spout gives as well.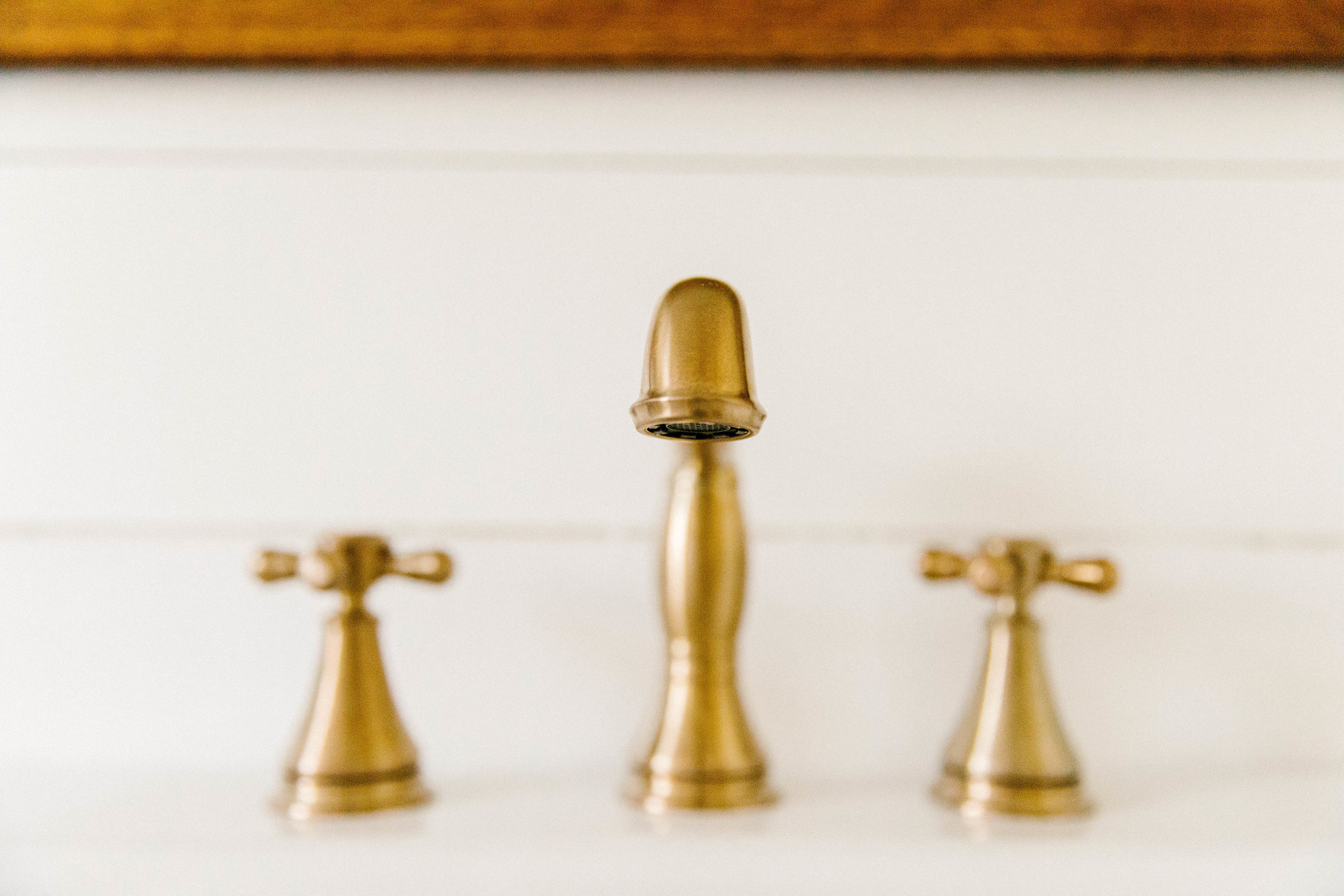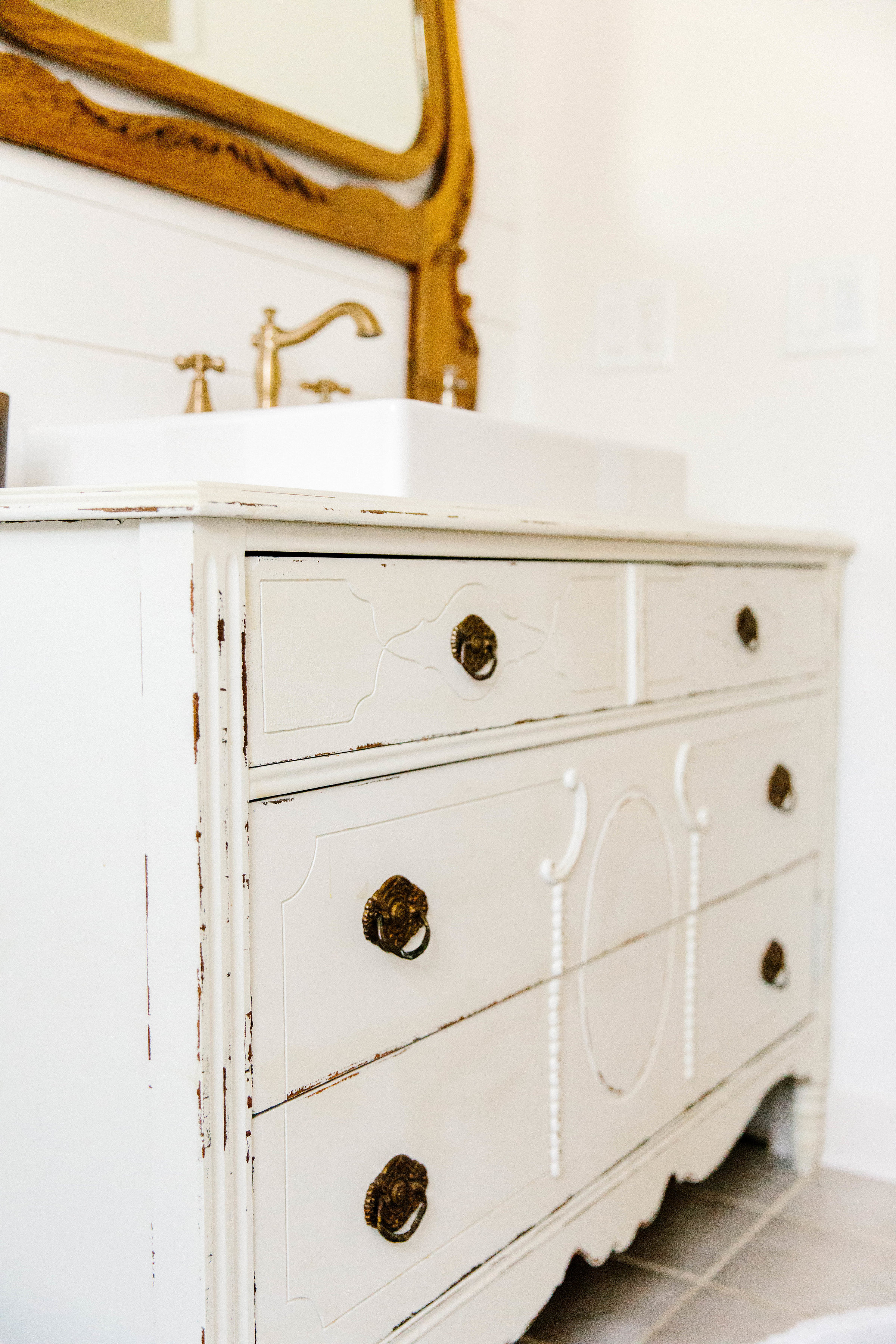 The faucet was easy to install, as well! We also received the matching shower and tub faucet, which I'll show at a later date.
This project was actually easier than we thought and was just a matter of cutting the dresser in the right places! We did this to another dresser in our downstairs bathroom as well. I have some finishing touches to put on this bathroom, and I'll share the full look in the future!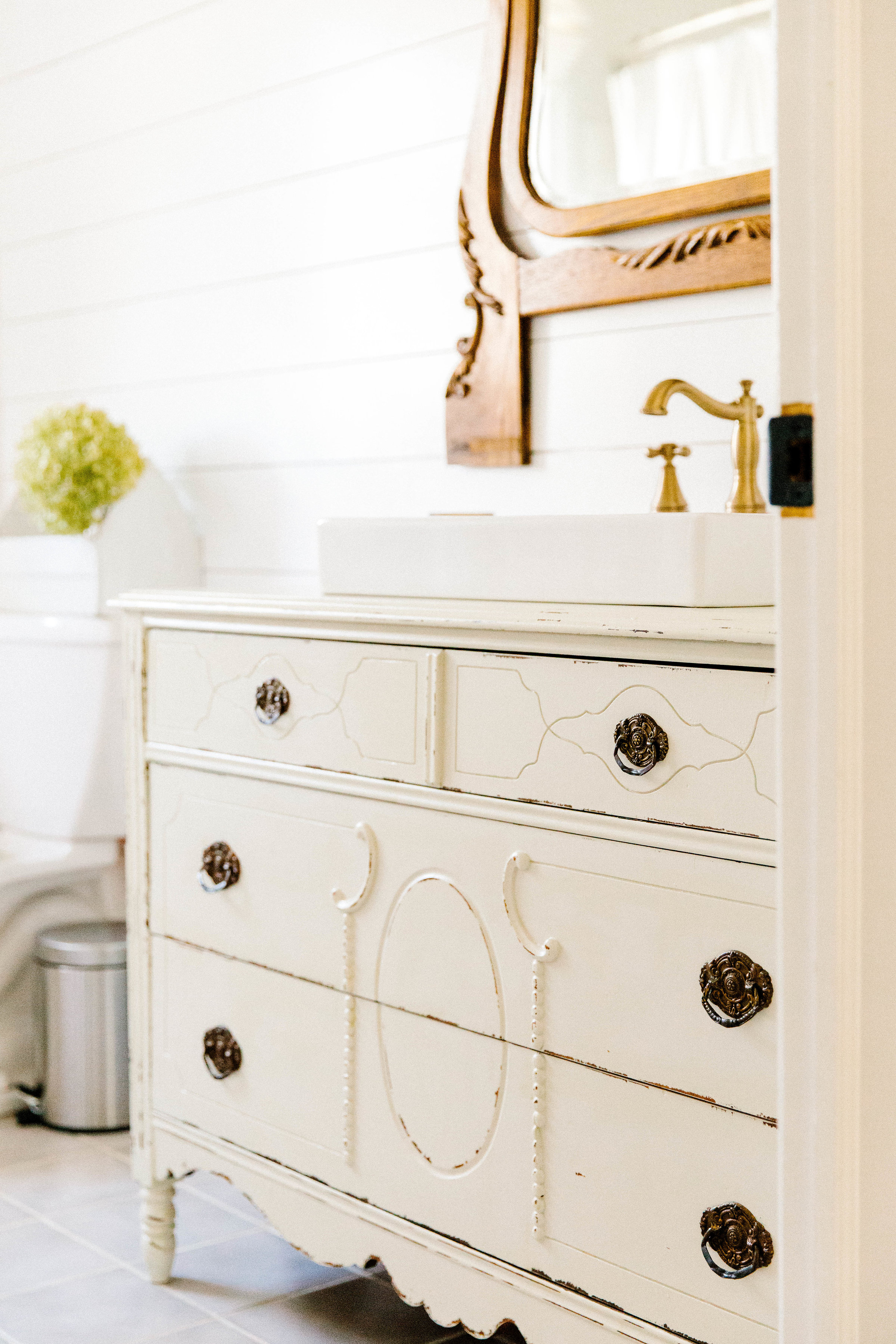 (Photos by Victoria Gloria)