Thank you to Playtex Baby for sponsoring today's post!
I've mentioned many times before how different pregnancy with #3 has been, and I'm attributing it to the fact that our lives are already so busy with our other two tiny little dictators that keep us very occupied! I feel like I haven't had time to process that another tiny human will be here in a few more weeks because I'm so focused on Landon and Noelle's schedules. I'm hearing this is the norm with a third baby, and I can only hope he's a "go with the flow" kid for this reason, haha! But I can't help but LAUGH at myself lately because I've realized, 35 weeks in to pregnancy, how incredibly UNprepared I am for this baby! Maybe some of you can relate, so today I'm sharing all the ways I'm not prepared in the slightest bit for this baby. Luckily I'm not totally clueless on parenthood 😉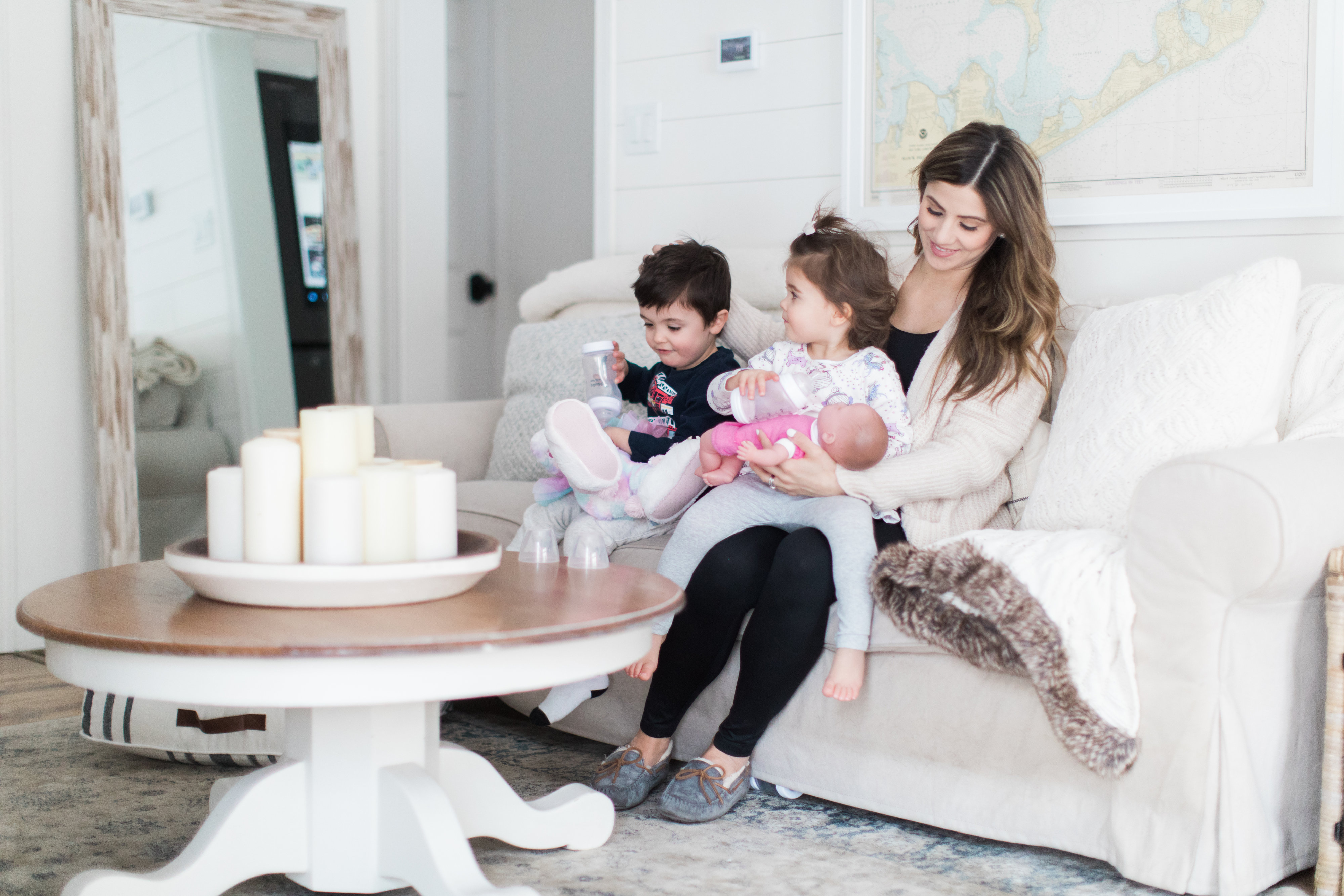 When someone asks how far along I am. Random person: "Ohh you're expecting! Congratulations! How far along are you?" Me: "Uhhhhhh…….30 something weeks? 6 or 7 months? I'm not due just yet, basically." I used to be ON POINT with how many weeks and days I was pregnant with Landon and Noelle. I could fire off "34 weeks and 4 days" without even THINKING. Now? It's a miracle I know what day it is let alone how far along I am! I just know I'm due in the beginning of February and we're leaving it at that, ha! Baby will get here when baby gets here!
When someone asks about the nursery. Nursery? What nursery? This kiddo won't be getting his own room because he'll eventually have to share with his older brother. But as you know, that won't happen for a little bit since he'll be sleeping in our room for a few months, so I haven't even THOUGHT about a nursery. All I need is a bassinet for him to sleep in and I'm good!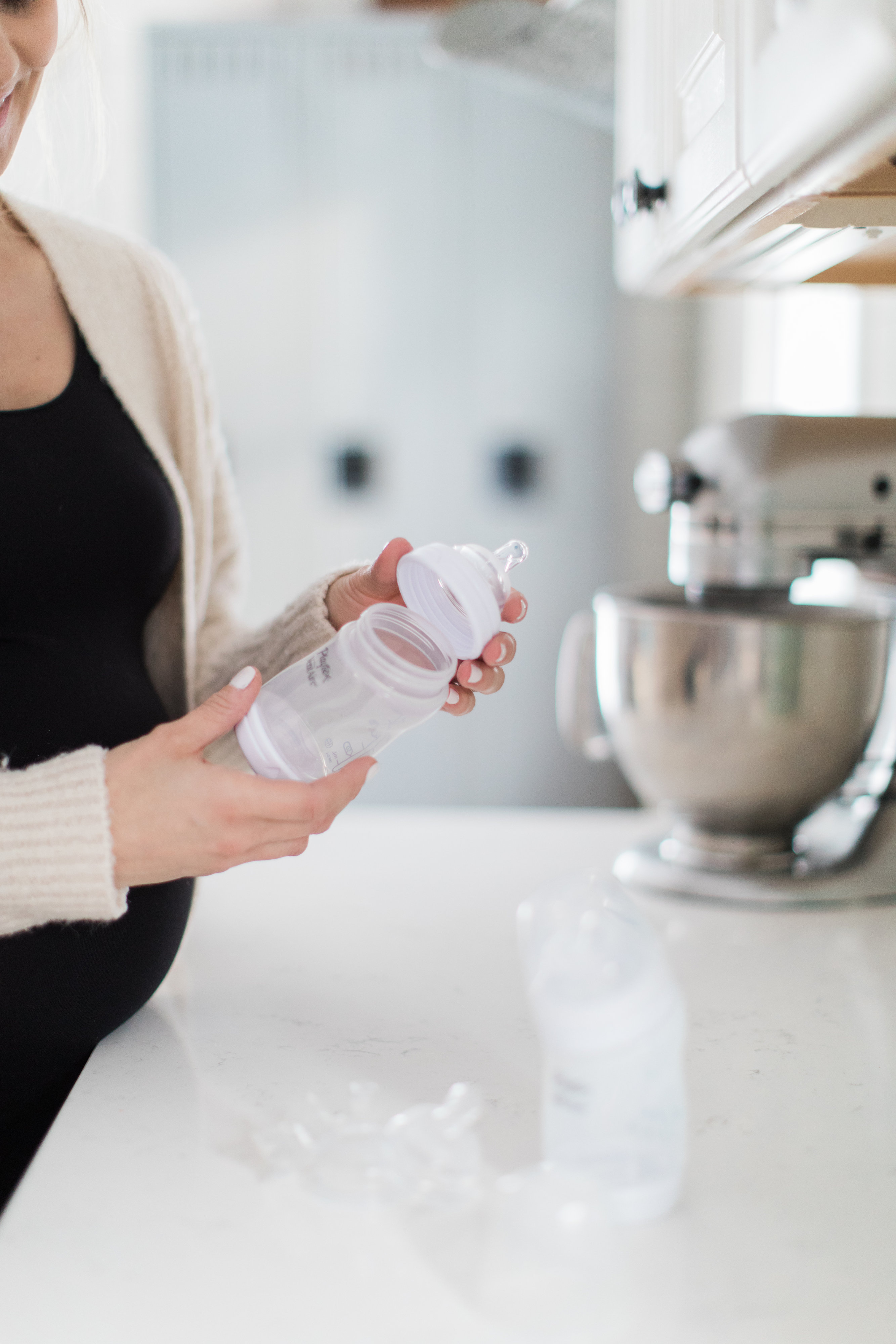 When I realized I have literally nothing for this baby. Someone asked me a few weeks ago if I needed anything for the baby and I literally looked at them like, "what?" And that's when I realized oh…maybe I should get some diapers or something? My sweet friends surprised me with a "baby mist" as they called it (not a shower, not a sprinkle, but a mist…haha!) so I now have a TON of clothes and diapers for this little man (thank you ladies!!!) but before that I didn't even have a onesie. Luckily there's Amazon Prime, am I right? Playtex Baby™ was SO kind and recently sent me a bunch of items in preparation for the little man, like their Playtex® Ventaire® Newborn Gift Set and Diaper Genie! The gift set is complete with Ventaire® bottles and a variety of nipples (which are great if this little man potentially has colic), so we are good to go for when I return to work! The kids are also enjoying practicing being a big brother and sister, too 😉
When I realized I should probably pack a hospital bag because I'm due in a few weeks. I had this realization around 34 weeks that MAYBE I should get a bag packed or something. My labors are insanely fast (Noelle was under 3 hours from first contraction to delivery), so my doctors keep drilling it into my head to be ready to head to the hospital at the FIRST sign of anything. Again, thank God for Amazon Prime because I now have some basic items to bring along with me (Depends, woo!).
Overall, my mindset is that I've done this twice before and a third time will be no different in respect to the baby items I need. Luckily we already have the bigger items from the last two, but I can't help but laugh at the difference between my self during my first pregnancy to now! We are excited to announce our continued partnership with Playtex Baby for 2018, and thankfully we are stock piled with our favorite Playtex Baby products (and some diapers and clothes, too!). We'll be sharing all the ways Playtex Baby is there for us during our first year with baby! Just waiting on you to join our crew, little one!