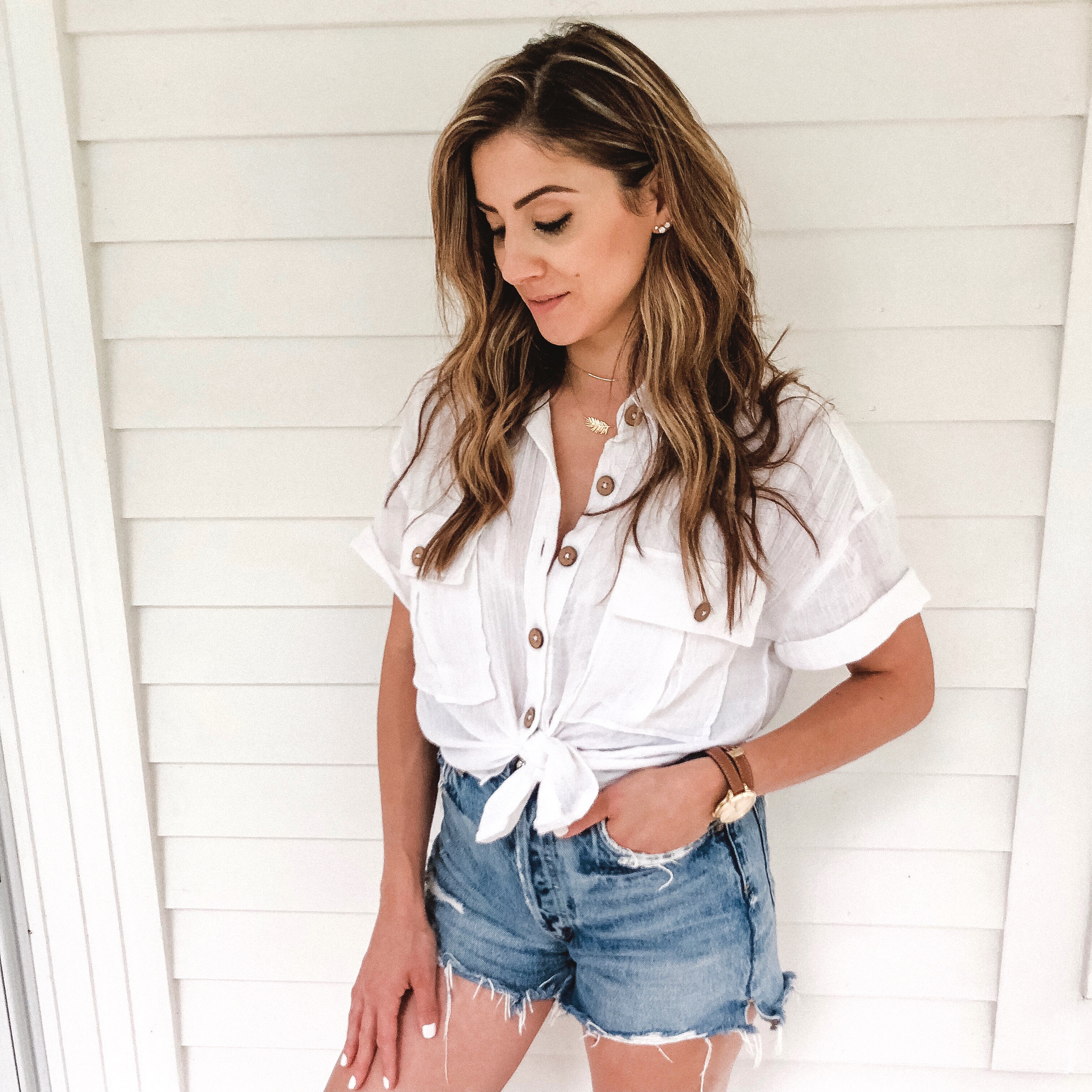 I know many of you are tired of hearing about a certain large sale happening, so I thought I would round up some summer basics under $100 that have nothing to do with the sale! In fact, I'm linking entirely different retailers altogether for you! I have many of these items, and some similar to what I've linked here, and all of them are great basics that can be styled multiple ways for the summer. Also, I received such awesome feedback on the capsule try-on I did on stories, and I plan to do more of that for you in the near future!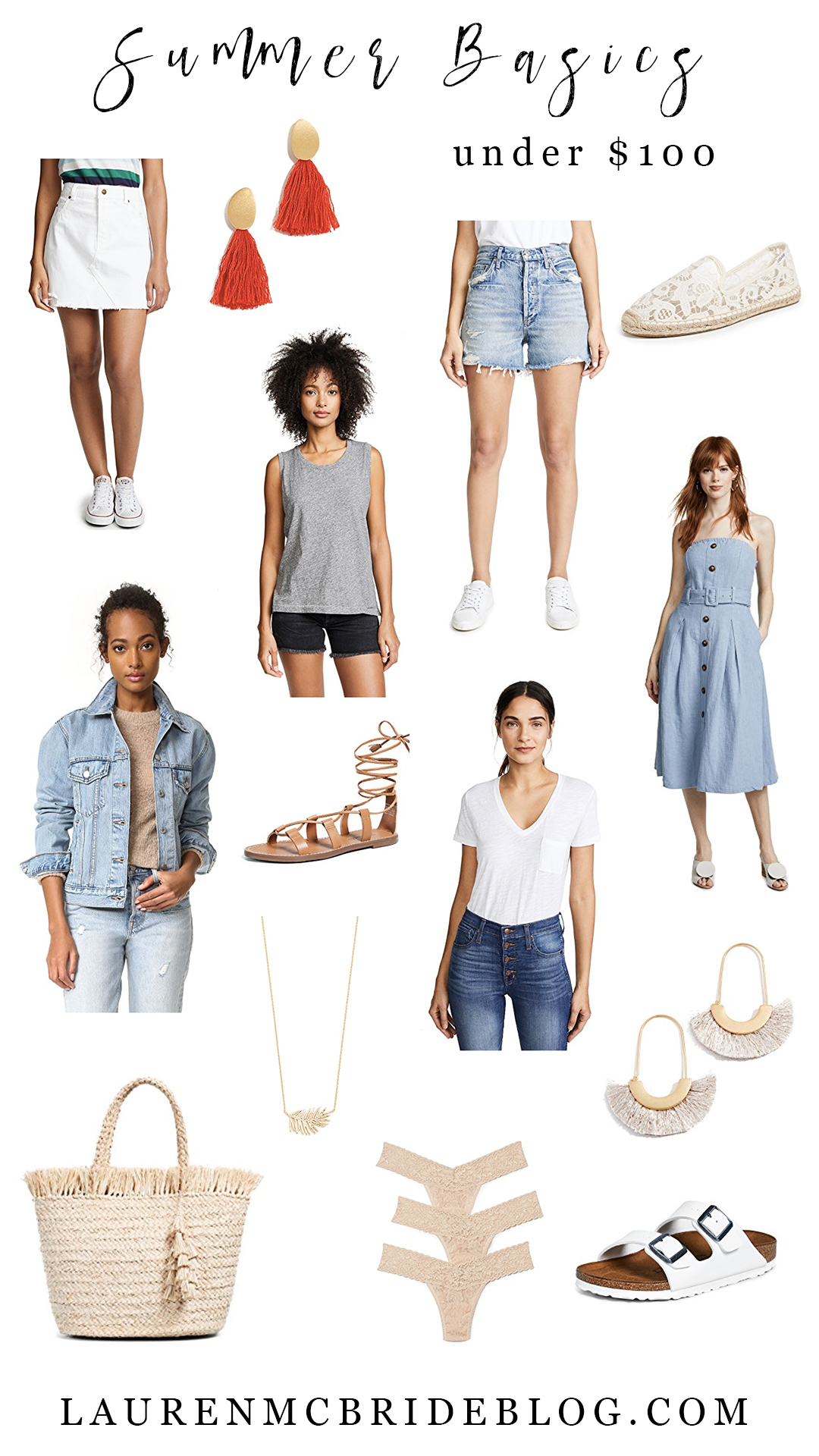 Rolla's White Denim Skirt // I can totally get on board with the denim skirt trending making a come back! A white denim one looks a little more sophisticated than regular denim, and I love the contrasted look of wearing it with a black tank. This one by Rolla's is under $80.
Madewell Tassel Earrings // These Madewell tassel earrings are my favorite of the season, just in a fun red! Adding a pop of color is festive for summer.
Agolde Denim Shorts // (EDIT: These are actually $128 and I realized after posting. SO SORRY guys! No one's perfect, right?!) These Agolde denim shorts are definitely an investment, but they're my favorite shorts I own because they fit SO well. Denim shorts are always a summer basic!
Lace Espadrilles // These Soludos are a fun twist on espadrille flats with the lace detailing. I wear mine ALL the time, and they fit true to size!
Madewell Muscle Tank // This Madewell tank is one of my favorites for the summer. It's a great wardrobe basic, and I have them in multiple colors.
Moon River Strapless Dress // I love this chambray dress for summer! Versatile in color, and can be styled casual with some lace-up sandals or dressed up a bit with some wedges. It's on sale too!
Levi's Denim Jacket // This is a year round wardrobe staple item, so if you don't already own one I highly recommend investing in it! You will literally wear it all year long, as it's versatile and easy to throw over any outfit. This Levi's one is a great choice!
Madewell Lace-up Sandals // My Madewell lace-up sandals are probably my most worn shoe of the summer. They go with literally EVERYTHING, and are comfortable enough to be worn all day long. You can shop more Madewell sandals here (one of my favorite brands!)
Madewell Whisper Tee // Similar to the muscle tee, this Madewell Whisper Tee is a sure fire winner every time. These are some of my favorite basic tees for layering, and can be worn year round! They have a nice relaxed fit, too.
Madewell Fringe Hoop Earrings // I just scooped these up, and can't wait to get them! I love the neutral fringe detail, and that they still make a statement without being over the top. These are also by Madewell (I freakin' love their earrings!)
Palm Necklace // I receive so many questions about this Gorjana Palm Leaf Necklace, and it's one of my favorites for summer. It's dainty, yet makes a statement, and I like that it's adjustable as well. It can be worn as a choker or extend to about 20″!
Straw Tote Bag // Okay so this one is slightly over $100, I'm sorry! I grabbed this adorable tote by Hat Attack for our trip to Charleston and I love that it can be used as a beach tote or handbag!
Hanky Panky Thongs // We can't leave out the undergarments, right? If you don't own a pair of Hanky Panky thongs yet, trust me when I say they're gooooooood. I only own one pair, but I need to invest in more because they're the only one that don't drive me crazy!
White Birkenstocks // I'm asked frequently if I wear my copper or white Birkenstocks more, and while I love both, I would tell you to grab the white pair if you're looking for versatility. Plus they're slightly cheaper 😉
Stay tuned for more great finds!