DISCLAIMER: This post is LONG. There is SO much information to share with you, so I tried to break it down by categories if you're looking for something specific! But Beaches Resorts offers so much and I didn't want to leave anything out!
This past month our family took a trip to the BEAUTIFUL island of Jamaica and stayed at the Beaches Resorts in Negril! Beaches Resorts offers all inclusive, family resorts on the islands of Jamaica and Turks & Caicos, but since we had already visited Turks once on a cruise, we opted for Jamaica instead! Today I'm sharing all about the Best Family Resort in Negril, Jamaica and what you can expect if you take a family vacation there!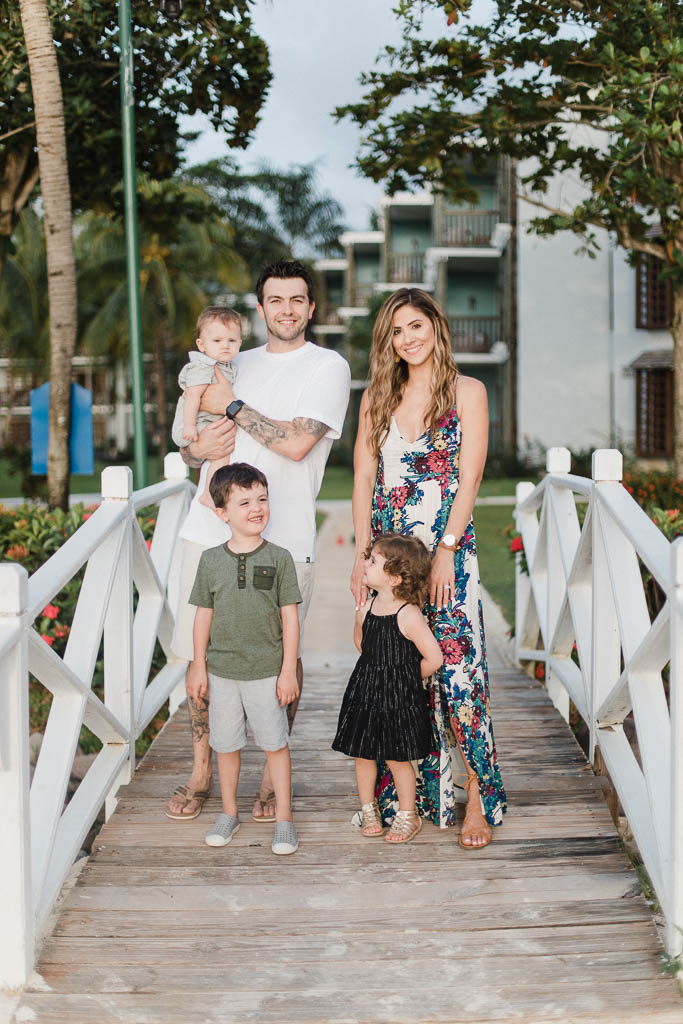 GETTING THERE
To get to Beaches Negril, we flew into the Montego Bay airport in Jamaica. If you are flying to Jamaica, I HIGHLY recommend utilizing Club Mobay because it lets you quite literally breeze through customs and immigration. We waited absolutely no time at all (so key with little kids), and I actually felt bad skipping all of the people in line (and the line for immigration was SO long!). We were in and out in just a few minutes. It was also useful on the way home because they had an entire private lounge with food, drinks, a spa, and a kids play area. I highly recommend!
The airport is 1.5 hours from Negril, and Beaches Resorts provides shuttle transportation to and from the airport. Beaches has a private lounge with food and drinks when you're waiting for your shuttle which was great! We were able to change clothes and relax until the shuttle bus was ready. The shuttle bus was air conditioned, had free WiFi, and they even provided carseats for our kids! They made it seamless getting to and from the airport.
We received the warmest welcome when we arrives to Beaches. Everyone greets you with "Welcome home!" and they immediately take your bags up to your room. I couldn't get over how amazing the service was upon arrival, and it stayed that way the duration of the trip. We became very friendly very quickly with the staff, who frequently recognized us around the resort. They were SO accommodating!
THE ROOM
We actually requested a room upgrade while we were there so we had a little more space for the family member we brought! That way my kids weren't all up in her face all the time, haha. But even prior to that, our room was huge! In the Tropical Beachfront Concierge Family Suite we had two adjoining rooms, which is fantastic for families. There was a king bed in one room, and two doubles in the other. They each had a pull out couch as well. When we upgraded to the Tropical Beach Front Concierge Two-Bedroom Junior Suite, the King room consisted of two couches that had trundles underneath. Both rooms had very large bathrooms which ample closet space. They really were perfect for our large family!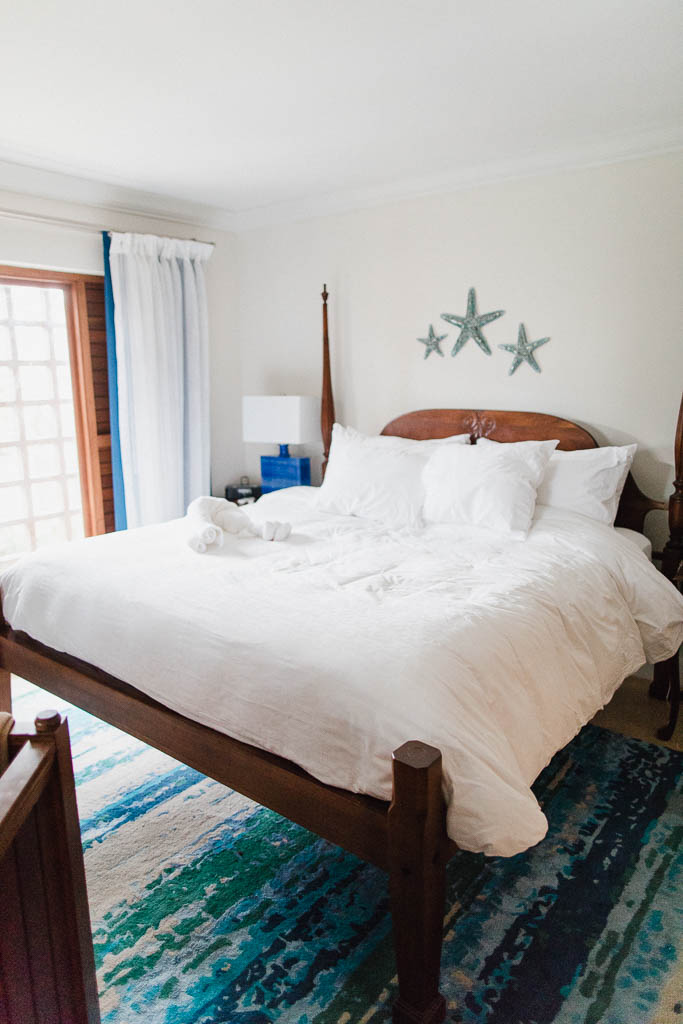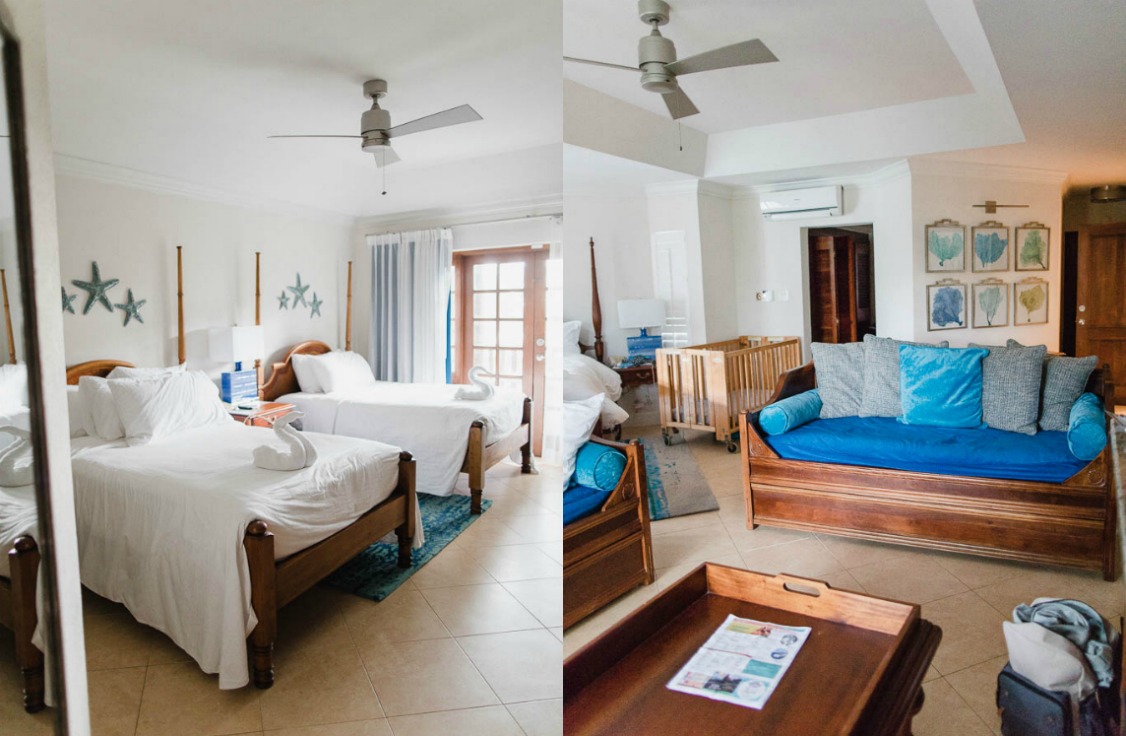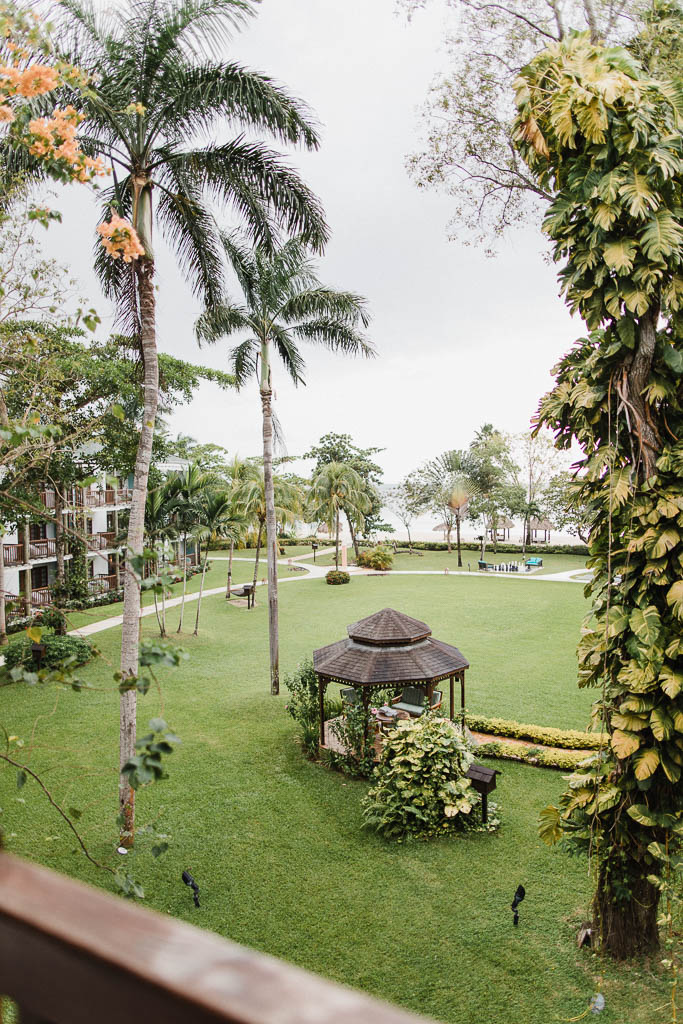 THE ACTIVITIES
There are so many activities at Beaches Resorts, and I love that it's family friendly yet also has couples activities as well!
The Pirates Island waterpark is an absolute BLAST for both kids AND adults. My husband and I did the lazy river with our older two multiple times, as well as the bigger water slides (the kids loved watching us go down them!). There are smaller water slides as well that are more age appropriate for younger kids, as well as a variety of other fun activities in the splash pad. Basically, your kids will not be board and meltdowns may occur when you have to force them to leave the waterpark (just speaking from experience, haha). We all had SO much fun!
There are a variety of pools with swim-up bars and water activities like volleyball (and floats!). We actually didn't spend time in the pool because the kids loved the beach and waterpark so much, but I loved that the option was there if we wanted a break from the beach.
Beaches Resorts offers a Kids Camp for children ages infant through teenagers. Their childcare providers are all certified through the International Nanny Association, AND Beaches is the FIRST resort to be a Certified Autism Center through the International Board of Credentialing and Continuing Education Standards Training and Autism Certification. Kids Camps is included in your rate, too! They have private nannies for hire as well (for an additional fee) after hours. I got a peek at the Kids Camp schedule and I was impressed at all they had to offer. It was a jam packed day of fun for the kiddos! There's also a nurse on hand near the kids camp location. We did not take advantage of this during our stay mainly because we had family there to help, but I think it's a great option!
All of the water and land sports are included in your package on the resort as well! We did a glass bottom boat tour with the kids, which was really fun! They had a variety of activities available, including scuba diving! (Not all of the activities are appropriate for small kids, but they'll tell you age limits!).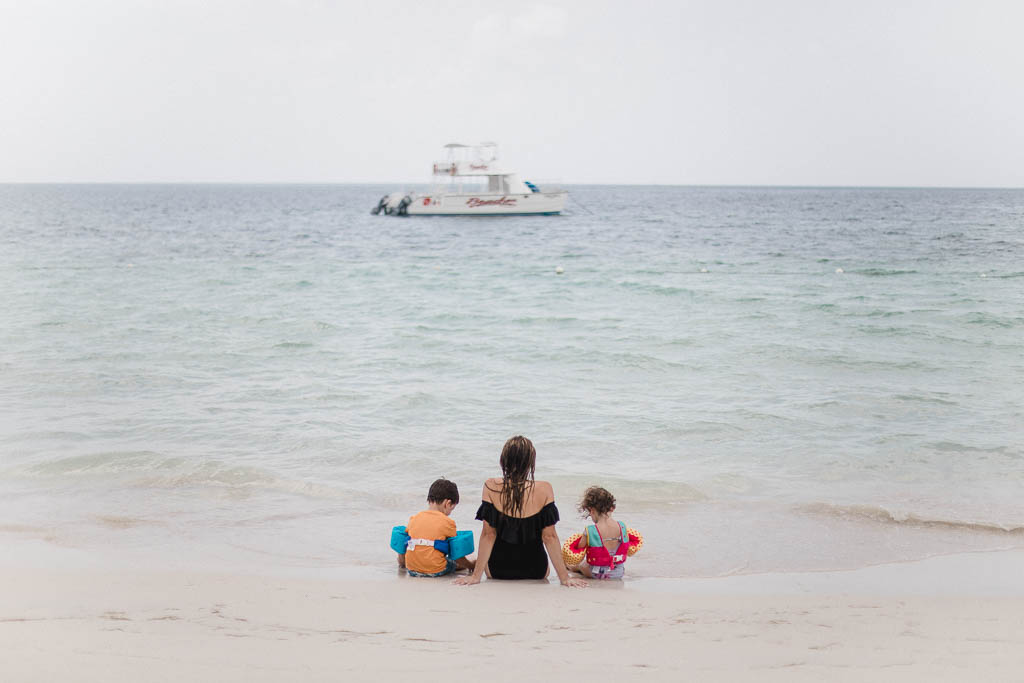 EXTRA ACTIVITIES/SERVICES
While everything is included in the resort, there are some things that are extra money that we decided to take advantage of.
SESAME STREET. There are a variety of activities you can do with the Sesame Street characters. Some of these are an additional fee – for instance, we paid for the character breakfast where we ate with the whole Sesame Street crew! You can also have their favorite character come tuck them in at night (we opted out of that because Noelle was a little unsure about the characters until the last day, ha!) But there are several fun events that happen with the characters that aren't an additional fee! They have a fun parade, dance parties, and shows every evening where the kids can meet and dance with the characters. Our kids LOVED it.
CABANA SERVICE. The cabana at Beaches Negril was $150 a day from 9-4pm and came with a service attendant who can get you whatever you need. We liked having guaranteed shade (and also a place for the baby to play), a fan, and someone to grab us food and drinks if we were enjoying ourselves in the waterpark or on the beach! We had Miss June each day who was a total GEM. If you visit Negril, you must ask for her! She was so incredibly sweet and brought the kids snacks when they were hungry, and had an amazing lunch for us every day (and she kept the drinks flowing for mama!). It was very convenient, and we found ourselves missing it on the one day we decided not to get the cabana!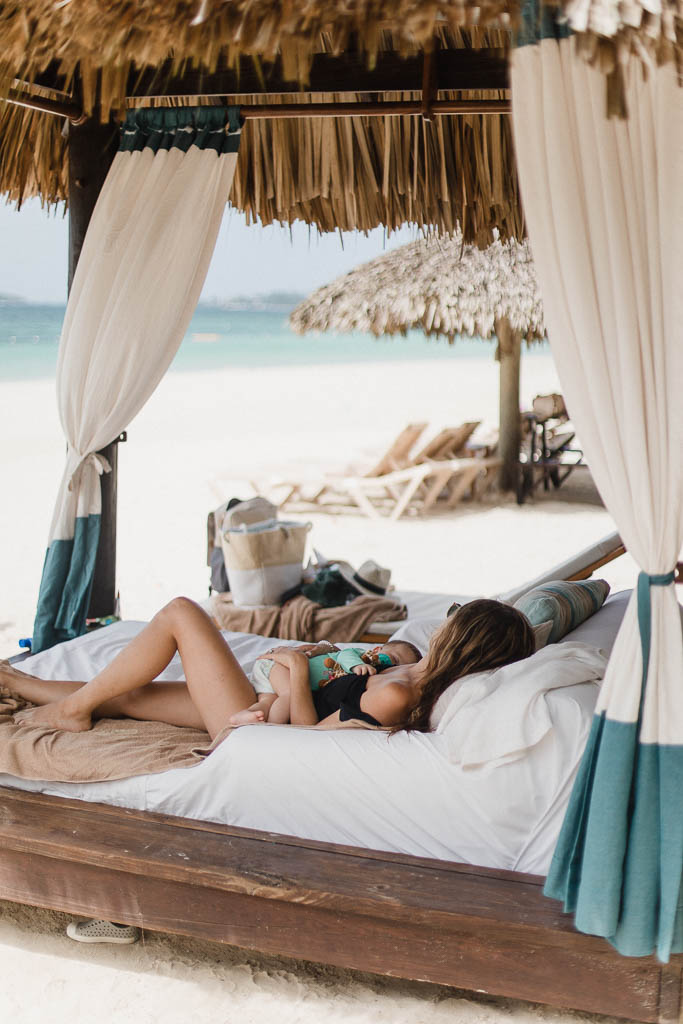 CANDLELIGHT DINNER FOR TWO. Our wedding anniversary is coming up, so we decided to take advantage of Beaches candlelight dinner for two on the beach. We brought someone with us to help and watch the kids so we could take advantage of some of these services, and I'm so glad we did. It was incredibly being able to eat dinner on the beach during sunset, just the two of us. The dinner is $199 and comes with a 4 course (delicious!) meal and private set up and waiter. It was so stunning, and I'm so glad we did it because I know we won't have that back home!
PROFESSIONAL PHOTO SERVICE. There are professional photographers on site snapping photos of you during your entire trip! AND you can schedule a photo shoot! At the end, you can head to their on site photo shop and see all of the photos taken. They have several packages available for purchase. I loved this option because not everyone has a camera on hand to take family photos. It's a great opportunity for getting a beautiful family photo in a beautiful place! Some of the photos they took are below!
THE FOOD
One of the most popular questions I received from you guys during our stay was how the food was! And guys…it was incredible! There was a wide variety of options, and a lot of Jamaican food as well (which is what I hoped for because it's SO good). There were several restaurants to choose from for meals. For breakfast, The Mill offered buffet (we hit this up almost daily) and Stewfish offers a sit-down breakfast that's outside on the beach (it was so so beautiful!). For lunch, there is always a buffet offered, Dino's Pizzeria, as well as a Bar-B-Que stand that had traditional American food and Jamaican BBQ (the jerk chicken and Jamaican patties…O.M.G). For dinner, there are a variety of restaurant options like Kimonos (hibachi), The Venetian (Italian), Mariachi (Mexican), and the same buffet/BBQ/pizza places as lunch time. Basically, you will not go hungry! I loved being able to switch up what we ate every night, and also take advantage of Yo-Yos – all you can eat frozen yogurt with a zillion toppings offered. They even had dairy free! The resort was overall very accommodation to food allergies (they asked at every meal!).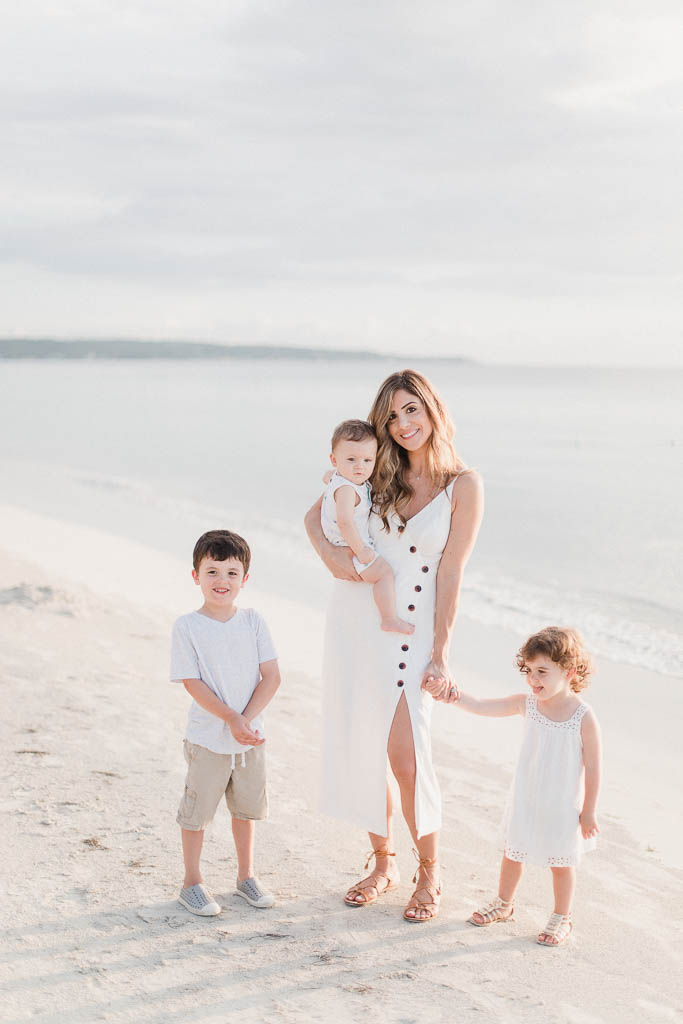 Overall, Beaches Resorts in Negril, Jamaica was one of the best vacations I've ever experienced. The family-friendly service is impeccable, and their hospitality unmatched. Many of you asked if it's still appropriate without kids…and the answer is absolutely! You are getting the luxury of their sister resort, Sandals, except that there are more activities and accommodations for kids. We saw many couples and groups of friends without children during our stay. It really is a great resort for everyone, but it was SO nice being in a place where we weren't concerned if they could accommodate our three children. I haven't been that relaxed in 5 years, haha! I'm hoping we can head to the Turks and Caicos Beaches Resort next year for our vow renewal, too!
If you've stayed at a Beaches Resort, leave a comment below! I'd love to hear which one and why you loved it! 🙂