It's time for October Amazon Finds for Under $50! We found some great items this month, and some dupes to share!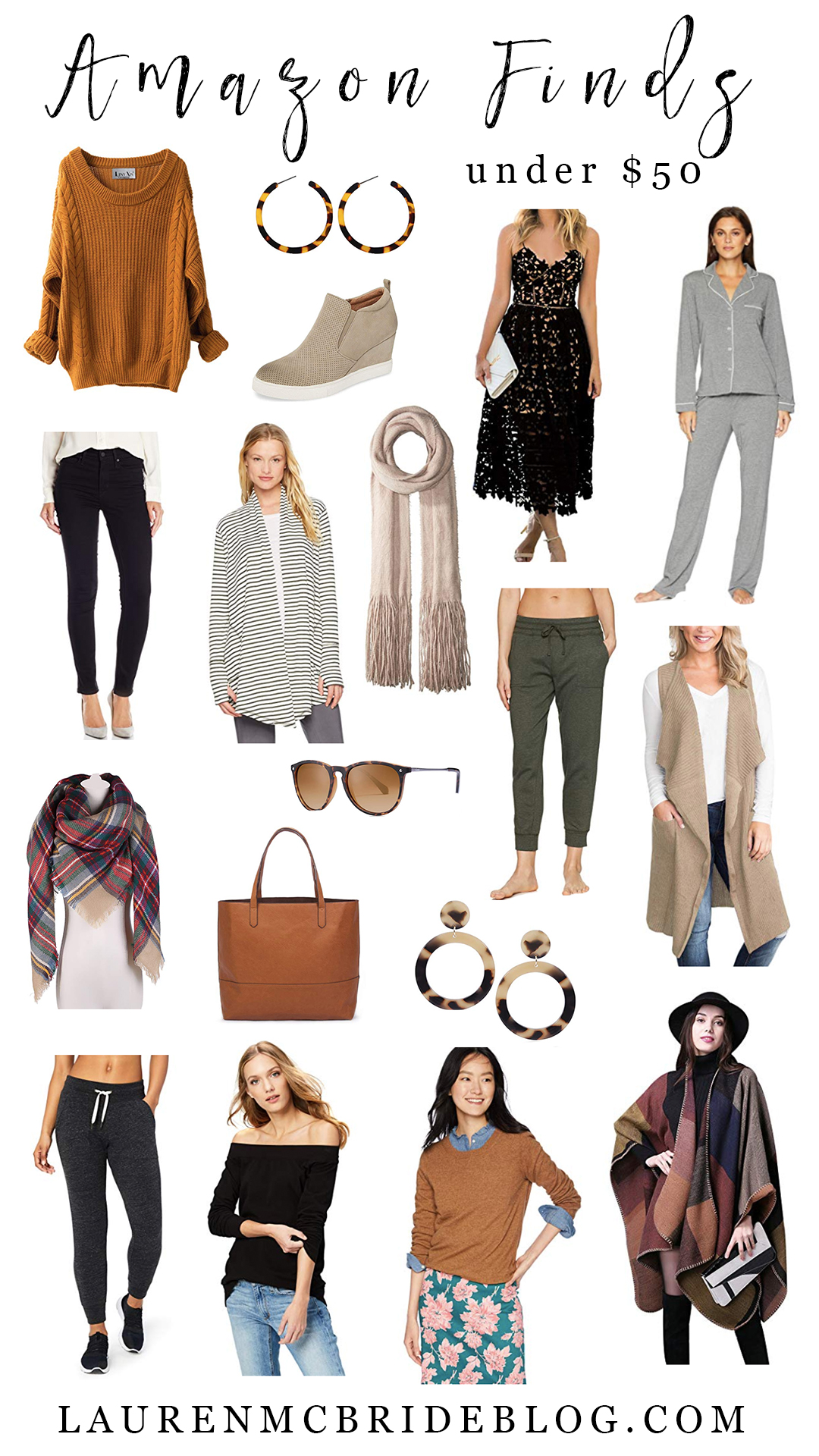 Oversized Crew Neck Pullover// This sweater is SO cozy! I purchased it to try out for you guys, and I was impressed with the quality for such an inexpensive sweater! The "ginger" color pictured is a little brighter in person, just FYI!
Tortoise Shell Hoop Earrings // These hoop earrings are similar to the pair I've been wearing, except a fraction of the price!
Wedge Platform Sneakers // These sneakers are super similar to the Steve Madden pair I shared on stories! They have great reviews, too!
Sleeveless Lace Dress // If you have a wedding or event to attend this fall season, this is a great option! It would look beautiful with a leather jacket for some edge or a shawl for a more sophisticated look.
Pajama Set // I have this pajama set and I LOVE IT! I actually own two. If you're looking to scoop up some cute warm pajamas, I highly recommend!
Levi's Skinny Jeans // A great pair of basic black skinny jeans for under $50!
Drapey Cardigan // A great lounge cardigan! I love these for wearing over my pajamas or to throw on around the house.
Long & Skinny Scarf // This scarf reminds me of the popular Free People one last year because it's extra long for wrapping! It comes a few colors and it's only $24!
Wide Waist Joggers // These joggers look super comfortable for lounging around the house!
Long Vest Cardigan // I love the look of this sweater vest! It would be great styled over dresses or throw over your fall outfit for some additional layering!
Blanket Tartan Scarf // The classic plaid scarf for fall, and for only $13!
Large Vegan Leather Tote // This is a Madewell dupe for only $40! It has great reviews and looks to be the perfect size. If you've had your eyes on the Madewell one, this is a great inexpensive option!
Polarized Sunglasses // These look nearly identical to a pair of Ray-Bans I own but for a fraction of the price! They're polarized, too!
Acrylic Drop Dangle Earrings // These are very similar to pair I have from LOFT! Super cute for the fall season and at a great price!
Lightweight Cool Down Jogger Pants // I've shared these before with you, and they're back in stock! They fits TTS and are super comfortable.
Off Shoulder Tunic // I've shared this cute off shoulder tunic before with you! It's super soft and would work well with a baby bump, too!