It's time for our monthly Amazon Finds under $50! This month I'm featuring a variety of spring basics and some great athletic options! Most items are under $30! 🙂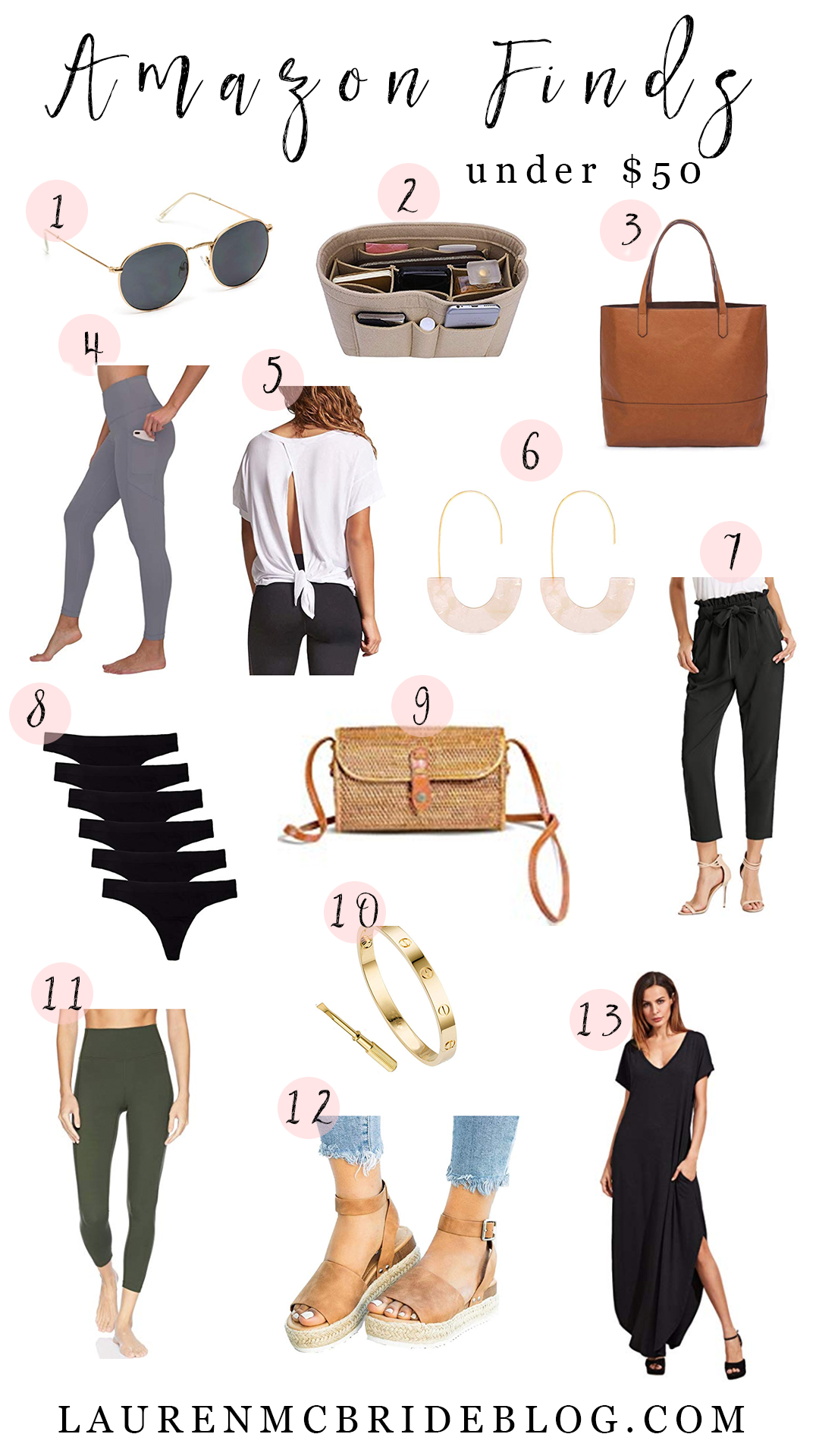 These sunglasses look like Ray-Bans but are under $10! Great if you're the type of person who breaks sunglasses all the time (I see you! haha). They have great reviews, too!
I bought one of these for my work bag and I love how organized it makes a simple tote! My issues with totes is everything ends up all over the place – this completely solves that! I use one for my purse, too!
If you're looking for a great Madewell Transport Tote dupe, this is it! For under $50, this tote is budget-friendly and great quality. I scooped one up for myself to compare! This could be a great mom bag, too.
These yoga pants have over 7K 4.5 star reviews! I was intrigued, so I scooped up a pair for myself. They're SUPER soft and comfortable, and I love the overall fit. They aren't too long on the ankle, and they're high waisted as well. I wish they offered a little more compression in the waist, but it's still a good amount! They're under $25, too, and come in a variety of colors!
I've been on the lookout for new workout clothing, and this tie back tee is great for under $15! I like how relaxed the fit is, and the cute open back detail. It comes in a bunch of colors!
These statement earrings are super lightweight and pretty for spring! I love their half moon style and sleek gold wire. They're under $8, too!
I was not expecting these to be as great as they are! If you work in an office environment or are simply looking for a great pair of spring/summer dress pants, these are fantastic! They're high waisted with a slightly tapered leg and flattering fit. They come in a variety of colors and are under $26, too! I scooped up a size S and they fit great!
I've been on the hunt for good athletic thongs (Zella no longer makes the ones I loved!), so I scooped these up when I saw their positive reviews! So far I'm LOVING them. They're super comfortable and don't annoy me during my workouts. They're under $24, too!
I love this simple rattan bag for spring and summer! I have a circular version, but I love this little rectangle too! It's under $46 and a great little statement bag for the season!
One of you asked me to review this bracelet and I was pleasantly surprised! It has a similar look to the Cartier Love bracelet, so if you're looking for a duper (and cheaper!) option, I think this is a great pick! I haven't had it for very long, so I can't speak to longevity. But first impressions are good!
These are so similar to the Lululemon Align in the waistband! They have a thin waistband, yet still have some compression. Great for everyday wear, yoga, or whatever activity you're doing. Super comfortable, and I love the length on them too! They fit TTS.
These sandals have 5 star reviews and are great for spring! They have a variety of colors, too, and even a fun leopard print! They're under $30!
This is a great basic maxi dress for spring and summer! It comes in a variety of colors and works for a baby bump, too! I have one in a similar style and it's great! Under $20, too!