I am SO excited to share today's post with you! I mentioned a few weeks ago that I was trying out the NuFACE FIX DUO, and I feel confident enough to share my thoughts with you! The NuFACE FIX DUO uses microcurrent to smooth and firm the appearance of fine lines and wrinkles in just 3 minutes. As someone who has never had injectables (I've been pregnant or breastfeeding for the past 7 years), but who has noticed some signs of aging (welcome to my 30s!), this device was intriguing to me. Today I'm sharing How to Use the Nuface FIX and why I think it's a great skincare tool to add to your routine!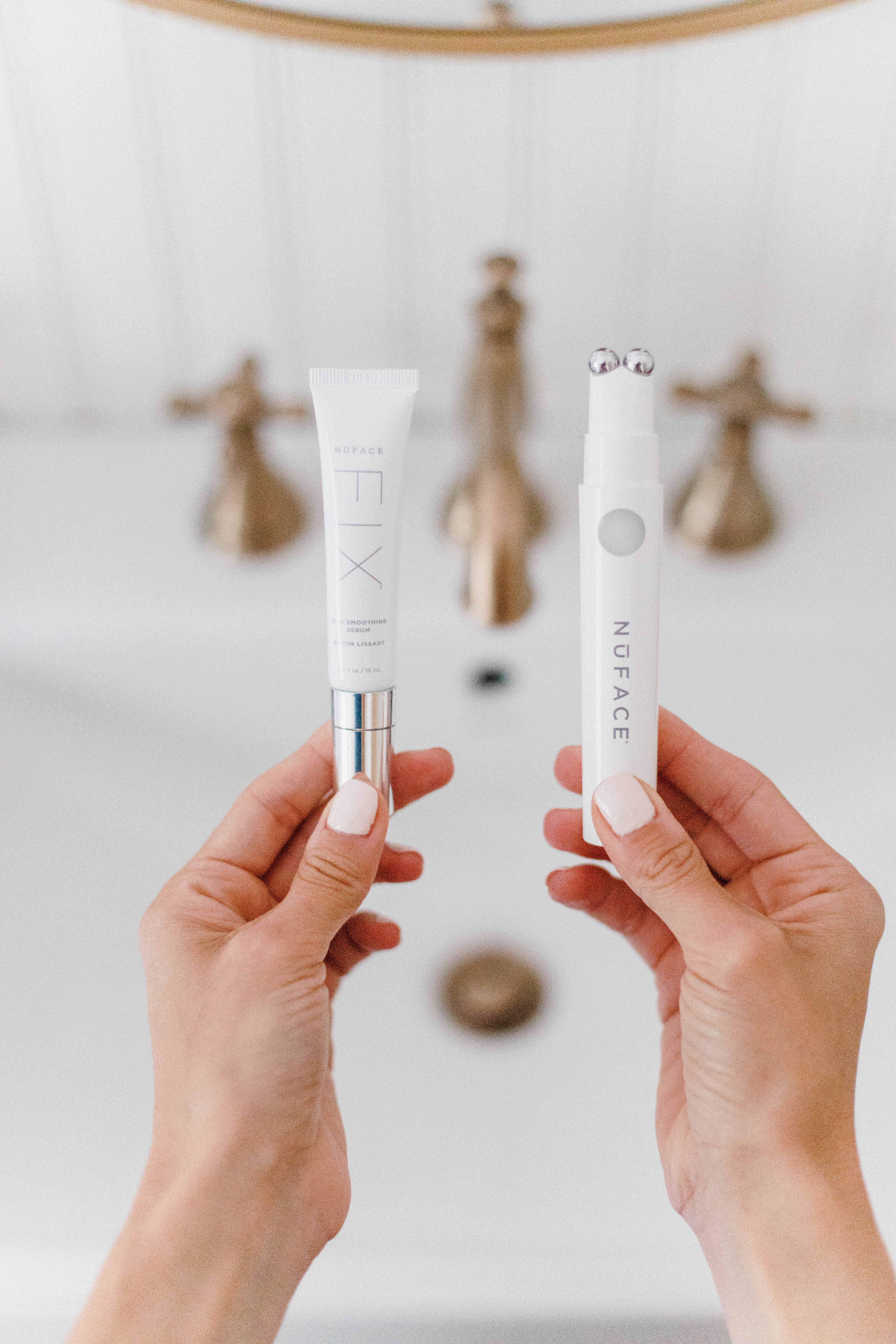 What is microcurrent?
As stated on the NuFACE website (right HERE), microcurrent is a clinically tested anti-aging treatment that mimics the body's natural current and gives instant results. It's frequently used in medical spas and offices as apart of treatments (and not for cheap!), so it's awesome that this technology is available to us in our own homes! I like that the serum contains safe ingredients, and is free from any no-no ingredients like some anti-aging serums. I spoke with NuFACE co-founder and CEO, Tera, who told me it's great for breastfeeding moms, too (but not for pregnancy!).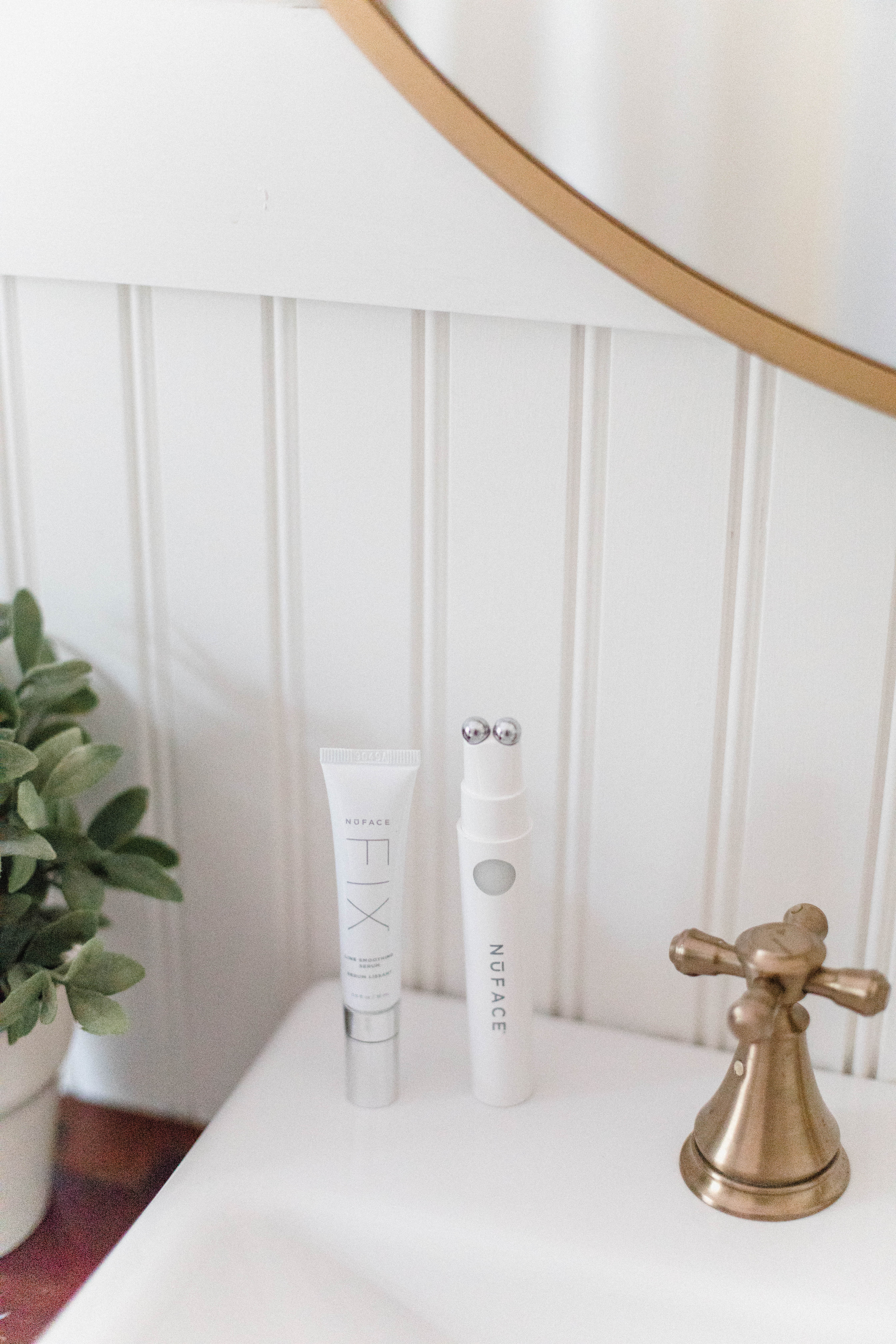 How to use the Nuface FIX
The NuFACE FIX shows instant results, so I prefer to use it in the morning although it can be used twice a day. It's great for areas that show fine lines and wrinkles, like the forehead, eyes, mouth (laugh lines), and lips! The NuFACE FIX comes with Line-Smoothing Serum that's important to apply prior to using the FIX because it acts as a conductor (absolutely necessary for microcurrent to work!).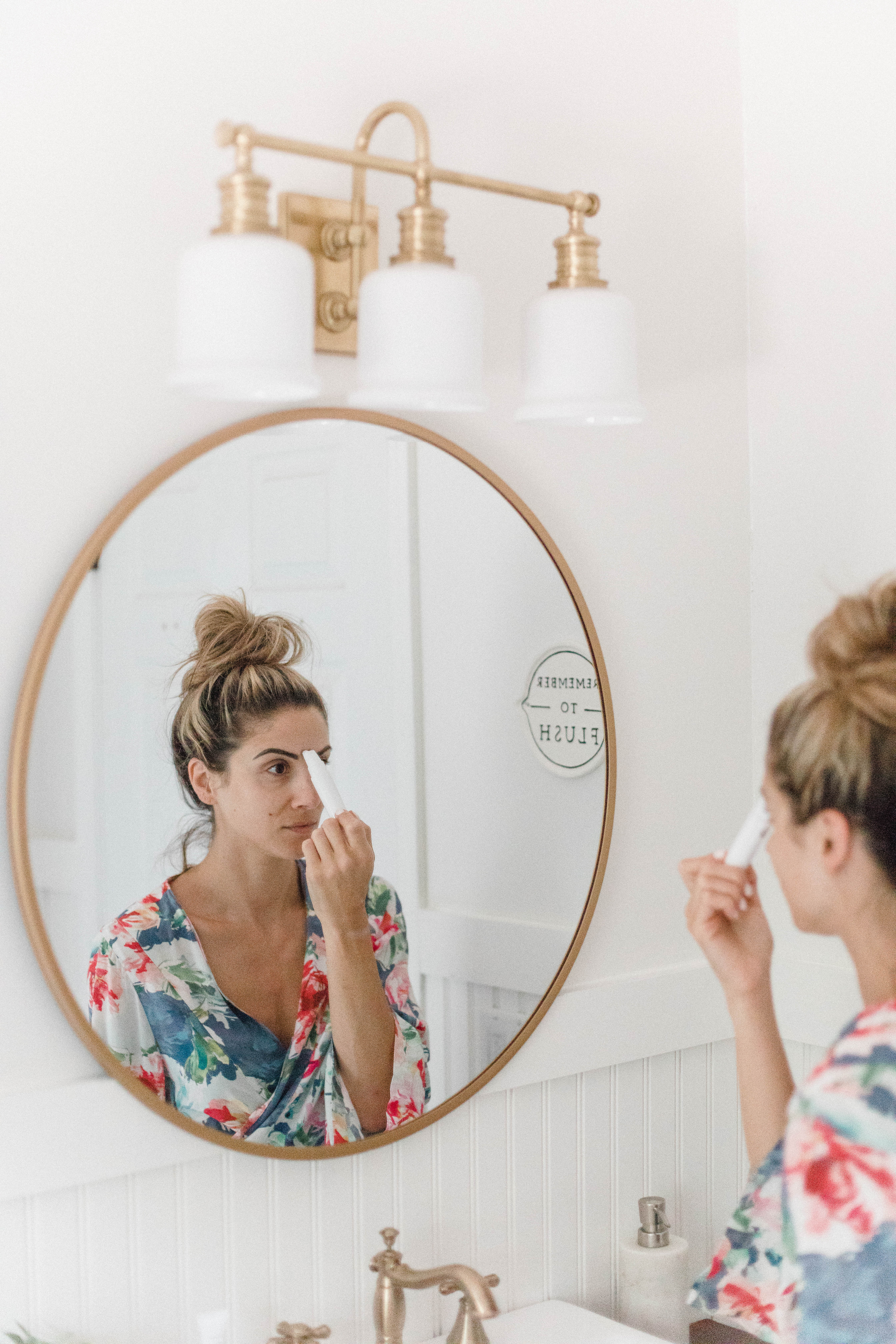 Make sure your face is CLEAN. No makeup, no skincare, per the instructions (always read your manual!). I use it after washing my face in the morning. To use it, I apply serum to the treatment area and simply press the button which turns the device on (you'll feel a little vibration), apply the two silver ball tips to the area of your choice, and move the device back and forth in eraser-like movements (think left and right or up and down!). The device has an automatic timer and will turn off after 3 minutes. NuFACE suggests three minutes to one targeted area for best results.
For lips, Tera recommends moving the device from the center of your lips outward in gentle flicking motions.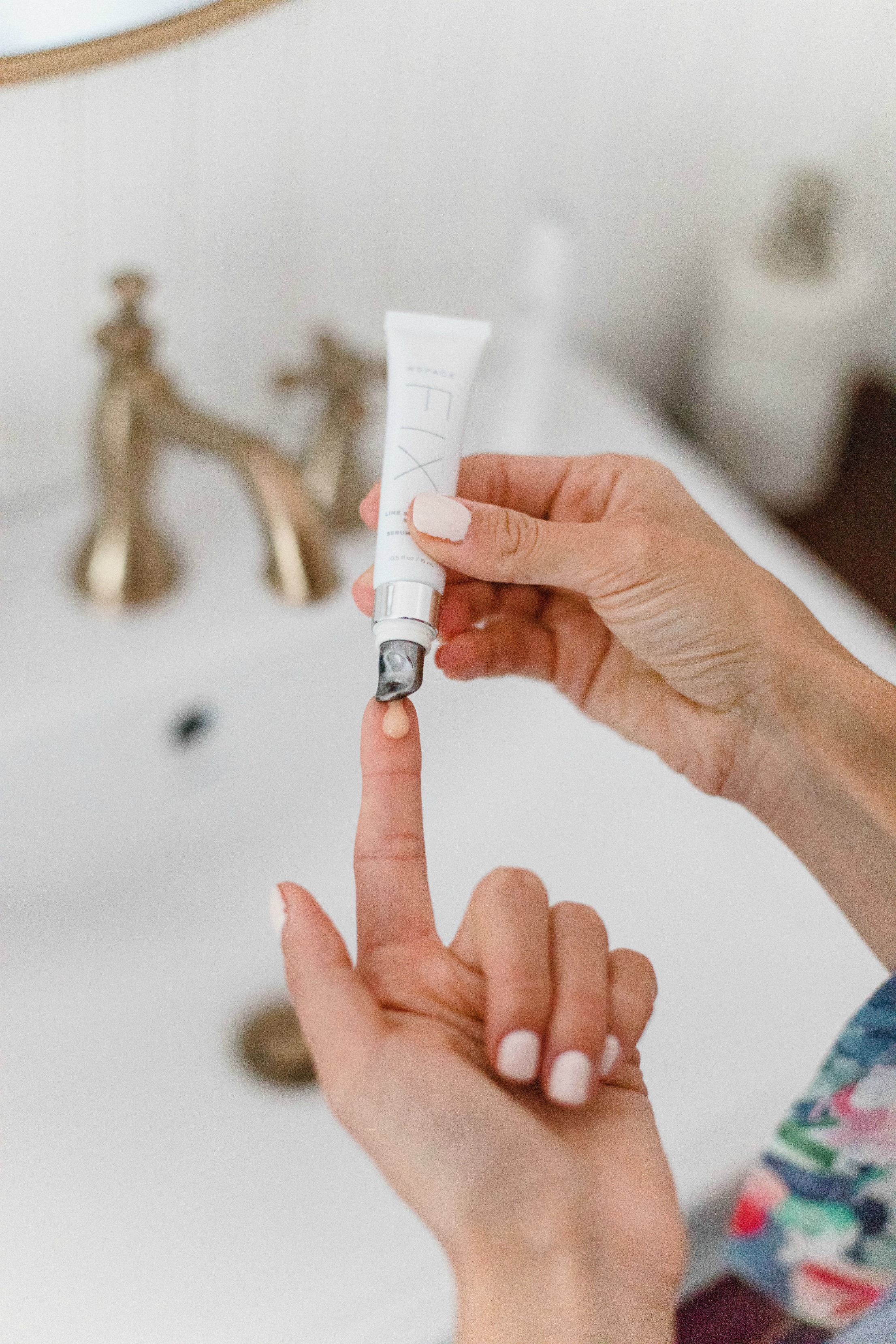 Here's a before and after for you. I spent a little more time on my face to show you the difference and did 3 minutes between my brows (my WTF lines, as I've dubbed them), my laugh lines, and my lips! The results are very natural looking – the lines are slightly softened and my lips are ever so slightly plumper.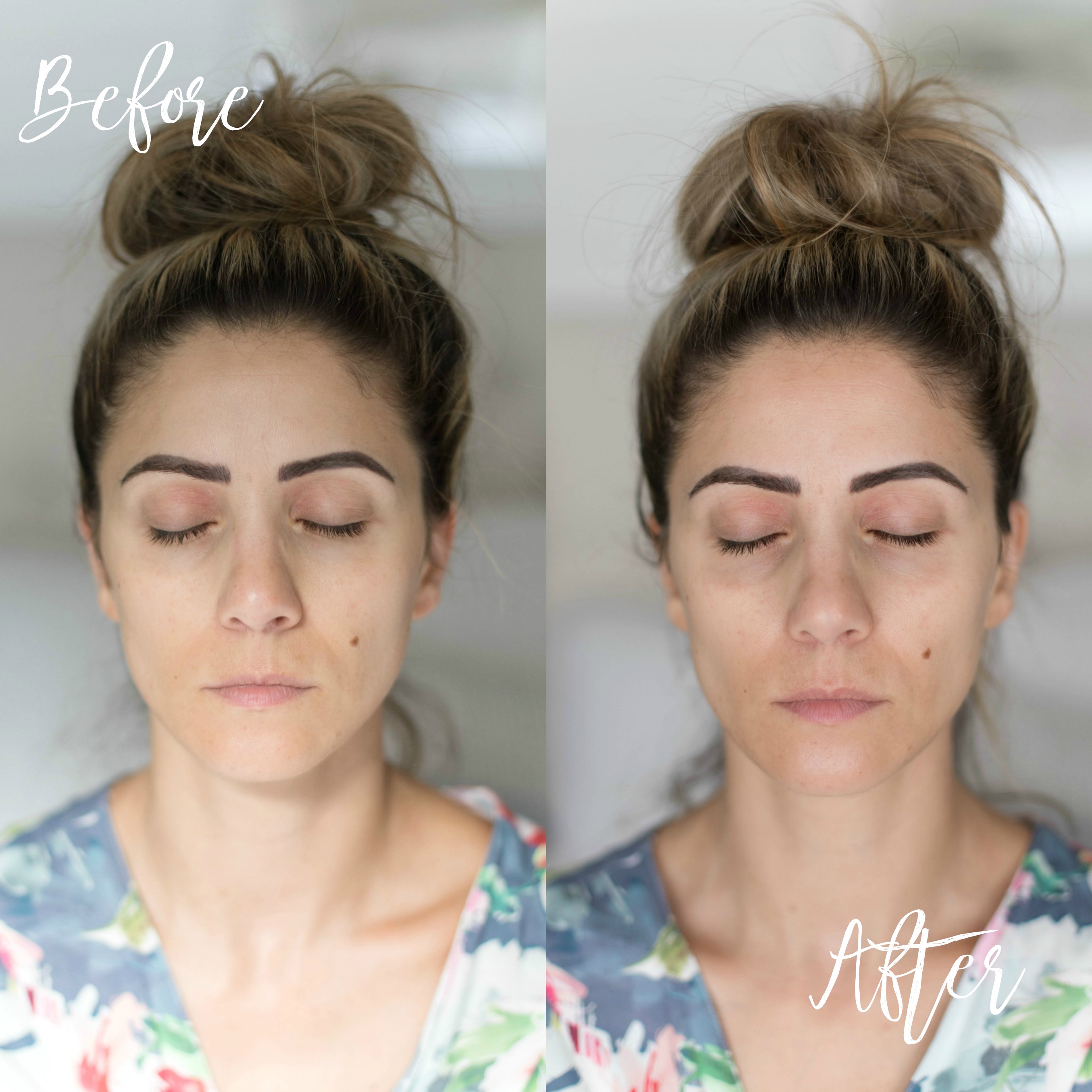 The NuFACE FIX is really great if you want those anti-aging benefits, and fast! This device is $149 and, with proper care, will never need replacing. It's really such an awesome skincare tool to add to your routine!
SHOP THE POST

Thank you to NuFACE for collaborating with me on today's post! All thoughts, opinions, and results are my own (as always).