Our 10 year anniversary is this year, and to celebrate we decided to do a vow renewal in the beautiful islands of Turks & Caicos! We took our entire crew with us to make it a family event, and as one last hoorah for summer. Since we loved our previous trip to the Caribbean, we decided to head to the Best Family Resort in Turks & Caicos – Beaches! I wanted to share all the details of our trip with you in one post in case you're heading to these beautiful islands yourself. Bare with me, it's a long one! 🙂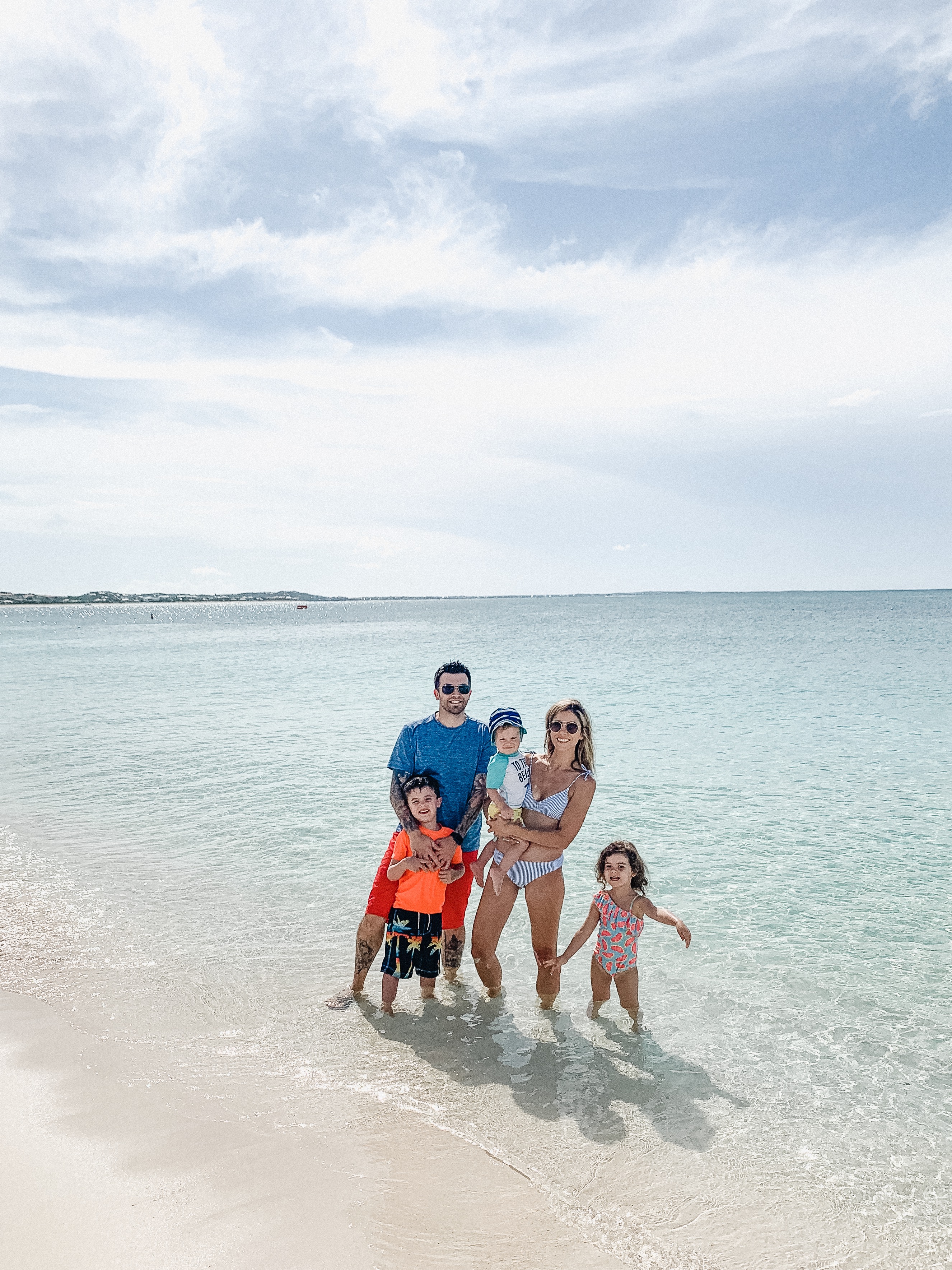 GETTING THERE
Getting to Beaches Turks & Caicos was SUPER easy. We flew into Providenciales, and I did utilize the VIP Flyers Club which expedites you through customs and security. I don't think this service was entirely necessary coming into Turks & Caicos, but it was ABSOLUTELY worth it upon departure. The airport is small and only certain sections are air conditioned. We were provided an air conditioned lounge with food and drinks upon departure, which was great since our flight ended up being delayed. But back to arrival…there aren't many planes arriving at one time, and honestly, the line moved QUICKLY. We would've been fine without the service (you can purchase JUST for departure).
The resort is a short 10 minutes away from the airport, which is so nice! Beaches provides transportation and car seats for littles if needed. The vehicles have free WiFi, refreshments, and of course air conditioning! I loved that it was such a short distance because the kids were ready to hit the beach. The process was very seamless overall.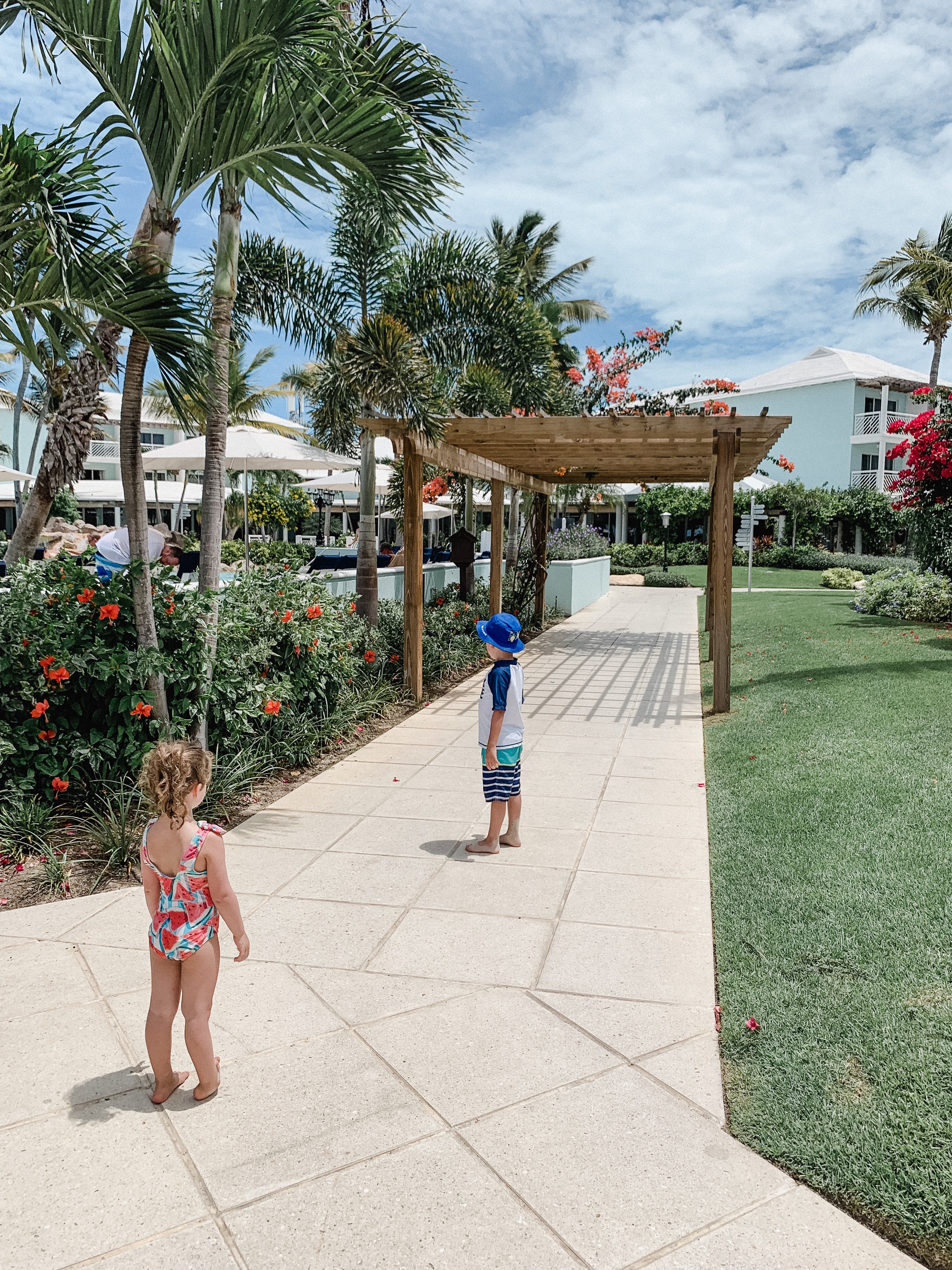 THE ROOM
We stayed in a Seaside Two Bedroom Luxury Butler Villa Suite, located in the Seaside Village. There are FIVE different villages at Beaches Turks and Caicos – Seaside, Caribbean, Key West, Italian, and French villages. Seaside, Caribbean, and Key West are the only beachfront villages if that's important to you! Otherwise, you will have a short walk over to the beach. There are stunning pools and restaurants located in every village. I like our village because we were just a few short steps to the beach – right where I want to be!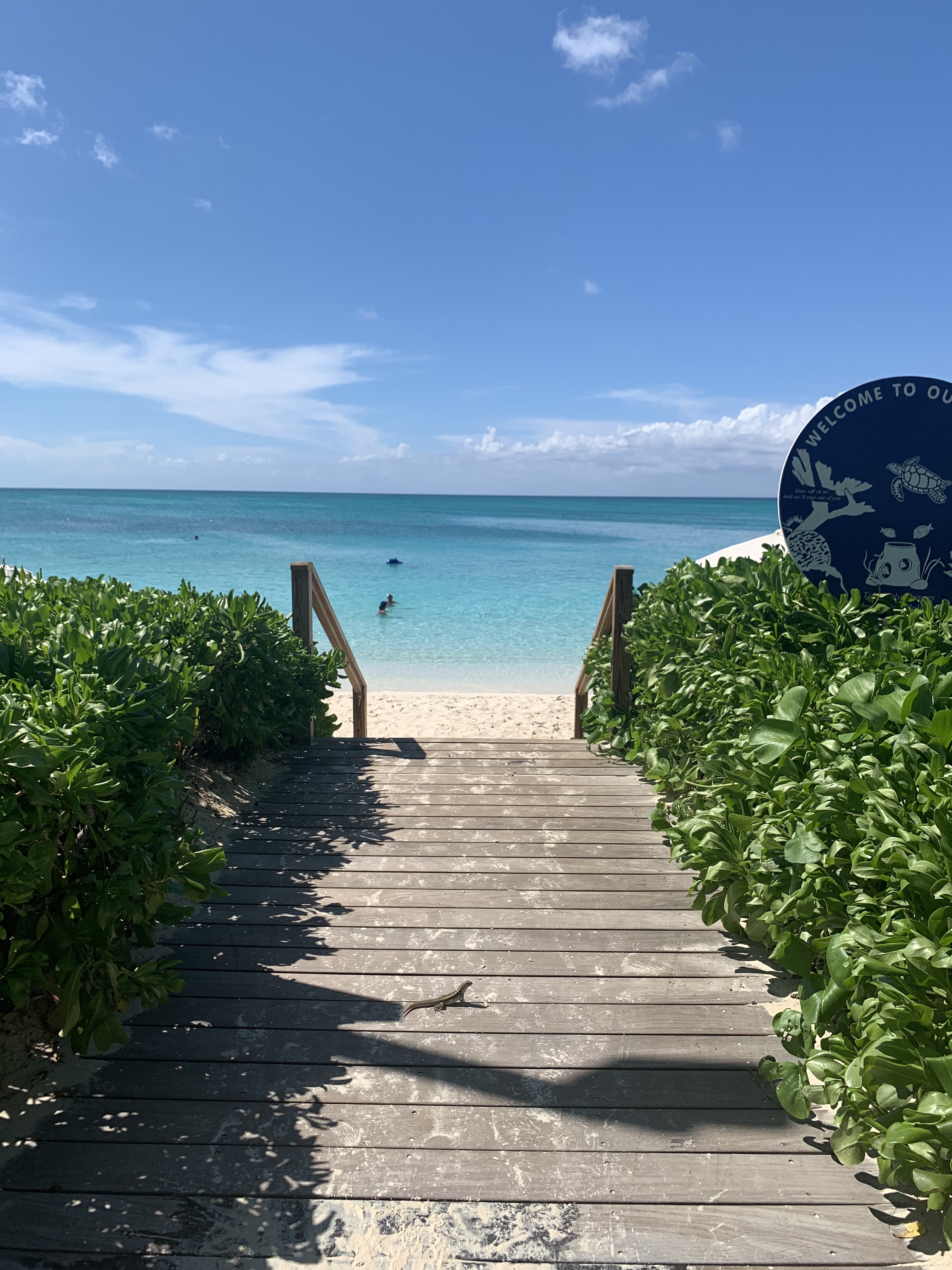 Our villa came with a butler service, which was our first experience with this offering from Beaches. You have a butler who assists in dining reservations and whatever else you need, and you're given a cell phone to call to them (they do not stay with you – so the phone is key if you need something!). Going forward, I don't think I would do this again simply because I didn't feel we needed it and we really didn't call our butler! However, I think if you're on your honeymoon this could be a great service! We just have no problem doing things ourselves and didn't utilize it all that much.
Our room was really beautiful. We had two bedrooms – one with a king bed and INCREDIBLE bathroom, and another with two double beds and another spacious bathroom. Our villa also had a kitchenette, which is always something we like having when traveling with kids. We also had a walk out patio that went right to the pool and beach path. The location was fantastic! If you're looking to book a similar trip, I don't think a room this size is absolutely necessary with a family of 5. We did bring a family member with us because of our vow renewal, who we gave the king bedroom to, but our family of 5 fit perfectly fine in the room with the double beds! Just an FYI if you're looking to cut costs.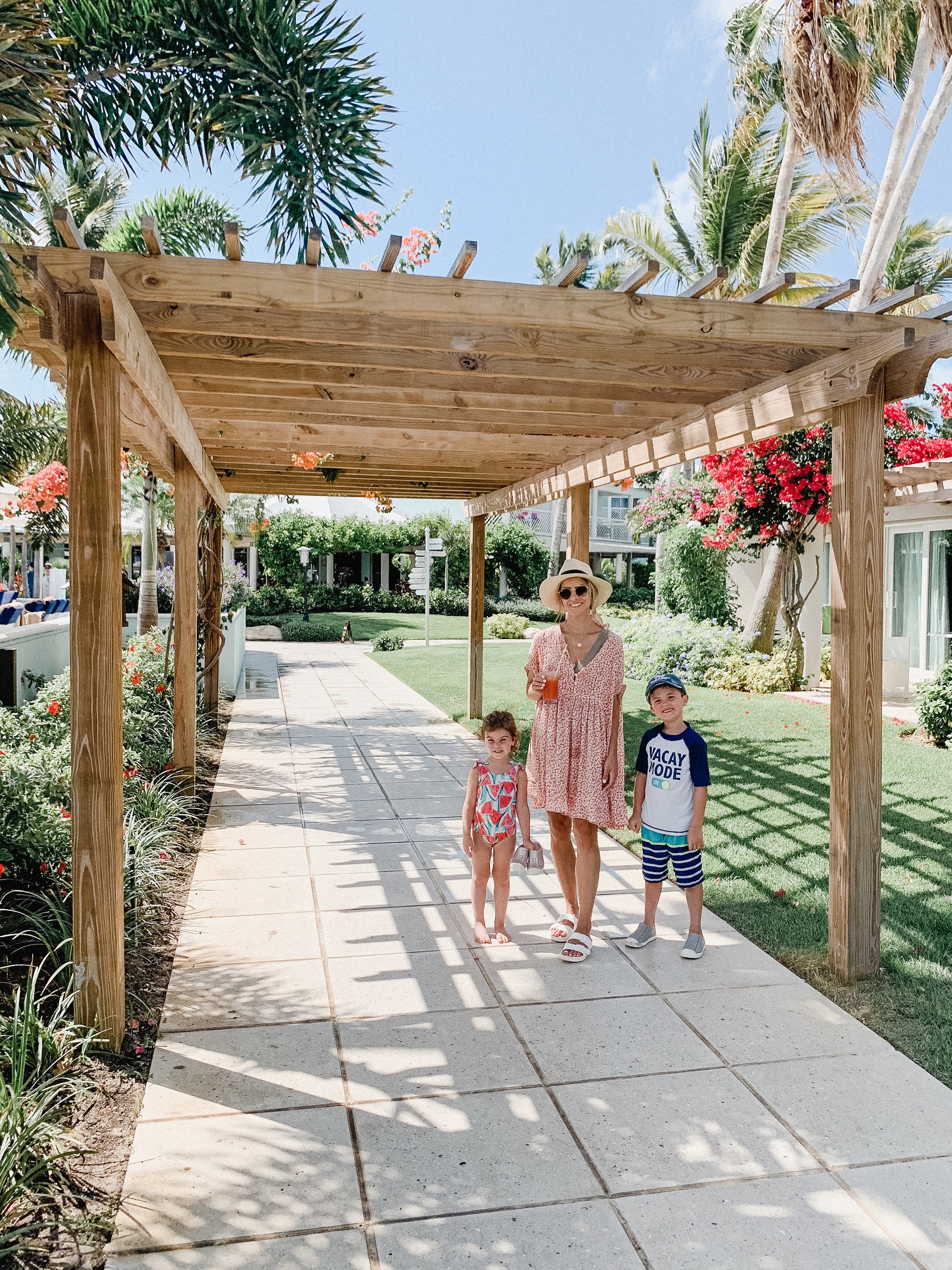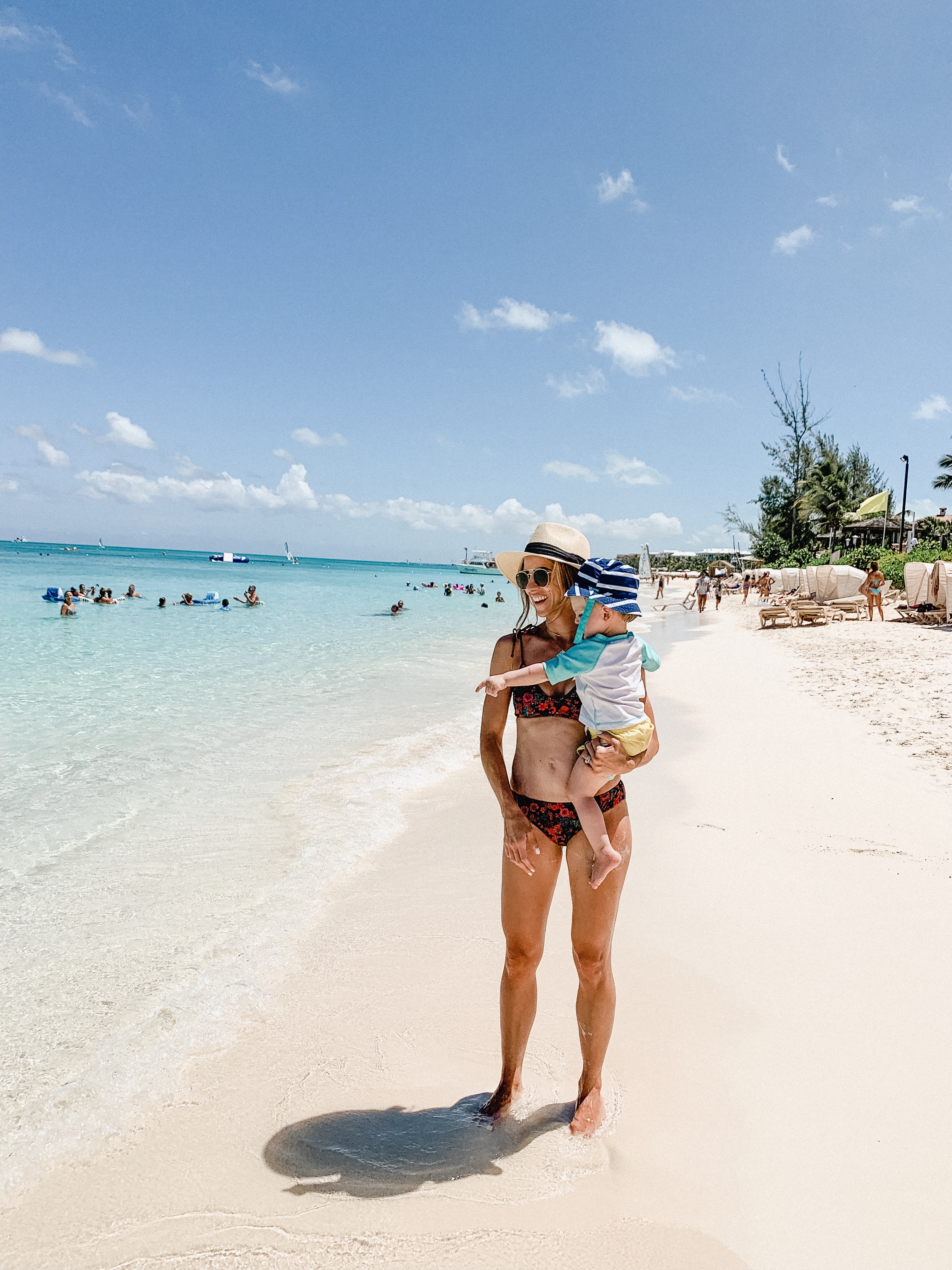 ACTIVITIES
Beaches Turks & Caicos is significantly larger than Beaches Negril! There are so many activities around the property!
There was another PIRATES ISLAND WATERPARK located in between the Italian Village and French Village. This waterpark was significantly bigger than Beaches Negril, and a bit of a walk from the beach. We spent a couple of hours here going down the lazy river, but my kids really just wanted to be at the beach this trip! However, there were several awesome water slides (for adults AND small kids), a surf simulator, and whirlpools. There also a great restaurant inside of a pirate ship, PLUS an ice cream truck and mac n cheese truck nearby! We LOVED these trucks because they had dairy free (and gluten free!) ice cream and mac n cheese!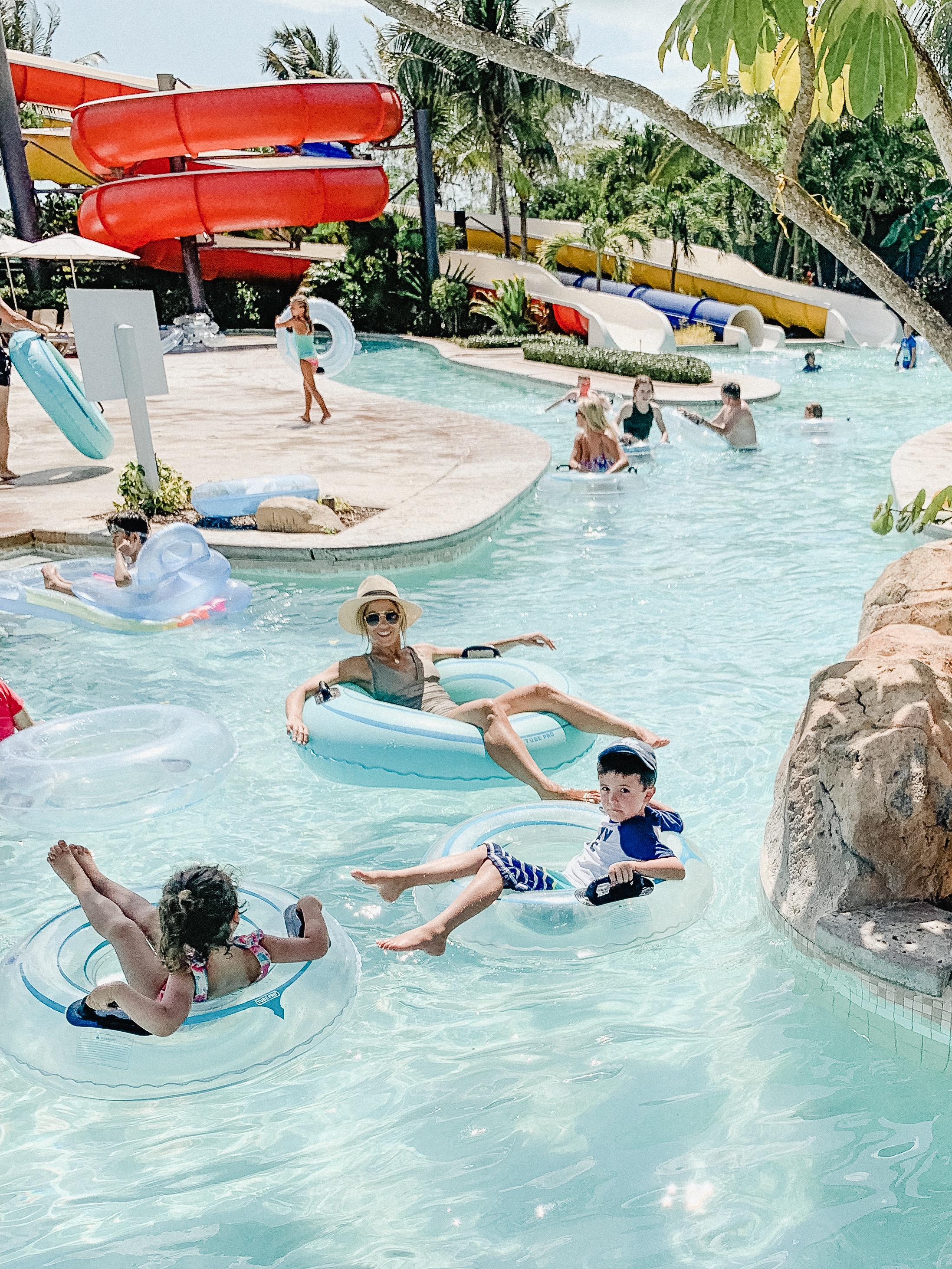 There were several pools around the resort, but we spent minimal time in these as well because my kids wanted the beach! But what I loved is they had little swim up bars where they served mocktails for kids. Super cute! The had several activities in the pools like volleyball as well. Our pool in Seaside also had stunning poolside cabanas. Our butler set the cabana up for us one day and provided a cooler full of beverages as well. It's nice to have that spot of dedicated shade!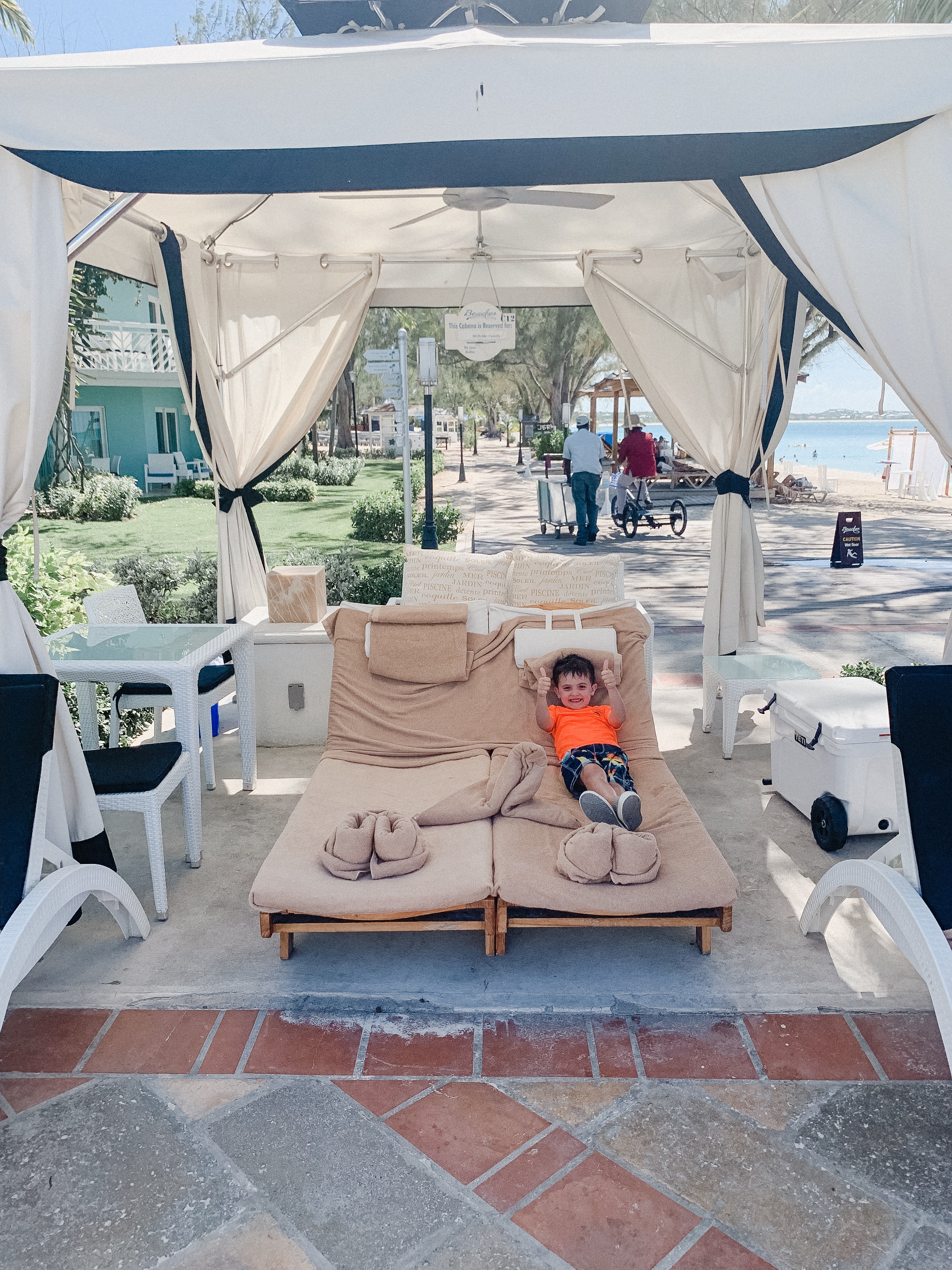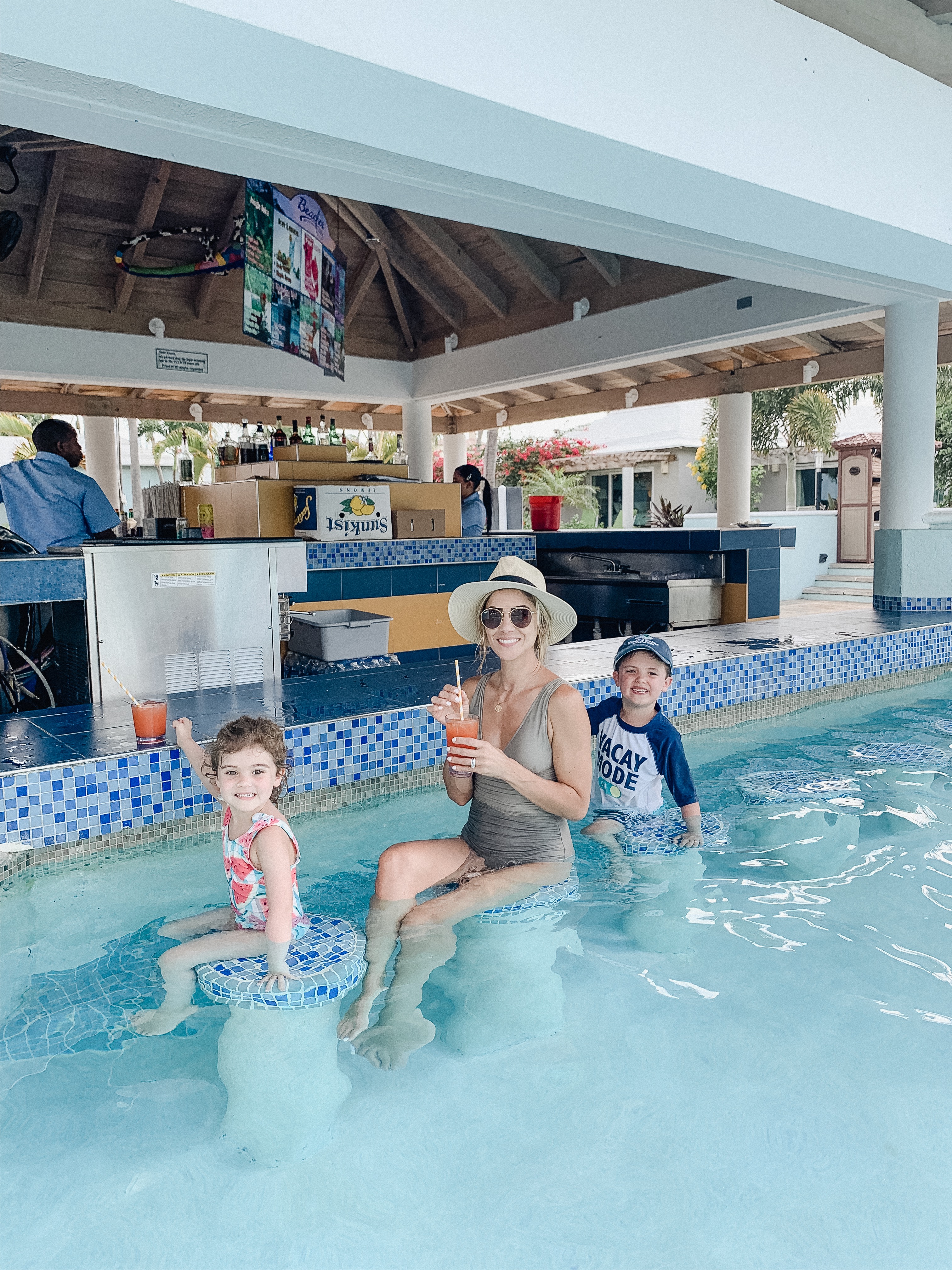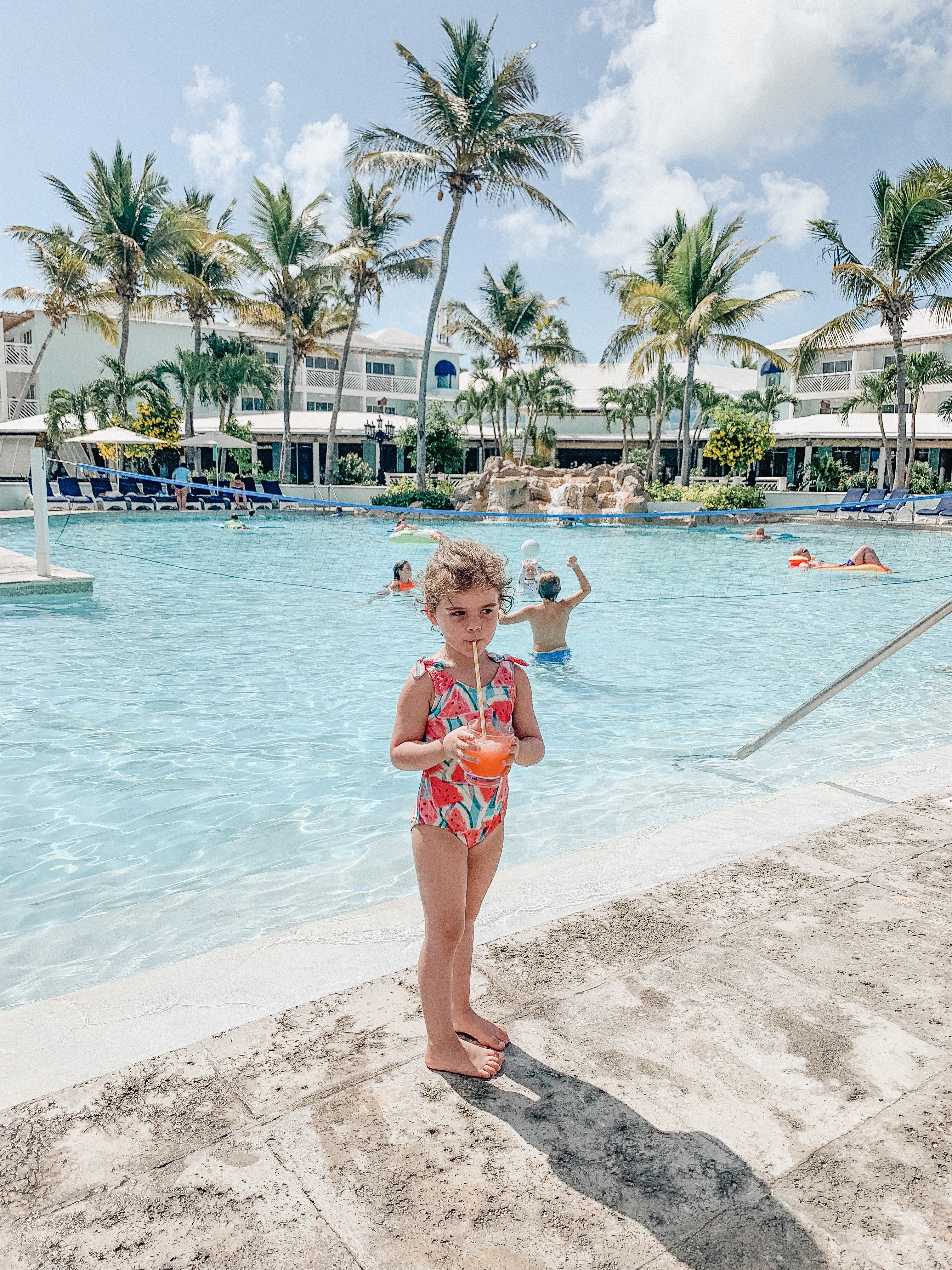 Several water and land sports are included at Beaches Turks & Caicos! We did another glass bottom boat tour like we did in Beaches Negril. The water in Turks & Caicos is UNREAL – I've never seen anything like it! It's so incredibly blue and they have some amazing coral reefs. We saw so many colorful fish during our tour – the visibility was amazing! Our family member also walked down the beach to Coral Gardens per the Beaches staff recommendation because she wanted to see sea turtles while snorkeling, which she said was an amazing experience! But snorkeling and other water activities are available for free right at Beaches.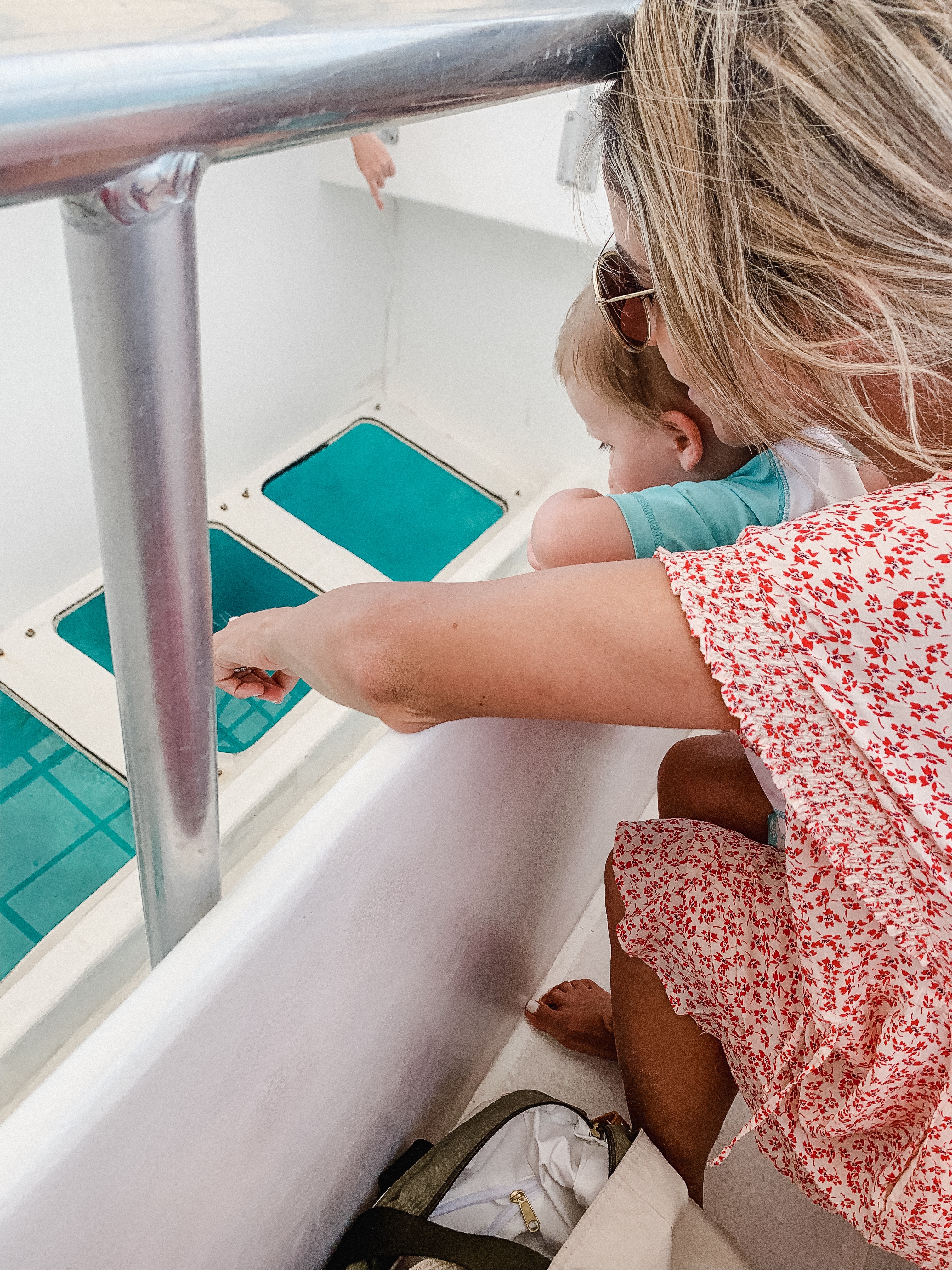 We saw many Sesame Street shows during our stay since our little guy loves Cookie Monster. They have a performance on the main stage every evening, as well as a parade two days a week! We also did the Sesame Street Character Breakfast which was AMAZING at Beaches Turks & Caicos. They got to meet and interact with every Sesame Street character during the breakfast. We also did the Night, Night Sleep Tight tuck in with Cookie Monster one night for the kids. Cookie Monster came and read a story to the kids and gifted them with a plush Cookie Monster toy.
There are also several other activities at Beaches resorts, including an Xbox lounge, night clubs (for kids and adults!), an arcade and more. There's also a Kids Camp which we did not utilize, but heard amazing things about from a friend we made on the beach! Ultimately there's something for kids and adults of ALL ages at Beaches, and the Turks & Caicos resort offered so much that it was impossible for us to do everything!
THE FOOD
We mainly chose to eat at the buffets around the resort because it's simply easier with kids (if you know, you know haha). With 21 restaurants on the resort, there were plenty of options and delicious food all around! My husband and I did celebrate after our vow renewal at Sapodillas in the Seaside village which was absolutely incredible. We also ate at Barefoot by the Sea for lunch one day which was so fun because it was literally right on the beach – toes in the sand and everything! We also went to Kimonos for hibachi one evening because we loved it so much in Beaches Negril. There are several other smaller restaurants we popped into as well, including an ice cream and mac n cheese truck! I promise you'll never go hungry! The only thing we did miss was Yo-Yos (the fro-yo place in Negril), but the fun ice cream truck made up for that a bit!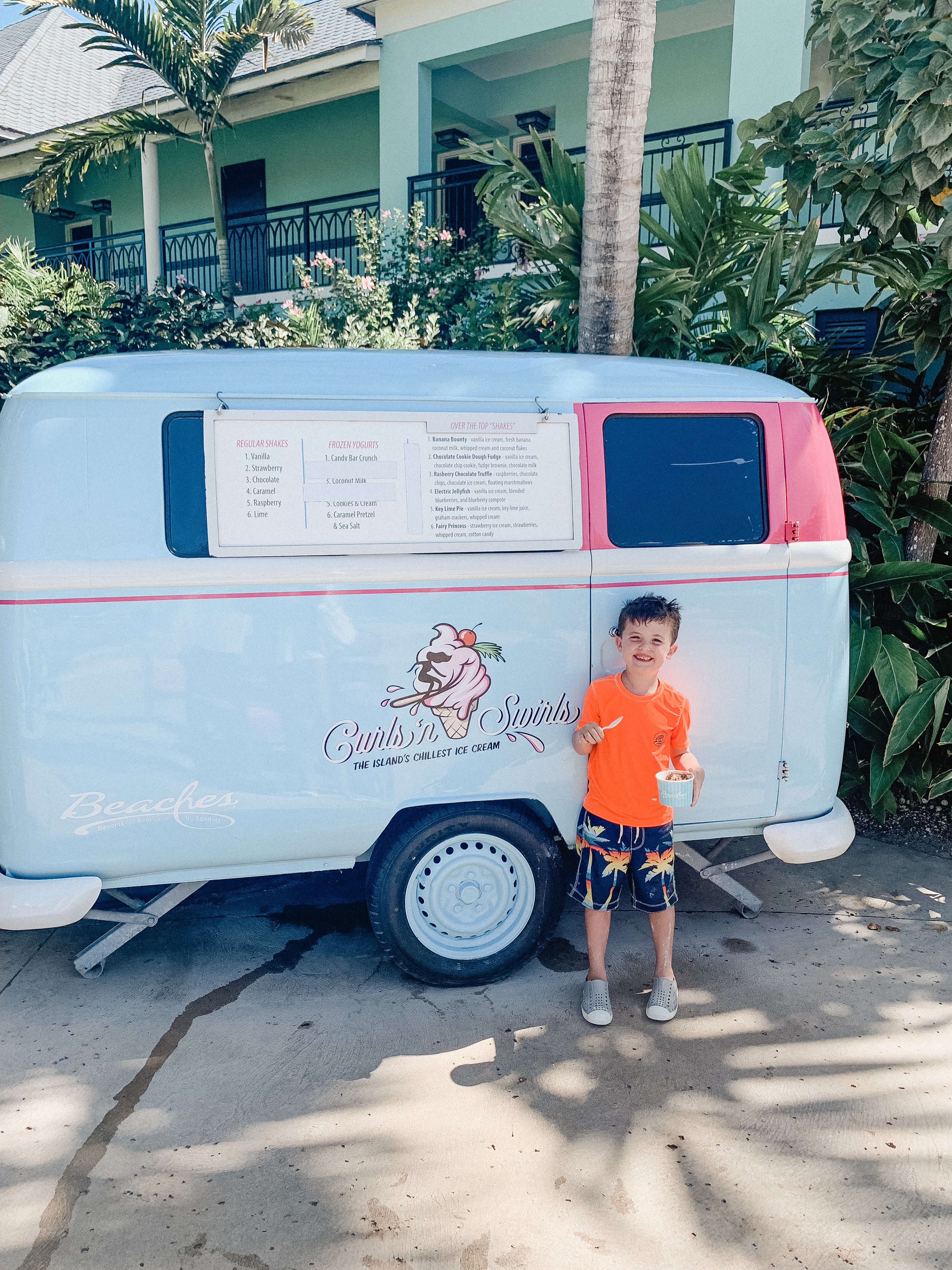 VOW RENEWAL
I'm going to have an entire separate post on this, but wanted to touch base on this here! The purpose of our family vacation was to also do our vow renewal for our 10 year anniversary. Beaches Turks & Caicos made this experience SEAMLESS, and we honestly said we wished we had done this for our original wedding! Stay tuned for full details, but in short – we are SO glad we chose Beaches to make this happen!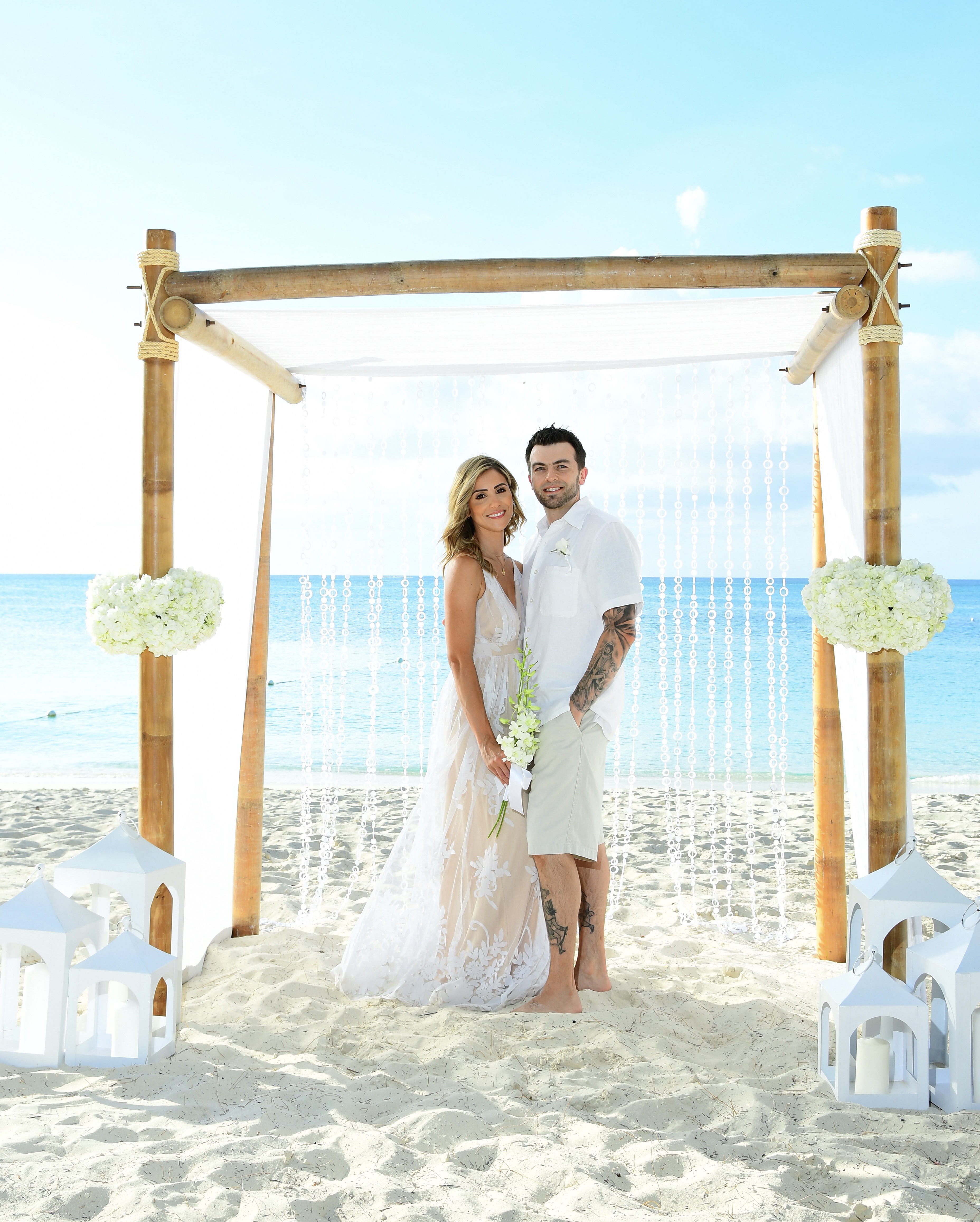 We absolutely loved our time at Beaches Turks & Caicos. The Turks & Caicos islands are so incredibly stunning and I cannot wait to return. We all agreed we HAD to return some day. The water is unlike any caribbean water we've seen (it's seriously SO BLUE..just like the photos you see!), and it was an amazing experience to be able to enjoy it. The sand was like powder, and there were little fish swimming right at our feet. Our kids absolutely loved every second of the beautiful beach and crystal clear water. I can now see why so many people vacation here! We'd love to return someday, and I'd love to stay in the Key West Village. We walked down that way one evening and they had the most adorable fire pit and hammock loungers. There are so many charming little spots like that all across the resort.
I would highly recommend staying at Beaches Turks & Caicos if you're looking to visit the Turks & Caicos islands with your family. They really do make the experience easy – there's no reason to leave the resort! Hopefully we can return someday soon!
Thank you to Beaches for partnering with us on a portion of our stay! We are so grateful for this experience!