We just wrapped up our third trip to Walt Disney World with the kids, and this time we were able to get several reservations for character dining! I've learned a few tricks to grabbing the best reservation (some are super hard to get!) that I thought I'd share with you. I'm also rounding up the Best Character Dining at Walt Disney World, including my thoughts on the character interaction, food, and more!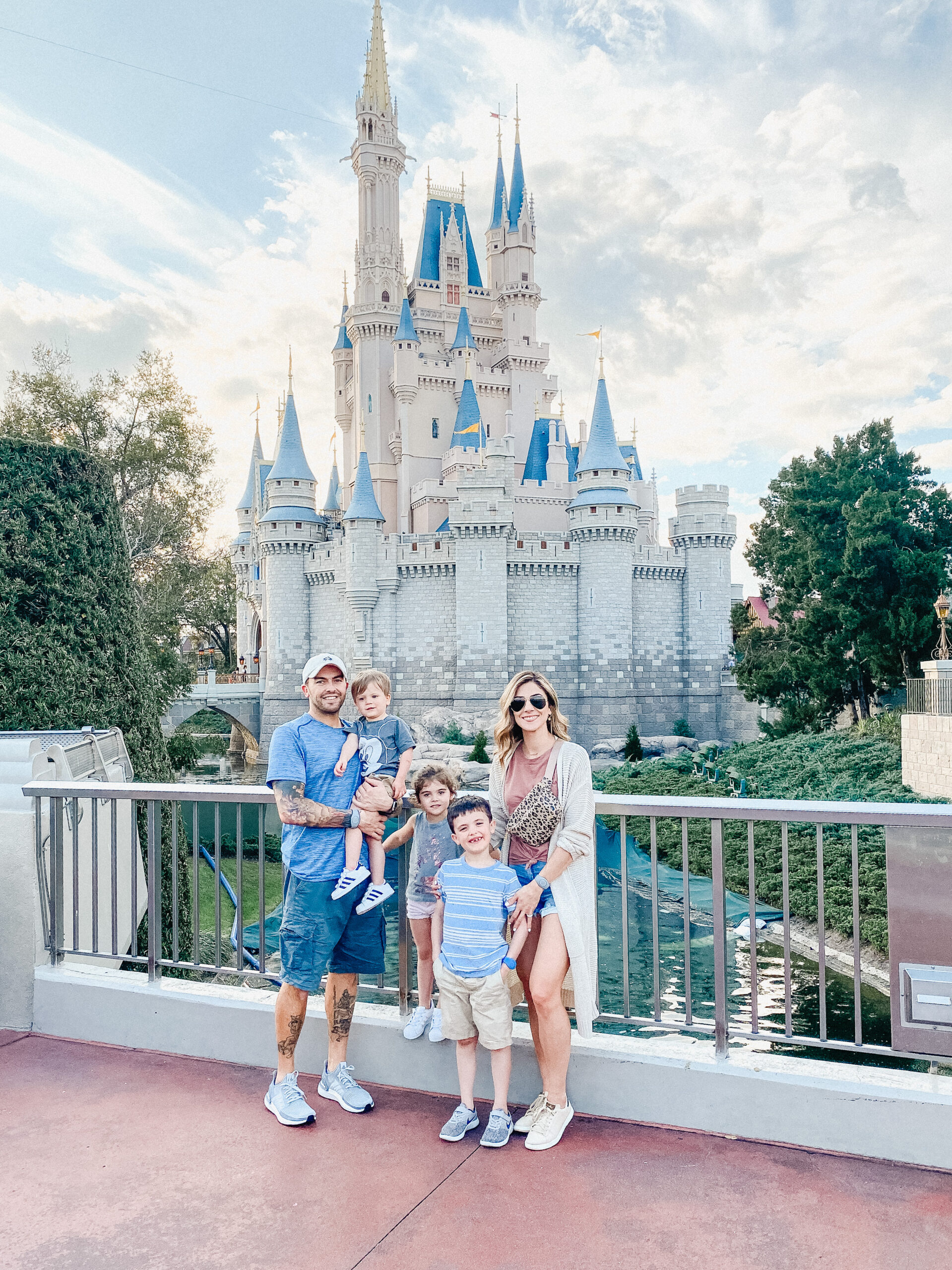 TIPS FOR GRABBING A RESERVATION
If you're staying at a Walt Disney World resort hotel, you can schedule dining reservations 180 days before your arrival date. However, I found the good ones go FAST. A friend clued me into using reservation finders, which is how I was able to grab all of these reservations only weeks before our trip! I used www.touringplans.com, created an account (it's free), and used their reservation finder to set up alerts for specific days/times/restaurants that I was looking into reservations for (when you click the link, click BASIC ACCESS so you don't have to pay!). For example, I set up an alert for Storybook Dining at Artist Point on Sunday February 16th at 5pm. The reservation finder will TEXT and EMAIL you when a reservation opens up anywhere between 4-6pm (one hour before and one hour after the time you select). I was asleep on the couch one evening and woke up to a text alert saying there was an opening for Sunday February 16th at 4pm. I immediately logged into My Disney Experience account and grabbed the reservation. I got lucky because 15 minutes had gone by and I thought for sure it would be gone! The reservation finder does NOT book the reservation for you; it just lets you know when a spot opens up. You HAVE to be quick to book it once you get the alert! And if you miss it, you have to remember to go back into your account and re-set a new alert.
Another thing I noticed during our trip was reservations open up often! For instance, I had a 1900 Park Fare reservation for 4:45pm that Wednesday. When I logged in to check dining availability in My Disney Experience, I noticed there were SEVERAL 1900 Park Fare reservations open for the next day and was actually able to adjust my time to 4pm! There were several other character dining options open, too. So I highly recommend checking what's available THE NIGHT BEFORE. It seems people drop reservations frequently during their trip, and you might be able to grab an open spot!
STORYBOOK DINING AT ARTIST POINT
Storybook Dining at Artist Point, located in Wilderness Lodge, features characters from Snow White and the Seven Dwarfs, including Snow White, Grumpy, Dopey, and the Evil Queen. This was our favorite meal, by a landslide! The food at Artist Point is fantastic – even the allergen friendly meals and desserts. The kids had the most adorable little appetizer plate with veggies, a fresh roll, and a jar of butter they can mix themselves! I love how the characters come out one by one over the course of the meal, and have great interaction with each table. They also dance around to various songs throughout the meal, engaging with customers and encouraging them to join in. The desserts were Snow White themed, including a "poison" apple, delicious pie, and a layered cake with Dopey's hat on top. There's one special presentation at the end that's really fun for the kids, too! Highly, highly recommend this one if you can snag it!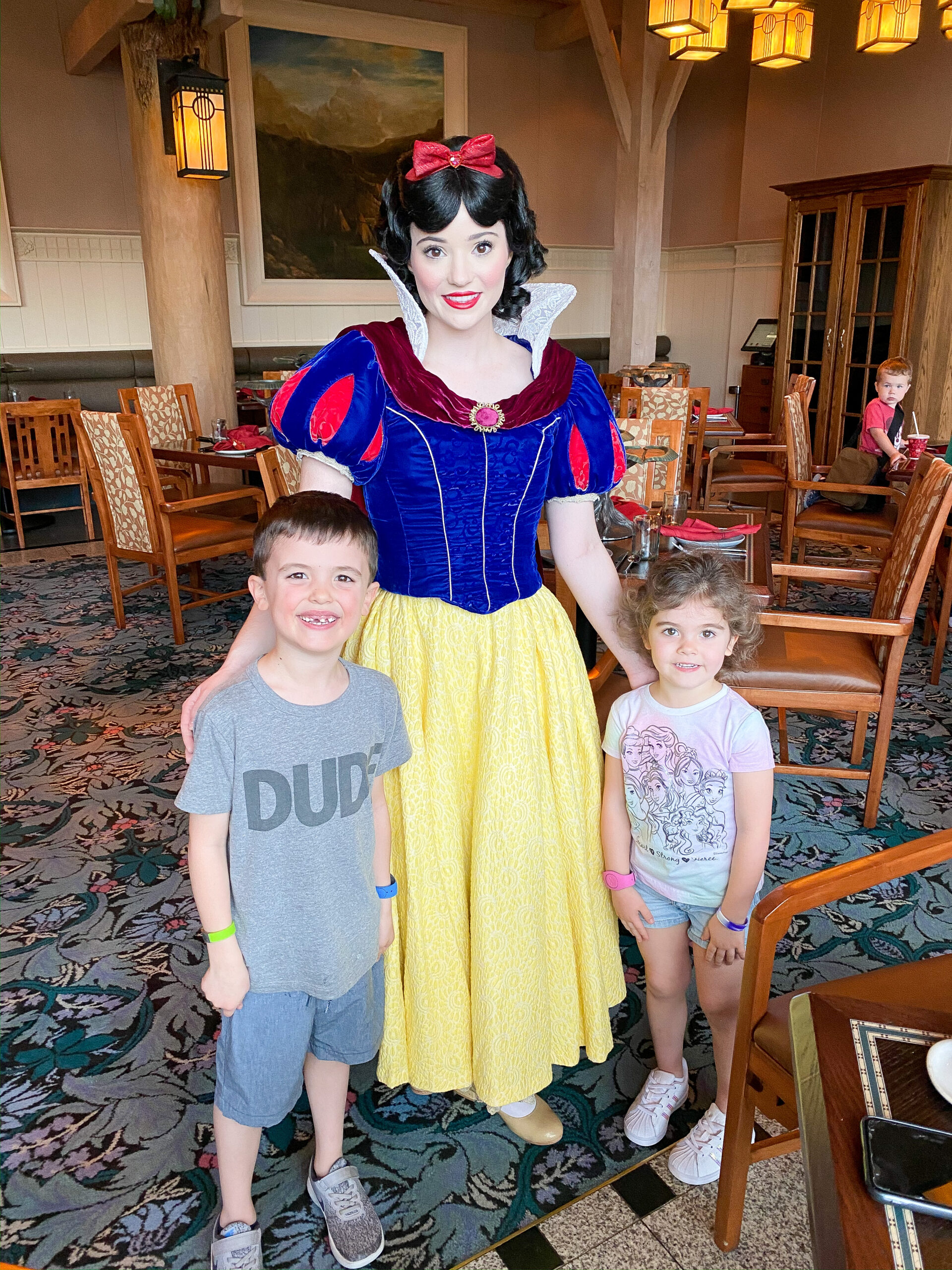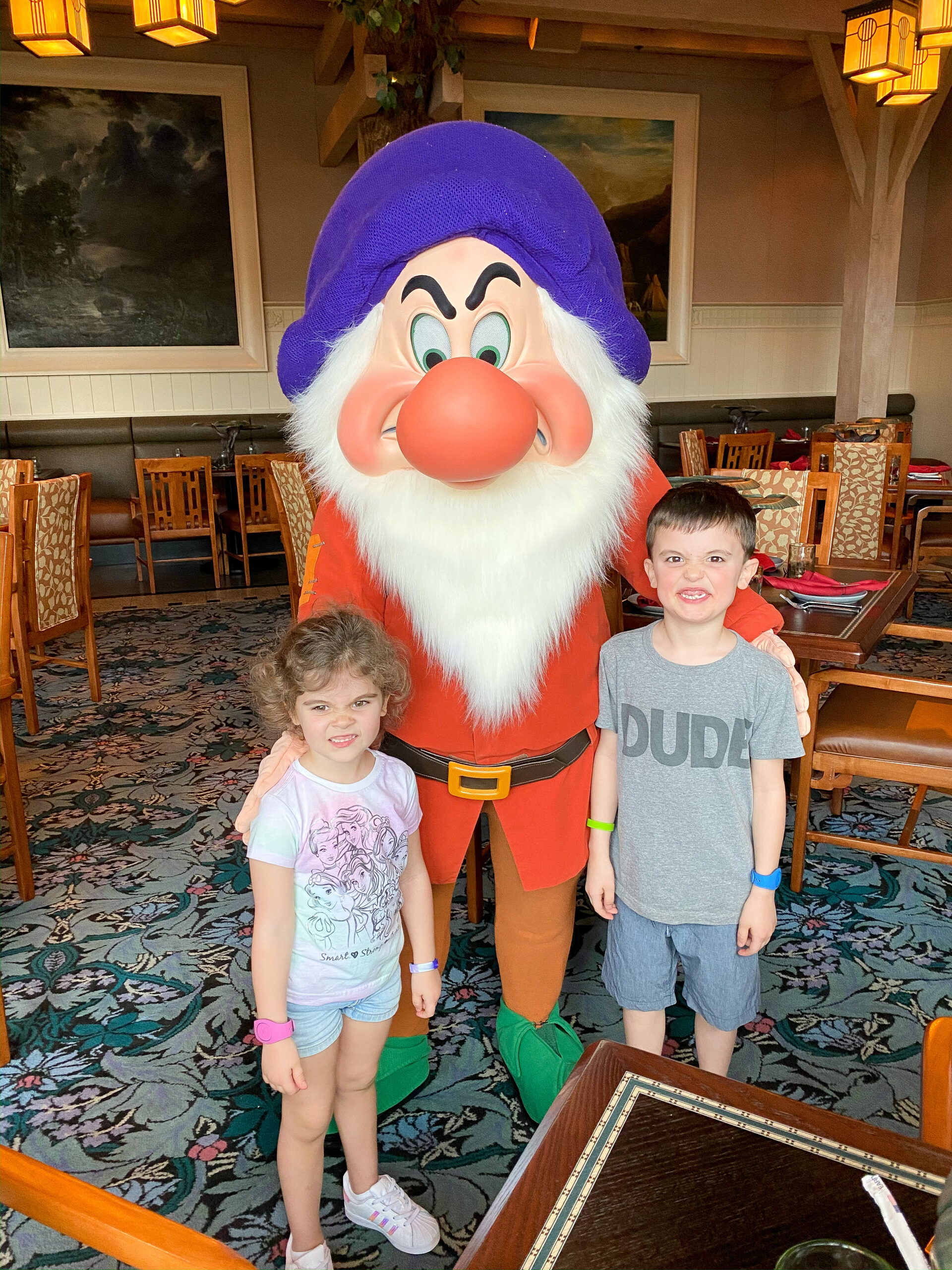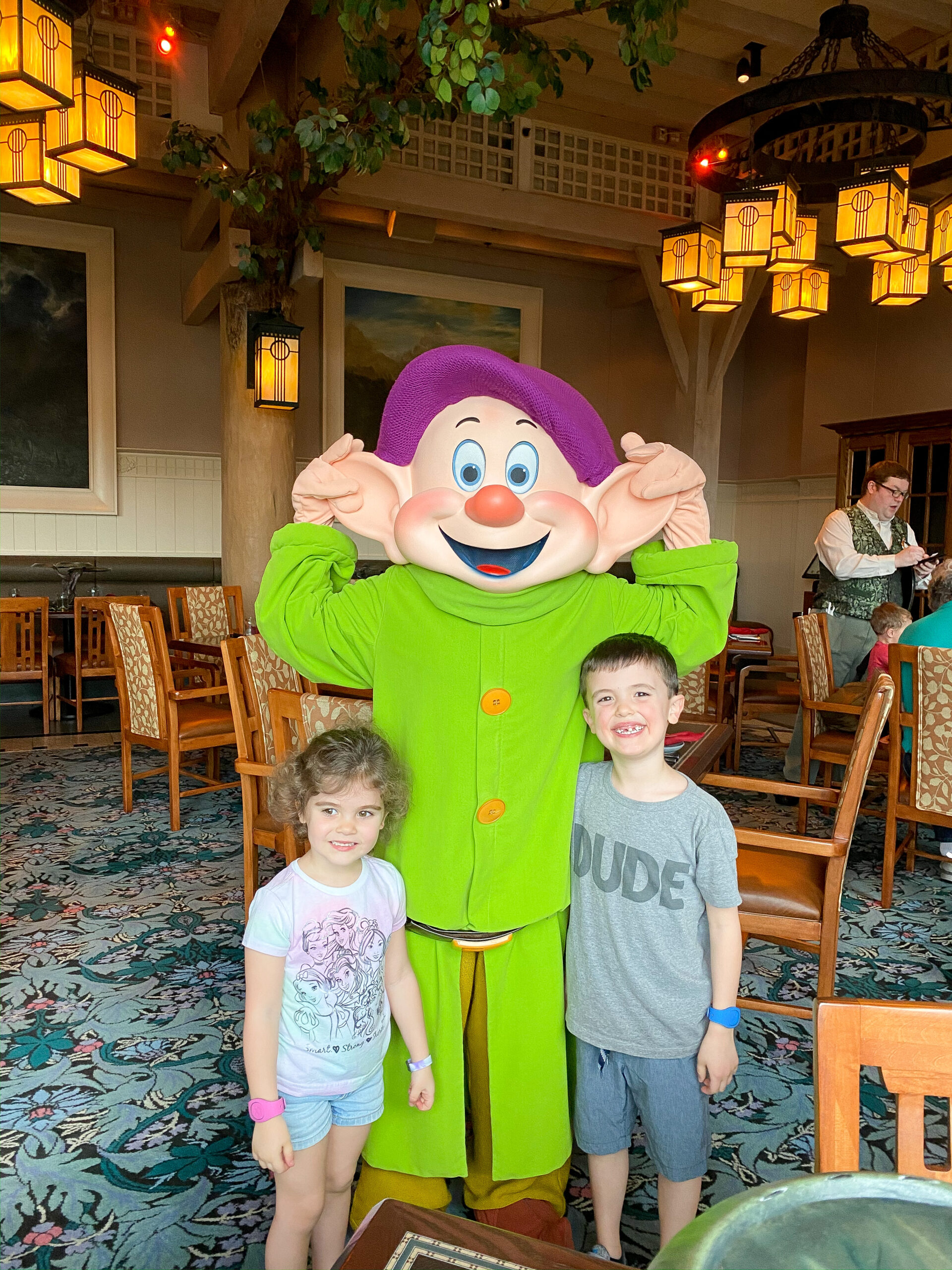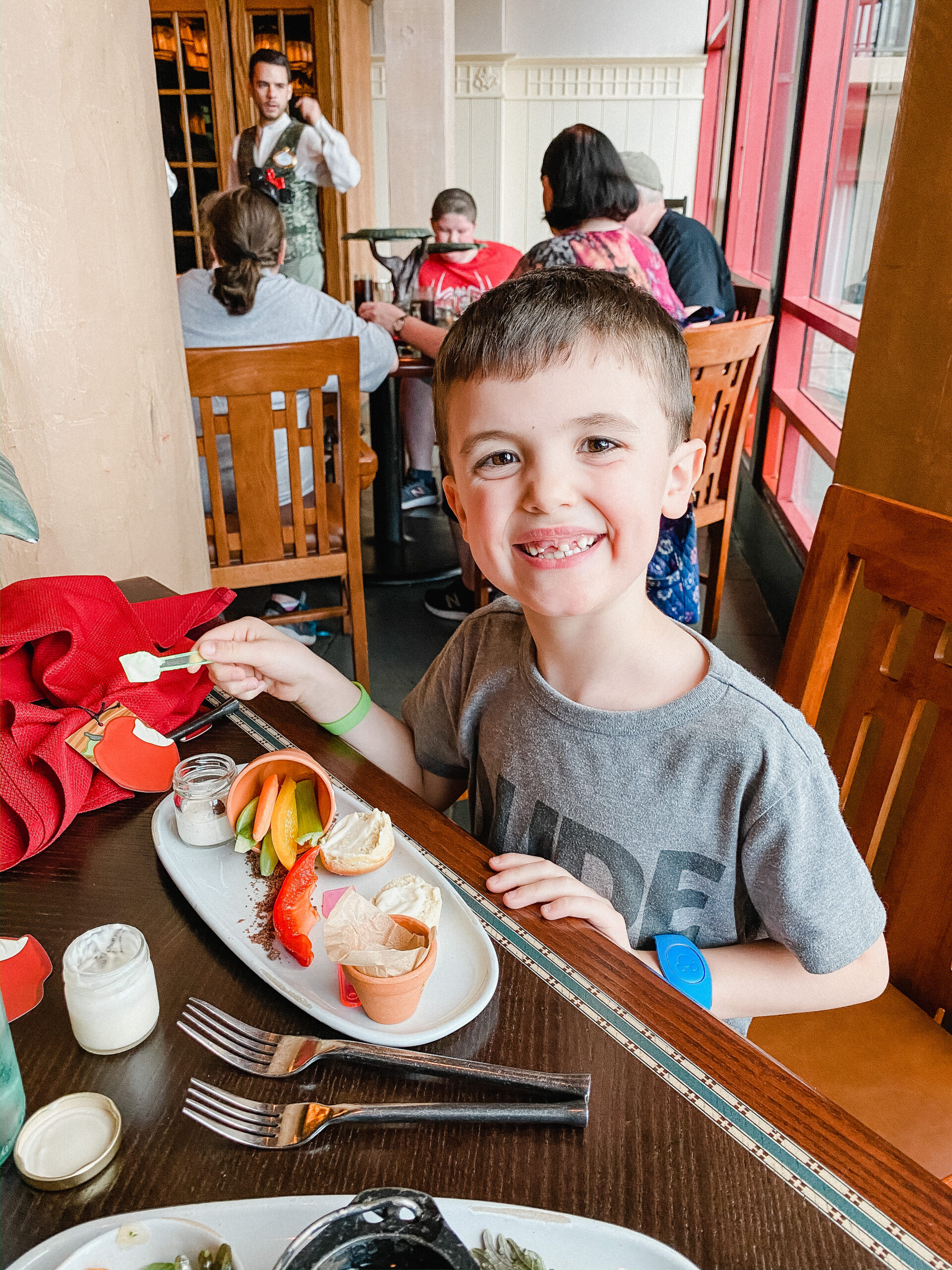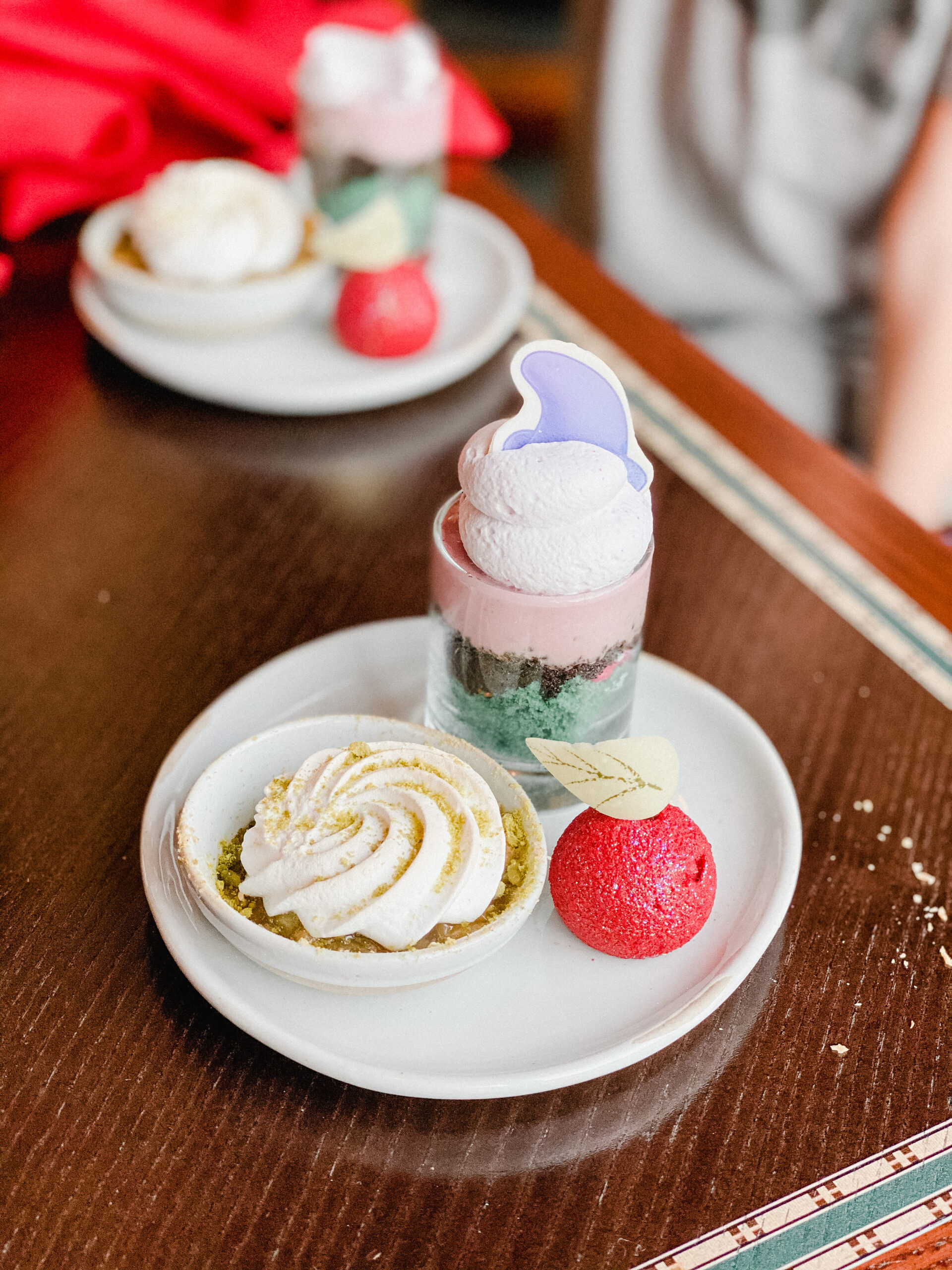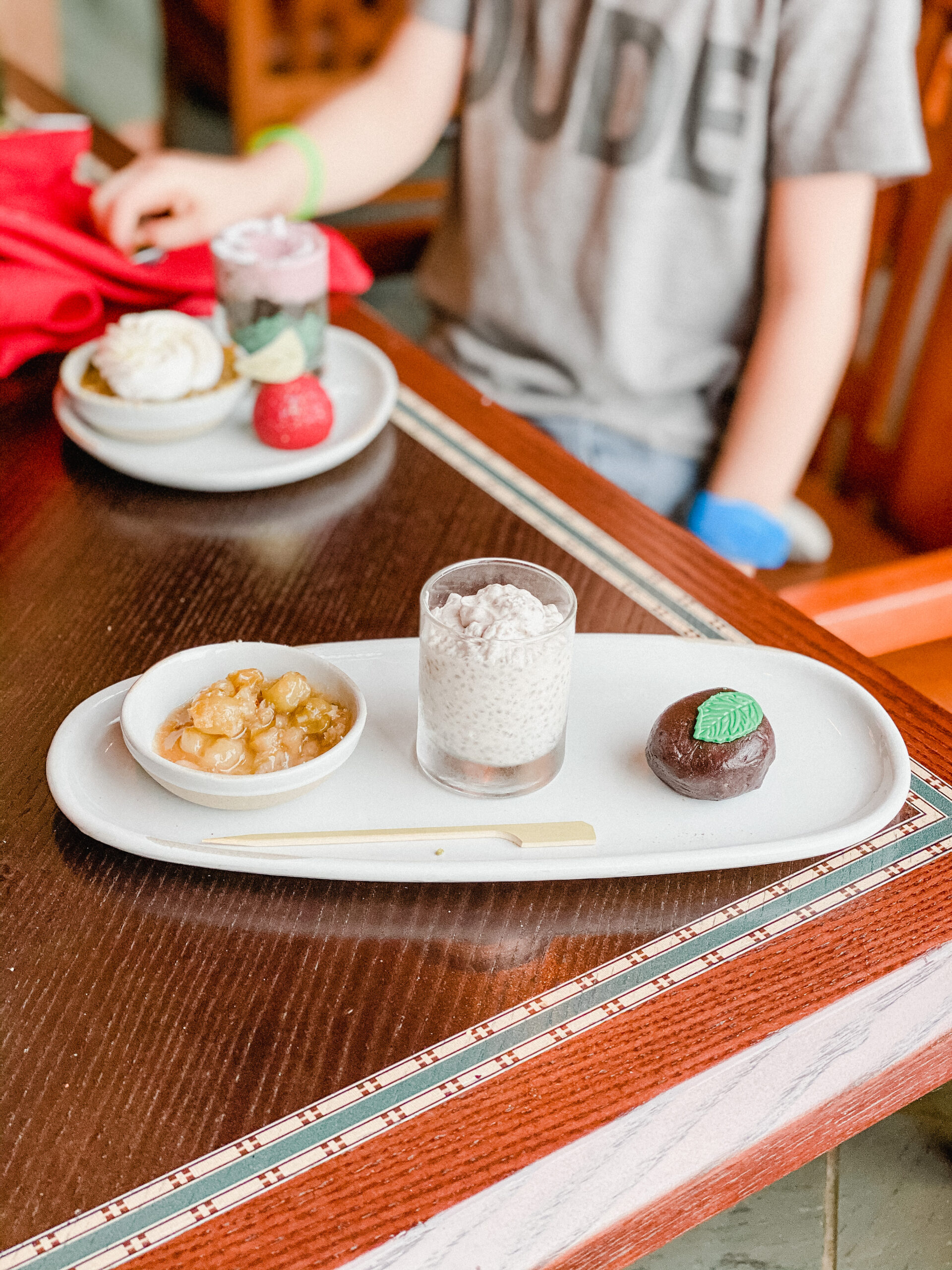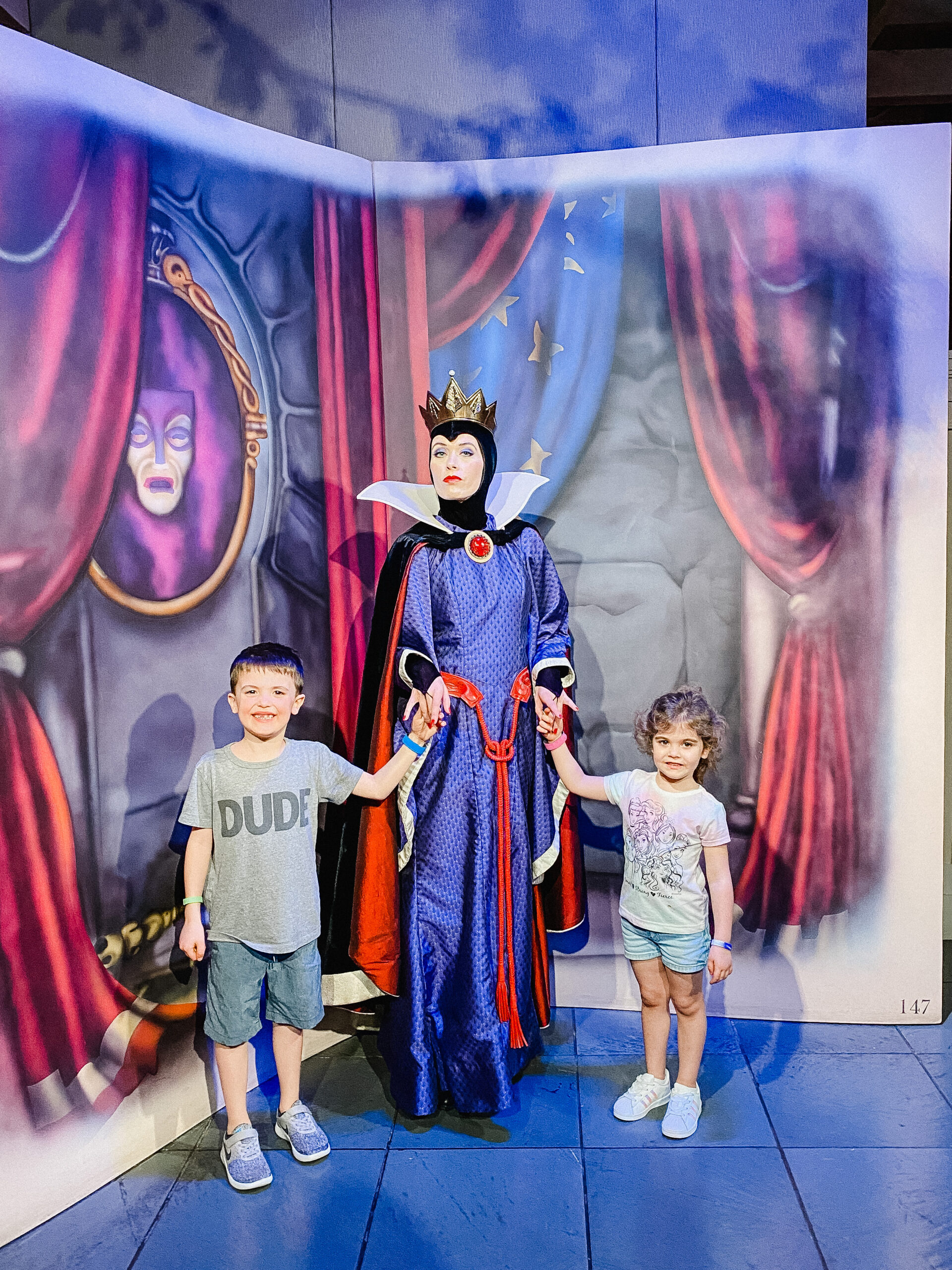 MINNIE'S BEACH BASH BREAKFAST AT CAPE MAY CAFE
This character meal at Cape May Cafe, located inside Beach Club Resort, features Minnie, Goofy, Daisy, and Donald all in their beach attire! It was SUPER cute and the characters were very sweet with their interactions with the kids. This breakfast is buffet style, and I was very impressed with the options. There was a wide variety of breakfast and brunch foods, and even an omelet station (which I took advantage of!). The meal did not disappoint, and we felt it was reasonably priced for the experience, too. Highly recommend this one!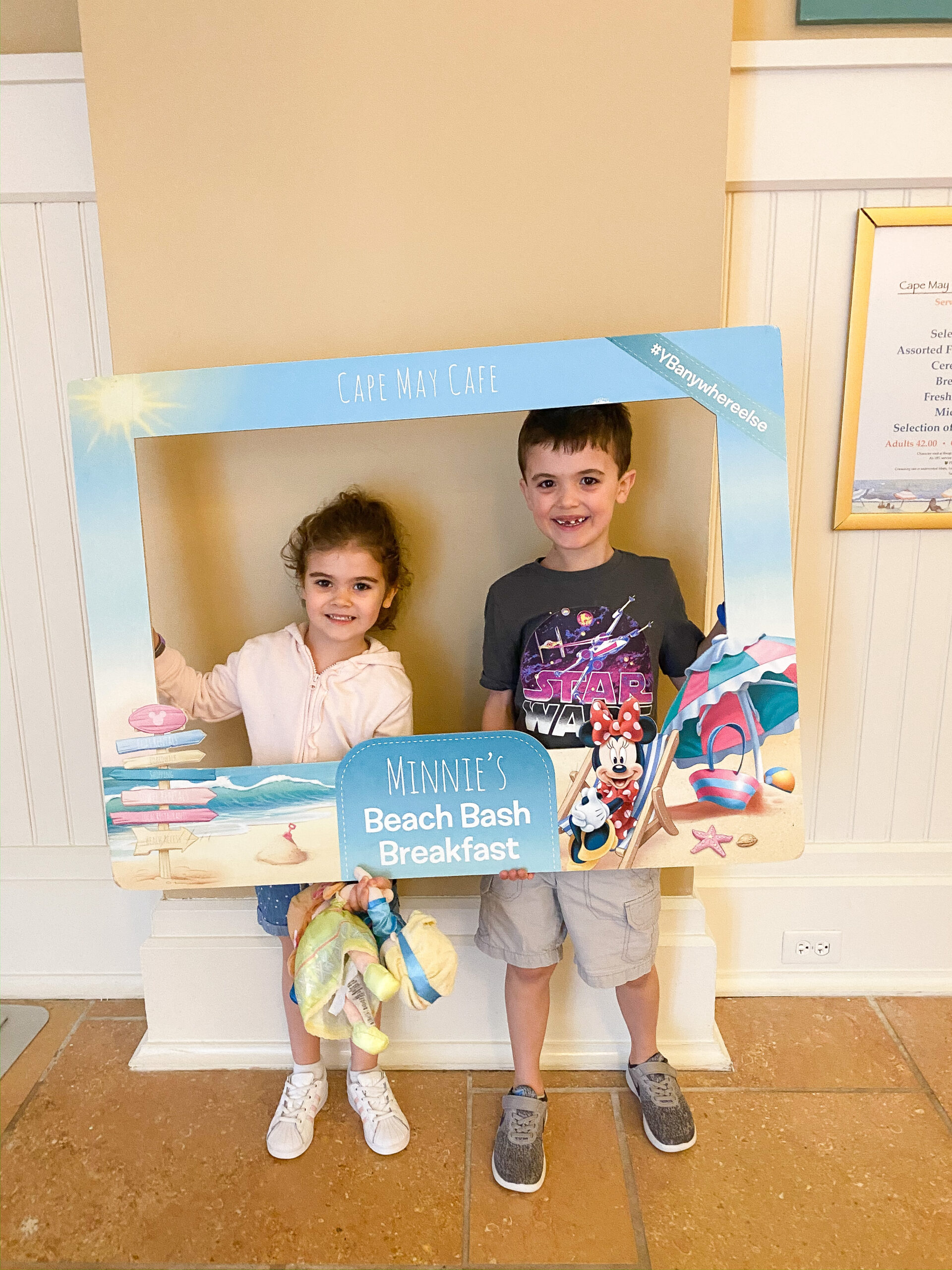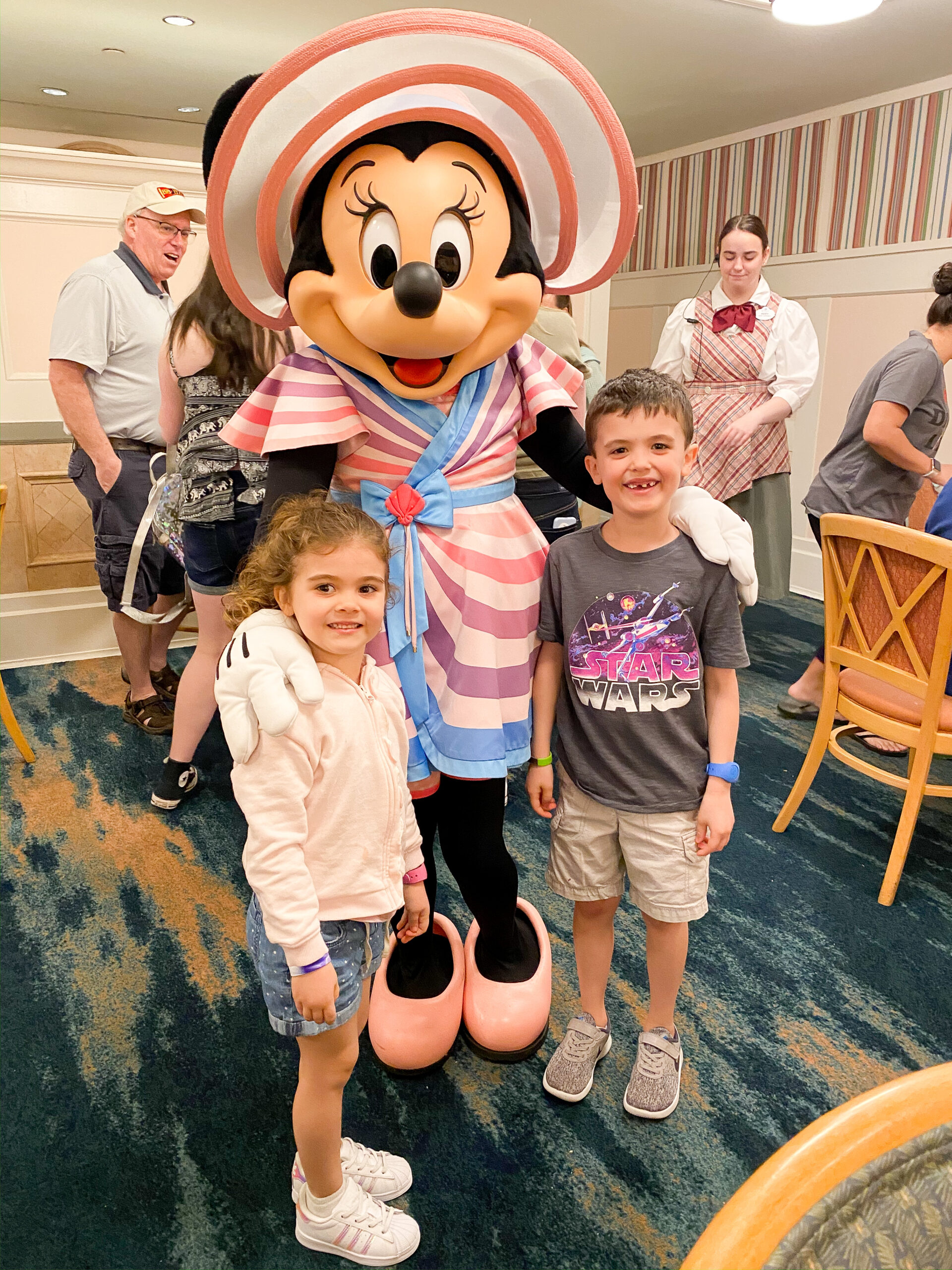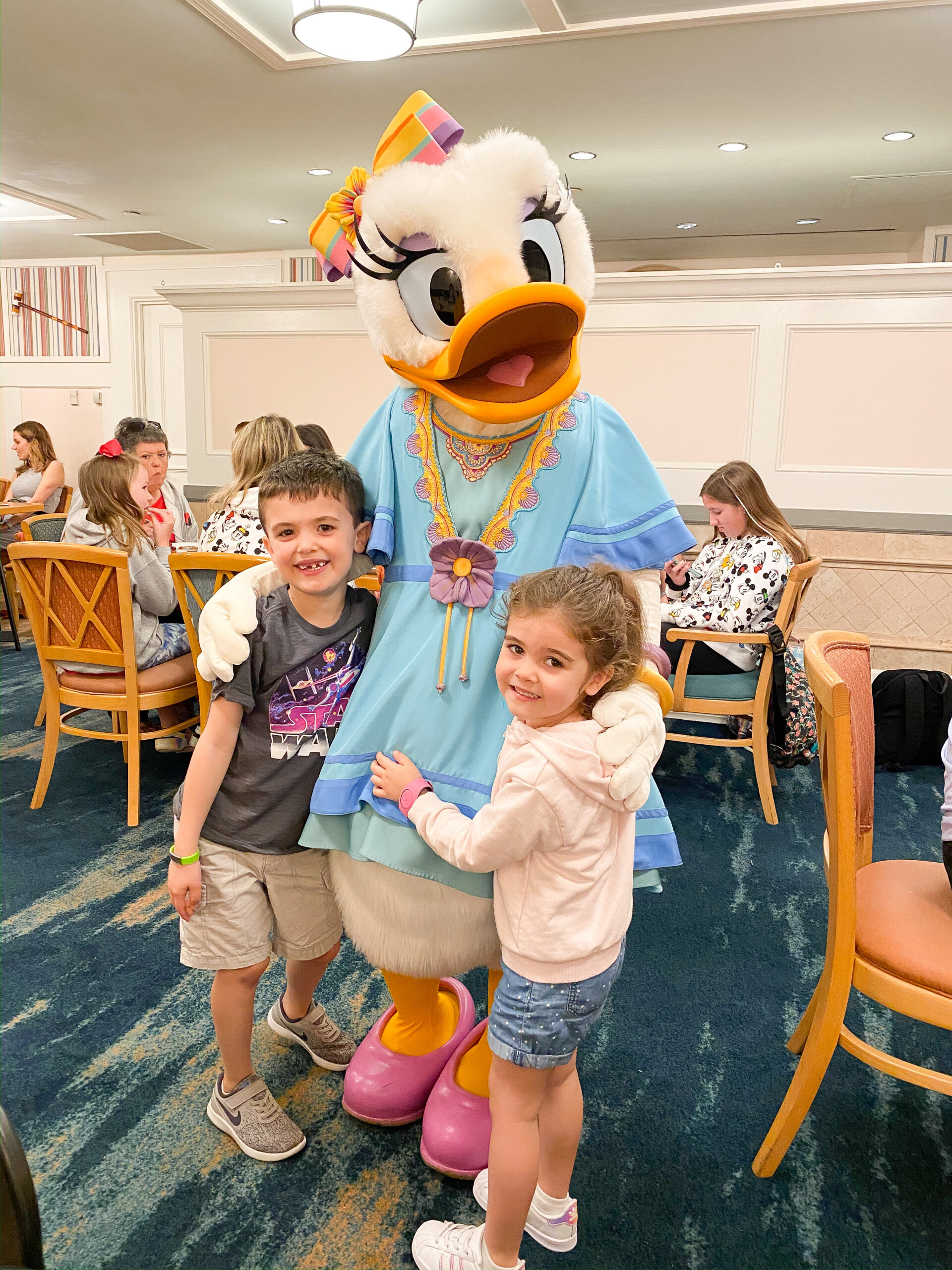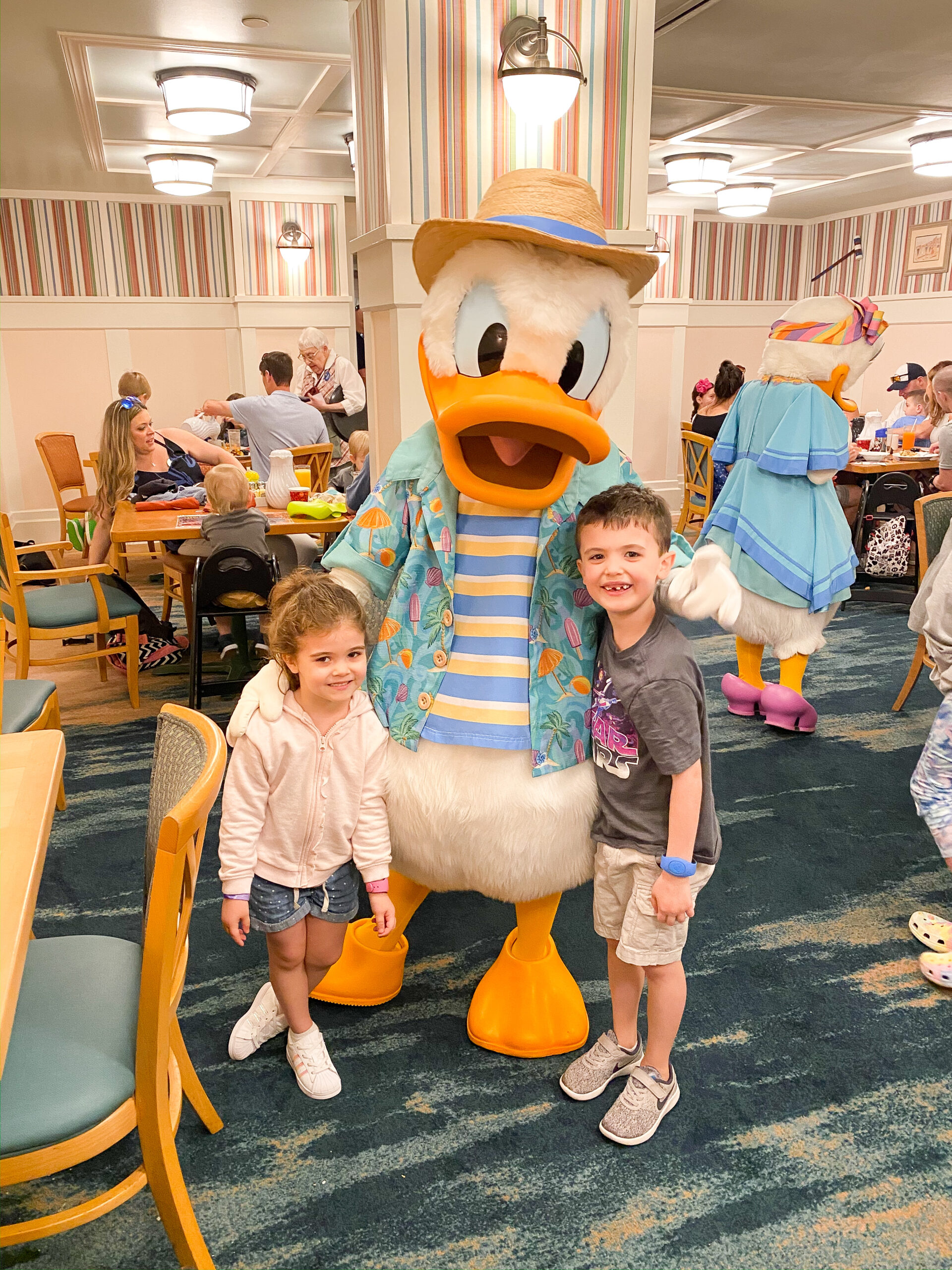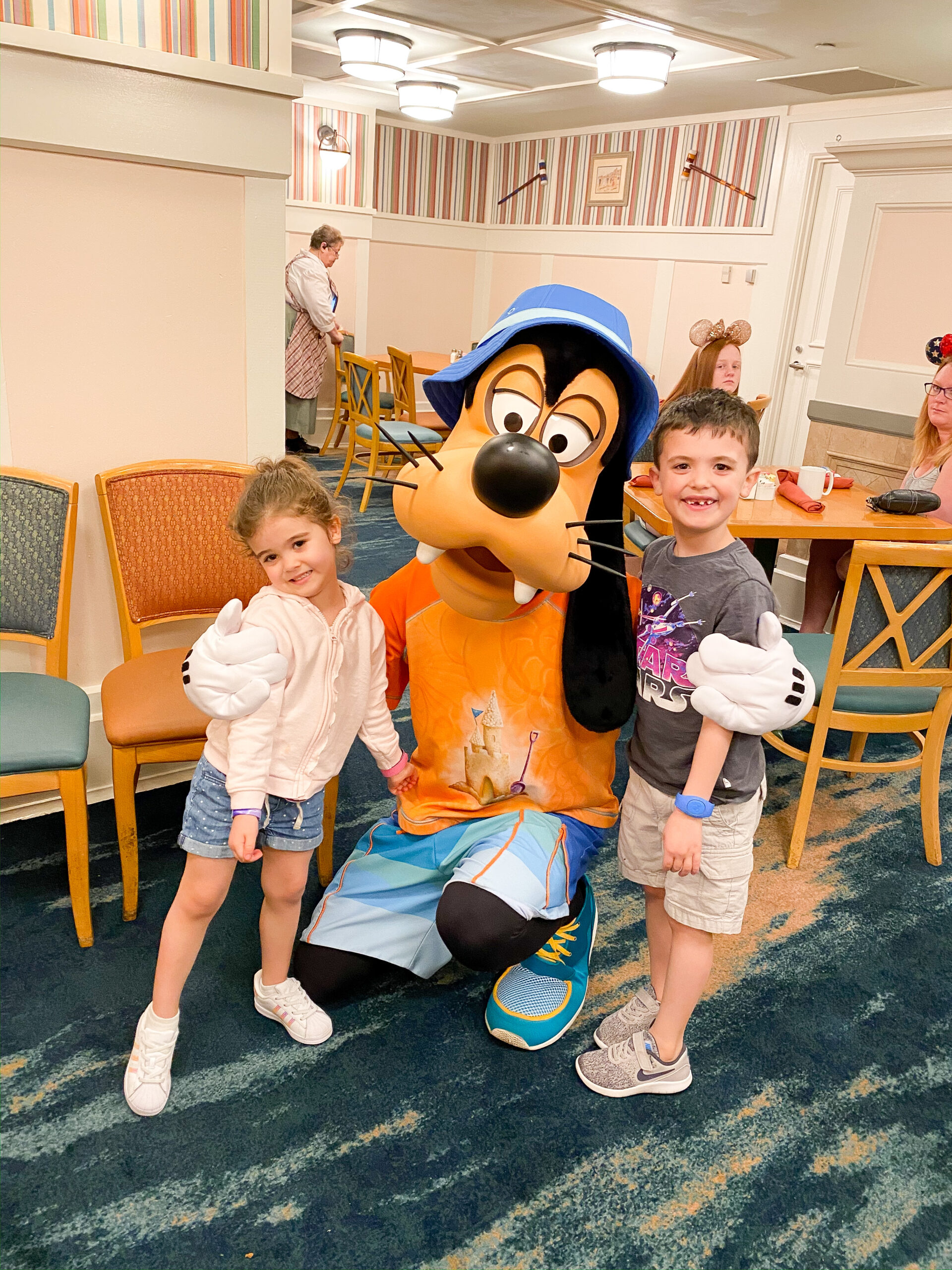 BON VOYAGE BREAKFAST AT TRATTORIA AL FORNO
Bon Voyage Breakfast, located at Trattoria al Forno at BoardWalk, features Rapunzel, Flynn Rider, Ariel, and Eric! This is a sit down meal (no buffet), and they had a variety of delicious options to choose from. My kids loved the Flounder waffles (instead of Mickey!), and the special on-theme pastries they brought out prior to the meal. The characters come around to the tables to interact and for photos. They also promenade around the restaurants and encourage children to join when a few special songs play throughout. Insider tip: ask Flynn to see what's in his pouch! A friend of mine gave us this tip and my kiddo's eyes lit up when they saw what's inside (I won't spoil it for you!). Very, very cute and good food!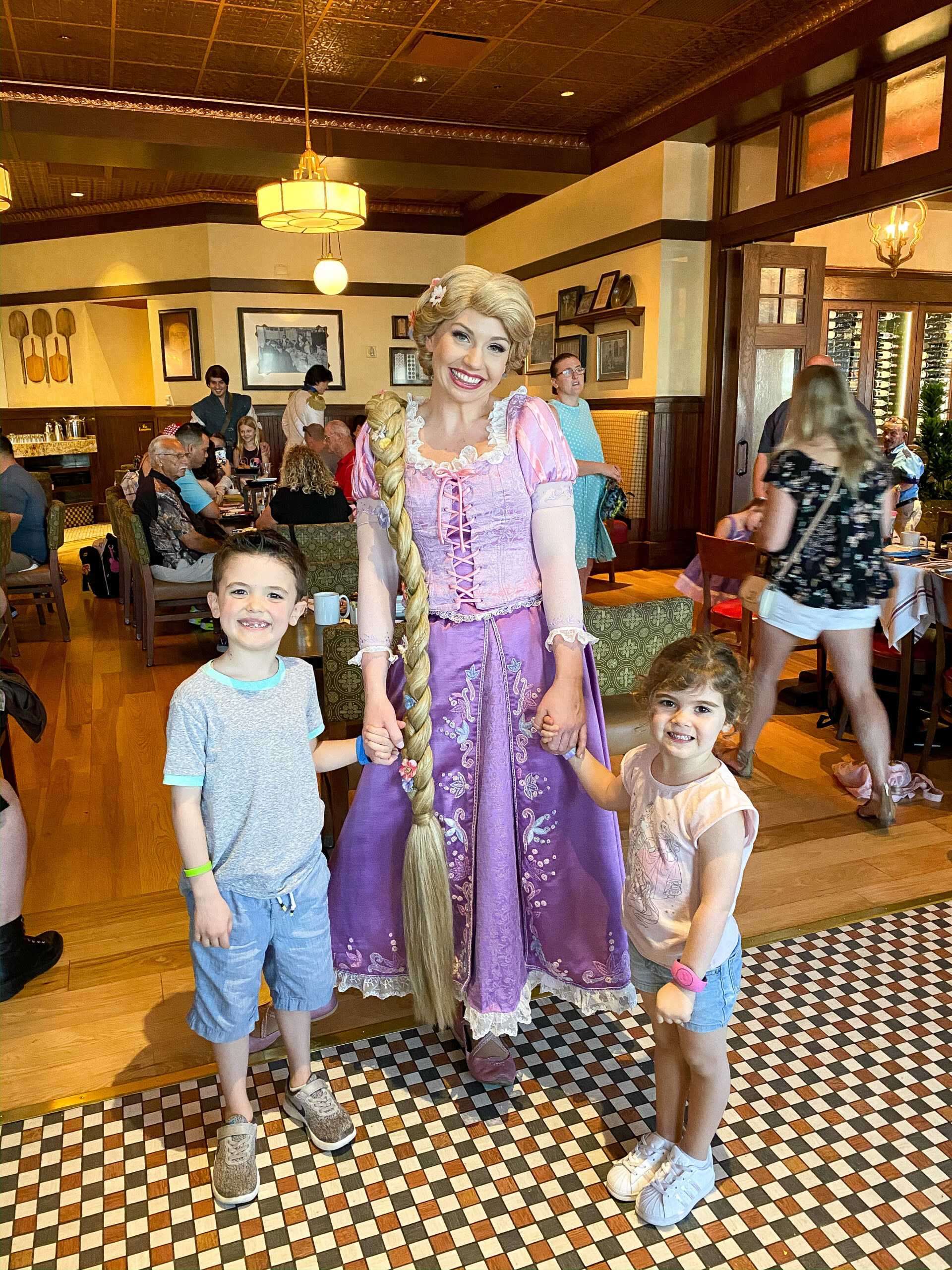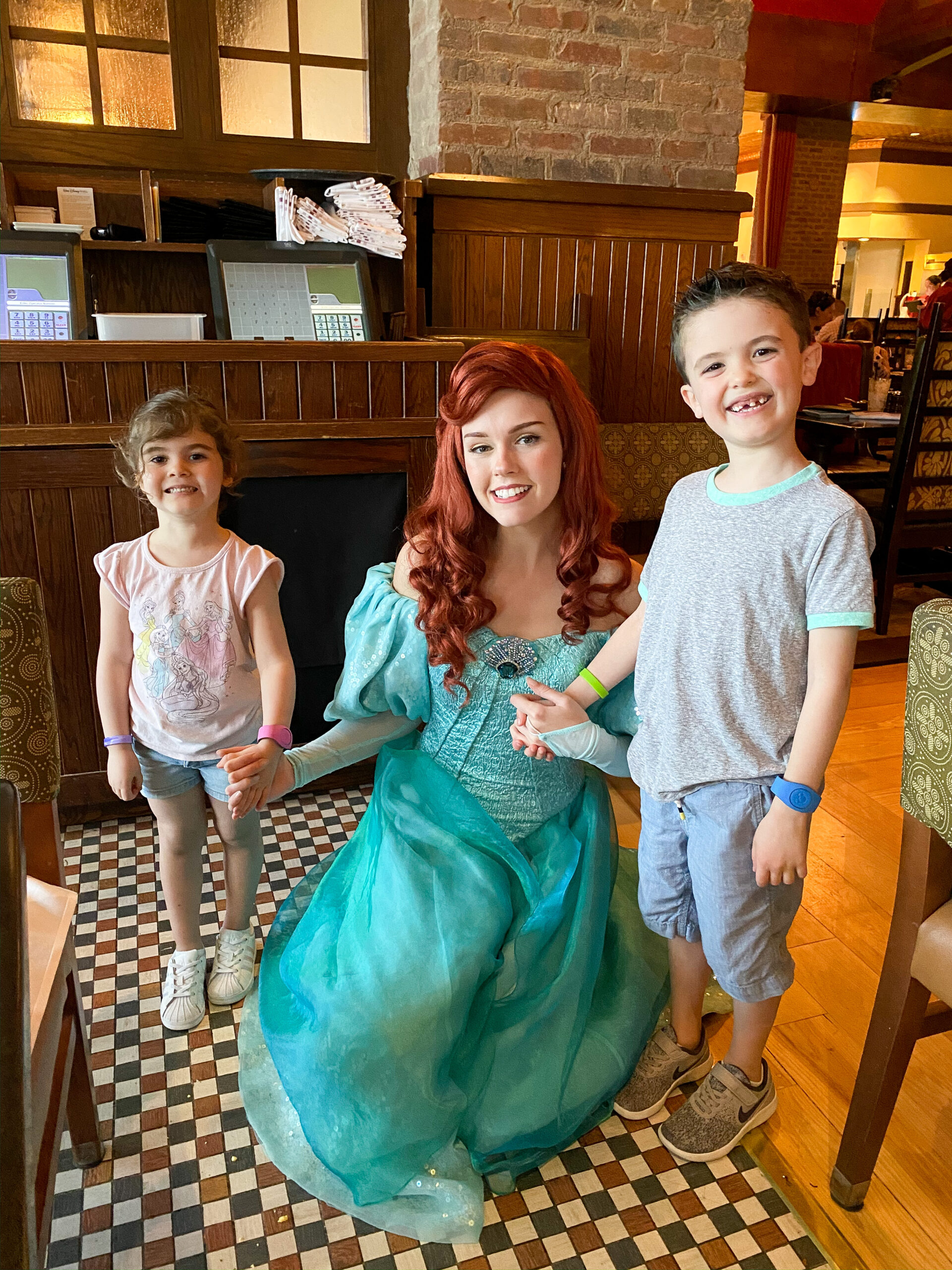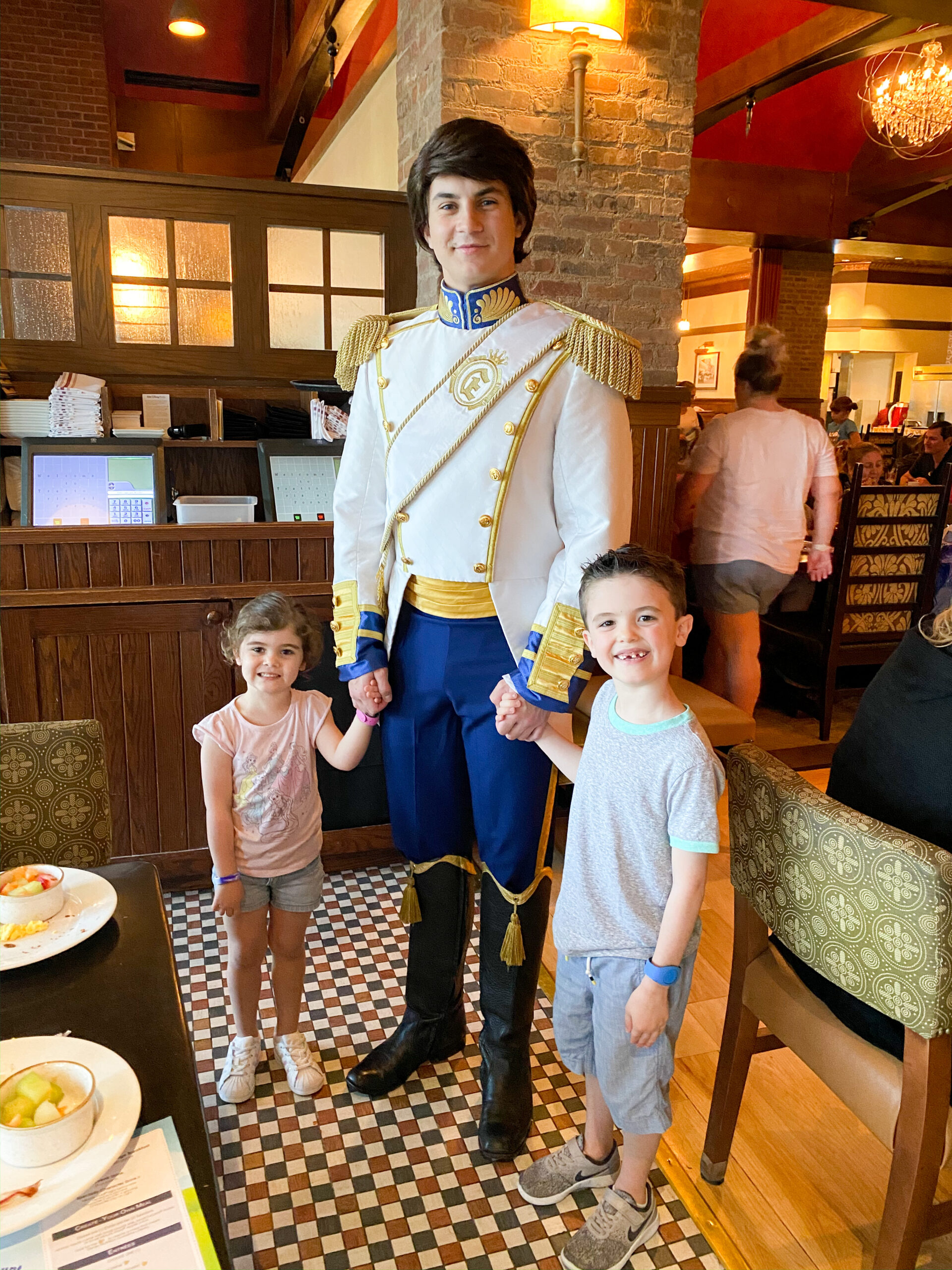 1900 PARK FARE
1900 Park Fare, located at the Grand Floridian, has various characters, depending on the time of day you're eating (so check restaurant details for specific times/characters!)! We did dinner, which featured Cinderella, Prince Charming, the Evil Stepsisters, and the Fairy Godmother. It's buffet style dining, and the food was decent – not the absolute best we had, but good! The ratatouille in particular was incredible! This meal is SO FUN because the Evil Stepsisters are hilarious!!! They stay true to character when conversing, and I LOVED it. At one point, Cinderella and Prince Charming ballroom dance in the middle of the restaurant, and then ask others to join in! It was adorable, and the kids loved it.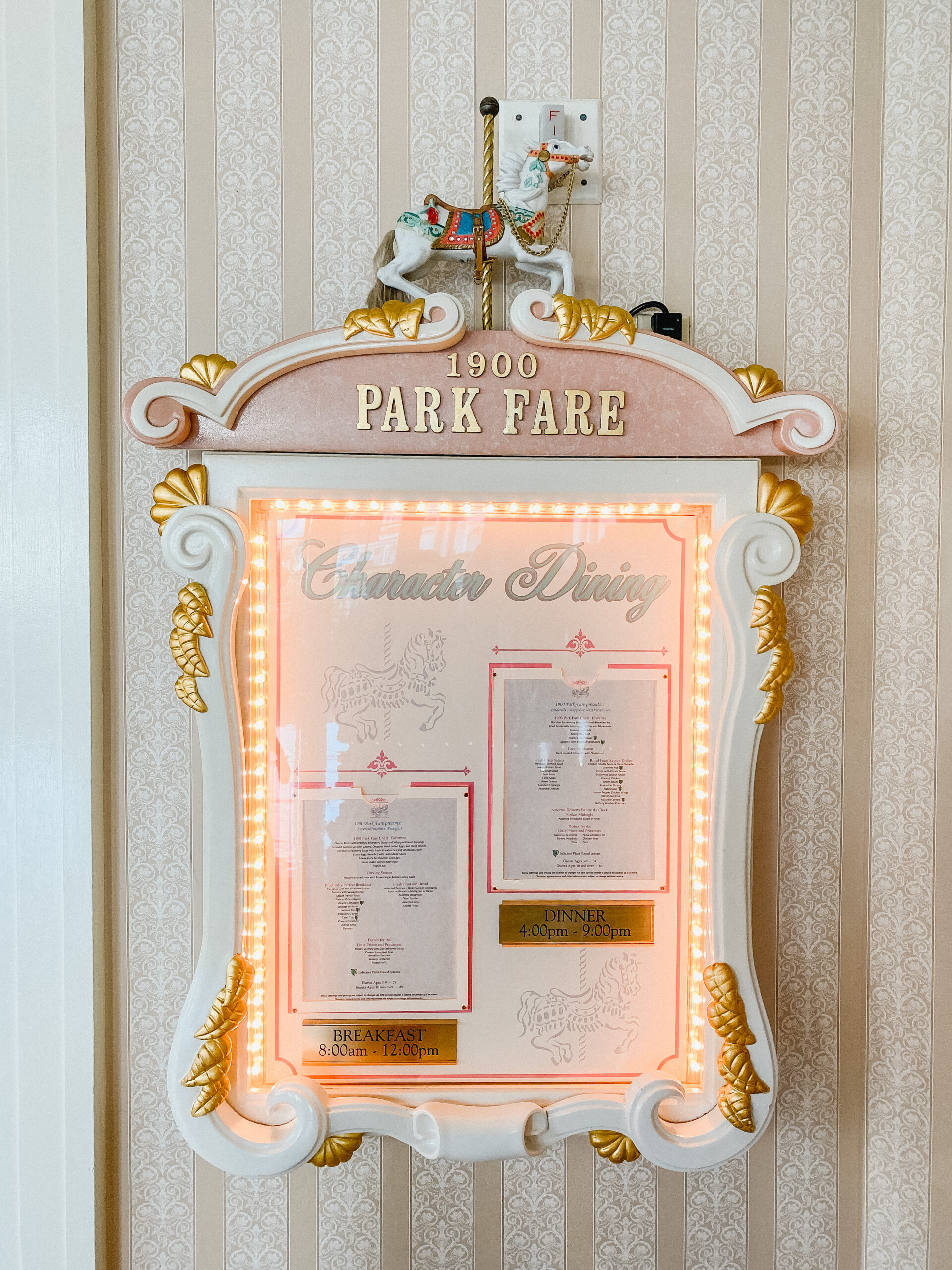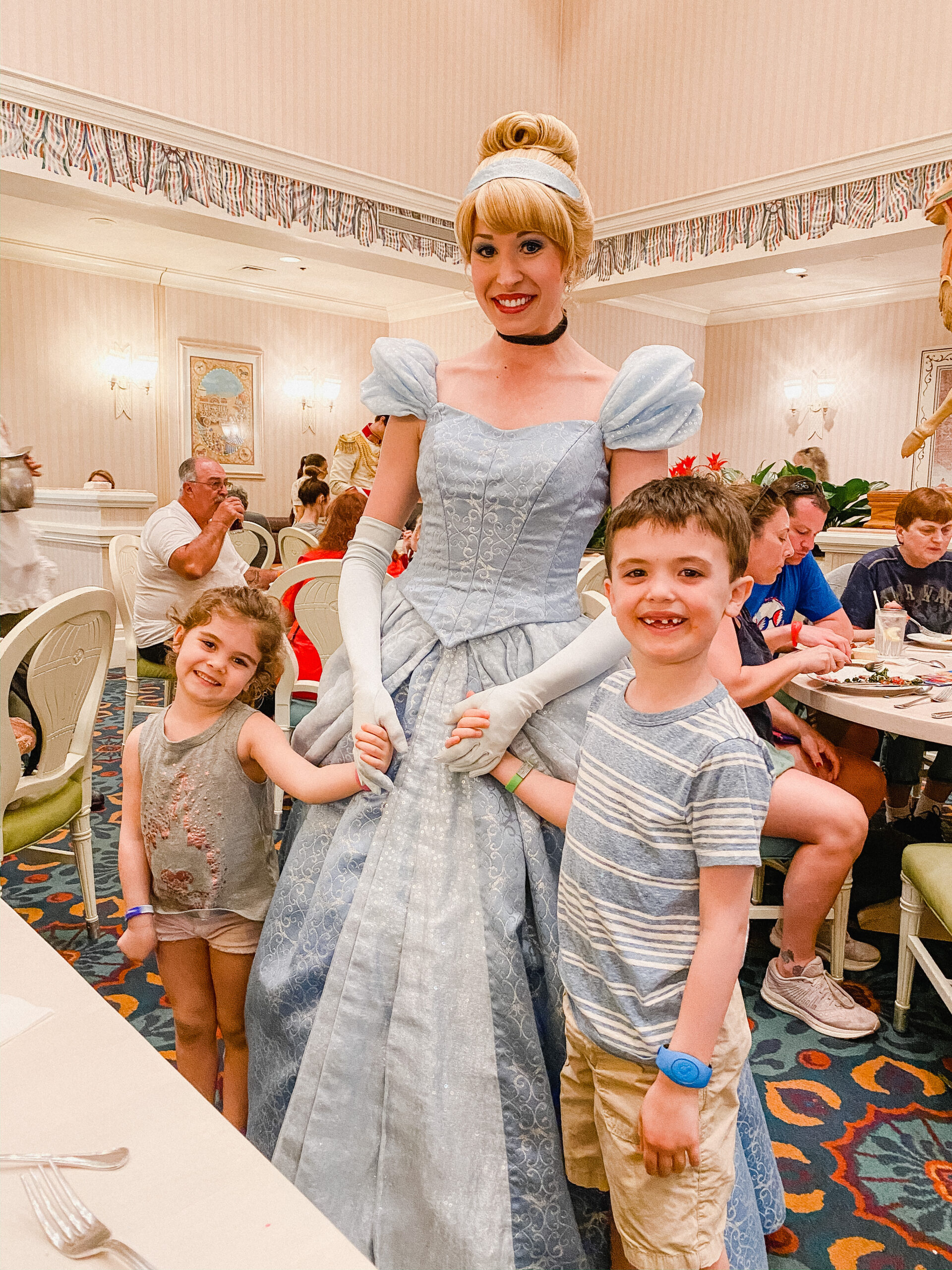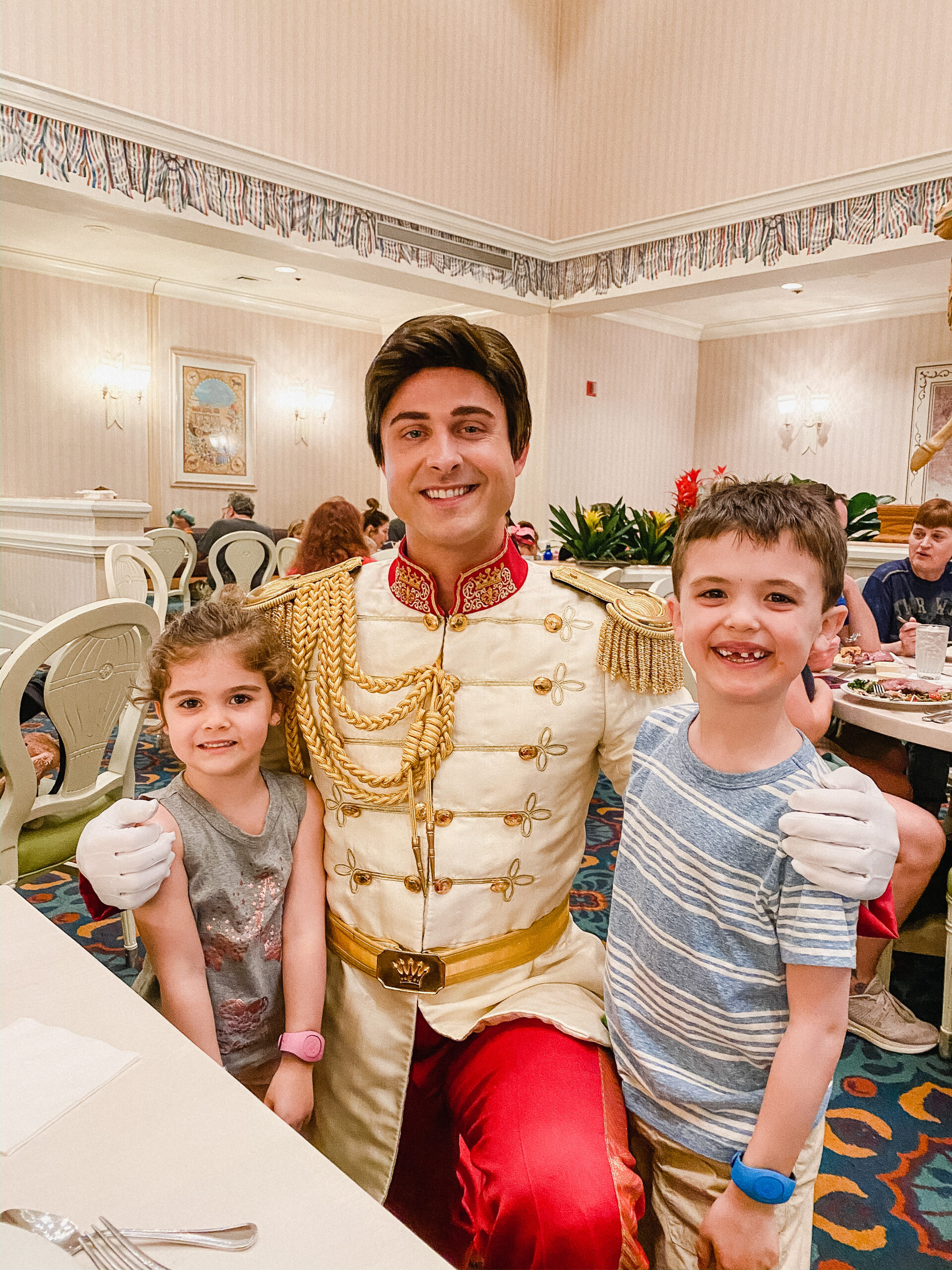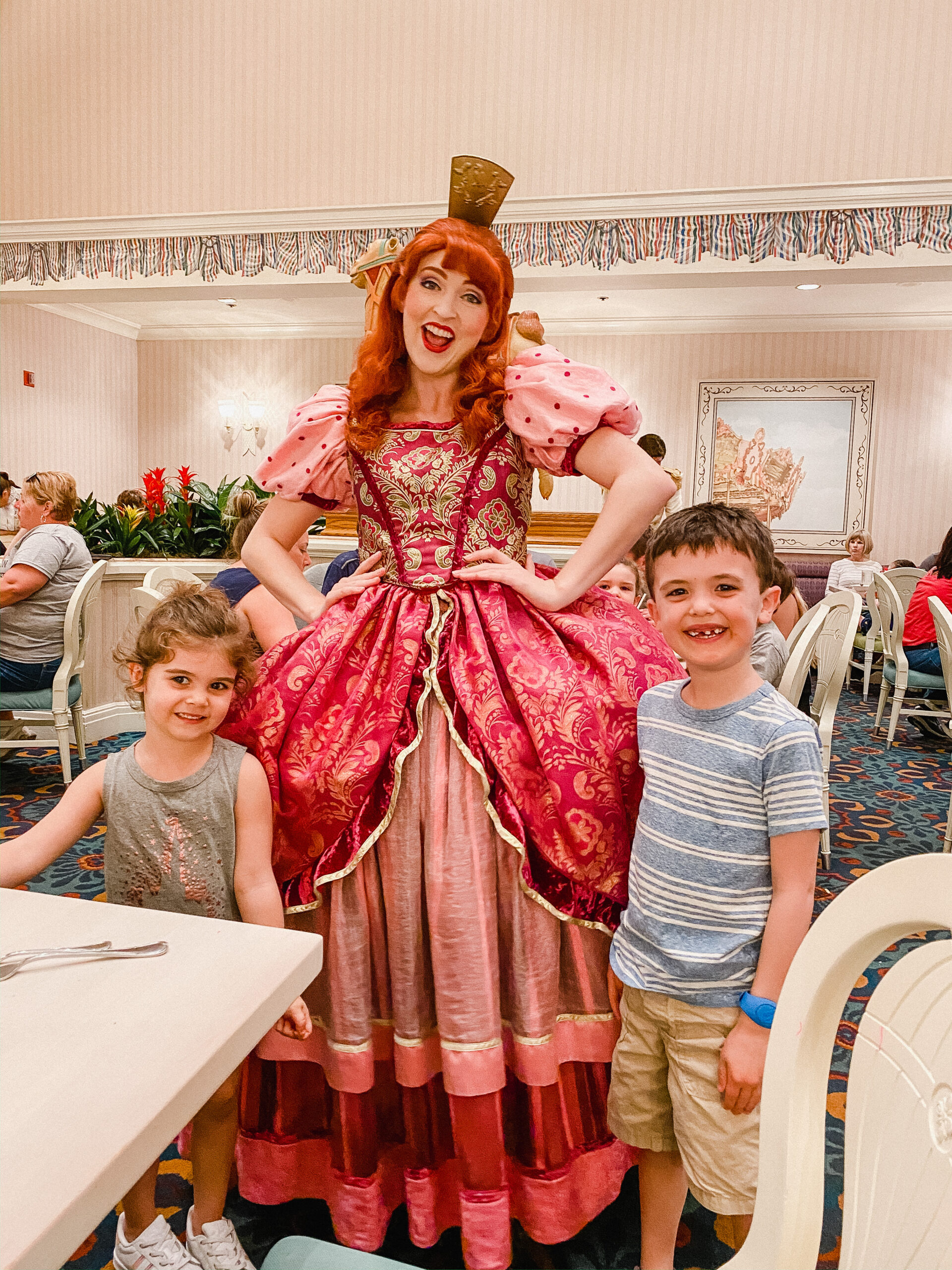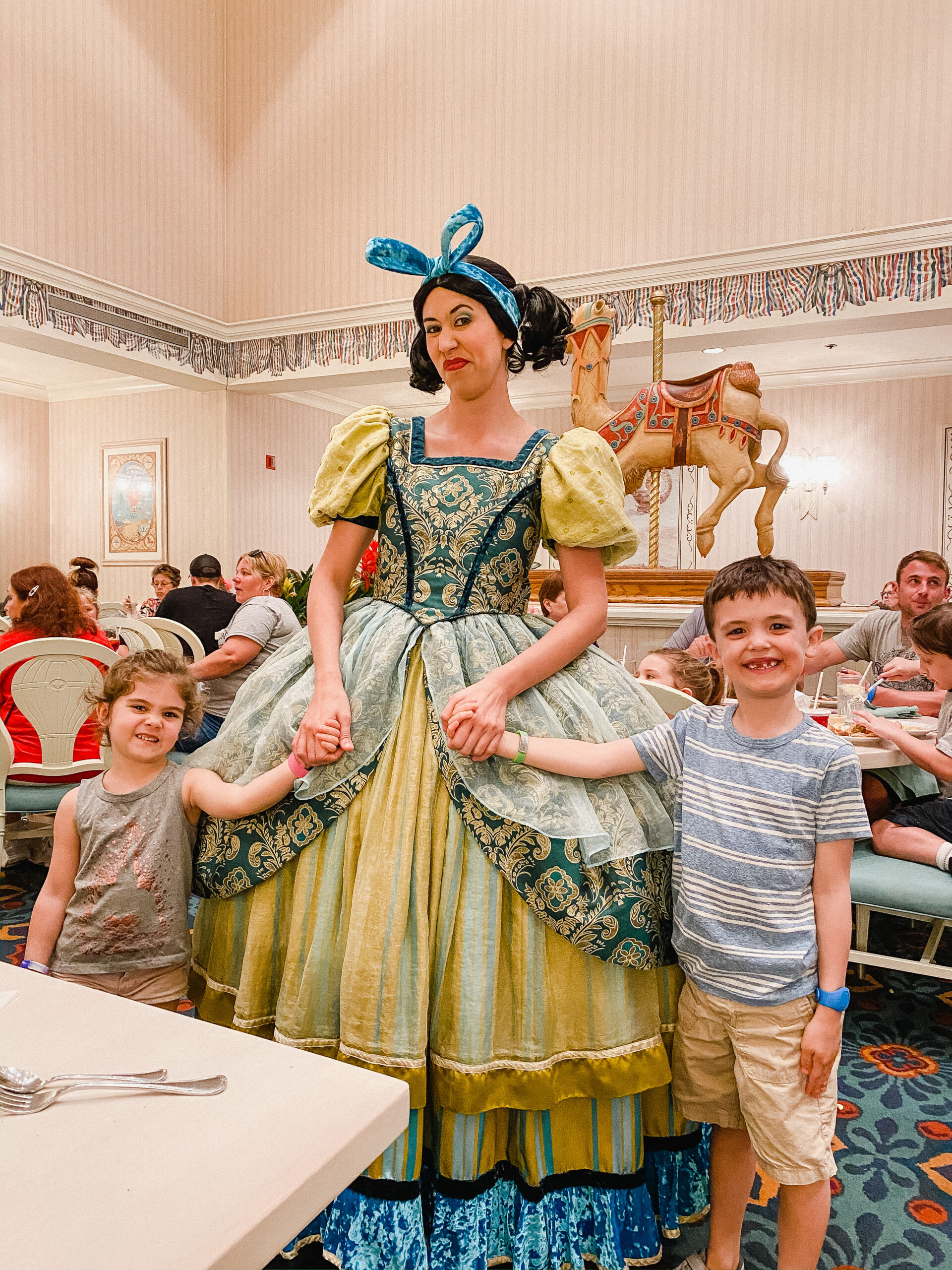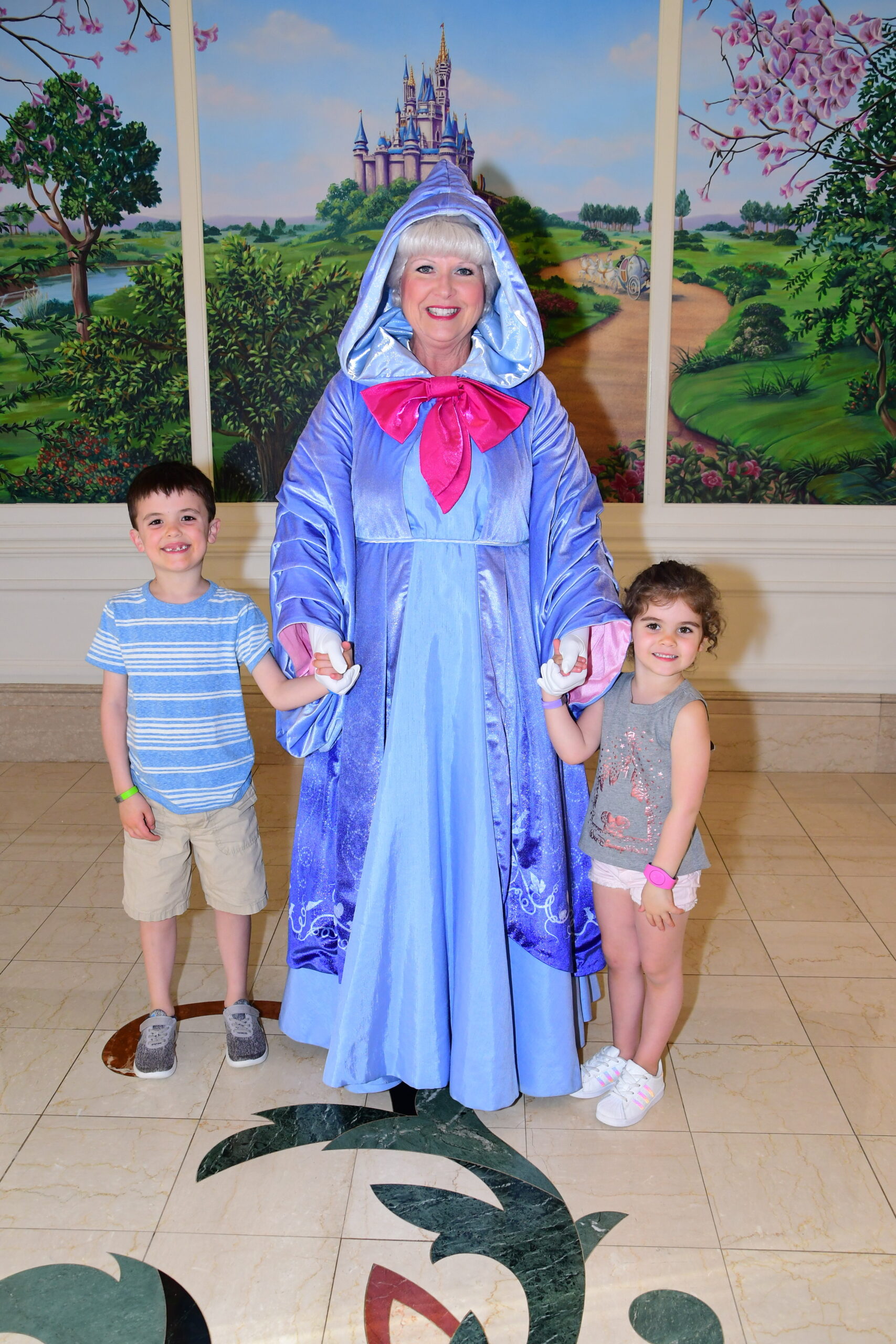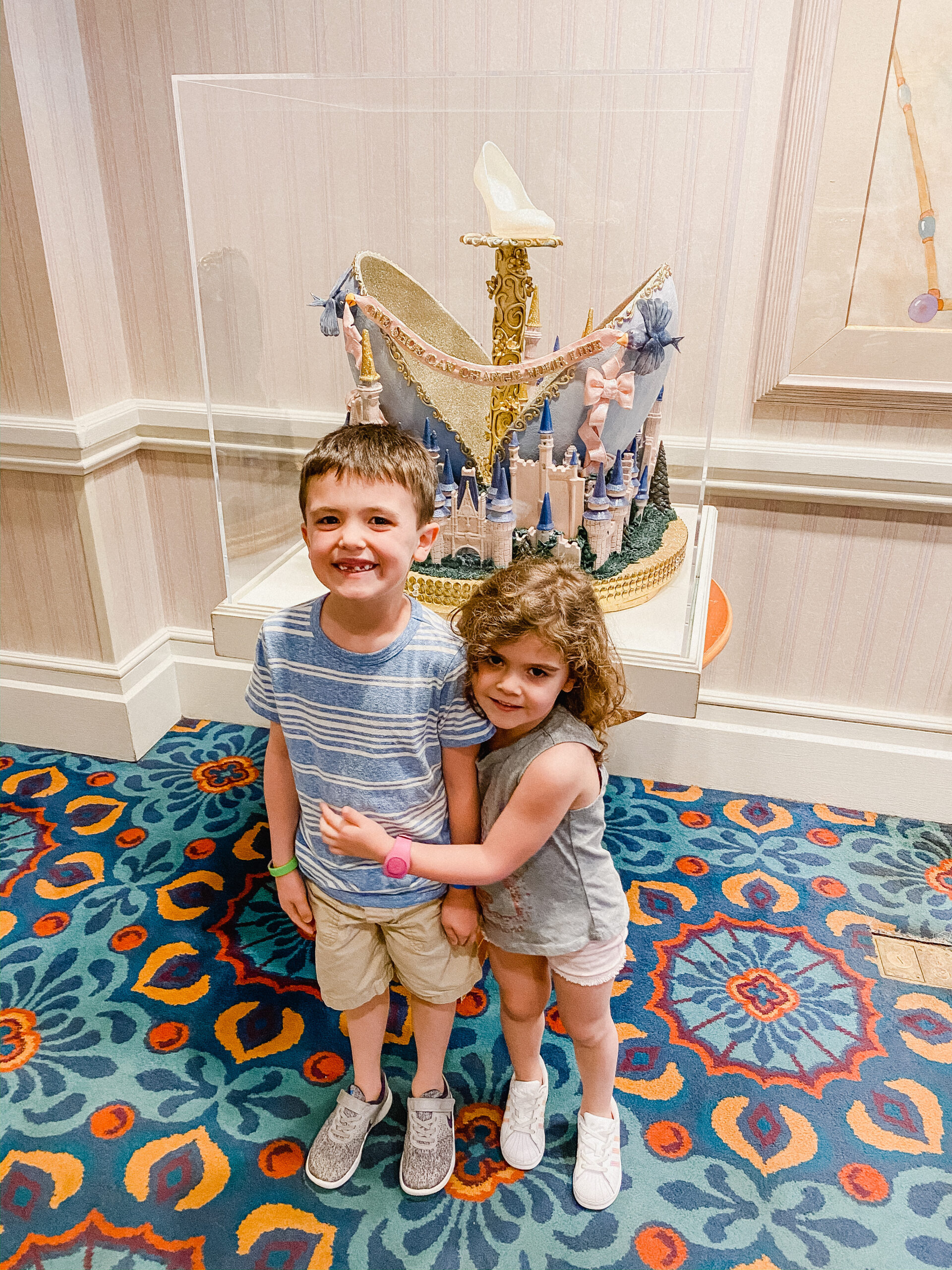 GARDEN GRILL
We purposely snagged this Garden Grill reservation before Epcot's park opening so we could rope drop Frozen Ever After, and we were pleased with the meal! It's a sit down, family style restaurant that had a delicious breakfast! The characters were Mickey, Pluto, Chip, and Dale. I wouldn't say this was my favorite dining experience, as I felt the food options were a bit limited (they were VERY accommodating to allergies!). But overall it was good!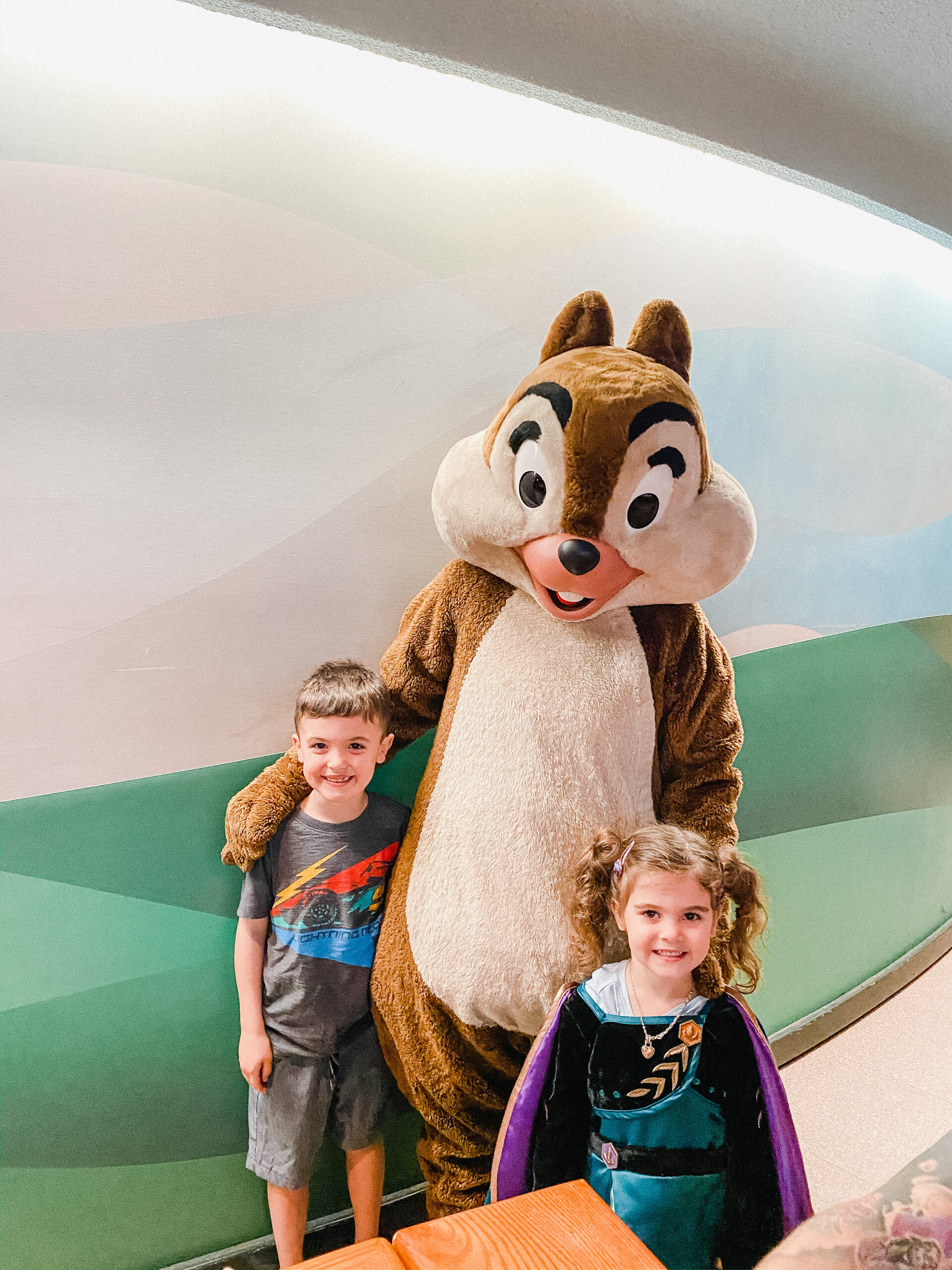 AKERSHUS ROYAL BANQUET HALL
Akershus was the first character meal we ever did, located in Epcot World Showcase in Norway. It was a fantastic experience for seeing almost all of the princesses, but the food was a little underwhelming. I'm not sure if it's the specific meal we were there for because I've heard others say they loved the food. We felt options were minimal! However, you can meet Aurora, Snow White, Ariel, Cinderella, and Belle! It's a great way to hit up several princesses for photos and autographs in one spot. My daughter especially LOVED it, and also enjoyed the part where they parade around the restaurant with guests! This one was quite expensive, though. It was about $250 for our family of 5.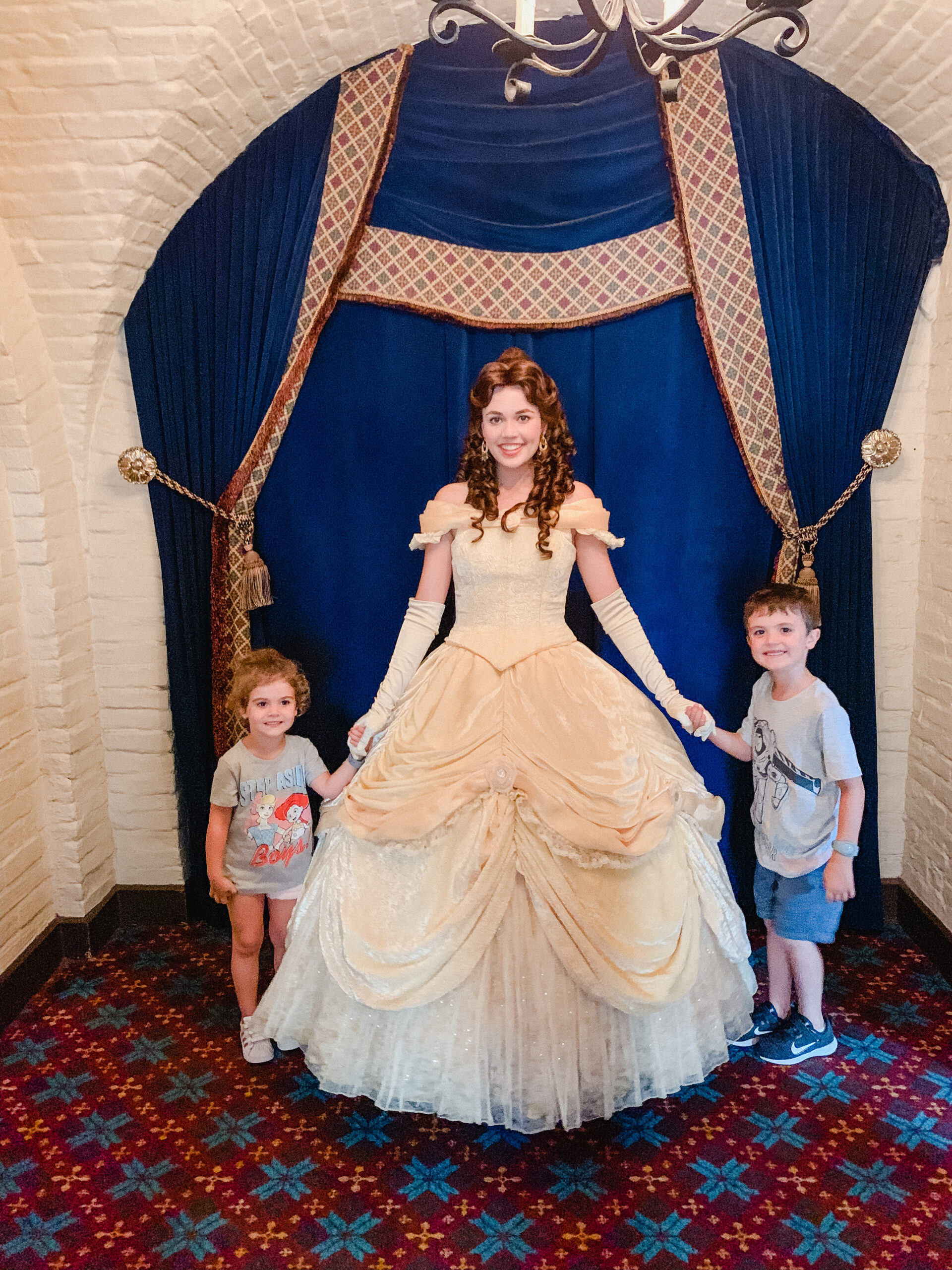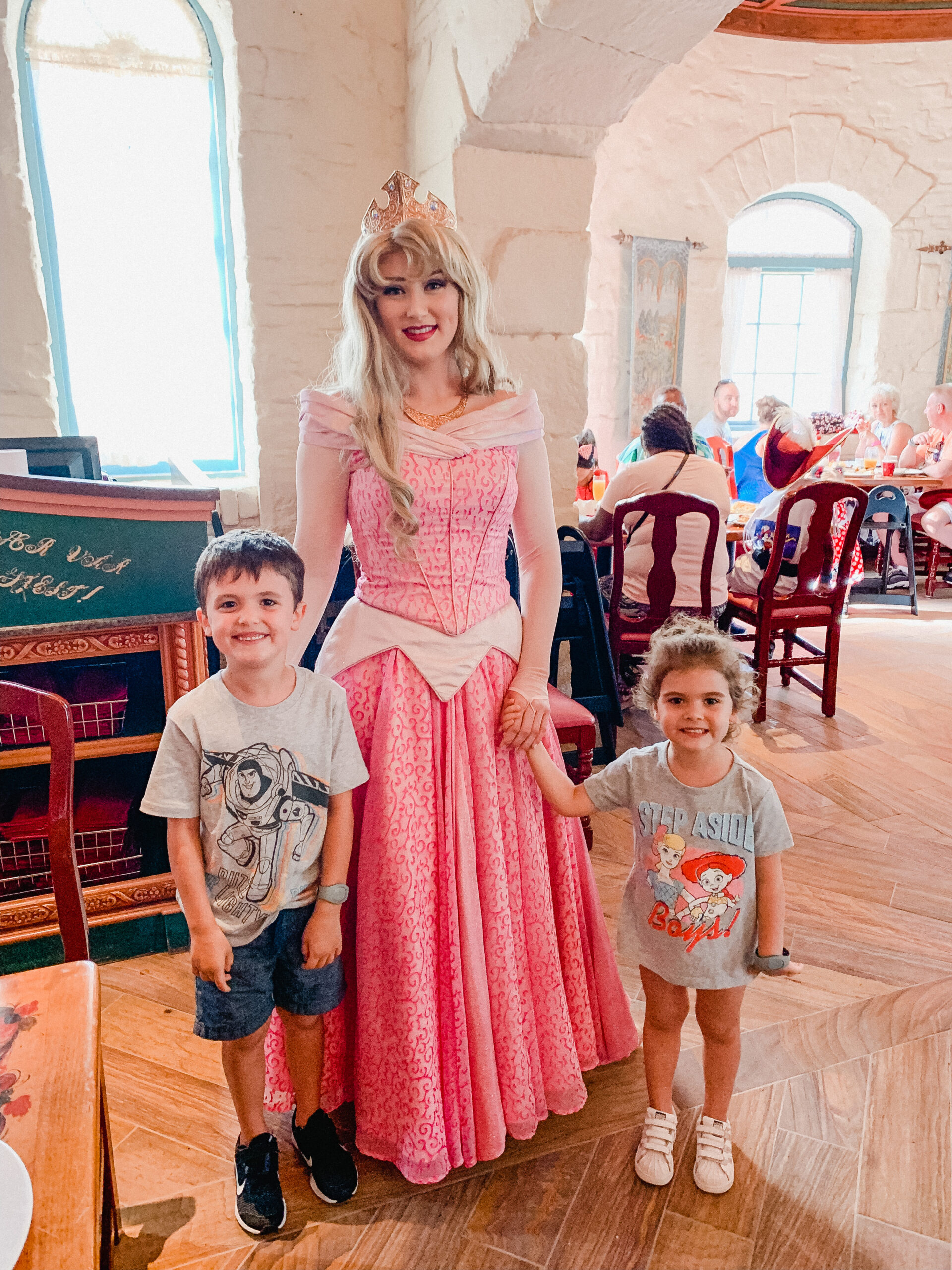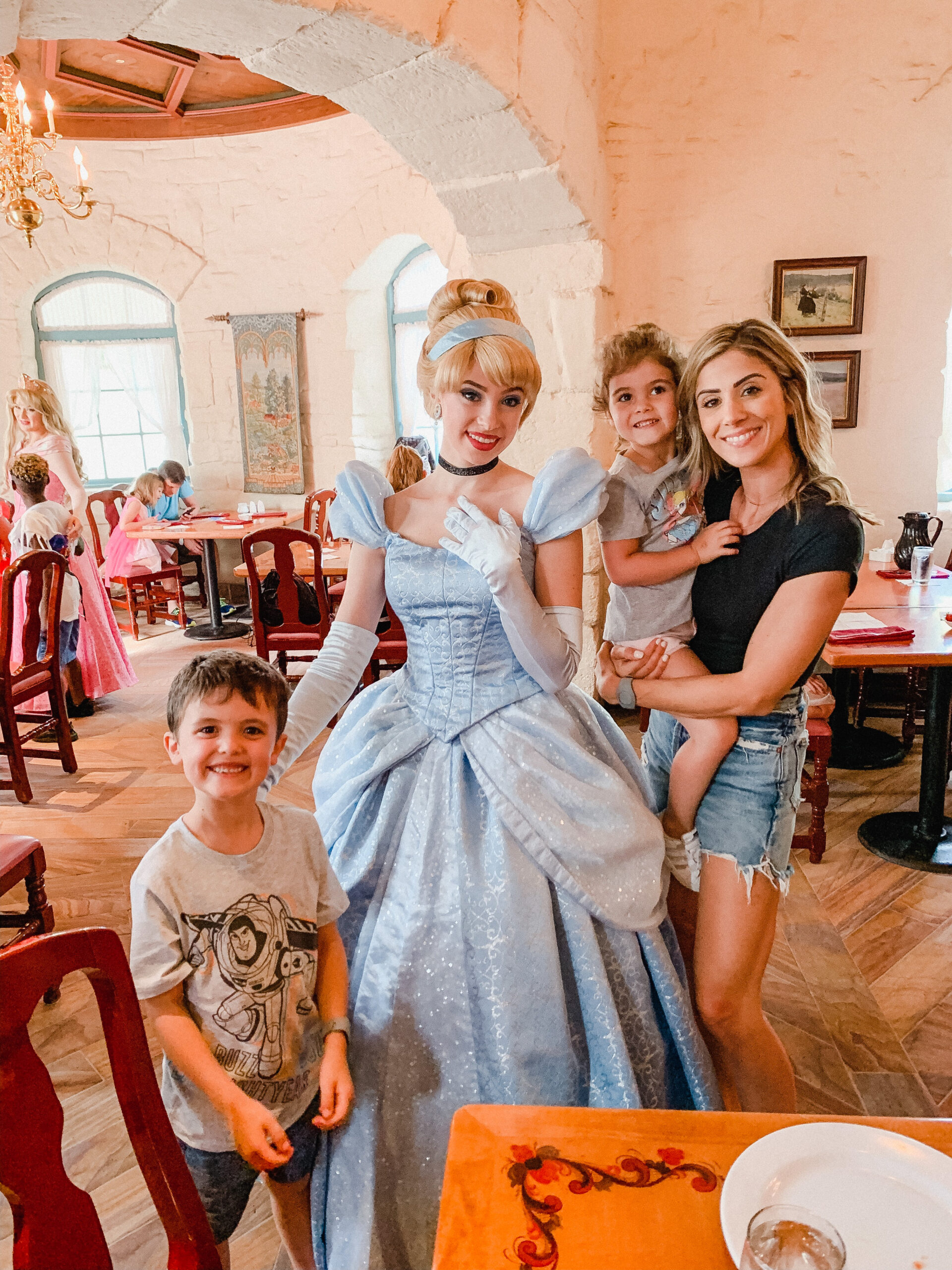 Those are all the meals we've tried so far! Do you have a favorite character dining experience in Walt Disney World? Leave a comment below so we can add it to our list for next time! 🙂
READ NOW, PIN FOR LATER: