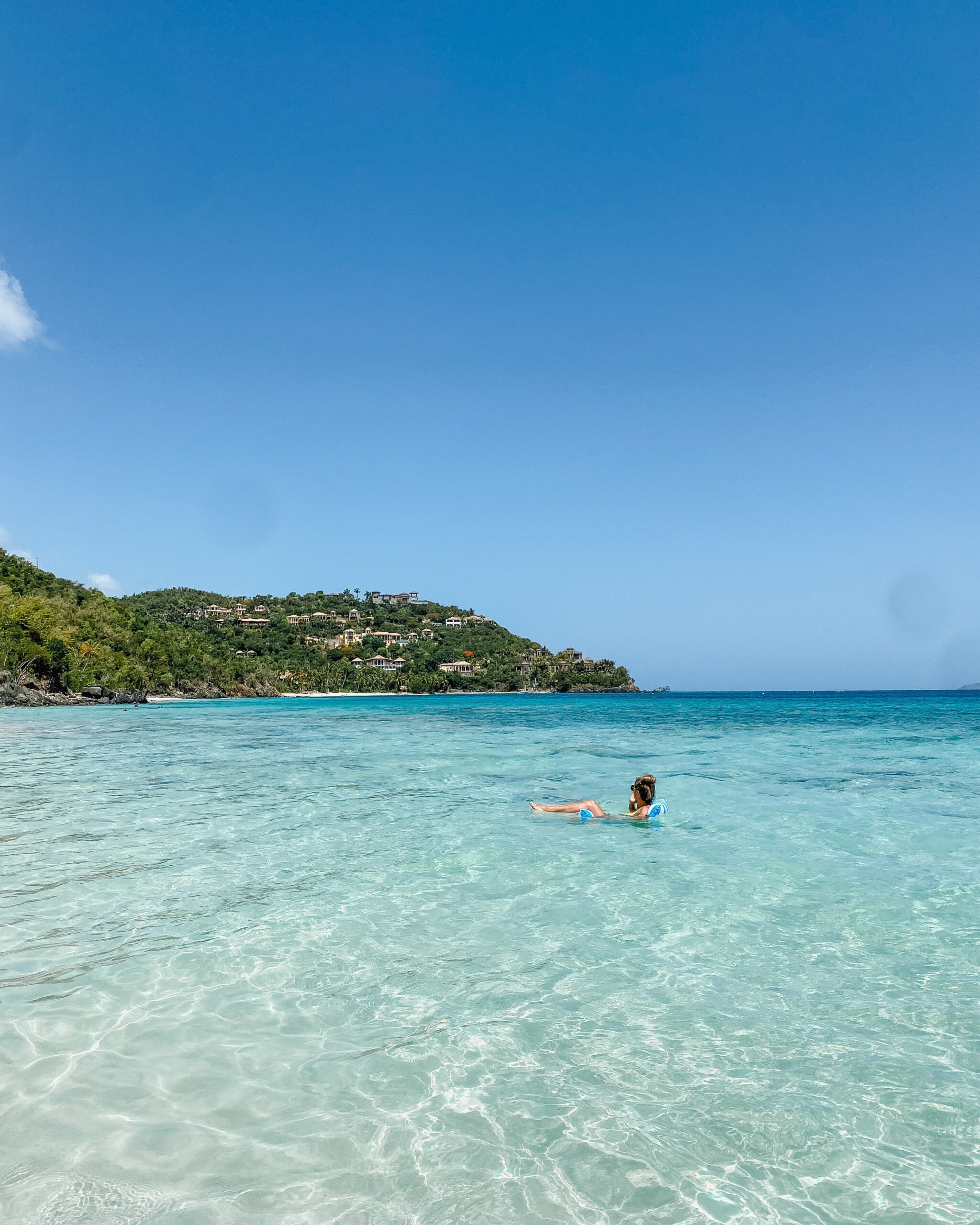 St. John, USVI. I cannot even put into words how I feel after leaving this island, other than I feel like I left a piece of my heart here. I always love traveling to the Caribbean, but this trip was different. This island left a mark on my heart like no other…so much so that we immediately booked a return trip and I cannot wait. It's such a special place because two-thirds of the island is the Virgin Islands National Park. So much of the island is protected and preserved. For that reason, this is not the vacation to take if you're looking for an all inclusive resort – there's none of that here. Villas seem to be the most popular way to stay on the island, which means serving yourself (and hitting the grocery store for food!). So just keep that in mind! Also, many restaurants and activities DO close for hurricane season, so make sure to check their websites depending on your travel dates!
I'm sharing everything we experienced on the island in this post and some things I learned during our stay. I hope you find this post helpful if you decide to visit the island! Please remember to be respectful of this special place, especially to the locals. We made sure to greet them with "good morning" or "good afternoon," as we learned this is important to them. Also, island time is a real thing! 😉
How to Get There & Transportation
The most important thing to know about getting to St. John is there is no airport on the island. You have to fly into St. Thomas and then take a ferry to St. John. We were able to book a private taxi from the airport to Red Hook, which is where one of the public ferries is located. The ride from the airport to Red Hook is about 40 minutes or less. The Red Hook Ferry has frequent ferry times, and it takes only 20 minutes to get to St. John. This sounds a little more complicated than is actually is – we had a very smooth experience. I purchased our ferry tickets online right here. There is another ferry as well, including a car ferry, but we rented our car on St. John.
Also, you do NOT need a passport if you're from the US! However, having them helped expedite our airport experience on our way back home. Currently, we only needed a negative PCR Covid test within 5 days of arrival to the island that we needed to submit through their travel portal as well as show proof of upon arrival. We did not need a test to return. **UPDATED 4/4/22: Please head to the USVI Travel Portal for the most up to date info!**
And on the note of renting a car, you HAVE to rent a Jeep Wrangler. HAVE TO. And book it SOON after you book your trip because they run out! St. John is very hilly, so you need 4WD. They also drive on the opposite side of the road than we do in the US, so it took a little adjustment! I kept repeating, "KEEP LEFT!" If you know, you know, haha. There are a variety of Jeep rentals on the island. I advise finding a company that will pick you up at the ferry, or one you can easily walk to from the ferry dock. They're all pretty much right there anyway!
Where to Stay
There are so many places to stay on the island, but I think it's important to know there's no all inclusive resort here. The main resort is The Westin, as Caneel is still undergoing renovations post hurricane. We chose to stay in a villa because we wanted the privacy and to be able to cook at home. We found a beautiful villa in Great Cruz Bay called Villa Royce, which we figured was a great location as first timers since it's only a few minutes near town. Villa Royce was absolutely spectacular – literally a dream. The view of Great Cruz Bay was just stunning….I miss it so much! We even had views from our showers. It was so quiet, peaceful, and felt remote…like we were overlooking everyone else from our quiet piece of paradise. The kids loved watching the boats come in and out everyday.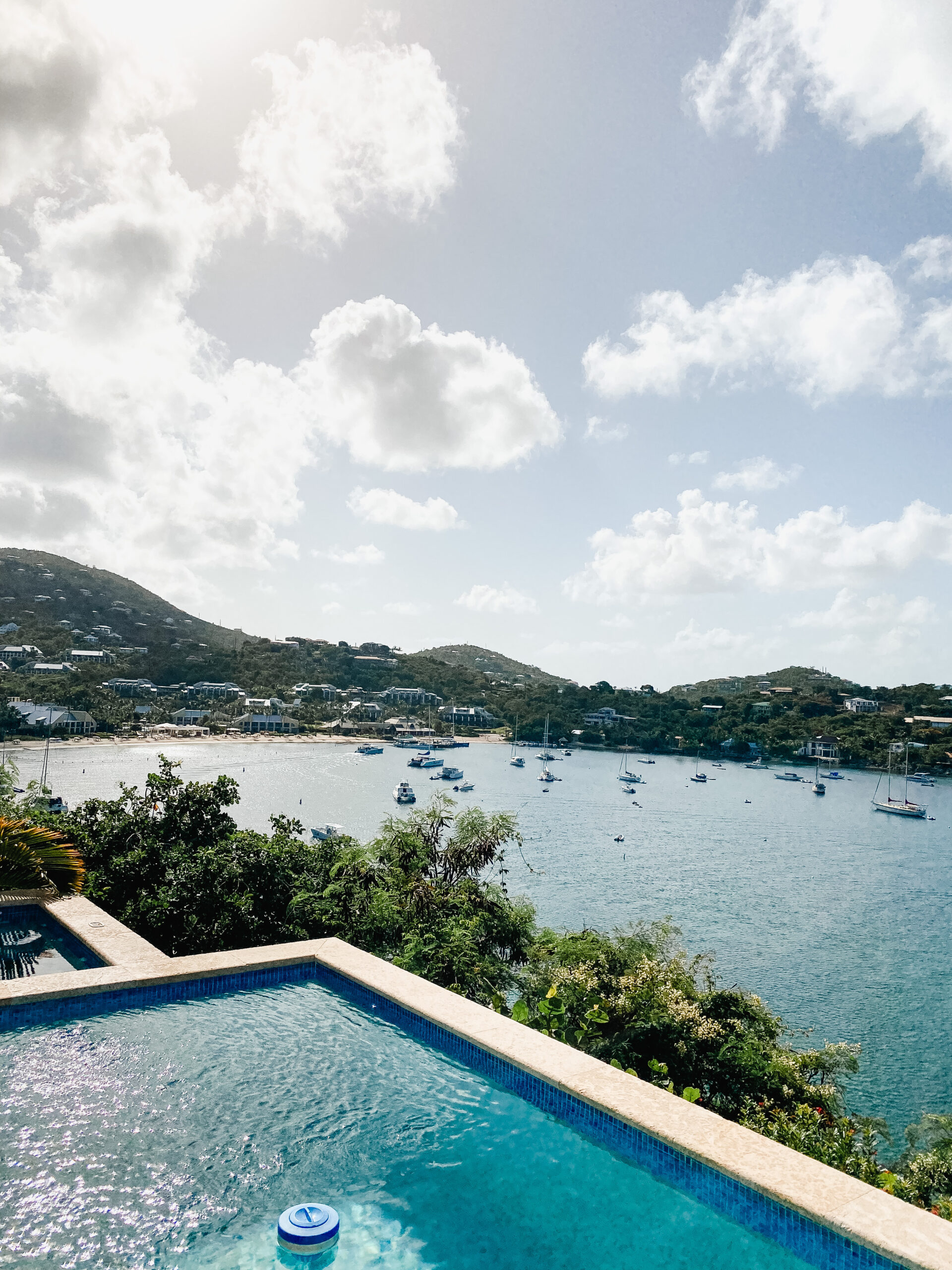 Villa Royce had all the amenities we needed and more. Having a double washer and dryer was helpful, as there's no linen service in the villa. We also had a grill (which we used frequently) and high end appliances. The bedroom were all inside of the house (some villas have bedrooms with outdoor access only), which I liked because of the kids. We literally had everything we needed and more, and it made the trip that much more enjoyable. I cannot recommend this specific villa enough – it was a dream!
I think staying in Great Cruz Bay for our first visit was the right move for us, but we are now planning on staying towards the beaches for our second trip! It didn't take very long for us to learn the basics of the island, and feel more comfortable now!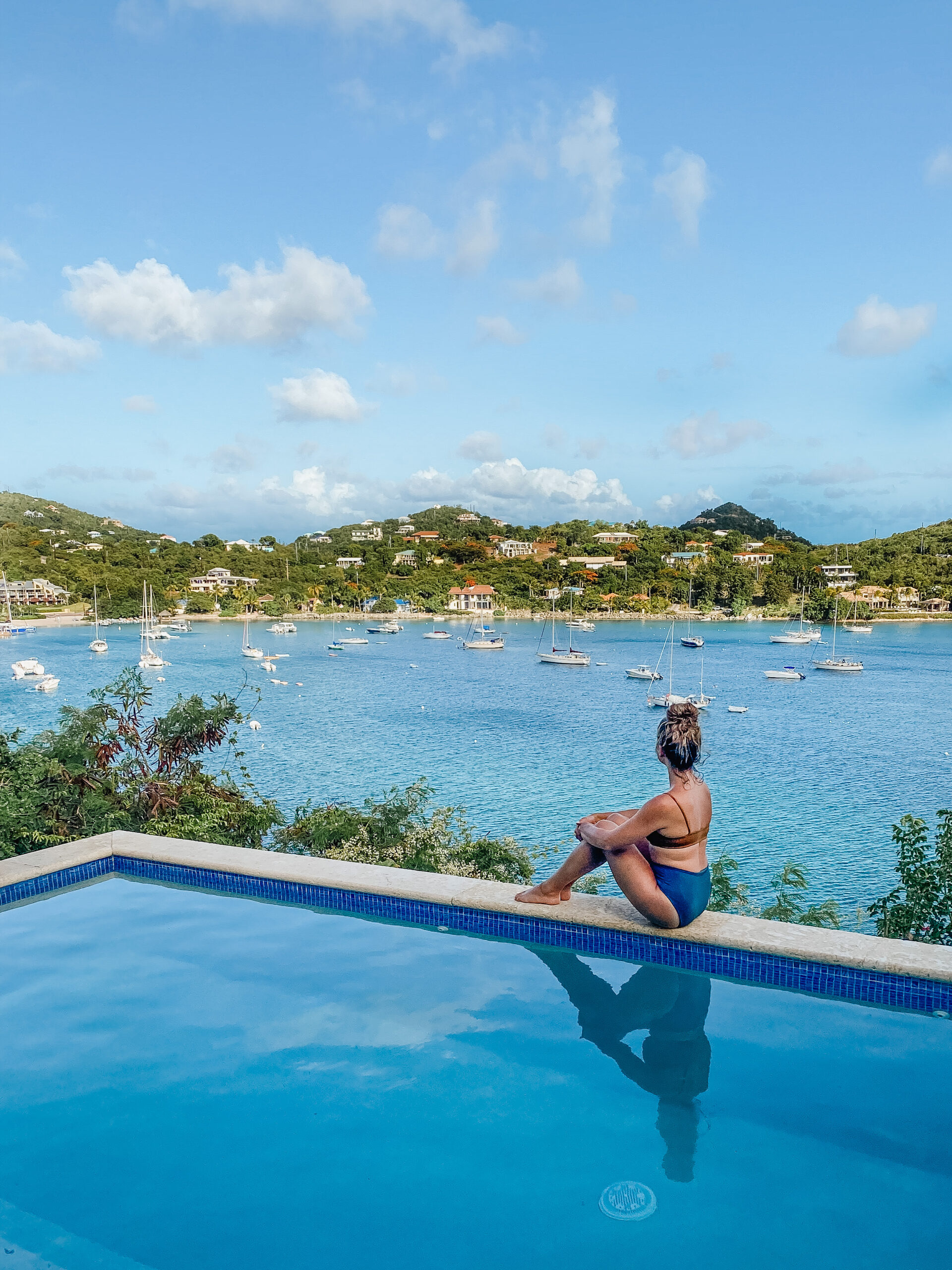 St. John Beaches
There are so many beaches on the island and I feel like we barely even touched the surface. However, the beaches we did visit have us hooked and wanting to return ASAP. They are the most beautiful beaches I have ever seen out of all the Caribbean islands I've ever visited. I'm convinced that's because St. John is mostly a National Park and therefore preservation and protection of the area is a priority. The snorkeling is different on every beach – the ocean life we saw was unlike anywhere else! And for this reason, St. John is very particular with protecting their coral reefs. We used special reef safe sunscreen (did you know NOT all reef safe sunscreen is actually reef safe? Check the ingredients…no O ingredients can be listed!) in order to protect the reefs. We were very respectful of their rules! We also brought a Neso tent that could be set up without needing to stick poles in the ground (I read this is important because of turtle eggs). Below I'm listing the beaches we visited!
HONEYMOON BEACH: There are a few different ways to get to Honeymoon Beach, but we paid for the shuttle (probably the easiest way and it runs frequently). We weren't sure how shade options would be on this beach, so we actually reserved a cabana in advance through Virgin Island Ecotours. I feel it was worth it, as we had a few people in our party who preferred to not be in the sun. It also came with a cabana attendant who brought us drinks and food! The beach was simply stunning – I swear I've never seen beaches as beautiful as on St. John.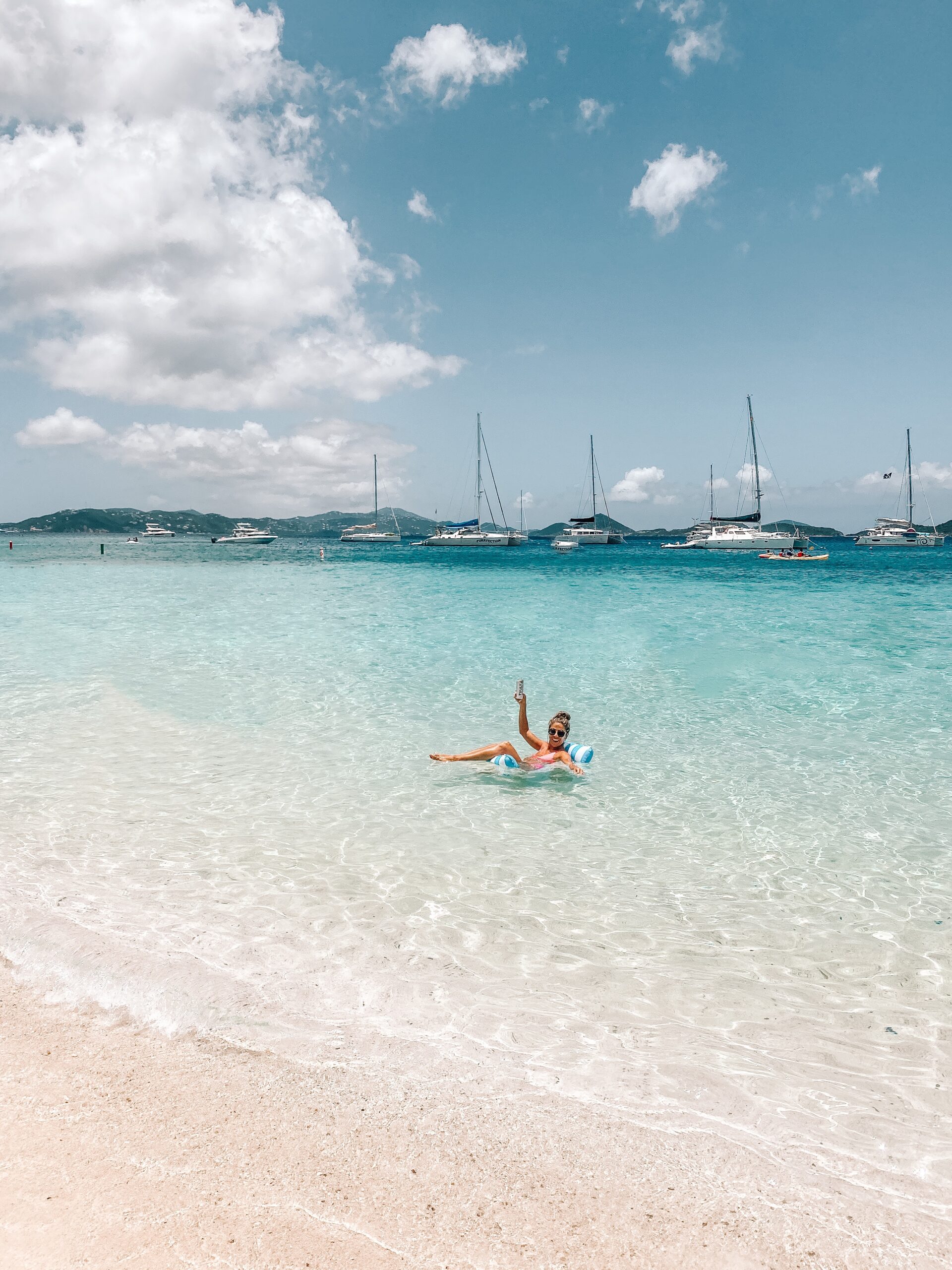 CINNAMON BEACH: If I had to pick a favorite, it would be Cinnamon Beach. The sand was like powder, the water crystal clear and turquoise blue as far out as I could see, and it was quiet! This is actually the longest beach on the island, and therefore you have more room to spread out. We went all the way down to the west end of the beach and enjoyed every second of our time here. Parking is close, too! There are no rentals on this beach, though, so make sure you bring everything you might need!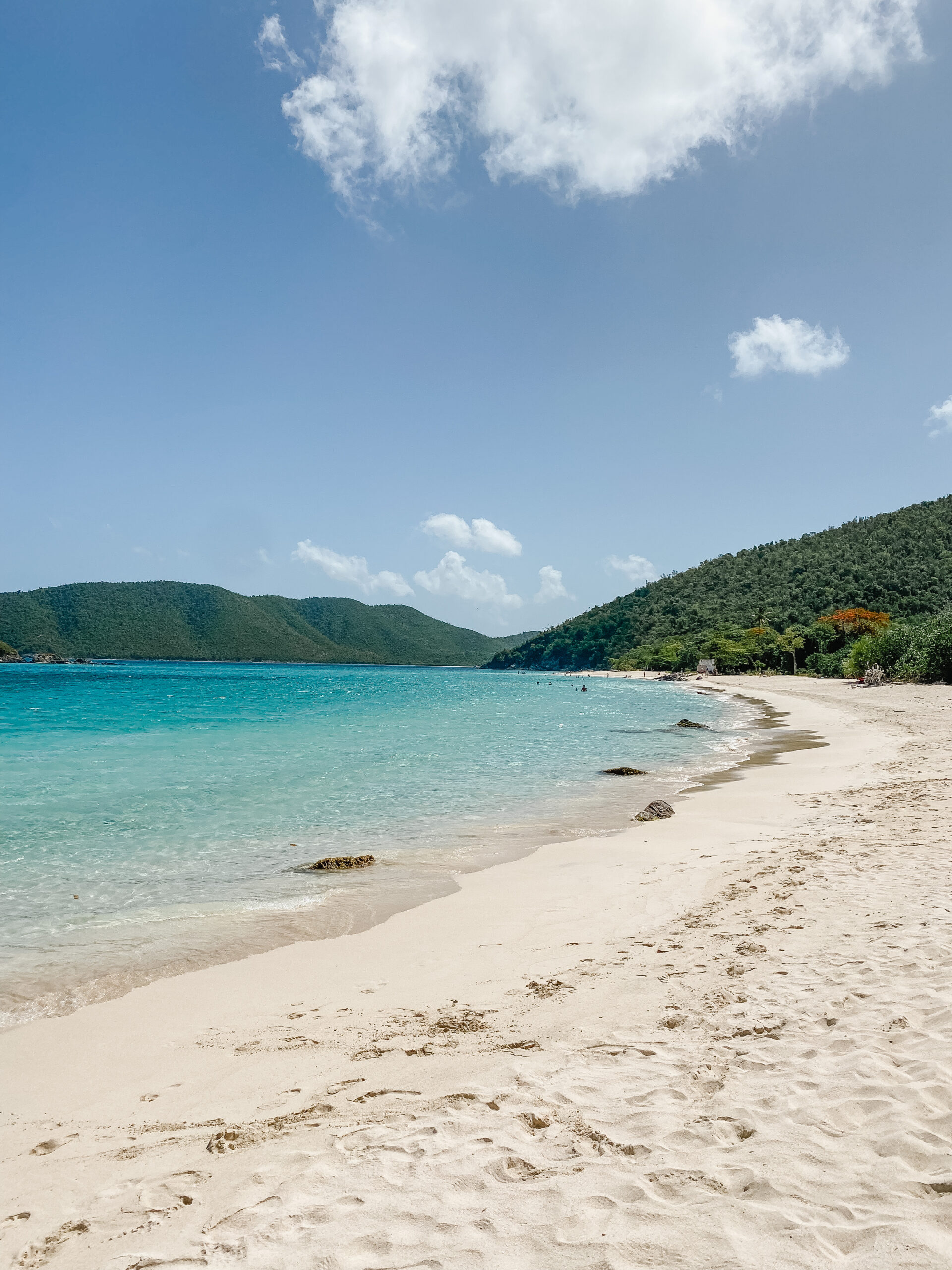 MAHO BEACH: This beach was by far the best for seeing sea turtles! It's a nesting ground for the turtles, so they're in abundance. We were able to snorkel out to see them, but I also rented a clear bottom kayak ($30 for 2 hours) at the sports rental stand so my daughter could see them without needing to swim. It was an amazing experience! This beach had a variety of rentals available from chairs to floats to water sports equipment. There was also a beach bar as well. Parking is right near the beach, and the shops are immediately across the street. A great beach for families! Here's a shot I grabbed from my GoPro.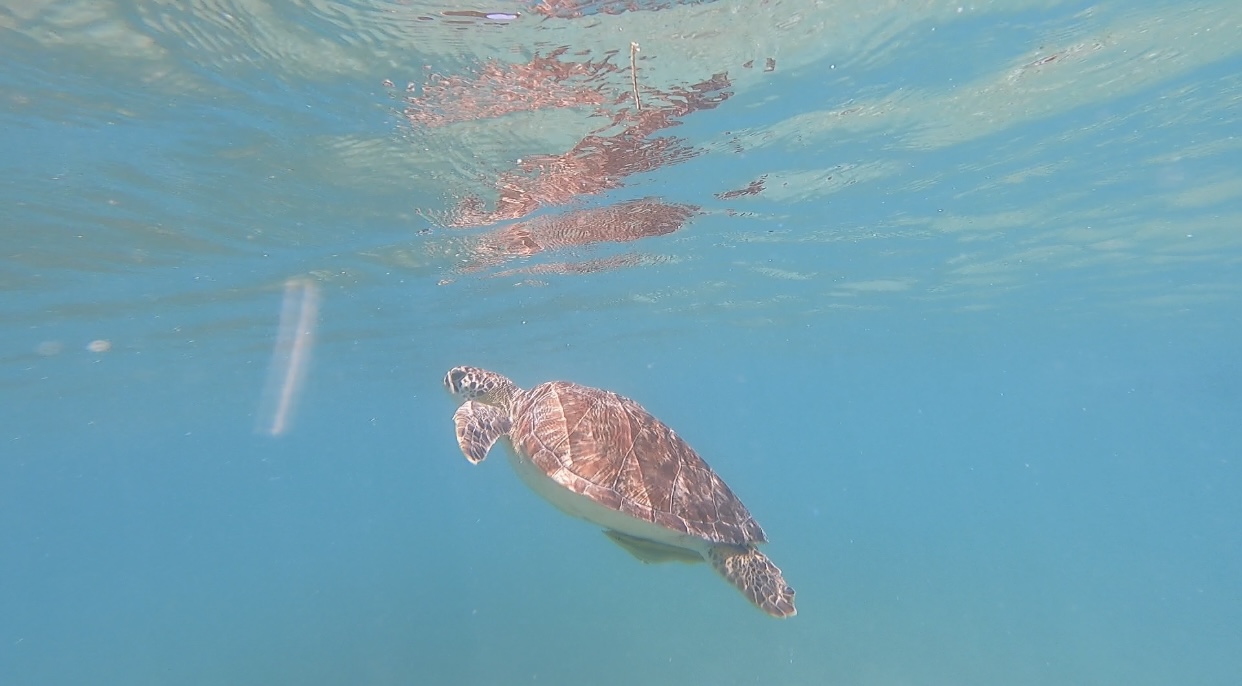 TRUNK BEACH: It was a little overcast the day we visited this beach, but it was still spectacular. It's voted in the top 10 beaches of the world, so we had to make a visit! It's also the home to the National Park Underwater Snorkel Trail. We didn't complete the trail this go around, but plan to next time. They had chair and snorkel equipment rentals available for a price. The beach was just stunning…and it was amazing watching the pelicans swoop down for their food. Words truly do not do these beaches justice.
We didn't even make a dent in the amazing beaches St. John offers, so we are greatly looking forward to our return trip. If you do visit, just please remember to be respectful. Once you see the marine life and nature all around you, you have a greater appreciation for protecting their home. I cannot stress this point enough.
Things to Do
Again, there's so much to do on St. John that we couldn't cram it all in the week we visited. Which, again, is why we booked a return trip! This island has so much to offer, I cannot stress that enough!
SALTY DAZE CHARTERS: There are so many amazing boat charters on St. John, but what sets Salty Daze apart is they own the only pontoon boat on the island! Salt Deck is a double decker pontoon boat complete with water slide..yep, a water slide! My kids absolutely LOVED it! Because it's a pontoon boat, it mainly hangs out in the Coral Bay area and is definitely more for a chill, relaxing day on the water. They also have Salt Shaker which will visit other parts of the island!
We told Captain Landry we wanted to hit some snorkeling spots, and he delivered! All of us had a chance to snorkel, and my oldest saw a sea turtle! We then enjoyed some adult beverages, Irie Pops (they're on board!), and floating in the bay with the occasional slide down the water slide. It was absolute paradise, and we were so thankful to experience it.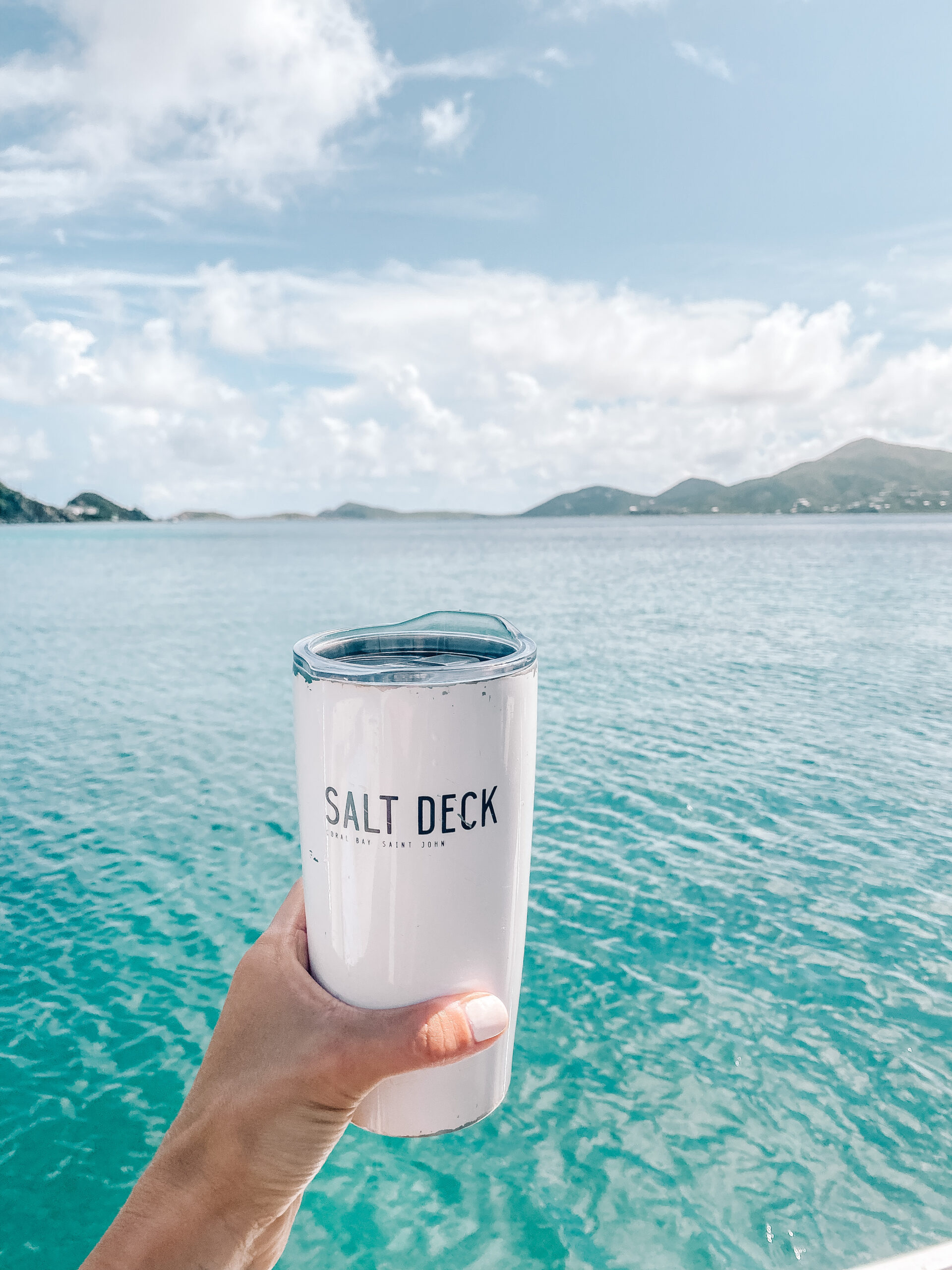 After we relaxed a bit, we headed over to Lime Out, the floating taco stand! We swam over from the boat and had delicious tacos on their floating lily pads. The tacos were so, so good – even the kids thought so. It was a fun and unique experience, and one we highly recommend if you can make it happen while visiting!
We ended our charter by loading up on Salt Deck merchandise. They had adorable rash guards and hats, and we loved the boat so much we just couldn't help ourselves. We already booked a charter during our return trip!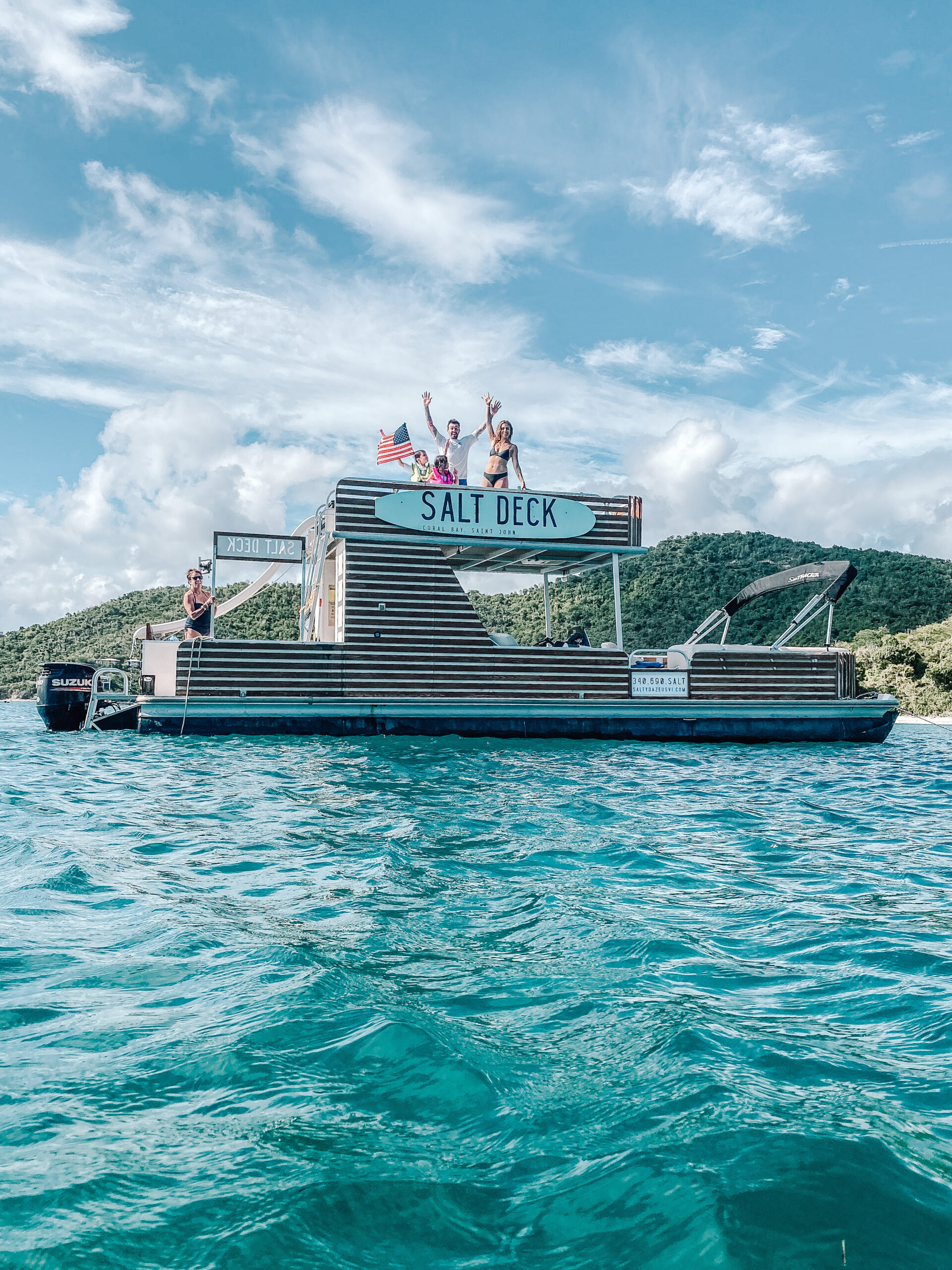 NIGHT KAYAK: My husband and I decided to add in a last minute night kayak so we could have an adventurous date night one evening! This launches from the Westin in Great Cruz Bay, we booked our tickets right here. This was a cool experience – we were in clear bottom kayaks with LED lights attached so we could see marine life at night underwater. We were able to see several fish feeding during our tour, and it was beautiful to see the bay at night under the stars. Oh, and we painted our faces with glow face paint! Adds to the fun of the experience 😉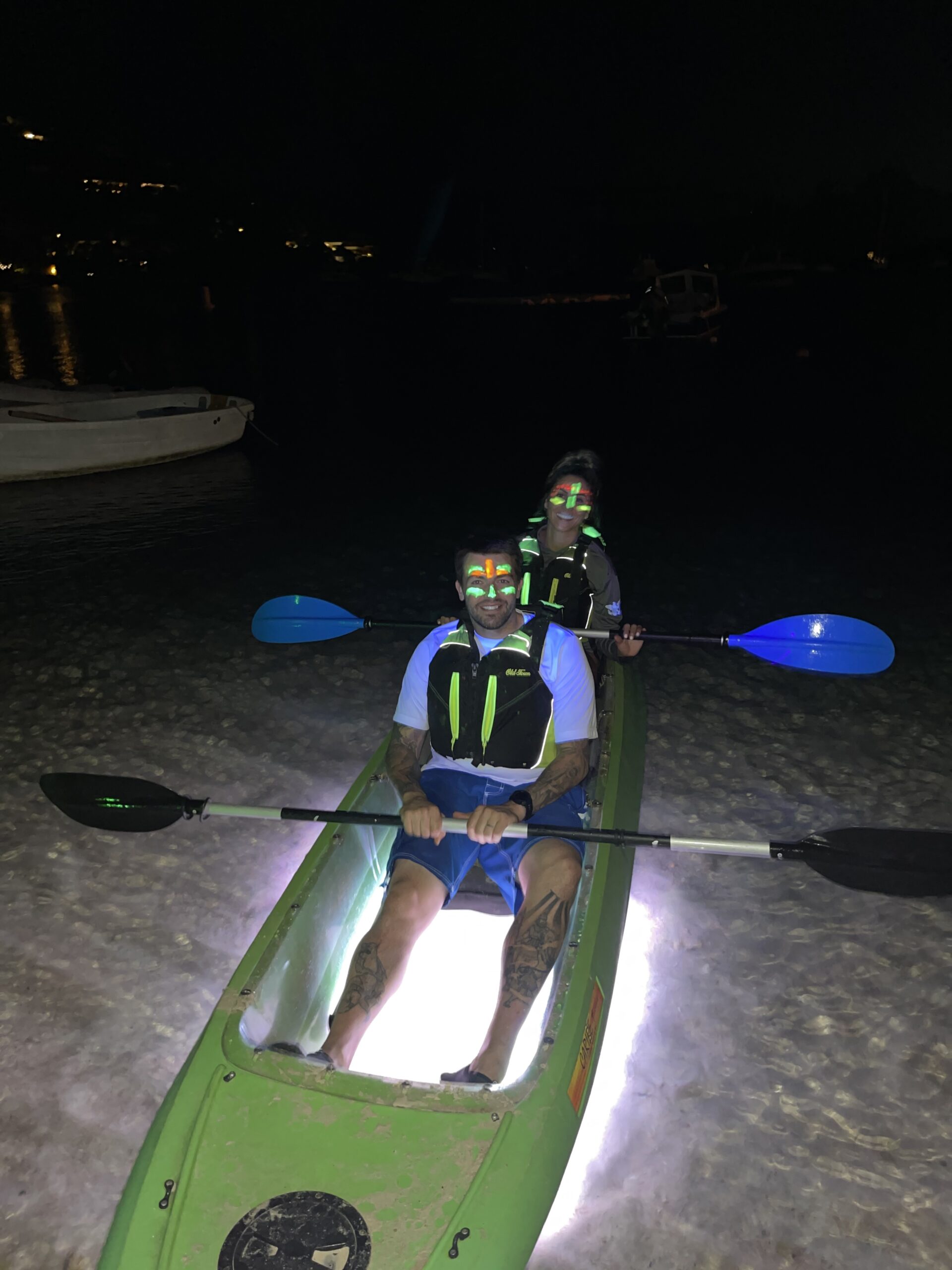 HIKING THE NATIONAL PARK: Two-thirds of St. John is national park, which I think is what makes it so exquisite. My husband and I managed to hike to the Petroglyphs on the Reef Bay Trail during our last full day on the island, and while it was definitely hard in the heat, I'm so glad we did it. It was strenuous, so I don't recommend taking small children. It was all downhill to the Petroglyphs, and then back up hill to the car.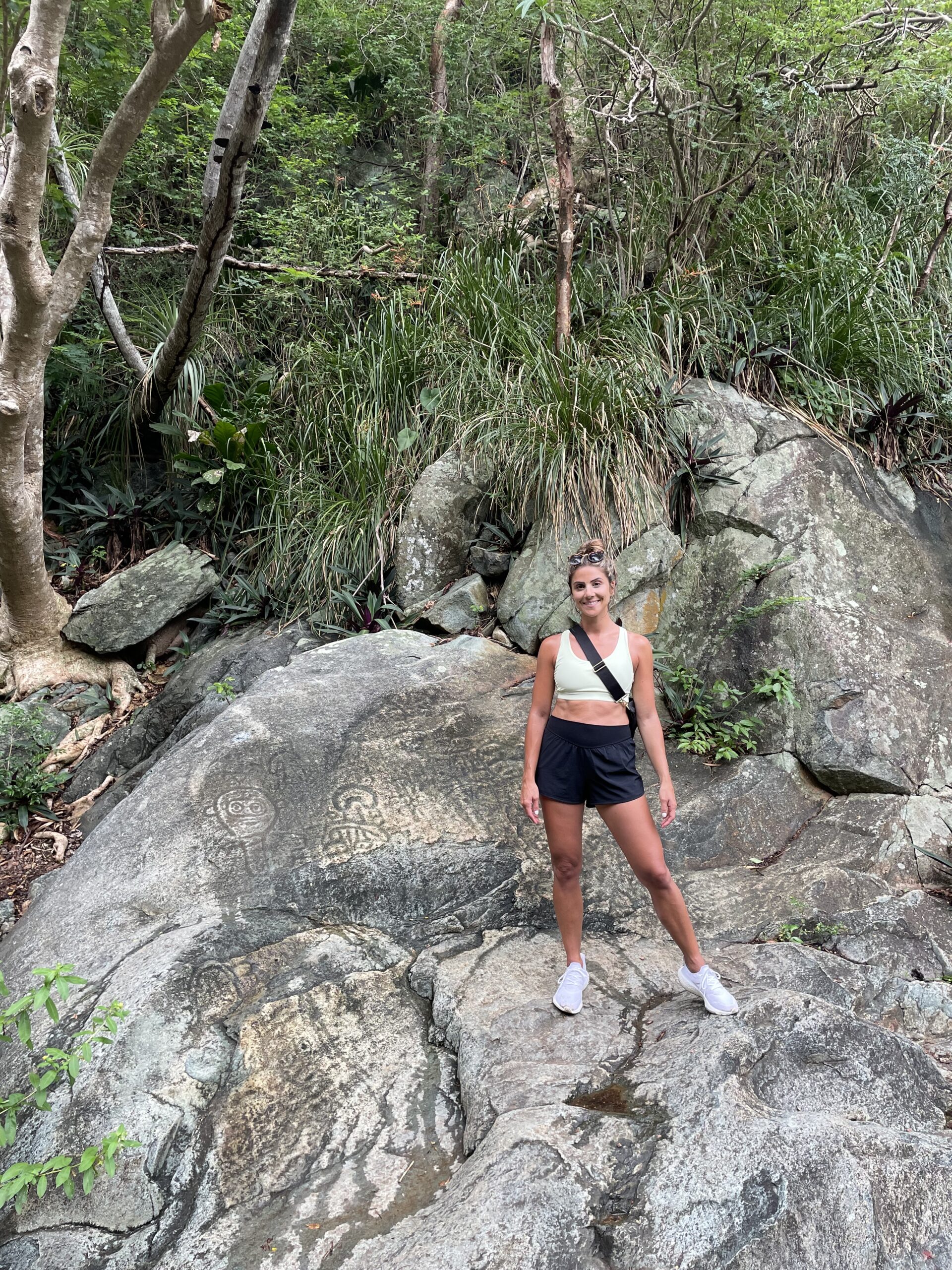 The Petroglyphs are ancient rock carvings left behind by the Pre-Columbian Taino. It was SO COOL to see them. There's a waterfall here as well, but there wasn't much water during our visit. We also saw darting dragonflies (that nearly scared the crap out of me, if I'm being honest), and a lot of other wildlife. Highly recommend this hike if you can – the petroglyphs are incredible to see in person. And one specific petroglyph can only be found on St. John, and has become a symbol of the island. You can read more about them here.
Where to Eat
There are so many highly recommended restaurants on St. John, it was impossible to try them all (hence the return trip!) I will include the list of recommendations from my Instagram community below my own personal recommendations. We literally did not have ONE bad meal on the island..not one! The food way exceeded all of our expectations! I will say, the food is definitely pricey. But we knew this going into it. Also, if the restaurant requires a reseveration, make it way ahead of time. They book up FAST. As a reminder, many restaurants do take some time off during hurricane season (we visited on the cusp of that) so just check depending on your travel dates!
Also, if you're staying in a villa, I highly recommend ordering groceries ahead of time. We placed an order through Starfish Market so food would be delivered to our villa on our day of arrival. We ate breakfast at home every morning, and some dinners as well. Otherwise, there are markets on the island you can easily shop in. But again, keep in mind that food is more than in the states! We brought some dry goods with us as well.
SKINNY LEGS: This was one of the top recommended restaurants by far! We had lunch here prior to our afternoon charter aboard Salt Deck. They hand make their hamburgers, and you get an amazing half pound of lean ground beef thats insanely delicious (I got mine with no bun!). The bar atmosphere was really fun with pennants and license plates of different colleges and states throughout. We ate outside in their "Back Yard" on a picnic table, which was the perfect casual experience. They also had delicious drinks! I had a Coconut Swizzle that was very refreshing in the heat. There's also a kids food menu!
THE LONGBOARD: This was highly recommended because of their world-famous Frozen Painkillers! It lives up to the hype, too, so definitely add it to your order if you eat here! I loved the whole vibe of this place…super cute decor and a delicious drink and food menu. We all had tacos, mine being on bib lettuce instead of a tortilla (though they have corn tortillas!). My tacos were the Braised Pork Belly and the Pulled Jerk Chicken Thigh, and they were super accommodating to my gluten and dairy free request. Definitely stop here for at least a drink if you're on the island!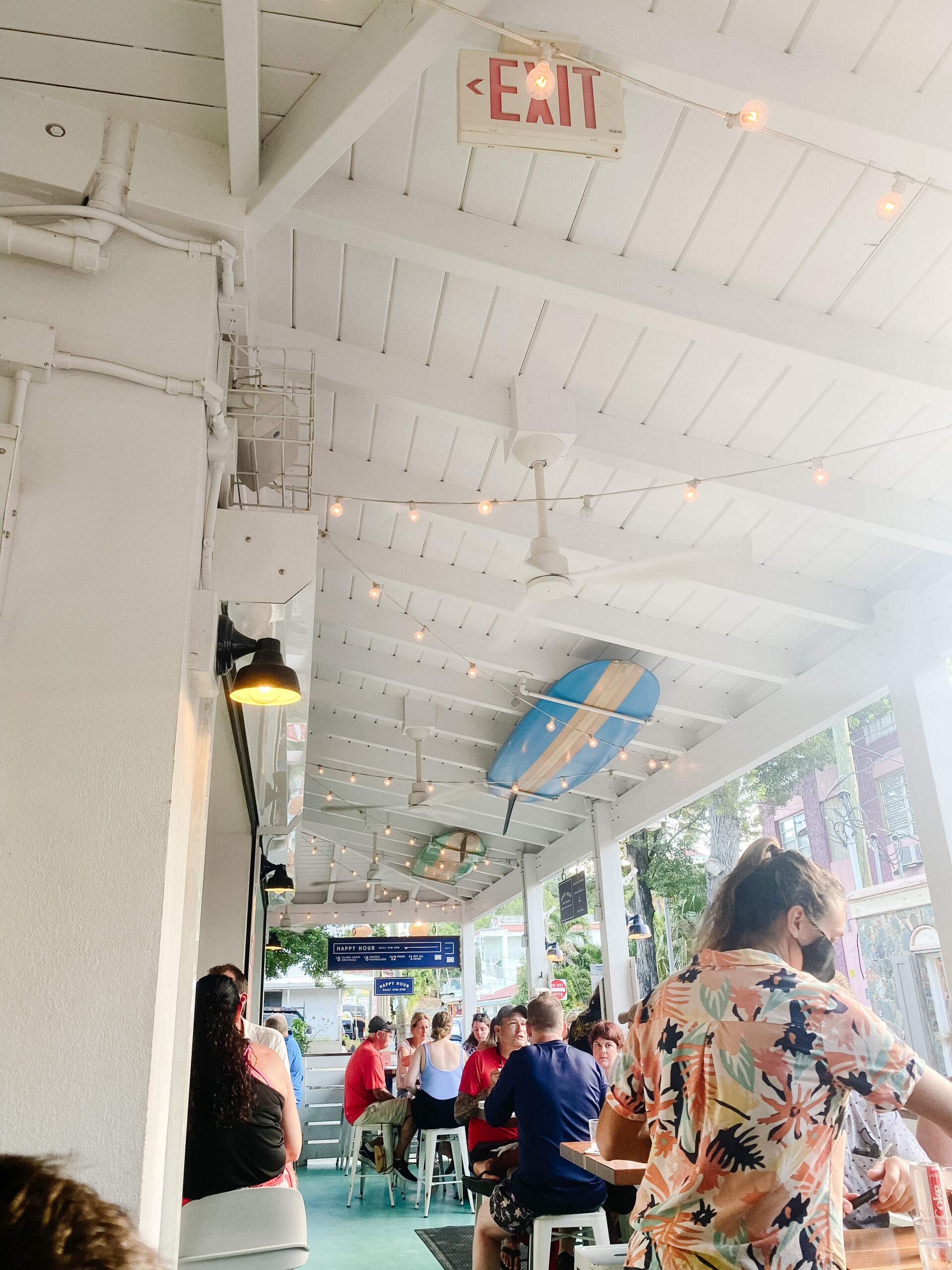 CAFE ROMA: We heard fantastic things about this Italian restaurant, and weren't sure if it would live up to it's hype. I feel that when you're from NY and CT, Italian food doesn't compare when you eat it anywhere else other than Italy (especially pizza – we live in New Haven county with some of the best pizza in the US!). The food was FANTASTIC. I ended up with just a salad with blackened chicken as gluten free options were minimal, but my husband and mom tried a few pasta dishes as well as the pizza they ordered for the kids and everyone said it was one of the top Italian meals they ever had. They claim to be home of the "Roma Coma" and everyone agreed!
HIGH TIDE BAR & SEAFOOD GRILL: This restaurant is right on the beach near the ferry dock with amazing views of the sunset! The vibe was so relaxed and the food was AMAZING. I know I keep saying this, but I swear we ate some of the best meals ever on St. John! We ordered the Conch Fritters, Coconut Pineapple Curry Chicken, as well as food off the kids menu for the kids, and it was all so delicious. We also tried the High Tide drink, which was the official drink of Kenny Chesney's No Shoes Nation Tour, and it was a little too good if ya know what I mean! Oh, and I bought a bunch of merch from their shop! Highly recommend checking this place out! They were also accommodating to GF and DF.
EXTRA VIRGIN BISTRO: Since we brought family on this trip, my husband and I were able to grab last minute reservations for a date night here! I've heard so many great things, and it lived up to the hype. Again, the vibe was so awesome, and my husband and I both had the 14oz rib eye the was cooked to perfection. I really like that they source their food locally and also grow most of their herbs right on site! They also give credit to the fisherman they source their fish from on the menu. We had such a delicious meal, definitely book reservations here if you can!
LIME OUT: Floating taco stand?! YES, PLEASE! We stopped here on our charter with Salt Deck and it was so fun!!! Such a unique experience, plus the tacos are DELICIOUS. You sit on these adorable "lily pads" and they float your food out to you. Totally lived up to the hype, so make this a must see if you come to the island! We will for sure be back!
IRIE POPS: We stopped here multiple times throughout our trip! They also have coolers of pops in many different stores around the island. Irie Pops are handcrafted, DELICIOUS, all-natural, local, and organic popsicles that are dairy free, vegan, and gluten free!!! Hence why we stopped so much 😉 They have a variety of flavors, and we loved every single one we tried. They also have vegan soft serve ice cream! I can promise you everyone in your family will LOVE their pops. I only wish I could ship them back home!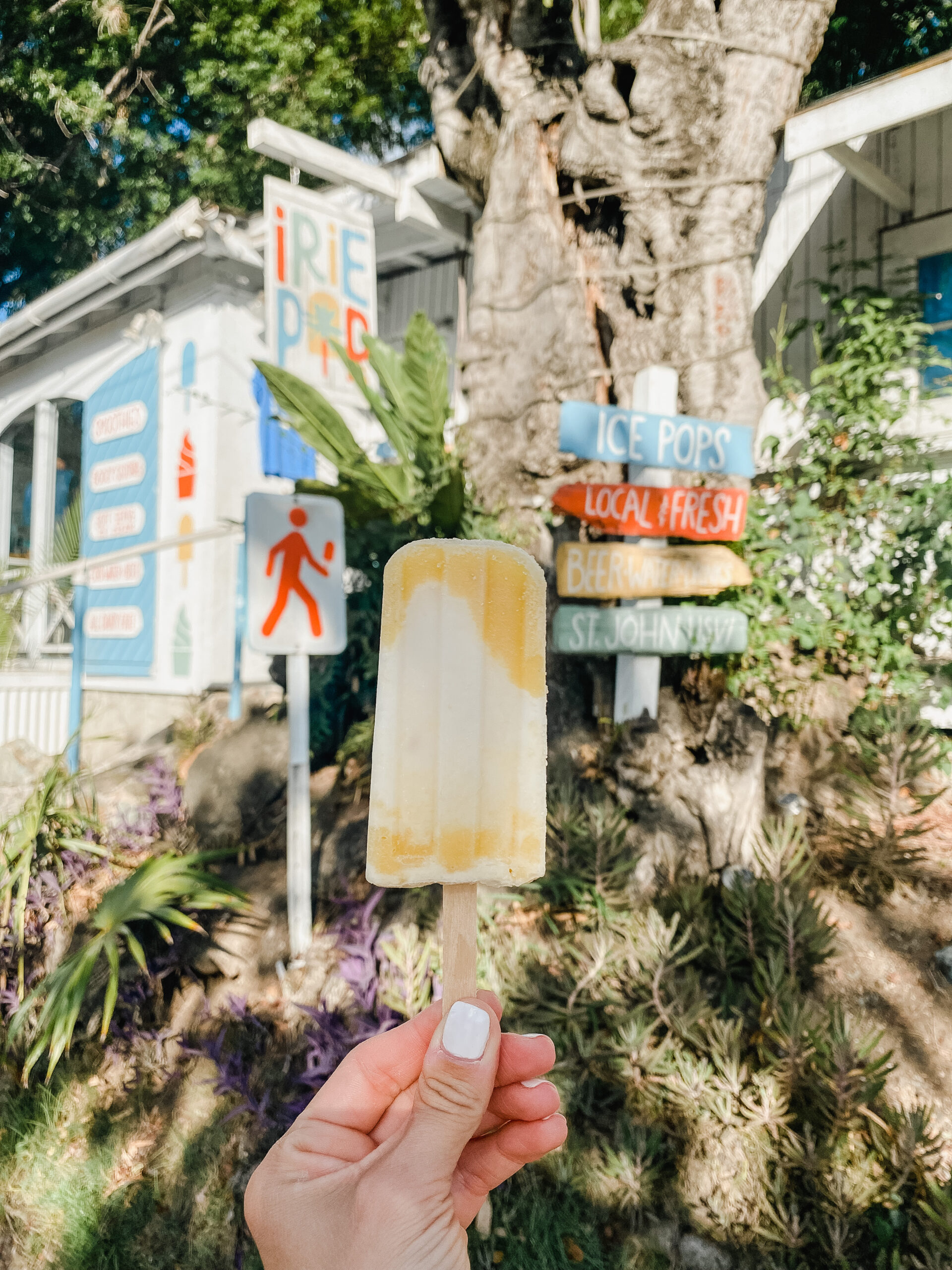 ST. JOHN'S SCOOPS: Another great place for ice cream! They have 20+ flavors of house made ice cream, sorbets, frozen yogurts, smoothies, and slush puppies! The kids enjoyed getting ice cream here in a variety of flavors and toppings. It's located right in Mongoose Junction, so its easy to grab while shopping around!
Other recommendations you all gave that we weren't able to try just yet (but definitely plan to!) are listed below:
Woody's
Dave & Jerry's Steakhouse
Morgan's Mango
Beach Bar
Lime Inn
Zozo's
Pizza Pi
Windmill Bar
Coco Jim's (for smoothies!)
La Tapa
Soggy Dollar Bar (located on Jost Van Dyke, BVI. We were unable to visit here during our trip)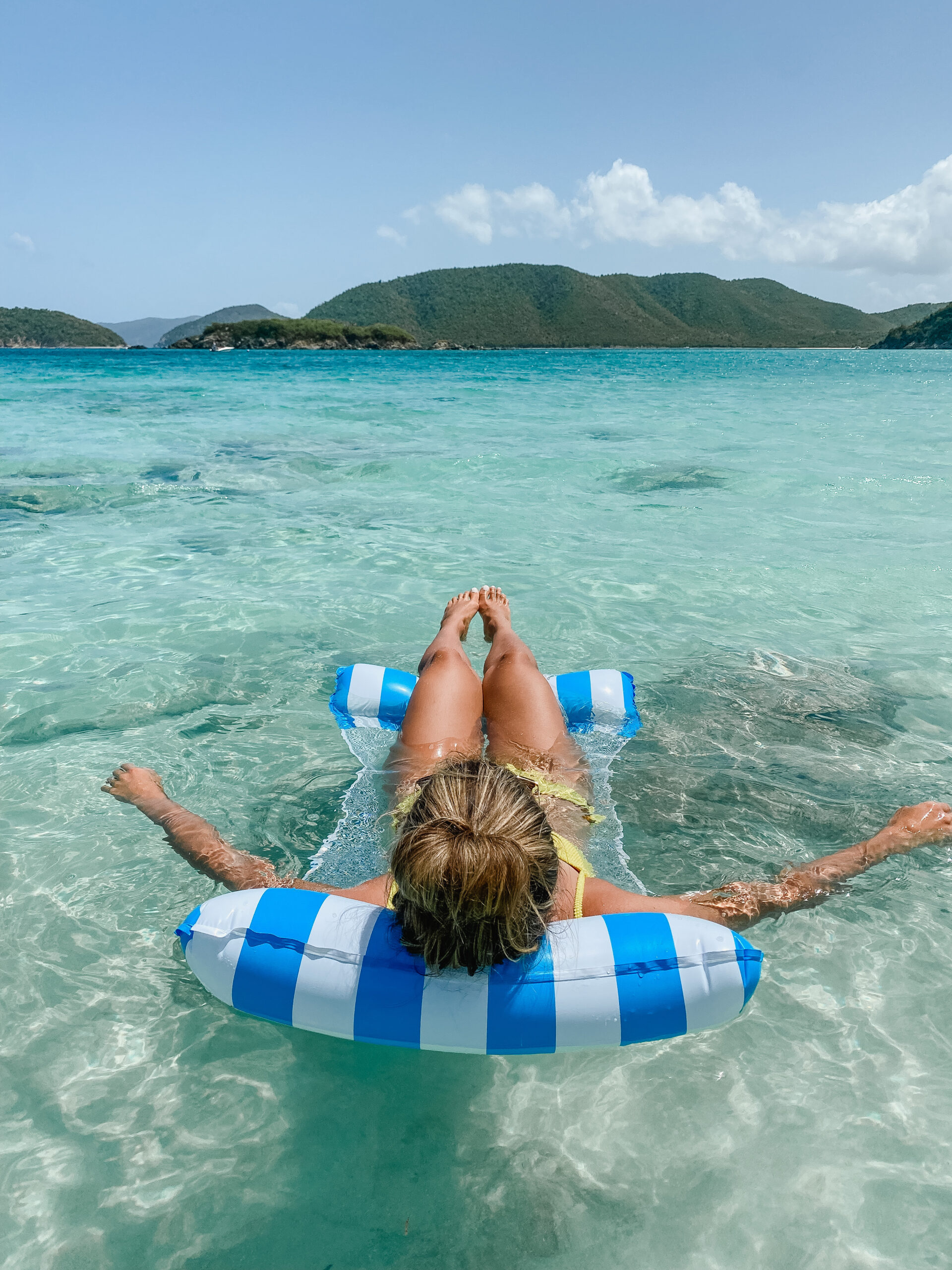 I hope I put everything I wanted to say in this post!!!! It's been a week since our return and I still feel like I'm on a St. John high. We have decided to make a return trip during the kids break in April, and I'm counting down the days. Our entire family agrees it's the best place we've ever visited, and I hope down the road we can potentially own a vacation home there. If you decide to book a trip, let me know! 🙂