I'm going to be honest – before this trip I was always hesitant to stay off property at Disney. We've only ever had on property experiences, which we loved, and I feel it's hard to compete with that! However, this trip goes down as one of the best we've been on – which could be that we were with some of our closest friends for it! If you're considering staying off property at Disney, I'm here to tell you – it's still awesome! I'm including everything we did below, along with some recommendations! 🙂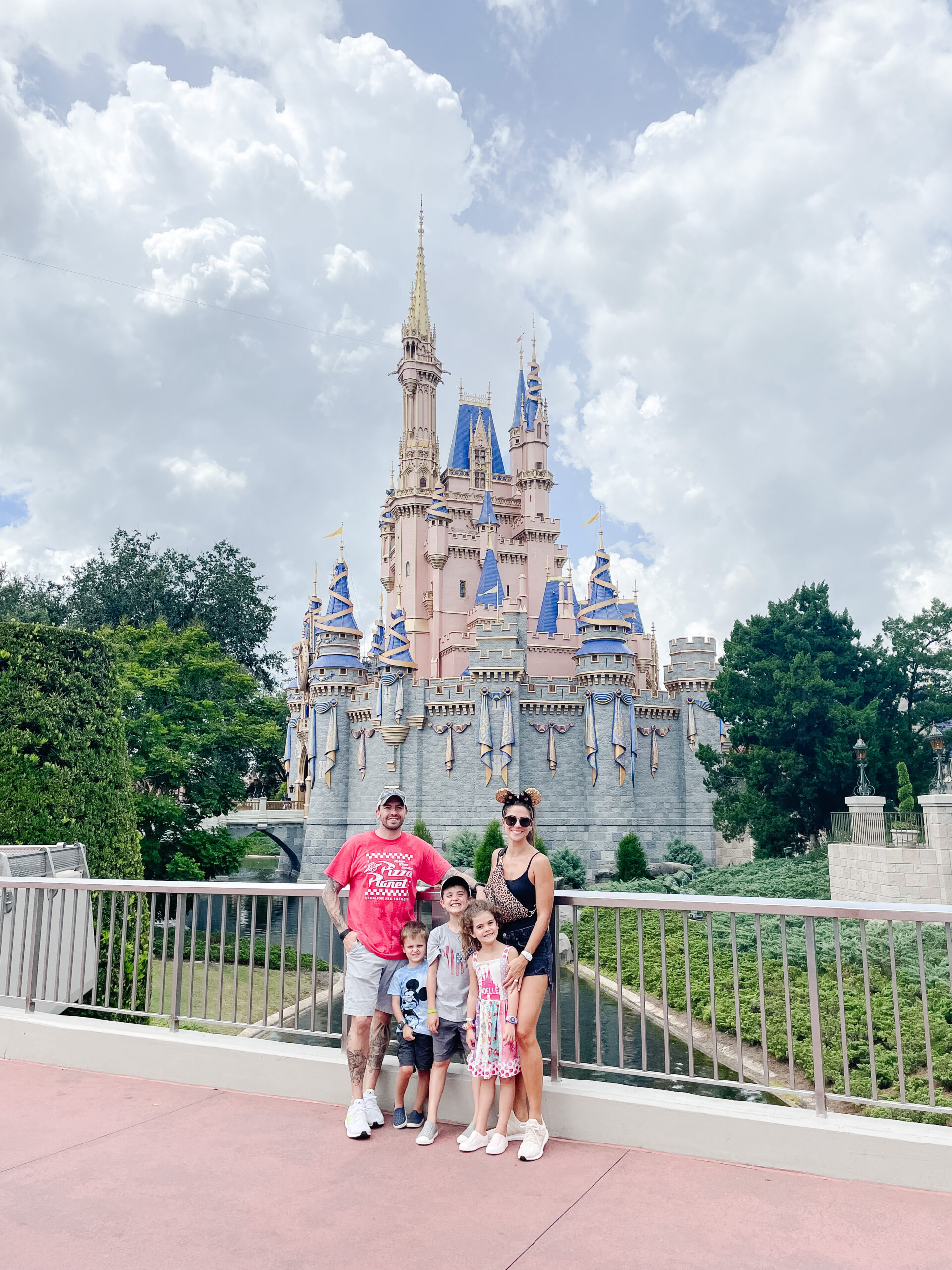 Where We Stayed & Transportation
I was actually looking forward to staying off property this time to see what it's like and what I prefer (I've had many of you ask!). We rented a large house in Kissimmee that was able to accommodate the 5 families we were traveling with. I'm not going to speak directly about the property because we were actually very disappointed in the house itself (basically it didn't match the VRBO description and many things were not working/broken). It didn't effect the quality of our trip by any means, but it was an annoyance – especially with what we paid. But the kitchen was functional, as was the pool, and that's really all we needed!
In regards to staying off property – we actually really loved it! We were in a prime location, max 20 minutes to the parks. We typically rope drop at Disney anyway because our kids are up early and we like to take advantage of the short lines. We like to leave early afternoon for a pool break, and head back out for dinner. We didn't find being off property to be any less convenient. We liked having a house with a full kitchen space to prep food. I always prefer having a full kitchen because we like a hot breakfast in the morning that can be made right when we wake up, but also to cook dinners on the nights we don't want to eat out. We had many non-park days this trip, too, so it was nice to be able to make whatever we want, do laundry, and just chill in a large space.
We rented a truck this trip, which meant we could run out and grab whatever we needed without issue! I thought parking at the parks would be more of a problem, but it was really a piece of cake. You can pay a little more for Preferred Parking, which basically gives you a closer parking spot to the entrance. Standard Parking wasn't too much of a difference, though! We weren't really a fan of the Disney shuttle buses with our kids because we felt they took longer than taking Lyft (our youngest was also smaller our last trip), so in the past we Lyfted to the parks that didn't have the monorail or Skyliner (specifically with the Minnie Vans that are not currently running). Having our own car made it that much easier. We also went to Disney Springs almost every evening for dinner (the restaurants there are SUPERB), so it made heading there much easier than waiting and hopping on a bus. Overall, we preferred having our own vehicle!
Where We Ate
We spent a lot of time in Disney Springs this trip, which I'm so happy about. There are so many amazing restaurants, and I've made a mental note which ones to try next time! We honestly didn't have one bad meal, and I highly recommend all of the spots below. Also, Disney is SUPERB with food allergies…I've yet to be in a place as great about it as they are. Just tell the server, and the chef will come out and personally speak to you!
The BOATHOUSE: We ate here during one of our last trips and came back because it was so good! They have a wide variety of food options, and the kids' meals come in these adorable little car boxes. You can also sit outside and watch the car boats go by!
Wine Bar George: We headed hear for a girls night and it was delicious! I had the skirt steak with chimichurri sauce and it was incredible! Definitely great for a date night or night out with friends!
STK Orlando: We were able to get a last minute reservation here and I'm so glad we did – the steak was unbelievable! It's an al a carte menu, and you can select from a variety of sauces/toppings for your steak. I got a chimichurri sauce that was divine. We sat outside, which I do think was better with the kids. The inside was bumping with fun music and felt like a nightclub when I went inside to pee! Great for a date night, for sure!
Paddlefish: We were able to get a last minute reservation here with a few of our friends one evening, and it was delicious! We sat on the top floor and essentially had a room to ourselves which was really nice. The food was fantastic, and I also really love the kids menu (they had options like grilled chicken and veggies!). Highly recommend!
T-REX: We HAD to grab a reservation here for our little dino lover, and it delivered!! It reminded me of the Rainforest Cafe with the thunderstorms, but a volcano "erupts" instead. There are large dinosaurs that move and roar, and it's so fun if your kiddo loves dinos!
Chef Mickey's: The moms took the kids here while the dads played golf one morning and we had a blast! Their breakfast was delicious (they do it family style now instead of buffet) and the kids enjoyed seeing the characters. They also had adorable kids beverages!
Erin McKenna's Bakery: I have to give this bakery a shoutout because they're gluten and dairy freeeeee! I went crazy in here and spent way too much money on all of her amazing treats. Everything was incredible – I had cupcakes, coffee cake, donuts, bagels, lemon tea cake, and more. We came back another night to stock up again because it was that good. Highly recommend even if you don't have food allergies!
Activities & Experiences
VIP Tour: This was our first experience trying the VIP Tour. It's definitely a costly expense (it's $550 an hour), but we split the cost with another family we traveled with (the max group size is 10). You receive a minimum of 7 hours, and can add on after that in 15 minute increments. The VIP Tour essentially is like having unlimited Fast Passes…you cut the line and get right on the ride! What's nice about having the tour guide is they figure out the best plan of action for you (we submitted our priority rides ahead of time)! Since we were staying off property and saving some expenses there, we felt it was beneficial to invest in the VIP Tour. It was also really hot and our two families had smaller kiddos – we figured the less time in lines, the better! We were able to cover a LOT in a small amount of time – we went to Animal Kingdom and Hollywood Studios and got on every ride we wanted! I think our kiddos favorite part of the VIP Tour was being able to walk on Rise of the Resistance instead of waiting for a boarding pass.
Our tour guide was so nice and made sure we were able to stop for treats, lunch, and more. He also gave us a lot of information about the parks during conversation, which I found so interesting! His name was Randi, and I highly recommend him if you're able to request 🙂 If you're considering the VIP Tour and have the budget, we cannot recommend it enough! It was fully worth the cost for us and such a special experience.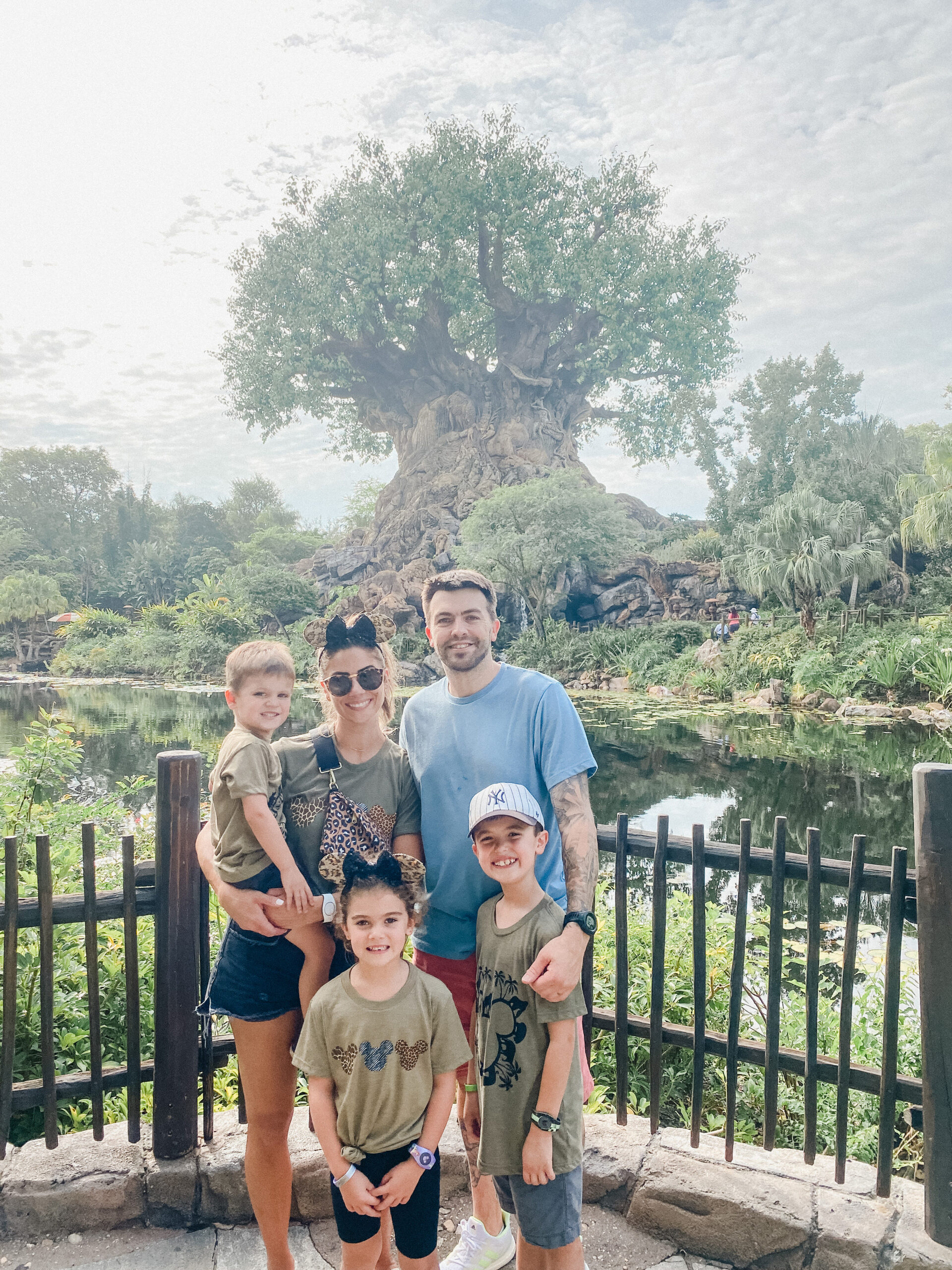 We also hired several furloughed Disney employees from the Ears for Each Other FB group this trip! Since we had such a large group, we felt it would be easier to have activities at the house instead of inside of the parks. I'm so glad we did this because they were amazing!
Chef Tony Tone: We hired personal Chef Tony Tone for brunch as well as dinner. He was a former employee at one of the popular restaurants in Disney, and made an Ohana style dinner for us one evening. It was incredible, and he was also very accommodating to food allergies! The total cost ended up being equivalent to (and maybe even a little less than) a meal at Disney for our families, so it was well worth it! Tony was also just a really cool guy to chat with – we loved having him!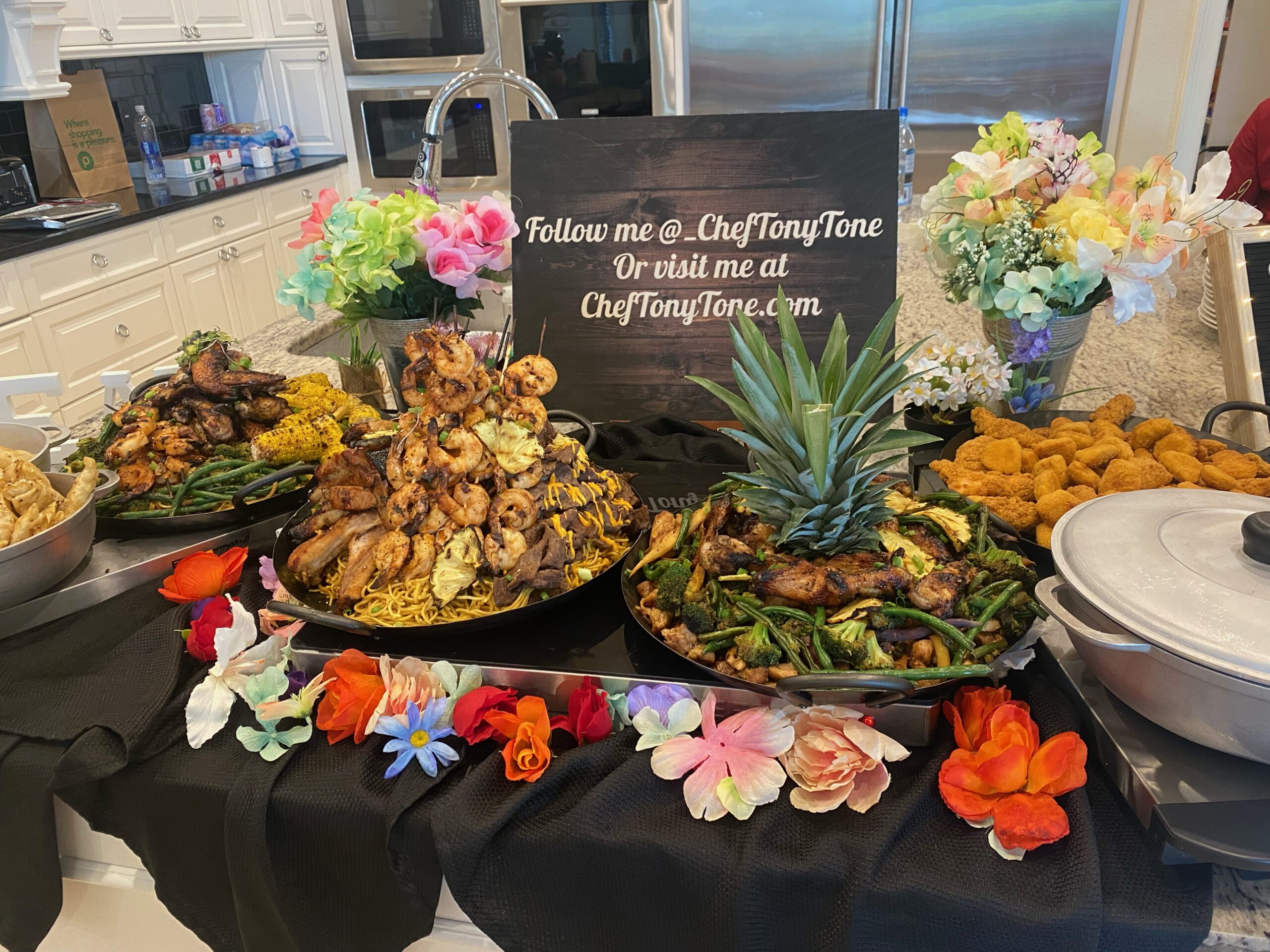 Justin Aldridge: Many recommended Justin for off site jedi training! Our boys are all big Star Wars fans, and we thought it would be great to have Justin come to the house we were staying in instead of trying to find reservations for all 4 boys at the same time in Hollywood Studios. We brought lightsabers from home, and Justin spent time teaching them some jedi skills! They LOVED IT, and we loved watching it! Many of you had used Justin in the past, too! Highly recommend!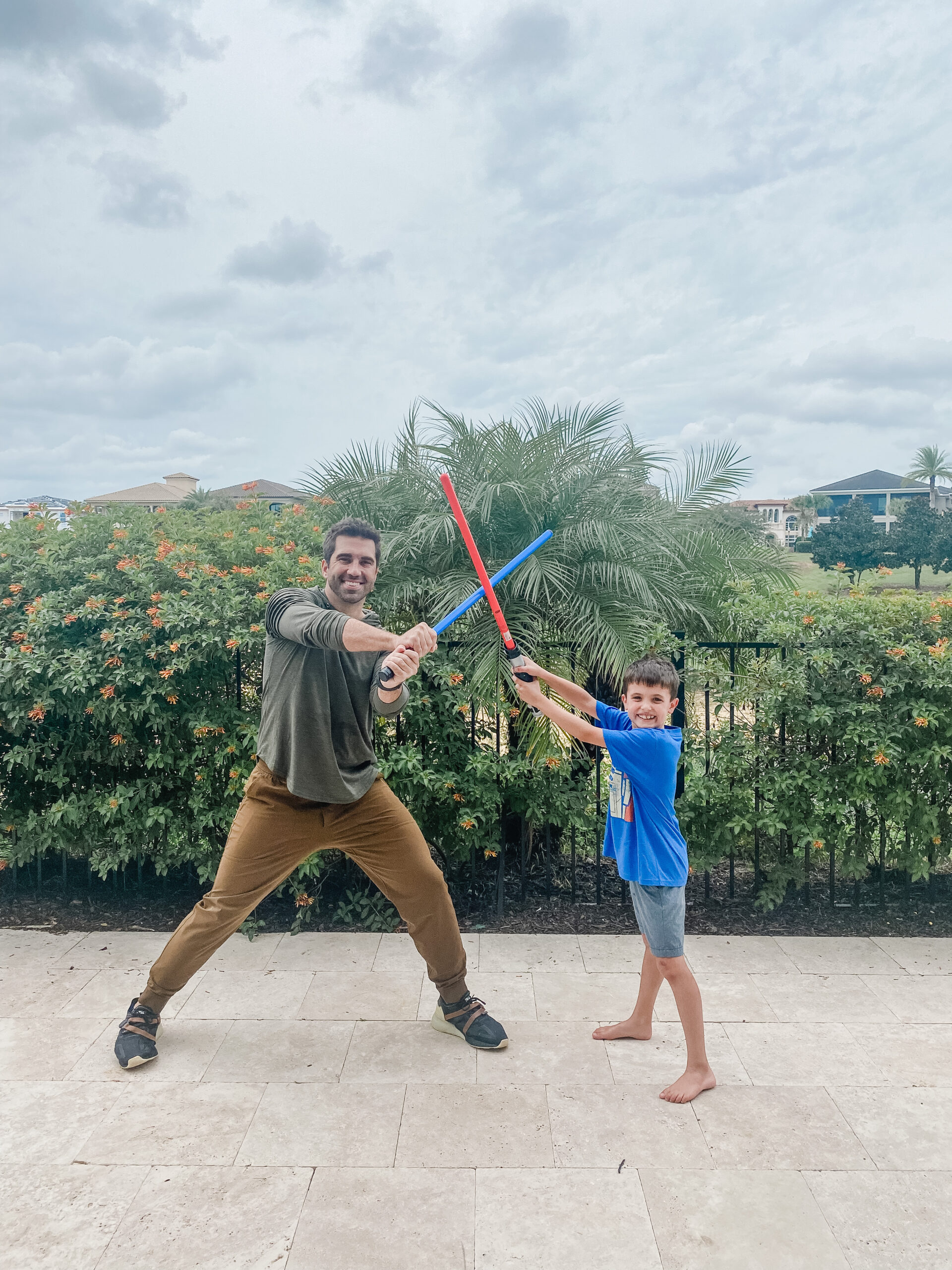 My Magical Makeover: Yarie and her team are FANTASTIC. We hired them to come to the house to give the girls makeovers since the BBB is still not open (and also finding appointments for 5 girls at the same time would be a challenge). It was so amazing! They did their makeup, hair, and nails, and we provided new dresses for our girls. Yarie will come to your hotel room, too! HIGHLY recommend My Magical Makeovers (I only have photos of the girls together so for privacy reasons, I'm not including them!)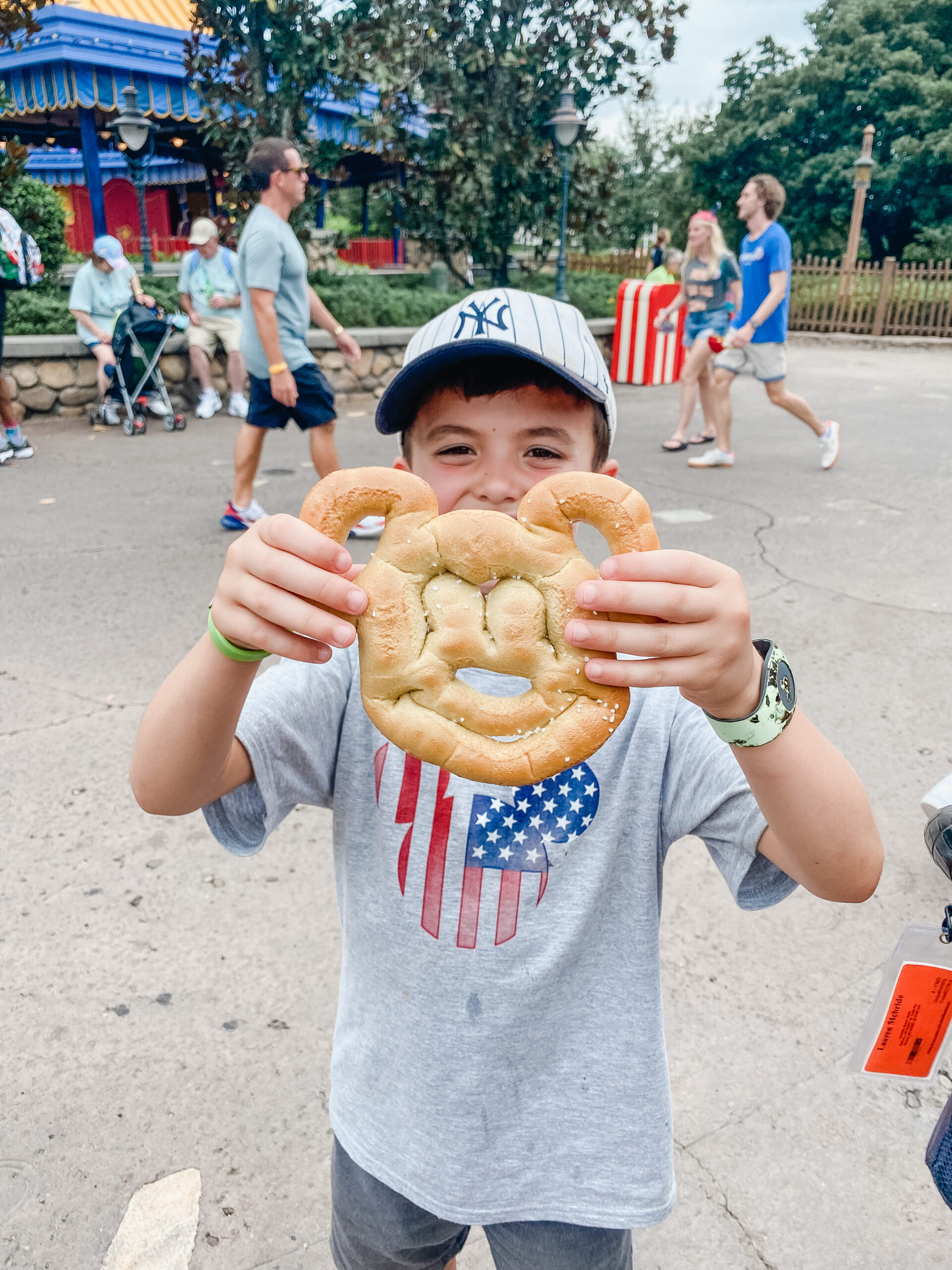 Overall, this was a trip for the memory books. We genuinely enjoyed our time off property and being able to utilize a car (we've never rented a car in Disney!). I would absolutely stay off property again, just in a different place since we were thrilled with the management company of the house. I'm hoping I answered everything here, but leave me a comment if you have other questions! 🙂
See my other Disney posts below!
Our First Trip to Walt Disney World
Best Character Dining at Walt Disney World
Tips for Visiting Walt Disney World with Toddlers
Walt Disney World at Christmas