With almost two weeks until Christmas, I wanted a share this collage of stocking stuffers–all under $25! There's a bunch of items here that can be gifted to boys and girls ages 3-13! Hope this is helpful!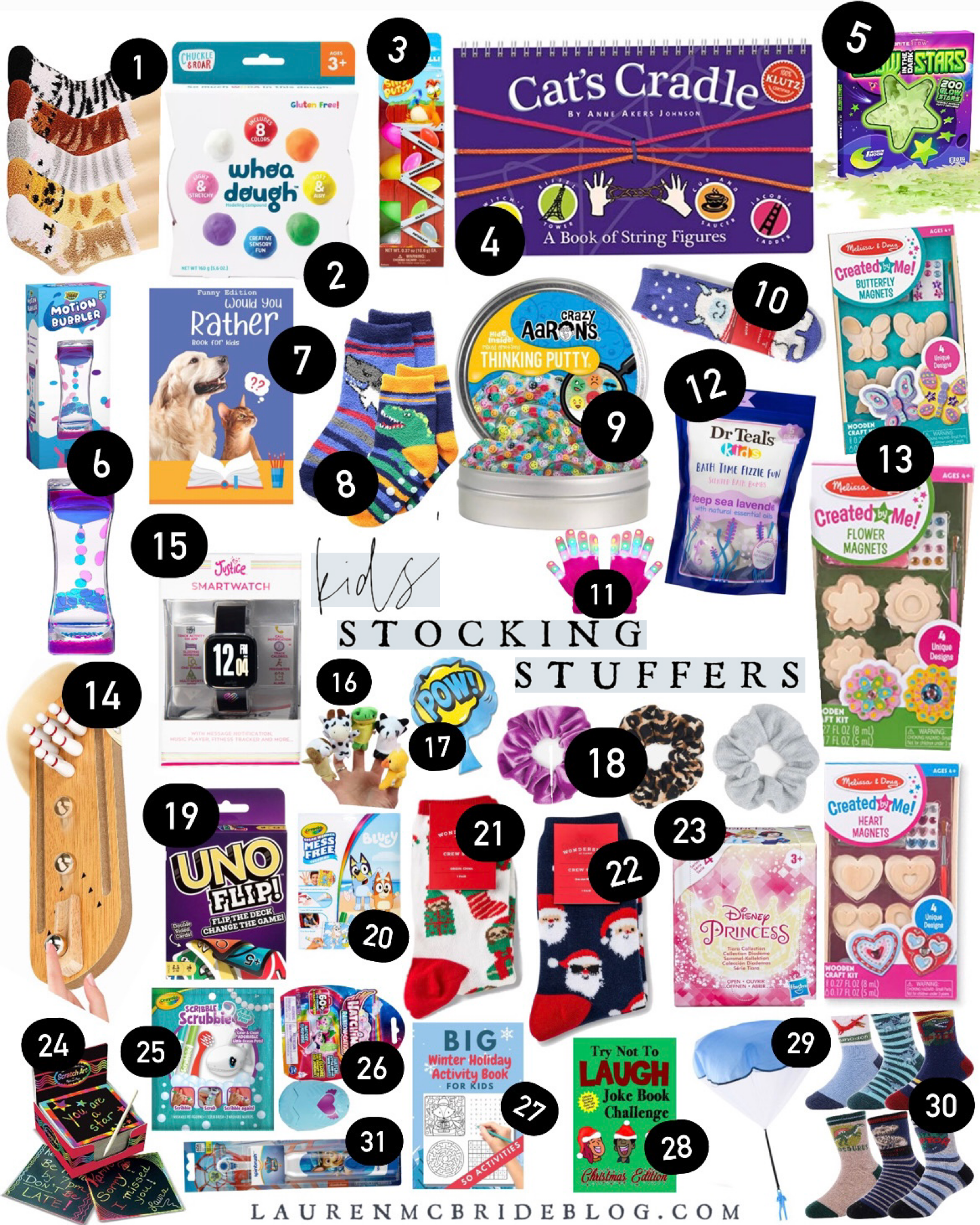 1: Girls Fuzzy Zoo Socks – 17.99
This pack of five socks comes in 8 different variations, but the zoo pack was my favorite!
2: Chuckle & Roar Whoa Dough – $4.99
This non-toxic dough is the perfect alternative to slime! It comes in 8 different colors and gaurantees mess free fun.
3: 5ct Silly Putty Variety Pack – $5.99
This variety pack comes with five colors: Peach, Green, Silver, Yellow, and Pink.
4: Cat's Cradle Activity Kit – $9.95
This book comes with one string loop and five different string figures! It's a great, mess free activity book for a long road or plane trip!
5: Glow In The Dark Star Wall Stickers – $12.95
This pack includes 200 glow in the dark wall decals!
6: Liquid Motion Bubbler – $12.99
This electricity free lava lamp is a perfect stocking stuffer for your pre-teen! It could even be a great desk ornament for adults' stockings too!
7: Would You Rather Game Book – $6.22
This is a great, kid friendly twist on the classic 'Would You Rather?' game! And, it's paperback…perfect for a stocking stuffer!
8: Boys' Dinosaur and Shark Fuzzy Socks – $10.40
These boys' fuzzy socks come in a two pack!
9: Crazy Aaron's Hide Inside Thinking Putty – $9.79
This is a fun twist on the classic slime fidget toy, with six hidden pieces to hunt for while you fidget!
10: Kids' 2pk Cozy Yeti Socks – $3.00
This two pack of cozy socks comes with one yeti pair and one striped pair!
11: Light Up LED Gloves – $9.65
These gloves come in three colors–pink, blue and black–with LED fingertips!
12: Scented Bath Bombs – $5.89
These deep sea lavender bath bombs are safe and hypoallergenic so your kids can stay in the tub as long as they like!
13: Paint & Decorate Your Own Wooden Magnets Craft Kit – $22.63
This craft kit set comes with three different kits: butterflies, flowers and hearts. Each come with paint, magnets and stickers!
14: Mini Bowling Wooden Game Set – $17.99
This table top game is fun for the whole family! Each kit includes 10 pins and one mini bowling ball!
This girl's smartwatch syncs with any smartphone to provide an array of functions such as activity tracking, sleep monitoring and alarms!
16: 10 Pc Finger Puppet Set – $10.26
This 10 pc finger puppet set is a great stocking stuffer! Maybe pair with this puppet theatre as a gift under the tree!
17: 3 Pc Whoopie Cushion – $8.99
This would probably make a great stocking stuffer for anyone, not just your kids!
These scrunchies from Justice are multi-colored and multi-textured!
Uno Flip! is two games in one! Flip over the cards and the game changes! Play classic Uno and then flip over for a more challenging version once your kids get a little older!
20: Color Wonder Bluey Coloring Book – $7.97
This mess free activity books comes with 18 pages and 5 color wonder markers!
21: Sloth Holiday Crew Socks – $5.00
Made from soft material with sloths all over them, these socks keep you comfy at home or on the go.
22: Santa Holiday Crew Socks – $5.00
These crew socks make a whimsical addition to your sock collection. Featuring cute graphics of Santa, these socks are a must-have.
23: Disney Princess Royal Stories Surprise Box – $4.49
Kids will randomly get 1 of 12 Disney dolls in each storybook-shaped case, making each gift for them a surprise!
24: Scratch Art Rainbow Mini Notes – $12.08
This Melissa & Doug classic comes with a wooden stylus and 125 blank sheets of scratch art paper!
25: Scribble Scrubbie Ocean Pets – $3.88
These pets from sand and sea can be colored and customized using the two included washable markers. And when kids are ready to re-color, the pets can be easily cleaned using water and the included brush.
26: Hatchimals CollEGGtibles Hatchy Surprise – $3.47
Each Rainbow-cation Hatchimals Family has their own unique look and theme inspired by their favorite vacation activities. Discover nine new families, including the Wolf Bikers, Koala Campers, Llama Florists, Luau Leopards, Sparkling Poodles, Cat Dancers, Dog Pilots, rare Ice Skating Penguins and super rare Unicorn Hair Stylists!
27: BIG Winter Holiday Activity Book – $6.99
This book guarantees hours of "screen-free" FUN! Gift a boy or girl this season with the books that promote practicing brain games, motor skills, and exercising their love for all things in the Christmas spirit!
28: Try Not To Laugh Joke Book Challenge – $9.92
The Try Not To Laugh Joke Book Challenge Christmas Edition is not only full of great family-friendly holiday jokes, but it's presented in a competition format. The player or team that smiles, grins or laughs the most are actually the losers! Try not to laugh as you are presented with some really funny jokes. The team that can hold in their laughter will be the winners, but it won't be easy!
29: Parachute Throwing Toy – $5.75
This classic toy is perfect for outdoor fun!
Calling all dino lovers! Check out this six pack of cozy socks. There are 9 different packs available, so check them out even if you're not shopping for a dino lover!
31: Paw Patrol Electric Toothbrush – $5.00
This PAW Patrol Kid's Spinbrush Electric Battery Toothbrush makes brushing fun with your favorite pups: Chase, Marshall, and Skye!