Happy September, everyone! Even though I'm not quite ready to say goodbye to summer, I am excited for the fall season and all the fun that comes with it! One thing I am especially excited about is Halloween! And what better way to get in the spooky spirit than with some creepy, crawly decorations? I stumbled upon Target's Halloween decor sale and couldn't resist sharing my finds with you. Keep reading to see what I found!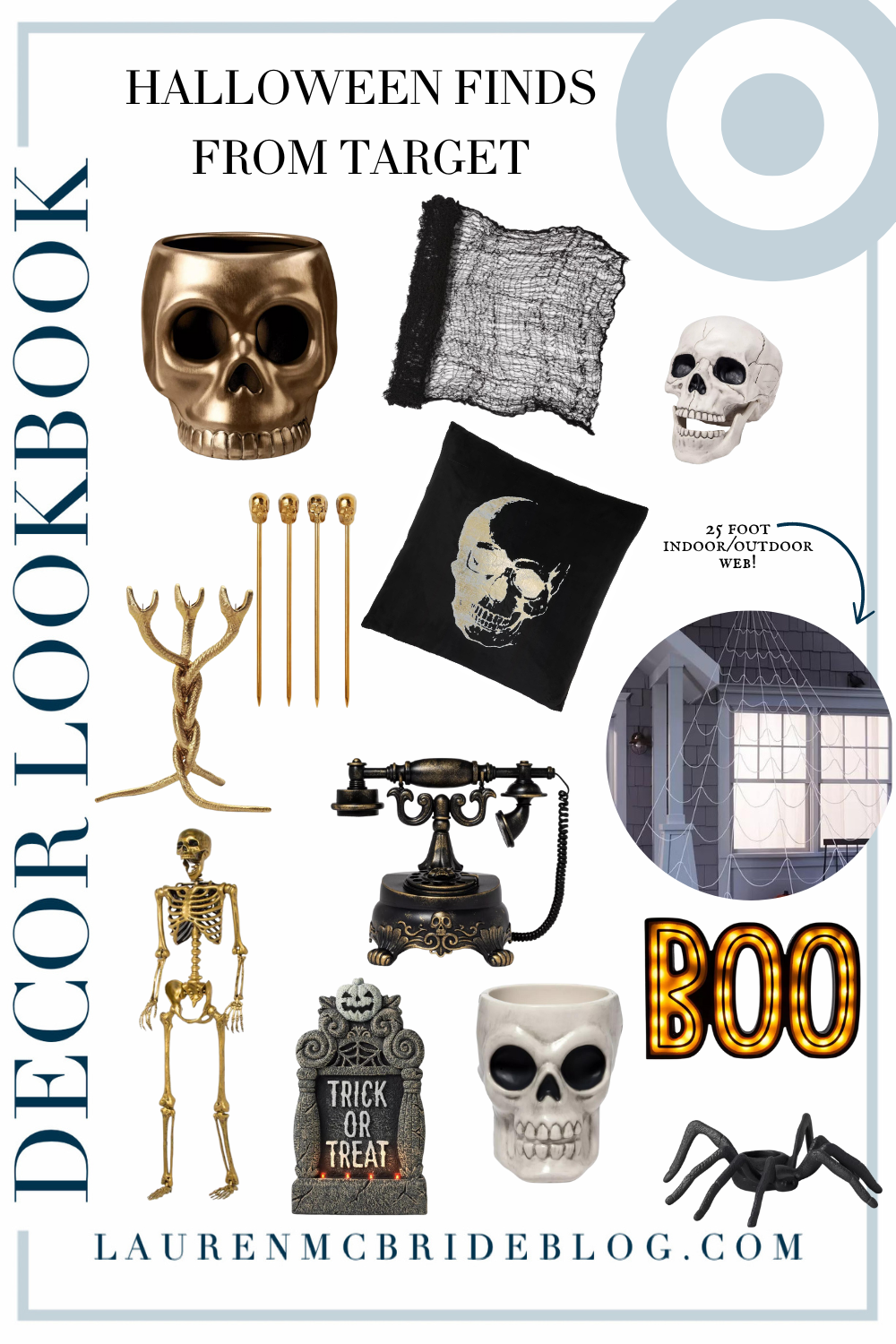 First up on my list is the Halloween Spider Candle Holder. This is the perfect subtle touch of spooky for any room. Pair it with some orange and black candles, and you're all set. Next, the Skull Halloween Decorative Prop. This little guy is the perfect touch of macabre to set on your mantle or bookshelf. It gives off a vintage vibe with its antiqued look.
If you're hosting a Halloween party this year, the Skull Bone Halloween Candy Bowl is a must-have. It features a realistic-looking skull with a hollow center, perfect for holding candy or any other spooky treats. And when Halloween is over, it can be used as a unique decor piece. If you're on the lookout for something eerie, then check out the 9′ Spooky Fabric Black Halloween Decorative Prop. It's easy to hang and adds the perfect touch to your house or party. And it's only $5! Trust me, you don't want to miss out on this one.
Add some fun to your front porch with the Light Up Boo Halloween Decorative Sign. This sign is perfect for those who want to show their Halloween spirit without going too scary. The orange lights give off a warm glow, and the sign itself is small enough to fit comfortably in a window display. If you're looking for something to hang on your front porch or in a tree, the 60″ Posable Gold Skeleton Halloween Decorative Mannequin is sure to do the trick. Its posable arms and legs make it easy to pose in any way you'd like, adding a creepy touch to any outdoor space. Keeping with outdoor decor, the 25′ Mega Spiderweb White Halloween Decorative Prop is a must have. It's perfect for all your spooky decorations and can be easily set up outside or inside your house. And best of all, it's only $15. So if you're looking for an affordable Halloween decoration that can make a significant impact, this one's for you
Next up is the Light Up Trick or Treat Foam Halloween Decorative Tombstone. It's a classic Halloween decoration and a must-have for any party or gathering. Plus, it lights up, making it even more spookier! Looking for something that's a little more animated? Check out the Spooky Victorian Telephone Halloween Decorative Prop. This prop is not only spooky, but it's interactive! It's perfect for any Halloween gathering and will keep your guests entertained. And at only $15, it's definitely worth the price.
Don't forget about pillows, candles other small accessories! The Mina Victory Luminecence Metallic Skull Pillow, Snake Halloween Candelabra, Large Skull Halloween Candle Holder, and the 4 pack of Halloween Skull Cocktail Stirrers are all for sale too! These items can easily add some Halloween flair to your home. And with prices ranging from $5 to $25, you can't go wrong.
I throw a big halloween party for the kids every year, it's a tradition I carry on from my childhood! So once I settle into the Fall season, I do tend to go all out. I'm excited to share everything with you guys from recipes to fun DIYs! Stay tuned!