Thank you to Stitch Fix for sponsoring today's post!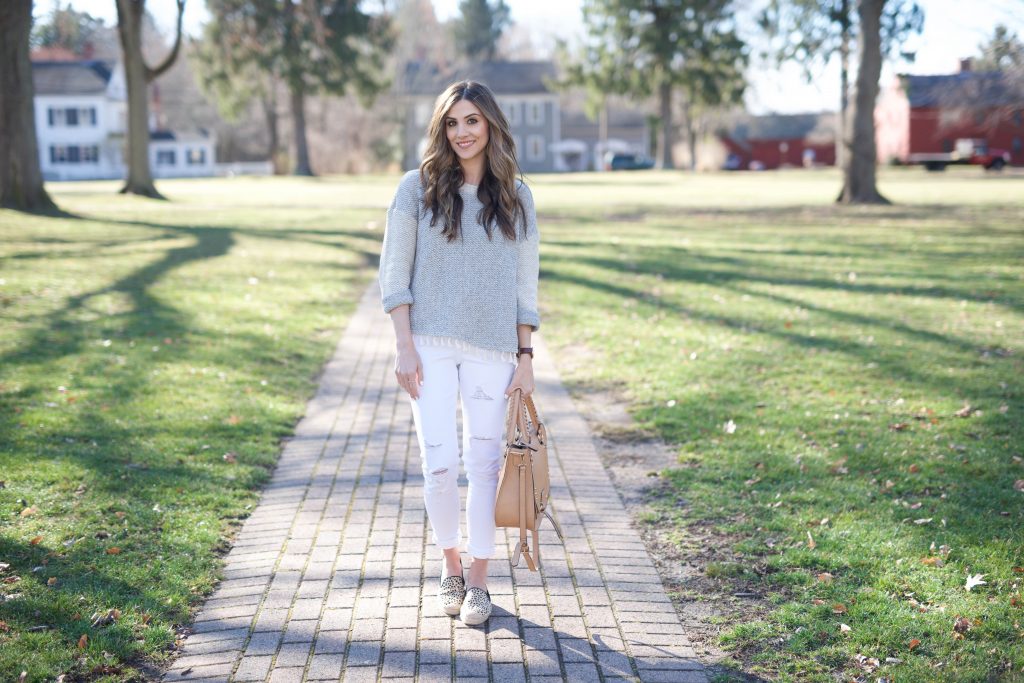 As I've mentioned before, I work as a visiting nurse. Except my hours are not your standard hours. Last April, right after we found we were pregnant with Noelle, my husband and I decided i should accept a weekend only position. This may not sound ideal, but it's worked out well for since we don't have to put two children in childcare (it ain't cheap!). We been able to manage two full time incomes without paying for daycare. As a result, I'm essentially a stay at home mom Monday through Friday.
Being home with two children is NO easy task. In fact, I feel it's harder for me than when I worked Monday through Friday and had only Landon. My days often involve picking up and dropping off Landon from his little toddler school (he goes for a few hours a couple times a week), playing with toys, and feeding Noelle whenever she needs it (she's not on any type of schedule yet). I also fit some time to answer emails and work on this blog in between there, as this is also a business of mine as well. I've been asked to share what a typical day in our lives looks like, so here is a day in my shoes.
Top: Michael Stars // Jeans: Old Navy // Shoes: Soludos from Stitch Fix // Watch: Daniel Wellington // Bag: Sole Society
530-6am: I wake up. Sometimes Noelle is up at this time too, so I nurse her quickly and then put her back to sleep. At that point, I start to get myself ready for the day beforr they're awake!
6-630am: Landon is up. This kid has never slept in a day in his life. I'm convinced he will always be an early riser! I get him situated with a sippy cup of milk and Thomas the Train on the couch. I continue getting ready.
7-730am: Noelle is up. I feed her and hen begin our breakfast. I keep it simple with some scrambled eggs, toast, and a yogurt for Landon. And lots of coffee for me!
730-830: I finish getting myself ready, and also the kids ready. If it's a day Landon is going to school, we are in more of a rush than other mornings.
830-9am: I try to feed Noelle again quick and then we're out the door to bring Landon to his little school. It's only a couple minutes down the road (thank God).
9-12pm: While Landon is at school, I try to be productive. Sometimes I'll meet Lynzy at the coffee shop to work on blog related things, or I'll come back home to clean up the house. Sometimes I'll run errands for myself, and other times Lynzy and I will attempt trips to Target or IKEA since we are short one kid!
12-2pm: Pick up for Landon is at 12, so after that we usually come home for some lunch and playtime before nap time. The weather is finally warming up, so last week we had lunch outside on the beach! We can't wait to do more of that this spring. We live three minutes (literally!!!) from the beach, so we are ALWAYS there in the summer. They have a playground too, which is great for Landon.
2-4pm: Landon is down for a nap and if I'm lucky (rarely), so is Noelle. I used to be really regimented with Landon's nap schedule, but I've been having a harder time with that with Noelle. We aren't always home, so getting her to nap at the same time every day isn't easy. I still haven't figured out what I'm going to do with that. Lately she's been napping at the same time as Landon, or at least for a little bit, so I'll work on more blog work and answer more emails. Usually while eating ice cream and watching General Hospital 😉 I'll also start to prep dinner if it's a night I'm going to the gym.
4-5pm: Landon is awake, so is Noelle. Pat arrives home during this time usually, and I'll finish prepping dinner. I've been going to CrossFit at 530 lately, which is usually dinner time, so we've been doing things a little backwards so we can all eat together.
530-630pm: If it's a night I'm at CrossFit, Pat will attempt bath time and finishing dinner while I'm there. When I arrive home at 630, we eat together.
7-730pm: We finish getting Landon ready for bed, and read bedtime stories as a family.
730-830pm: This is when I shower. Pat is home and I don't have to rush!
830-whenever I wake up: I nurse Noelle to sleep at night, which means I usually fall asleep with her. If I'm lucky, I'll stay awake and work on more blog work! Or I'll wake up at midnight and finish it then (like I'm doing as I write this right now). This isn't ideal, and I know it's temporary. Hopefully I'll have her on more of a schedule and sleeping in her own room in the next few months (I'm super slow with that this go around!)
And that's a typical day in my shoes!
If you're loving the shoes I'm wearing in these photos, then I have good news for you! Stitch Fix, our favorite personal styling service, is now featuring shoes!! They're carrying some of the top brands you love (Seychelles, TOMS, Franco Sarto, Dolce Vita) in each of your fixes, styling you from head to toe! They're footwear assortment for spring carries over 200 styles in a variety of options for everyone's budget in sizes 6-10 (half-size included!).
I'm wearing these adorable leopard printed Soludos, which was such a treat because I live in Soludos during the summer! They're super comfortable and kid-appropriate all while still being stylish.
Want shoes in your next fix? It's easy! Go to your style profile and enter your shoe size. That's it! And to show your stylist that you love these shoes, be sure to pin the images above to your style board on Pinterest (they look at that!)
Stitch Fix has been kind enough to offer ONE lucky reader a $100 gift card for a free pair of shoes (or two!). Not a Stitch Fix customer? That's okay, you can still participate! It's FREE to sign up and fill out your style profile, which is the main form of entry!
Enter the giveaway via the widget below. Good luck!
$100 Stitch Fix Credit Giveaway!