Thank you to Helen Ficalora for the giveaway and sponsoring today's post!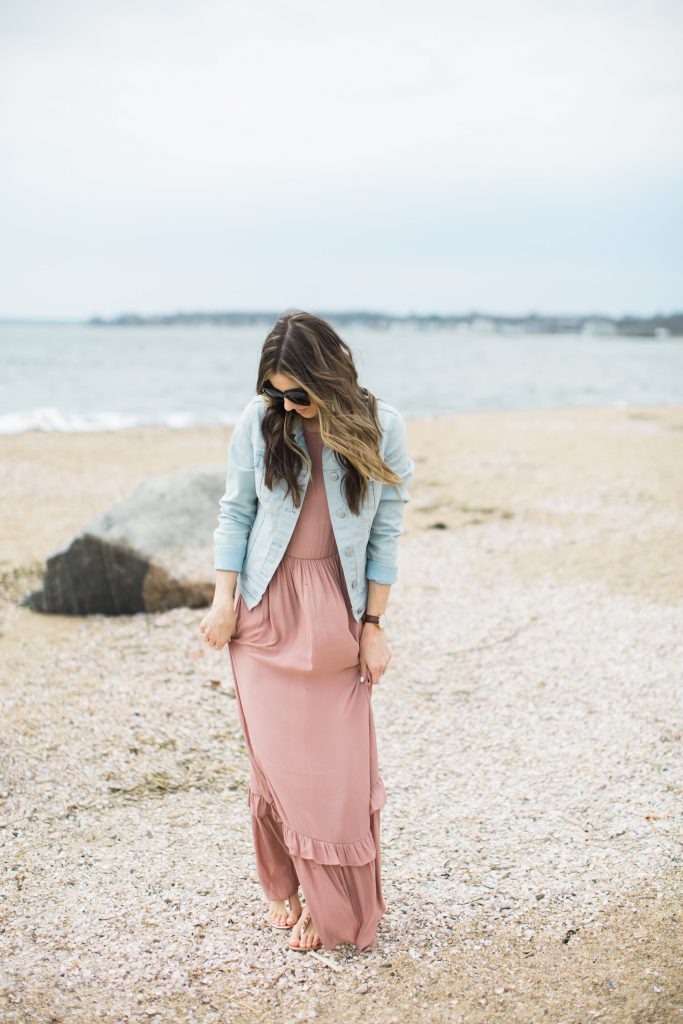 It's still not nearly warm enough to be consistently wearing maxi dresses, but I've decided I don't care. I had been eyeing this one from Forever 21 for quite some time now and knew I had to have it after seeing it on someone else. The fabric is gorgeous and I love the movement of the dress. I know it's going to be one of those repeat items this summer! It went perfectly with these rose gold studded sandals from Rack Room Shoes, which are also a new favorite.
Photos by Alicia Ann Photographers
Dress: Forever 21 // Jacket: Old Navy // Sandals: c/o Rack Room Shoes (similar) // Ring: c/o Helen Ficalora // Sunglasses: Le Spec // Watch: Daniel Wellington
SHOP THE POST


With every Mother's Day that I'm honored to celebrate, I think more and more about my own mother, which in turn makes me appreciate the day in a new way. Before I was a mom, I of course celebrated Mother's Day, but I didn't grasp the full concept because I had yet to experience what moms actually go through. I definitely didn't give my mom enough credit. I didn't see how she carried both my brother and I for 9+months. I didn't see how difficult it was to raise us as children with all the stages and phases we went through. I didn't see the hard work she put in to provide a roof over our head, keep our house clean, and make home cooked meals every night, among other things. And I didn't see it probably because it's not something she'e necessary presenting in an elaborate way, it's just something she did. Because she was (and is) a darn good mom. And now, as a grandmother, I see her in a whole new light because I can relate to her as a mother. That makes me appreciate Mother's Day even more. I'm going through what she went through, and she understands when I call her needing advice or just to vent about being sleep deprived. Becoming a mother made my bond with my own mother that much stronger.
If you noticed the delicate ring in these photos, that beauty is a Mother's Day gift from Helen Ficalora, one of my new favorite brands. It's 14K yellow gold with an opal gemstone, and such dainty perfection on my finger. I've been wearing it daily because I love it so much!
Helen Ficalora has been kind enough to give ONE lucky Lauren McBride reader with a sterling silver "MOM" disk charm on a sterling silver 18″ fine chain for Mother's Day! Perfect for you, or another mom in your life! The giveaway ends Mother's Day May 8th at 11:59PM. Enter via the Rafflecopter widget below, GOOD LUCK!