I'm so thrilled to be starting a new series here called The Inspired Cottage, where I feature the homes of other bloggers and friends that are huge inspirations to my style and I know will be to yours too! I receive some of my best inspiration by browsing Pinterest or Instagram feeds, and I wanted to share all of the beauty I'm following for you to enjoy as well.
This month's inaugural feature is a woman I've been following since I started blogging in 2008 (!!!!!!!). Becky of Buckets of Burlap has always been a favorite of mine, and I just love all the white in her home! Her kitchen is absolutely swoon-worthy and just wait until you see her bedroom! Keep scrolling for your dose of inspiration and for a fun interview with Becky.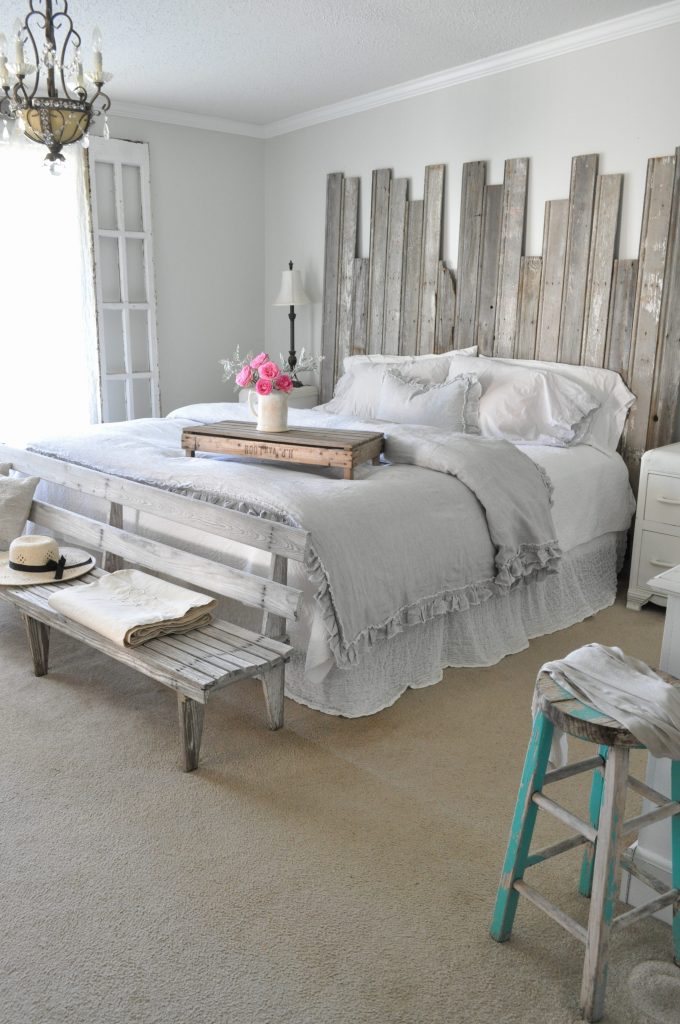 Becky's bedroom is one of my favorite rooms of her home. Her headboard is such a unique piece, and I love the coziness of her bedding. It's so warm and inviting! You can see more of her bedroom here.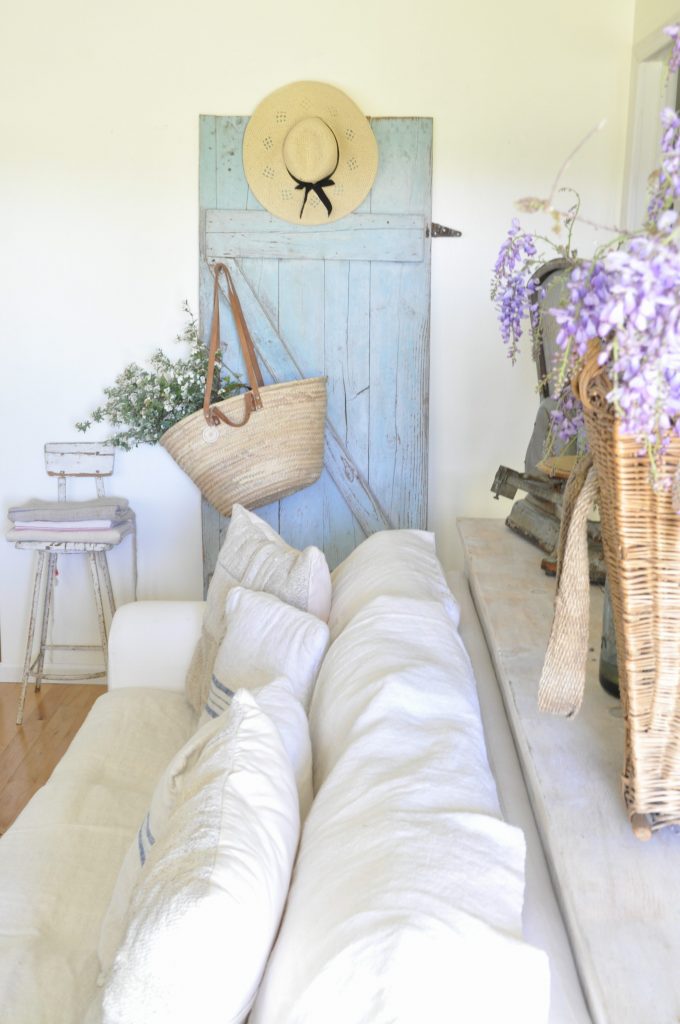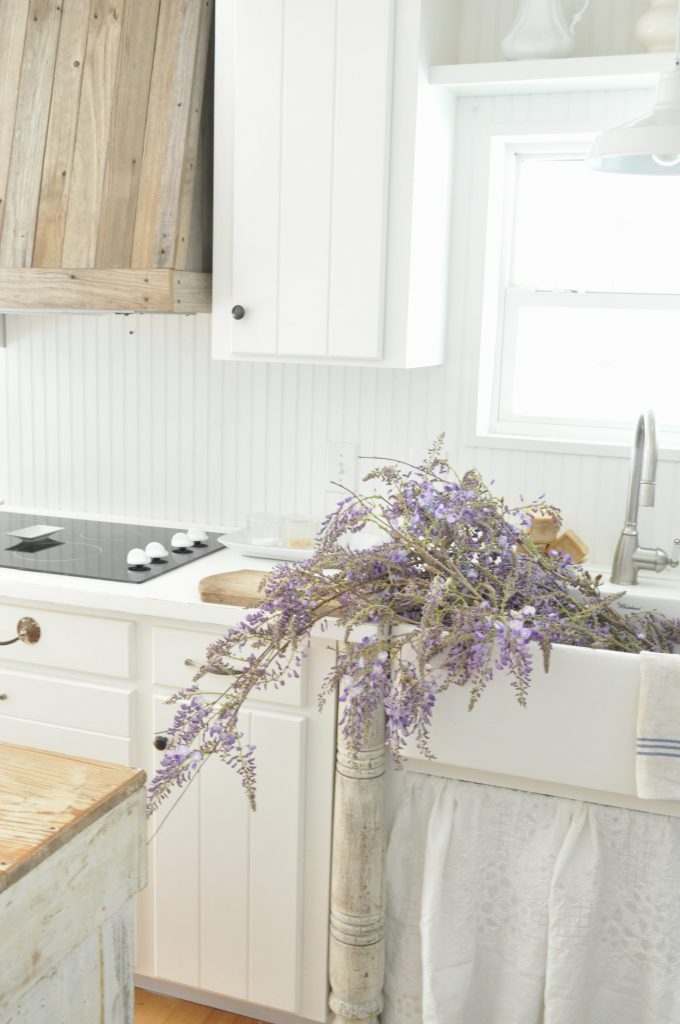 That chippy center island gets me every time. The rustic reclaimed look of the range hood is so different and something I haven't seen before. I love the spindle legs she has next to her farmhouse sink as well. Such a gorgeous french country touch and a unique idea!
Becky's dining room is perfection with this crystal chandelier and chippy bistro chairs. This post gives you an even better peek inside a few of her favorite rooms! Becky also talks about some of her favorite items in her home in this post.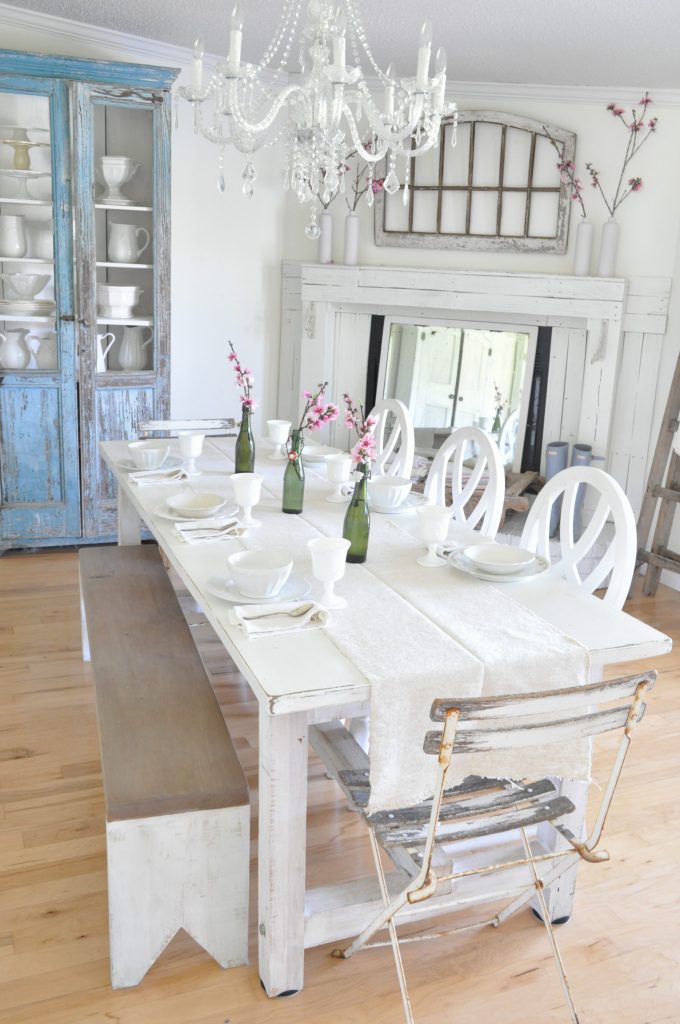 Where do you receive inspiration from?
Inspiration is everywhere to me…during spring, my garden sparks so much of my decorating ideas. I love to style a room around a big bouquet of fresh cut blooms. Hydrangeas and herbs are some of my favorites. During the cooler months, I peruse Pinterest and some of my favorite blogs to stay inspired.
How would you define your style?
I define my style as Vintage Country Farmhouse…it's a little of each, all mixed together!
What is your favorite room in the house?
This is a hard one…I love them all, for what they mean to our family. But our dining room is my favorite to style and decorate. My husband built the mantle and farm table. I enjoy refreshing the decor and setting our table. It's also where we gather for large family meals and holidays. Lots of good conversation happen around that table. And lots of fresh centerpieces 🙂
What is your favorite piece that you've used in your home, or project you're most proud of?
Our kitchen island came from Canton Trade Days, and it is one of my favorite vintage finds…as well as the most useful. Our reclaimed wooden venthood and headboard are projects we're proud of…both of which I designed, and my husband built. We love the rustic charm that reclaimed wood adds to a room.
What is your next big plan for your house?
Our next big plan for our house is to get rid of the popcorn ceilings, and hopefully install pendant lights above the kitchen island. We would also like to paint the brick on the exterior of our home.
Thank you SO much Becky for allowing me to feature your gorgeous home! Be sure to pop on over to Becky's blog, Buckets of Burlap, for even more inspiration. And check out her gorgeous feed on Instagram!
To follow all of our featured cottages, be sure to check out #theinspiredcottage on Instagram!