As I've shared over on Instagram, our three children recently completed their survival swim lesson training! I've recently SO many questions on this topic that I thought I would share a general Q&A and our experience with Survival Swim Lessons in case you're looking to enroll your children.
Since we live by the water, my husband and I felt this was a very important skill for our children to know. WE WILL ALWAYS BE CAUTIOUS AROUND THE WATER, because drowning takes SECONDS, but we wanted them to have this life saving skill so that we knew they could save themselves if something accidentally happened. Let's face it, accidents happen all the time. And while we do our best to avoid them, we didn't want to be naive in thinking drowning will never happen to our kids. These lessons gave my children confidence around the water, and are like an extra layer of protection over my most treasured gifts in life.
(All photos were provided by our instructor, Dena, at Infant Aquatics CT! She snaps photos and takes videos during the lesson, which the kids loved to look at afterwards!)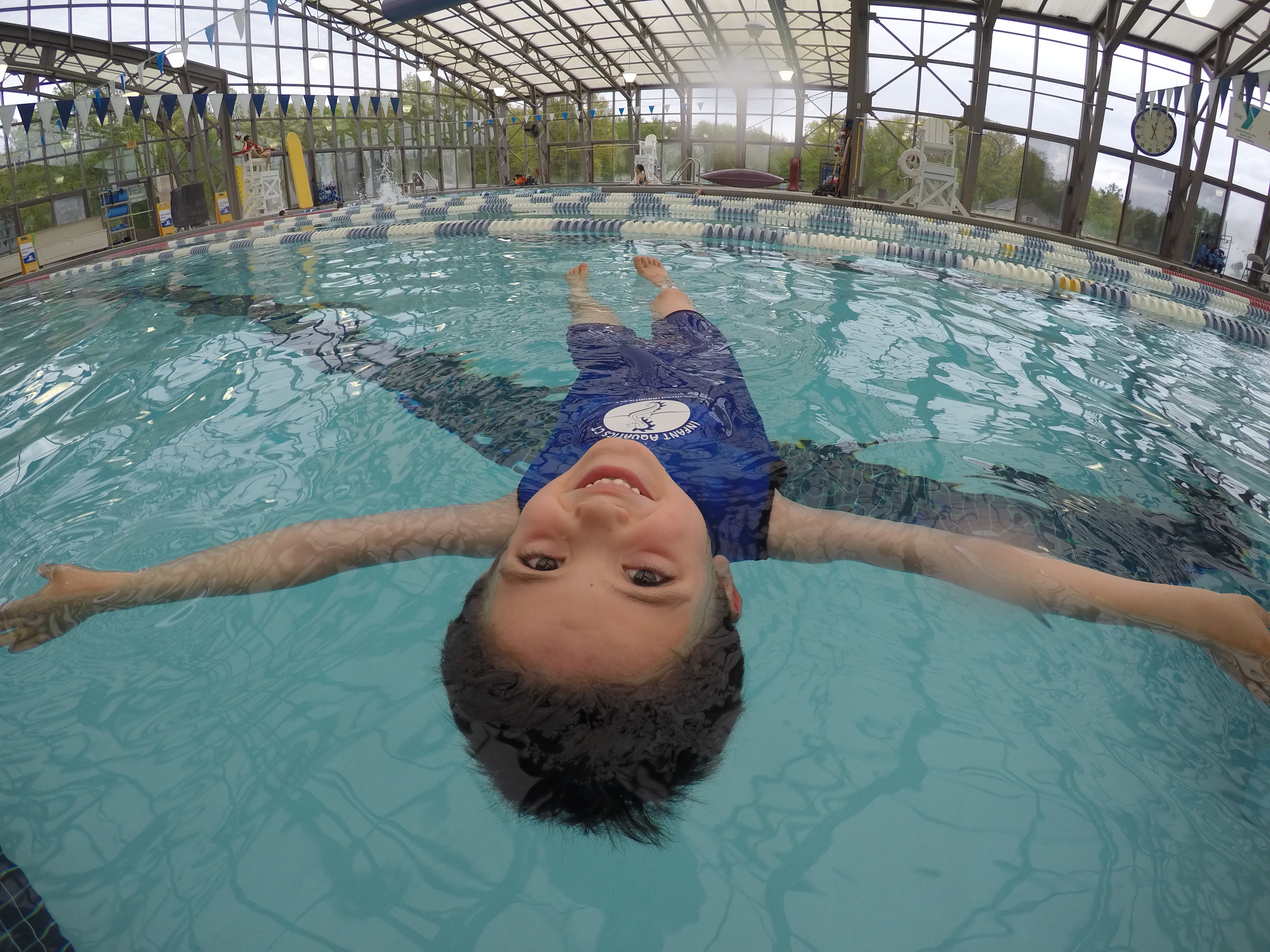 Where can I find this near me?
My suggestion is googling "survival swimming lessons near me." There are various companies who do this and it might be different depending on your location. We used Infant Aquatics here in Connecticut (she's the ONLY survival swim instructor here!).
What are they learning and how is it different from regular swim lessons?
Survival swim lessons are teaching the child to roll onto their back to float/rest/breathe until help arrives. My older children also learned to swim to safety, while floating and resting to catch their breath when they're in need. What they learn is going to depend on their age, of course, but they will all learn the life saving position of floating. All of this information should be on the website of whatever instructor you choose! NEVER hesitate to ask questions!
How long are the lessons?
This is based on our own personal experience, as I've heard this can vary a bit. Our classes were 10 minutes long, 4 times a week for 6 weeks. My son, who's a little older, has 20 minute lessons 4 times a week for 3 weeks. Our instructor told us sometimes a fourth week is needed, but my guy did so well he didn't need that fourth week. Again, this should be on the website of whatever instructor you go with.
What's the cost?
I've polled several moms from around the country who have put their kiddos through survival swimming, and the costs seems to vary depending on location. Here in CT, it's $175 a week for 6 weeks. YES, this is a LOT of money. There's no getting around that. However – I looked at it as an investment in my children. I'm giving them a life-saving skill. We saved up for this (it wasn't in the cards for us last year). If you know this is something you'd like to eventually do, a great idea is asking for money towards it for birthdays, holidays, etc instead of toys for the kids! Same if you're pregnant and want to enroll your baby when they're of age – you can totally put it on your registry!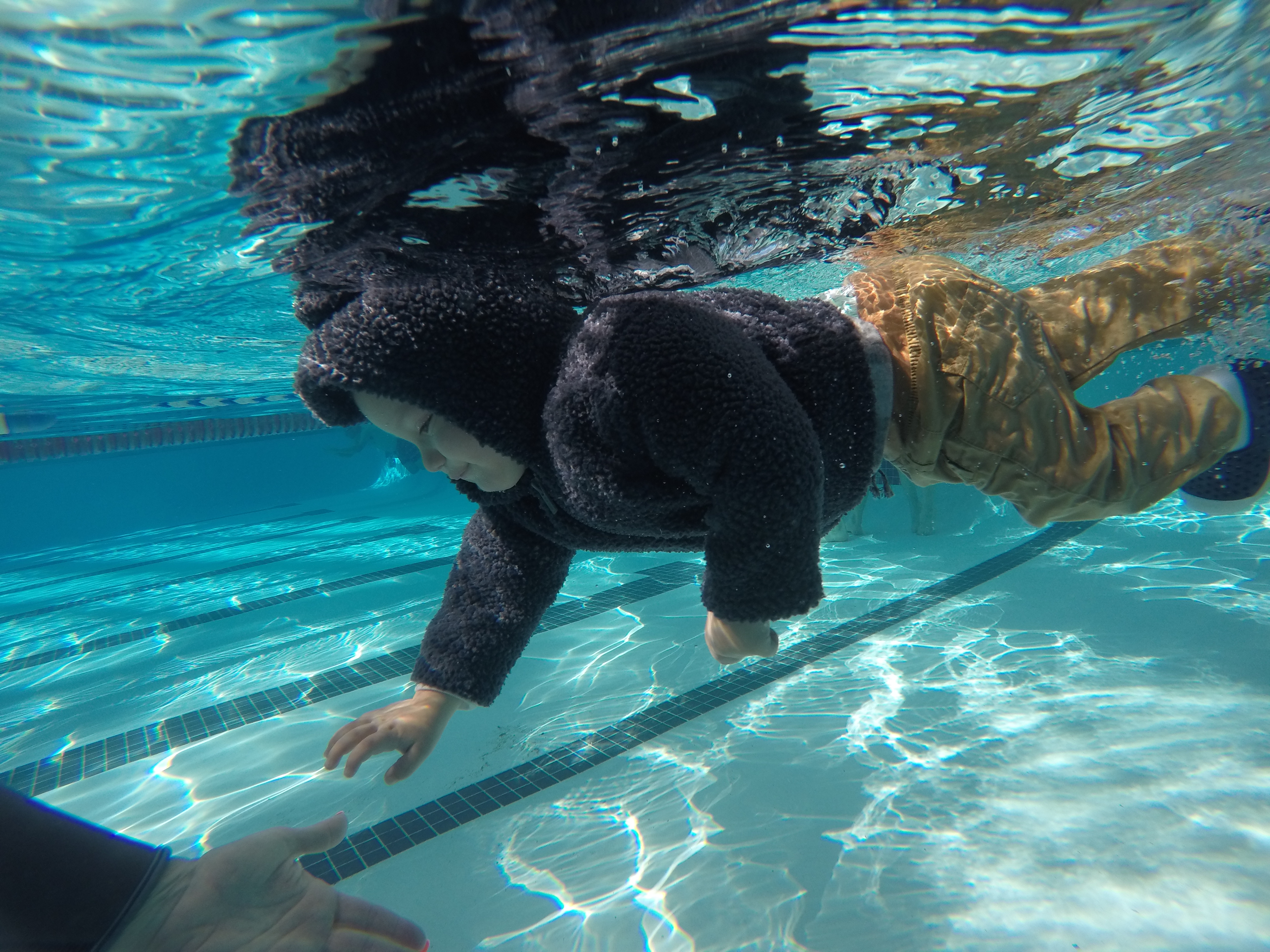 How early can they start?
Our instructor starts at 6 months, I believe, but this might vary depending on who you use. All of that info can be answered by the company you're looking to use for survival swim! My kids were 1, 3, and 5 when they started. It's never too late to start!
Did they know how to swim prior to lessons?
No. I had signed up my oldest and middle child for swim lessons last year and spent hundreds of dollars only for them to still not know how to swim. They learned important skills, yes, but they could not swim.
Do you get in the pool with them?
I can only speak to our experience with Infant Aquatics, but the only child I got in the pool with was my 1 year old on the first two days. This was to help him adjust. After the second day, I never went back in.
What about secondary drowning?
This was one of the first questions I asked the instructor when I signed them up. I would HIGHLY, HIGHLY, HIGHLY encourage you to ask your pediatrician about secondary drowning. Ask your swim instructors as well. I can 100000000000000% promise you that once you speak to them, you will have ZERO concerns. ZERO.
Did they throw up?
No. The instructor gave us specific rules related to food (there were foods to avoid and a cut off time for food/drink before lessons) that we followed carefully. We never had one instance of vomiting!
What are the classes like?
Very calm. Our instructor started teaching basics before advancing on. It also depends on the age of the child. For instance, my older two started a little differently than my 1 year old. They're very short lessons, a lot of repetition, etc. I'm just watching from the side of the pool, and at this point 2 months ago was a blur, but it was all very calm.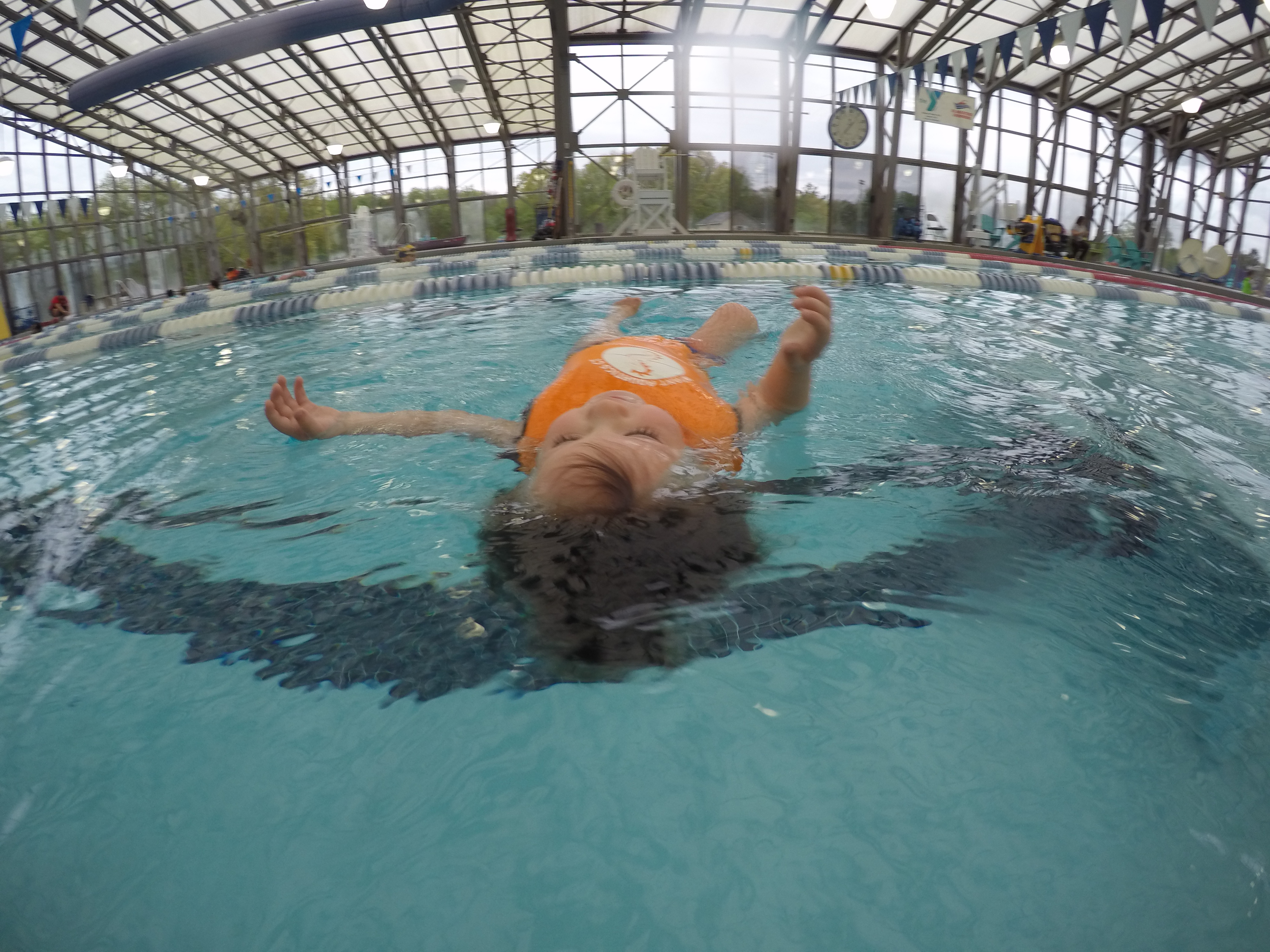 Do they throw them in the pool the first day?
NOOOOOOO. This is such a huge misconception! I think people see videos of children who have mastered the skill and assume it's the first class. No, no, no. They don't waste time getting their heads wet, but they do NOT throw them in the pool. The first day is actually very calm. The instructor is VERY calm. Yes, they are going under water, but it's essential to the learning process. But it's not traumatizing as you're envisioning, I promise!
Do they ever have them fall in the pool unexpectedly?
Yes! But here me out here! Once they've got the skill down, they "test" them in different situations and in different clothing styles! This is SO important because falling in the pool isn't guaranteed to happen in a swimsuit, and can be them falling in backwards, etc. It is SO COOL to see what your little ones can do, and they love it at that point! This is not something happening on day 1. This is happening after they've accomplished the skill (and clearly the instructor feels confident in their abilities). You have to keep in mind, these instructors have a lot of liability – they aren't doing anything they shouldn't be doing.
Will they forget what they learned? Do you have to keep training them?
They can absolutely forget what they learned. Our instructor recommends enrolling the kids in her group lessons (which are 30 minutes long, once a week) after completing the survival swim course so they can practice and master their skill and build even more confidence in the water. I actually know someone who did NOT do the group lessons, and her child forgot what he had learned the following year. We chose to enroll them, and so far they LOVE the group lessons! They're really fun for the kids and they have a blast! They eventually learn strokes in these classes as well. I figure we'll keep them in group lessons until they are older.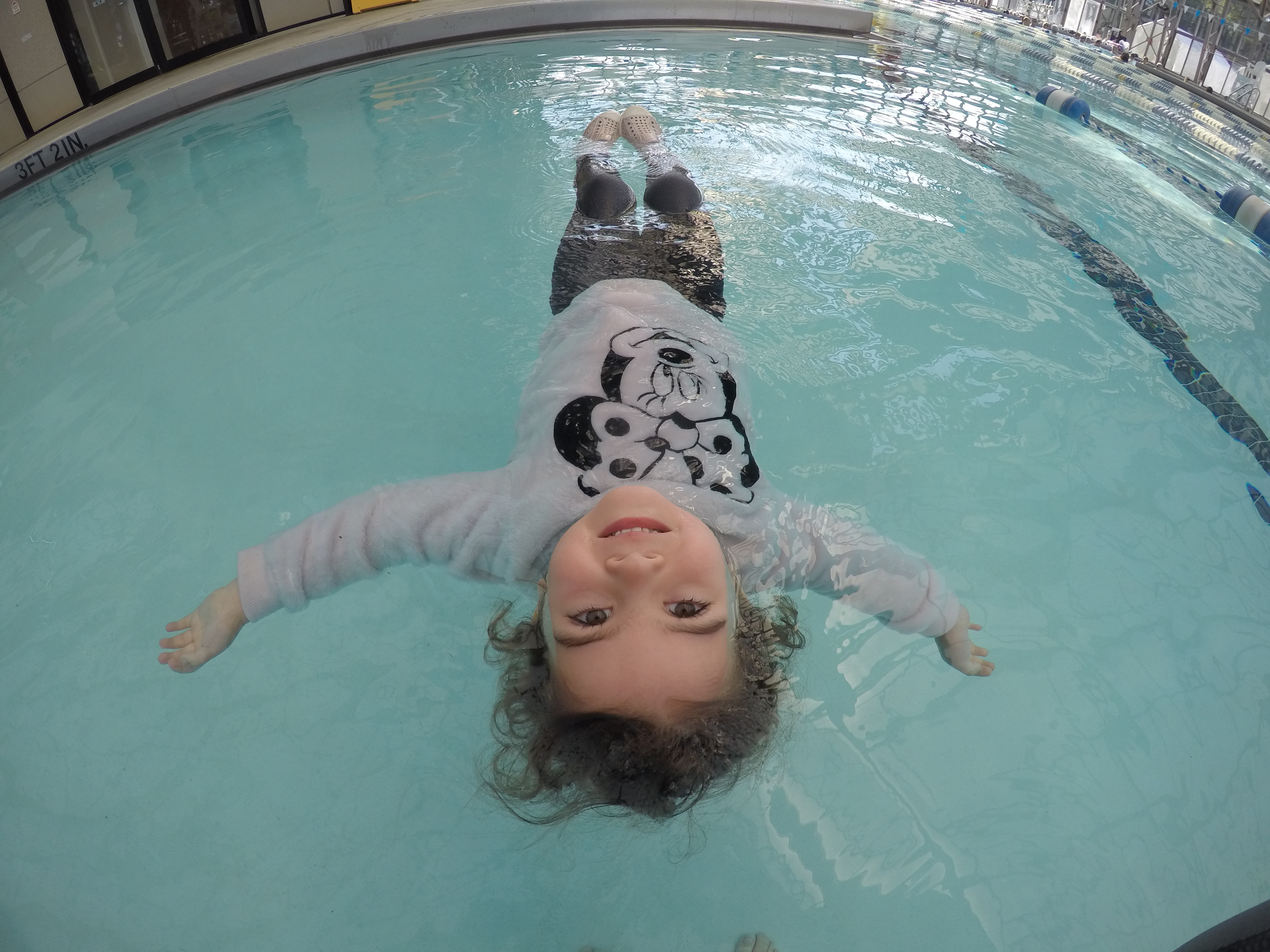 Are the kids traumatized?
I was actually asked this question a LOT, and I totally understand why it would seem they might be! No, they are absolutely not traumatized. They actually LOVE the water now and jump right in! I can understand how your fear of this might make you NOT want to sign your children up for swimming but here's the thing….drowning can happen to ANYONE, ANYTIME, and ANYWHERE there is water. It takes seconds. My thought process when we did their first lesson was that if my children were to fall into water THAT DAY, and I didn't get to them in time, they would drown and die. Yes, that's harsh and morbid, but it's the truth. For that reason alone, we decided this was the absolute BEST skill we could provide our children with. It's a LIFE SAVING skill, and probably the most important skill they can have if they're around water. Yes, they cried the first few days because it was new, hard, and involved getting their heads wet, but that subsided within days and they were excited to go back. My kids have confidence around the water now, and while I am still always cautious, it gives me peace of mind knowing that they can save themselves if needed.
Are YOU traumatized? How did you keep cool watching them?
One thing I've learned as a parent is our kids play off of our reactions and emotions. I knew they would be hesitant in doing this because its not the type of swimming they knew in the past. I also knew that, again, they could die if they fell into a pool and I didn't get to them in time. Keeping that thought in my head, plus knowing that they would be looking at me the whole time, I made it a point to be their BIGGEST CHEERLEADER EVER during lessons. Yes, I was nervous for the initial first day because it's a new experience. But after the first day, we were so confident that this was the right thing to do for them. We saw progress in just the FIRST DAY. That's amazing! So no, I'm not traumatized, and I never showed any other emotion except excitement for them. I clapped and cheered when they did a great job. I waved whenever they looked up at me. I wasn't on my phone. I gave them my undivided attention from the sidelines so they knew I was right there and cheering them on. Here's the thing – we're their parents. We need to be brave for them to be brave. It's fine to show emotions, but if I was a nervous, anxious mess before or during their lesson, how would that have helped them in ANY way? It would not have. It would put fear into them.
One BIG tip I received from a family member who specializes in child psych is to NOT BRIBE THEM to do hard things. She told me this could lead to MORE anxiety about a situation. So instead, and with her guidance here, I rewarded them AFTER class the first week. Once they were one with their lesson and I was drying them off, I said "You did SO WELL and I am SO PROUD OF YOU!!!! I have a special treat waiting because I am so proud of how brave you are!" I really think my reactions plus how I handled this REALLY helped my kids. I only did this for the first few days, and because it was a surprise, it was fine when I stopped. I'm just sharing this little tidbit in case you need it for anything in the future!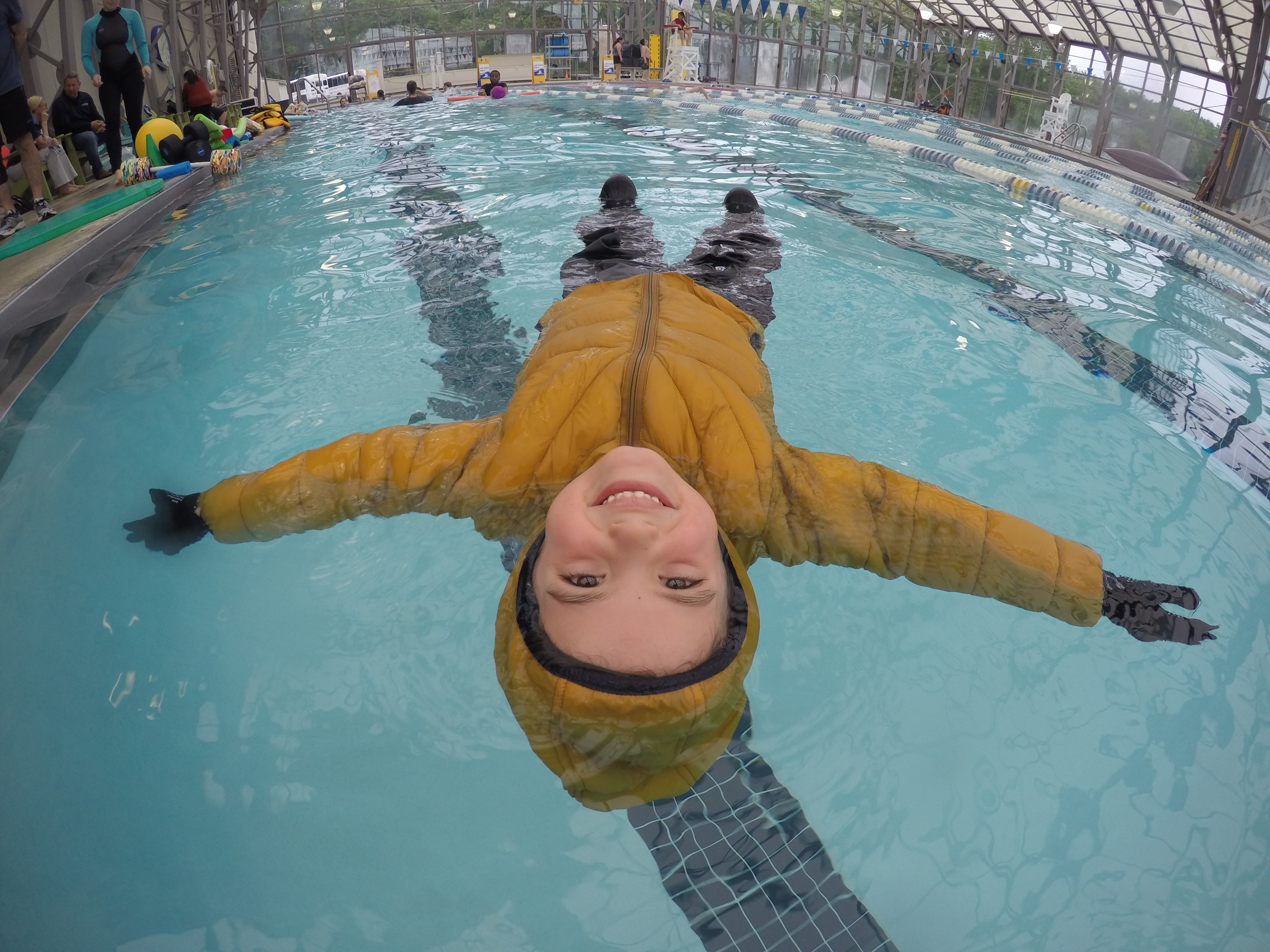 What do you do when the kids want to just swim and have fun?
We practice! Our instructor told us they shouldn't be standing in water that's high up on their little bodies for a long period of time because they can forget what they have to do. So, if they're playing at the pool with their friends, we practice their skills frequently so they remember what they have to do! And honestly, they're SO proud of themselves that they have no problem doing it. They're still pretty new at this, but they improve every time.
Do they wear life vests after finishing their course?
No, unless we're on a boat. We were told that the life vests/puddle jumpers/swimmies can make them forget what they have to do. They need to remember that being horizontal on their back is their life saving skill, and those devices prevent that.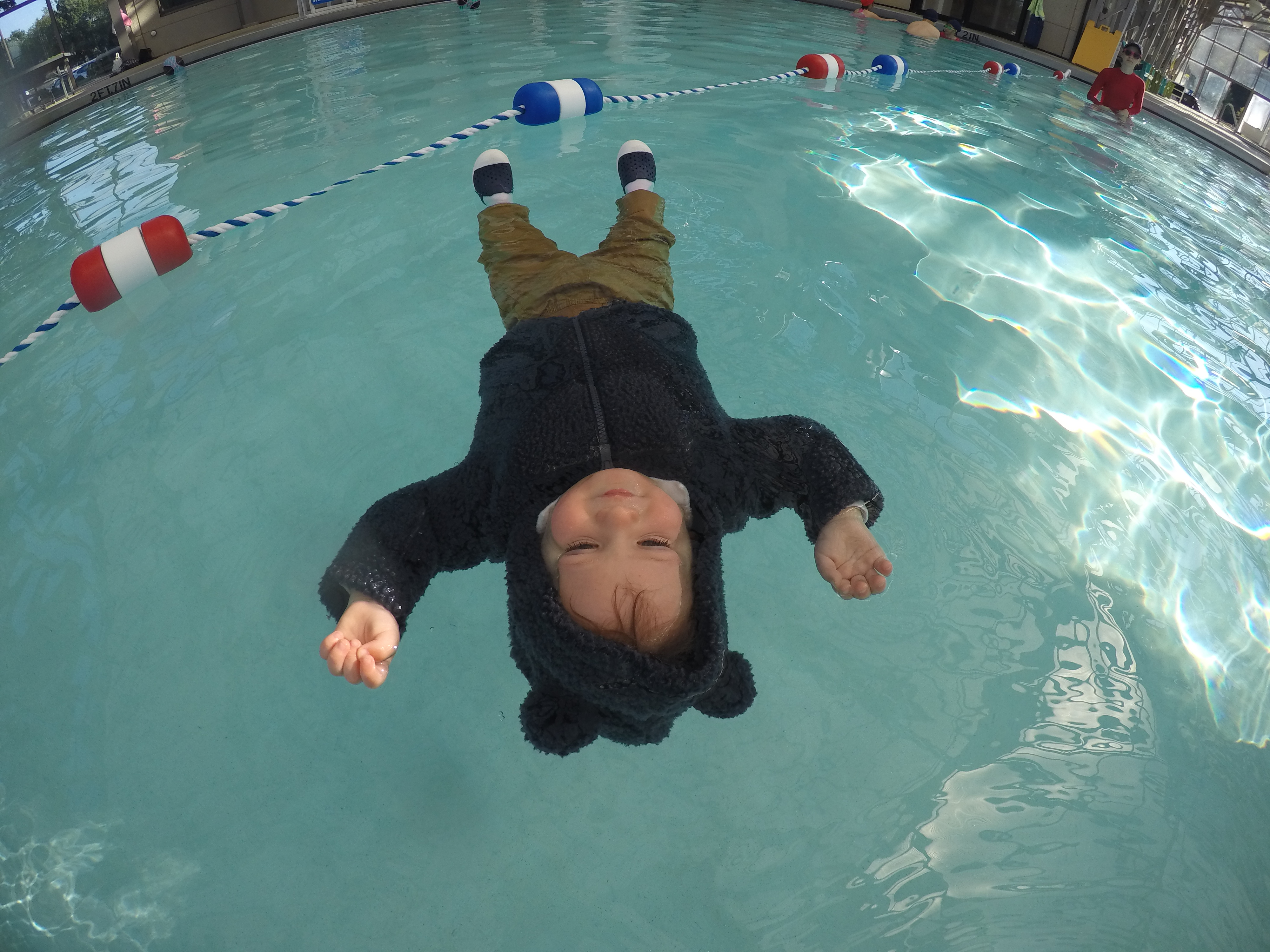 Overall, I am SO INCREDIBLY HAPPY we chose to do this for our children. Yes, it's an investment, but we cut costs and budgeted to make it work because we wanted to provide them with that skill. I realize that's not an option for everyone, so I just want to remind you that any swim lesson is better than NO swim lesson! It really is so important that our children know how to swim, especially if you're near water. Also, never hesitate to ask if they offer discounts wherever you're looking. The worst they can say is no! If you're in Connecticut, I highly recommend Dena from Infant Aquatics CT. She is absolutely incredible and has a special gift with children. They all love Miss Dena! I can't speak to other states, unfortunately.
If your kiddos have done survival swimming, feel free to leave a comment with your experience! And if you have any additional questions, feel free to ask those too. I can update this post as they come in!