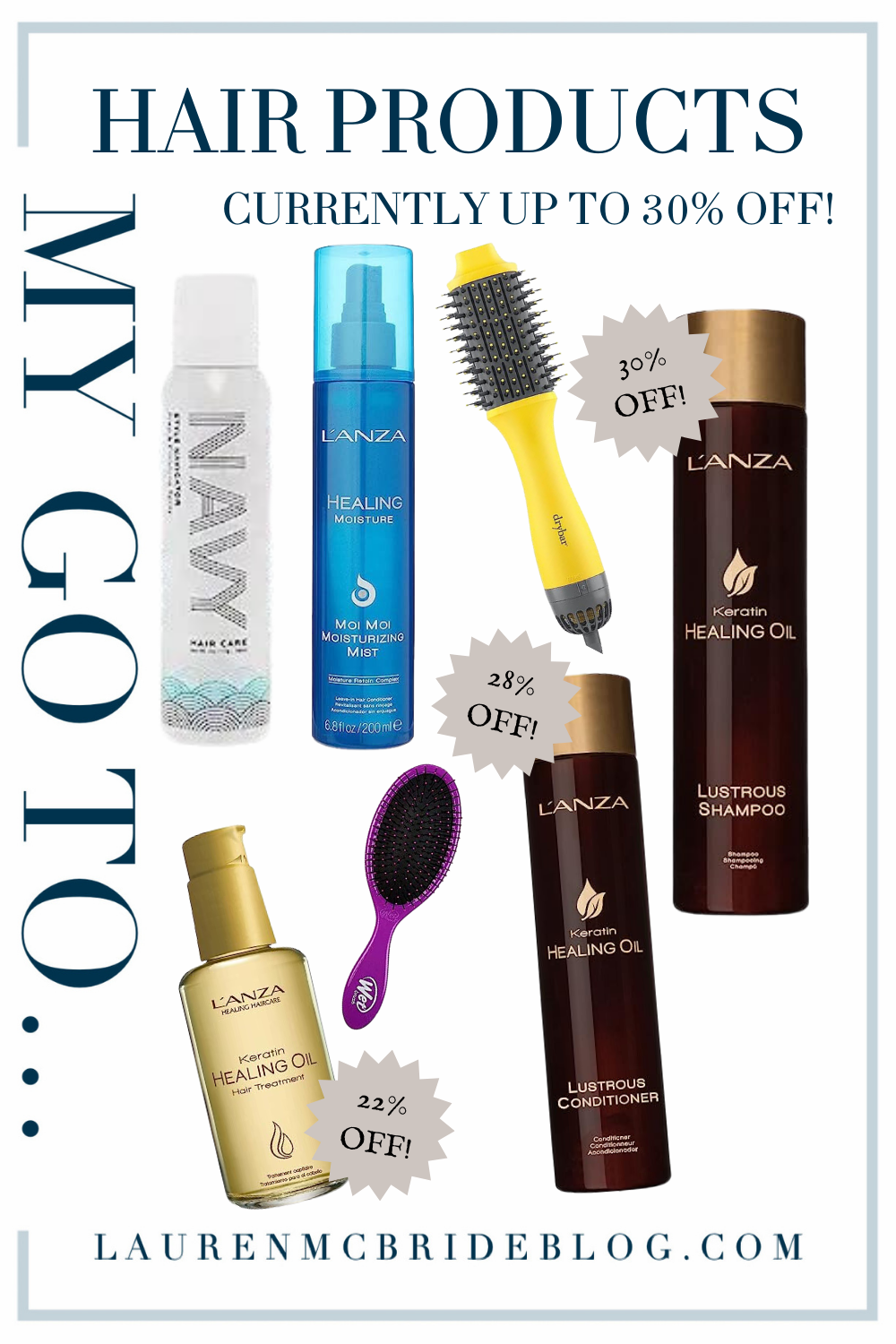 Today, let's chat about the magical hair products that have transformed my hair! Trust me, I trust these items with my life. From shampoo to styling, I've got you covered. And, you can find links for everything throughout the post!
First things first, let's make it clear – I'm not a hair stylist. Nope, definitely not. But I've got some amazing recommendations for you. My personal hair stylist suggested this brand called L'anza, and boy, am I grateful. My hair was a mess, thanks to the not-so-wonderful well water in my old house. But the L'anza healing line, with its keratin magic, has been a game-changer. I use their products for both shampoo and conditioner and it's been a night and day difference. It repairs and strengthens my hair, without making it feel heavy. Seriously, I'm in love. They've also got a moisture line and a strengthening line, which are equally fantastic.
After washing my hair, I grab my trusty wet brush (you can find it on Amazon, of course) to brush it out. Then, I use the L'anza Moi Moi Moisturizing Mist – a leave-in conditioner that works wonders. It detangles and smooths my hair, making it feel like a dream. And guess what? I even use it on my daughter's curls. Talk about versatility!
Now, let's talk about the secret sauce – the L'anza Keratin Healing Oil Hair Treatment. This stuff is pure magic. It adds volume, shine, and smoothness to my hair, all while protecting it from UV and heat damage. And it's so lightweight that you won't even notice it's there. A little goes a long way, trust me. It's been almost a year and I still have plenty left in my jar. Worth every penny, my friends.
Next up, we've got the hero of my hair – L'anza Healing ColorCare Trauma Treatment. This stuff is gold, I tell you. My hair was in dire need of some serious help, and this treatment delivered. Just a small amount is enough to transform my hair from damaged to healthy and smooth. It's been a true lifesaver for me.
After applying all these goodies, I either let my hair air dry or give it a quick blow dry. But not before adding a little more of that fantastic oil for extra protection. Then, it's time to curl!
Now that the hair's dry, let's chat about styling products. I've got two favorites that I absolutely swear by. First on the list is the Navy Hair Care Pebble Beach texture spray. Let me tell you, this stuff is a game-changer. It gives my hair that perfect texture without weighing it down. Plus, it adds some volume and makes my locks look on point. It's like a magical unicorn in a bottle, seriously.
And when it comes to holding my curls while still letting me flip my hair around like a maniac, there's only one hairspray I trust: Living Proof's Flex Hairspray. This stuff has been my ride-or-die for years. It gives just the right amount of hold without making my hair feel like a helmet of product. I like my locks to be touchable, you know? No crunchy, sticky business for me.
Lastly, let's talk dry shampoo. My current obsession is the one from Bumble & Bumble. This dry shampoo is a game-changer. Seriously, I put my hair to the test and it stays clean for days. It doesn't leave any nasty buildup, and my hair feels fresh as a daisy after using it. Plus, they have two versions depending on your scalp type, so everyone's covered. Oh, and here's a pro tip: grab the supersized bottle to get the most bang for your buck. Trust me, it's worth it.
And that's it; my top picks for styling products and damage control! If you give any of these products a go, drop a comment and let me know how they worked for you. I'm always up for some hair talk. Thanks for reading, catch you next time!