My anxiety was really high towards the end of Austin's pregnancy because I was terrified of my labor being as fast (or faster!!) than Noelle's, which you might have read about here. It was stressing me out for weeks, plus add in that lovely prodromal labor that I had for about a week beforehand. I had contractions daily, but nothing that stayed consistent. I hadn't even lost my mucous plug. All of this on top of our entire family (minus me) getting the lovely stomach bug literally the week before, plus snowstorms, had my stress level flying high. So on the day of my 39 week appointment, when my OB said, "You're having this baby today or tomorrow" I completely shut down and away from everyone other than my immediate family to calm myself and prepare for labor.
There was a snow storm that evening, so I had my mom come up that night just in case. We thought for sure I would go that night, but nothing happened. I had contractions the next day, but nothing that was consistent. They were, however, getting a bit stronger so I went to bed with high hopes that that night would be the night. I literally slept with one of my Depends on in case my water broke, and on top of my covers fully dressed because I just had a feeling. Sure enough, around 2:30am, I woke up with strong, consistent contractions. I woke Pat up and made my way down the stairs to let my mom (who was sleeping over) know it was go time. I remember Pat was taking (what seemed like) his sweet time to get ready and I finally got to a point where I yelled, "WE NEED TO LEAVE NOW!" because I didn't want a repeat incident of Noelle's birth or to have a baby in the car.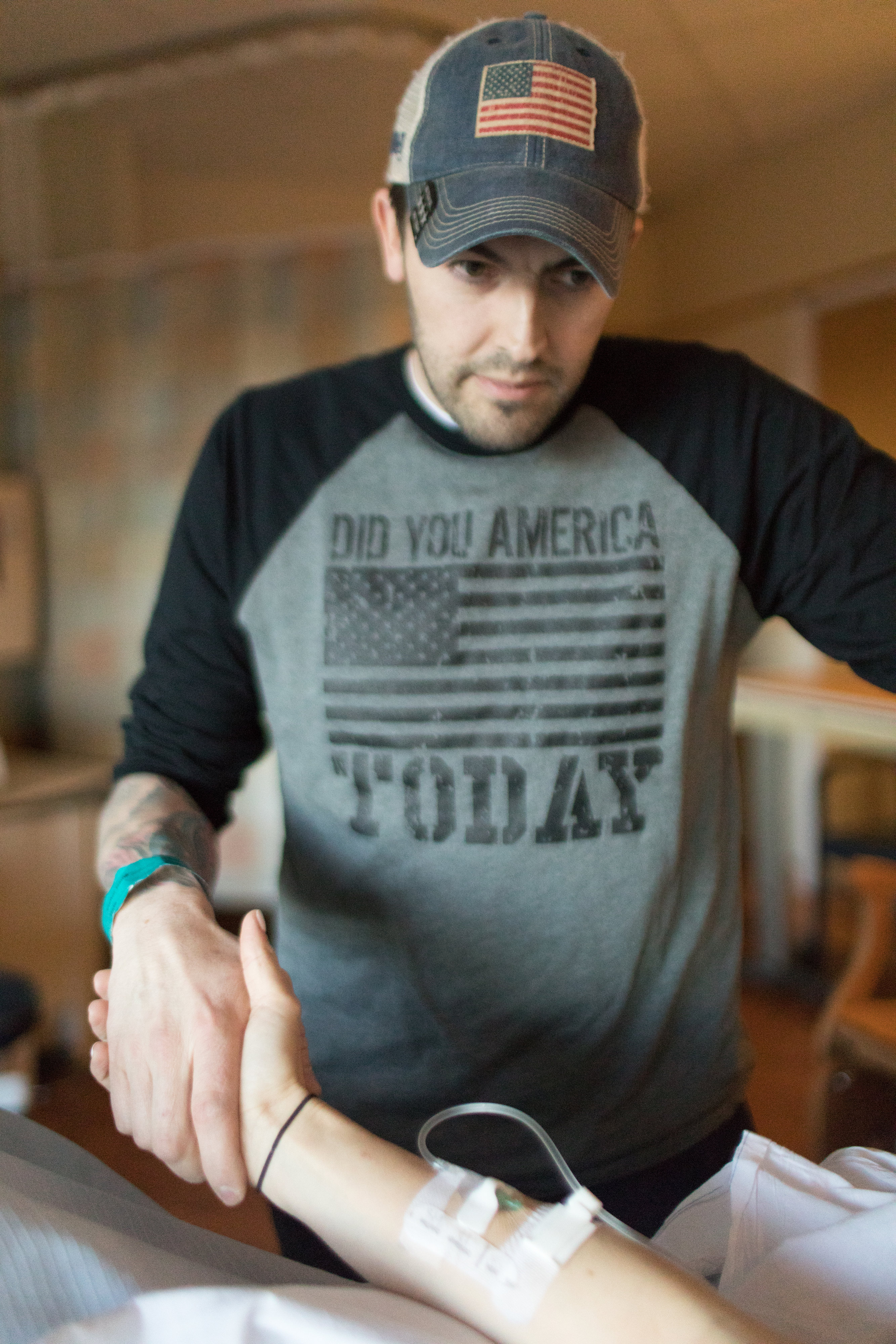 We made it to the hospital and the valet parking people were ordering pizza and made Pat wait to park the freakin' car (I kid you not…I get a guy's gotta eat, but what the hell!). And the security guard told me I went in the wrong entrance and made me walk back outside of the hospital (all while contracting!) and around to the other entrance. If I wasn't in pain, I'm pretty sure I would've lost it on them because what the HELL. But whatever, getting myself up to L&D was way more important.
Once I got up to triage, my contractions actually slowed down a bit. My midwife came in to check me and I was at 6 cm. Right then I asked for an epidural because I figured if I could, let's go for it! I hadn't been able to truly experience one before, and I wanted just ONE labor that was little more "relaxed." I asked for the head anesthesiologist on that evening, and they wheeled me over to the delivery room.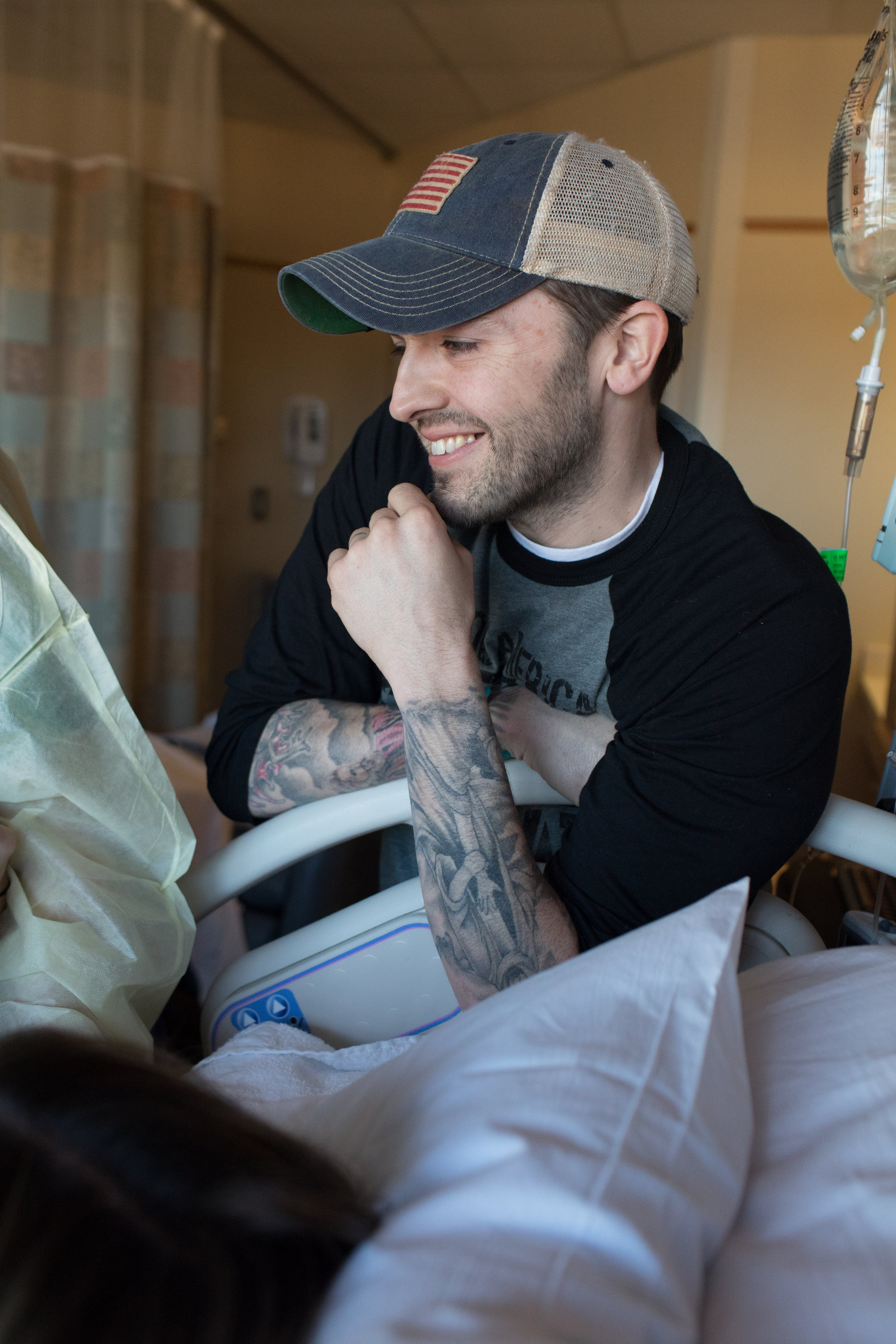 Shortly after I was set up in the room, the anesthesiologist came in to administer my epidural. I can't remember her name at this point, but she was absolutely amazing. She walked me through the entire procedure, telling me what was happening and how I would feel during it. She finished without any issues, and I remember her saying, "Okay you're having a contraction, what do you feel?" and being like NOTHING! SCORE! My blood pressure dropped a bit at one point which required her to come back and administer additional medication, but once that was fixed we were good to go.
I didn't labor very long (and again, felt nothing!) before my midwife came in to break my water and get things rolling. Shortly after that, I felt pressure and it was go time. Austin made his grand appearance after just THREE pushes on February 8th at 8:16am.
Honestly, Austin's labor was my easiest one yet. I didn't tear, had minimal pain (thank you epidural) and I wasn't screaming my head off like I did with my previous two births (thanks to NO epidural haha). I realize this is not the case for everyone, and that many times the epidural doesn't work. Of course, there are risks with getting an epidural, so I totally advise you to do your research if you're reading this and haven't given birth just yet. I knew the risks, and while my body has proven to me that I can handle it med-free, I am happy I was able to have one labor that was not as crazy as the other two. 🙂
You can read Landon's birth story here and Noelle's birth story here!
(Photos by Alicia Ann Photographers)